33 Reviews
Recommended by 100% of couples
Quality of service

5 out of 5 rating

Average response time

5 out of 5 rating

Professionalism

5 out of 5 rating

Value

5 out of 5 rating

Flexibility

5 out of 5 rating
Awards
4 User photos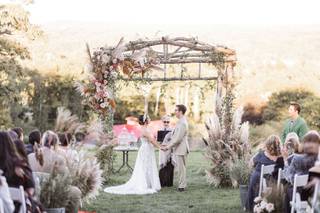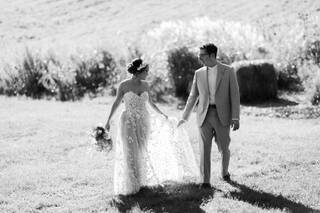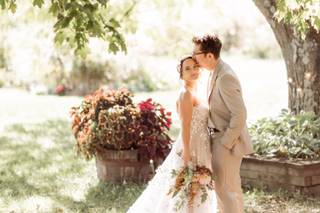 Erin K.

Married on 10/08/2022

Annika is the queen of good lighting!

My now husband and I spoke to a lot of photographers because we knew we wanted these memories to be captued perfectly, and right when I spoke to Annika on the phone, I knew. Then Annika answered EVERY question I had with ease and confidence. And on our wedding day, she made the whole process so fun and easy and light. We had an incredible time working with her and truly could not have asked for anything more - Annika, thank you!

Jane

Married on 06/26/2021

Beautiful Photos and Video!!!

Working with Magic flute was amazing from start to finish. The communication between Annika and I went very smoothly. The finer details that we discussed over the phone made the day of photoshoot run smoothly.
Asking what specific shots we wanted was a great touch because it allowed us opportunities to take specific pictures with certain family members and to also be creative at the same time on our wedding day.They answered
all my questions quickly. On our wedding day, it was such a pleasure working with them. Everything went amazingly. Our pictures and video came out beautiful. It was also a nice touch that they allowed
us to choose the song for our video. They are a great and very talented duo.


Adrienne

Married on 09/30/2018

The perfect wedding memory

Working with magic flute was amazing start to finish. From our first phone call with Renzo we knew we had found the perfect people to capture our day. They really worked to help figure out vision and who we are as a couple. There is no way I could have explained the feeling that they captured in our photos and video. They also did an incredible job coordinating with us making sure we got all our must have shots going above and beyond to include mobility restricted family members and a very tight timeline. We never felt the cameras were intruding or awkward renzo and his team felt so natural and unobtrusive. The end result is absolutely stunning and we couldn't be happier.

Are you interested?

Send a message

Jessica

Married on 08/25/2018

My husband and I were lucky enough to have Renzo and Annika with us on our wedding day at the Roxbury Barn. From our first communication with them they were so professional, helpful, knowledgeable, and wonderful to work with. Renzo and Annika are very responsive, they were quick to answer any and all questions we had throughout the process. On the day of our wedding they made sure we were comfortable, gave us the perfect amount of direction, and paid attention to every detail to make sure that they got every shot they hoped for. Renzo had a drone with him, we CAN NOT WAIT to see those shots, his equipment is up to date, and perfectly cared for. Their work is professional, and done with such care to make sure each couple has the best memories from their special day. They are absolutely the best at what they do, we were lucky to have them with us on our big day!

Kat

Married on 10/29/2016

We cannot express enough how patient, understanding, talented, and kind the Magic Flute team was!!!!! They made my husband and I feel so comfortable, while also creating this epic vision of our wedding day by capturing it all with such style, grace, and artistic ingenuity! They were so flexible with our crazy schedule changes and even offered to stay to make sure they captured the cake cutting-what gems they are!! We absolutely loved the final cut of our video, and wish we could hire them for every event that happens in our lives. We would HIGHLY recommend them to any person who is contemplating video documentation of their big day! Please please please make sure to consider the Magic Flute team-you will be so happy with your choice, not only because of the wonderful people they are, but also because the end result is spectacular!

Tyler

Married on 04/30/2016

I can't express enough how happy I was with Renzo and his team at Magic Flute Films. He has a style that is so unique. Anyone can say they are a wedding photographer or videographer but Renzo made our video truly unique. I looked through about 10 other vendors until I found Renzo and his work spoke for itself. Super easy to work with. He lets you be you and doesn't give a ton of awkward direction. This is great! The only downside is he usually works with his wife and she was out on maternity leave. Even without her, Highly recommended!!!

Mina

Married on 02/06/2016

Renzo and Jordan were AMAZING.

I could not have even imagined an output as good as the one they provided. Having looked at the material on their site, I knew they were talented but what made the photos and videos that they gave us SO GOOD is that they totally brought out our personality in them. They aren't cookie-cutter. They totally customized it.

Renzo was very responsive and super timely. If anything, he waited on me and my husband way more than we ever waited on him--because we never had to wait on him.

They were also super open and flexible with feedback and that was super valuable to my husband and I. They incorporated small additions we wanted into our highlights reel without any issue.



Magic Flute was absolutely amazing! We love the way they handled themselves at the event and our video came out AMAZING!

Julie

Married on 08/22/2015

We had Renzo and Jordan film our wedding and they did an amazing job. Renzo was quick to respond to emails, they arrived on time, and were an absolute pleasure to work with. During our wedding day they were not intrusive at all and guests hardly noticed that they were there, yet they captured all of the special moments that we wanted. Their style is great and we couldn't be happier with both our highlight video and full length video. We received endless compliments from friends and family on our video, and the quality is amazing. They were quick to edit everything and even made a change for us in our highlight video within a day! We couldn't say enough about Magic Flute, we highly recommend them!!

Colleen

Married on 07/12/2015

Renzo was an absoute delight to work with. I found him through previous videography he did at our venue (The Roxbury Barn) and he was kind enough to jump on board last minute for our wedding since he still had the date available and was very flexible with accommodating our needs & budget for the day.

Renzo went above and beyond to provide us with a spectacular memory of our day. He & his assistant were so lovely following us around that day, and the best part for us (who are two people who feel quite awkward being filmed) was that we barely noticed their presence in the best way possible - they faded into the background, drew little to no attention, but still managed to create a beautiful record of all that went down.

The editing was great and he gave some excellent guidance on music selection to steer us down another path that wound up a superb partnering to what he shot. The short & long video both brought us to tears and laughter and have been so well received by our friends and family.

Again, couldn't rave more about the gift he gave us with this memory of our wedding day. From two people who were never going to spring for a videographer, I'm so glad we changed our mind at the last minute and went with it. Worth every last penny and more.

Anya

Married on 05/30/2015

Renzo and Annika were amazing to work with! Our highlights video and full video came out beautiful- the resolution, images, editing, music, everything was spot on. They did a great job capturing our day and now we can relive all of our favorite moments thanks to them. I still watch our highlights video at least a couple times a week and it always makes me smile :)

Renzo and Annika were an absolutely fabulous choice to film our wedding. I chose them because of the unique style of their videos and their mastery of pairing fun music with the events - I was not disappointed! Their enthusiasm, energy and creativity were infectious and everyone in our wedding party loved them. They were unobtrusive while still capturing all the important moments of the day. They went above and beyond by coming to our rehearsal at the venue to scout out the location and the best way to film it. Their efforts and artistic eye show in the highlight reel and longer video of the wedding. Reasonable pricing and very fast production time. Our full edit of the wedding video arrived within two months of the wedding!! I would highly recommend their services!

Zila

Married on 12/13/2014

I had booked Renzo for the videography and the day before my wedding my photographer cancelled on me. Renzo stepped up to put a team together in less than 24 hours. When the team arrived they spoke with me at length about what I wanted and came with ideas that ended up being some of my favorite photos. Throughout the entire day the team showed such kindness and professionalism. They were more than willing to take any silly photos that my husband and I wanted but also came with suggestions as they walked around the venue. I really appreciated their creative eye! FINALLY I must say the way they were able to run around throughout the event and capture every moment while also blending in is incredible. Multiple people when looking at the photos said "I can't believe they got that shot!? I didn't even notice they were there." I love the photos and really can't gush enough!

Sophia

Married on 11/01/2014

Renzo & Annika were highly recommended to me to capture the special moments of our wedding day. Words can not express enough how BEAUTIFUL and STUNNING the pictures were and how EXTRAORDINARILY PROFESSIONAL they both are! They made my husband and I feel very comfortable and relaxed without any fuss. With stellar precision they both captured the "RIGHT" photos and even read my mind when I had completely forgotten in the chaos to express to them what I wanted. Seeing the GORGEOUS pictures, I am SUPER HAPPY and EXCITED they were a part of my special day because they made the MOMENTS MEMORABLE and will be CHERISHED for YEARS to come!!

When my daughter told me that she wanted a videographer at her wedding, I was a little surprised yet she was so clear about this, that we started to look around to find the right match. She was the one who found Magic Flute and sent me their link. From the moment I viewed Annika and Renzo's work, I knew they were the ones to capture this amazing event.

The video, both short and long are so stunning and I couldn't be more happy with the results.
Had there not been a video, I wouldn't have been able to see the whole ceremony, the Ketubah signing, the getting ready in real time and the dancing and the speeches....everything.

When I saw it, I cried; it was being at the wedding as a guest and it was an added dimension that I cherish.

I recommend them HIGHLY for every reason. They are Top of the Line. Thank you for the Magic.

We were beyond happy with Renzo and Annika and the beautiful art they created! The turn around time was VERY good...we had our teaser and full feature back within 3 weeks of our wedding! I wasn't expecting the video back for at least double that time. They were very unobtrusive on the day of the wedding but seemed to capture it all. We will enjoy the footage for many years to come!
XX
Jourdan and Josh

Dylana

Married on 08/15/2014

Renzo is amazing! For any bride out there who is looking for a truly epic wedding video, this id your guy! He has such a gift for editing video and finding those perfect moments. The quality of the video is amazing...high def, so clear...seems like a movie! The day of the wedding Renzo and team work so well at blending into the event, you hardly notice them! They captured the day beautifully and even better- edit the day to perfection. If you want a truly unique wedding video, Magic Flute is the way to go!

Naima

Married on 08/10/2014

I recently got married about six ago and I chose Renzo and Annika to do the videography. Let me first mention that I saw the work they did for a friend's wedding and I had to have them. I was a bride on a budget so I wasn't prepared to spend tons of money on something I might not watch tons of times. However, Renzo was fair, reasonable and able to customize a package to meet my expectations. I appreciated the that they were professional, punctual and very fun to work with. I just received my highlight video and I must say it superseded my vision!!! I am absolutely in aww about every single thing in the video. I watched it atleast 20 times the day I got it and I'm still not bored with there amazing work. Initially, I planned on only getting the highlight video and the raw footage but I will definitely pay for the entire wedding (edited version ). I became a Bridezilla (unknowingly) because I wanted everything perfect for the big day. If you are even close to being that way I suggest you breathe and just let them do the job...seriously you won't be disappointed or I will give you your money back lol.

Crystal

Married on 08/01/2014

And 10 more million stars!!! We just got a glimpse of our wedding teaser today and WOWWWW is all i have gotta say!!! I mean my husband and I were just amazed on how Magic Flutes just captured every single breath taking moment! I have already shared it with my family and friends and they too mentioned how beautiful it was. From the music they added to video all the way up to the quality of the entire video picture itself. They really did capture the most perfect moments and edited them into making a wonderful video. Thank you so much guys, Renzo and team....we are so glad we picked you guys to capture these forever moments. Thank You!

Dominika

Married on 07/19/2014

I wish I could give a million more stars!!!! These guys are amazing! Both my full length video and the highlights video are so beautiful. The video and audio are superb. The quality is like that of a Hollywood movie. They captured the emotion so well; I can literally see the love. Just one visit to their blog and you will be sold. I would choose them again and again! Renzo is so responsive and flexible and made me feel comfortable.

Victoria

Married on 07/12/2014

Magic Flute did an absolutely amazing job shooting our recent wedding in Palos Verdes, CA. Their work is beyond incredible. Renzo and Annika were so wonderful to work with every step of the way. On our wedding day they were so unobtrusive and at the same time managed to capture every special moment. And, they had our highlights video and full length edited video done so quickly. They are both unbelievably perfect.
We could not have imagined a more beautiful and professional video. Our family and friends that have watched it are continuing to call us to share how incredible they think it is. Magic Flute is the best choice we could've made. Thank you, Renzo and Annika!

Natalie

Married on 06/21/2014

Renzo and his team were amazing . Not only did they capture our entire wedding from beginning to end, the Vimeo was genius and very creative. They are super talented, respectful and an amazing crew and I would recommend them to anyone and everyone.

Cathleen

Married on 06/01/2014

Was really amazing working with Magic Flute for our wedding!! So glad we went with as a vendor I have not one complaint! They did a phenomenal job on out video and everyone commented about how pleasant they were! Love them for all the captured moments

Katie

Married on 05/17/2014

Magic Flute is absolutely incredible and Renzo was wonderful to work with. He took all of our considerations to heart and listened to all of our requests. We didn't even notice he was there at the wedding, he just blended in so well and made it all seem so seamless. We were so pleasantly surprised when Renzo sent our trailer right when we returned from our honeymoon! The trailer was perfect and our friends and family loved it. It captured everything we loved about our wedding. The full video exceeded our expectations and, again, Renzo captured the best moments. We had such a great time watching the video together and both said the best decision we made was to use magic flute. Now we have lasting memories of the day all thanks to Renzo! We highly recommend him and magic flute, you will be so happy with your choice!

Lindsey

Married on 04/05/2014

These guys are experts. Highly recommend them.
Are you interested?
Send a message