240 Reviews
Recommended by 97% of couples
Quality of service

4.9 out of 5 rating

Average response time

4.9 out of 5 rating

Professionalism

4.9 out of 5 rating

Value

4.8 out of 5 rating

Flexibility

4.9 out of 5 rating
38 User photos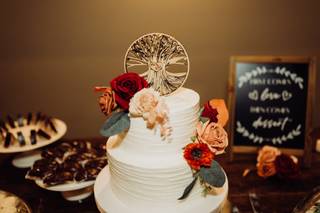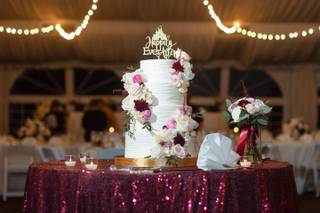 + 34

photos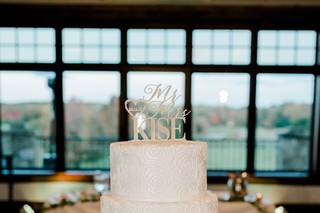 Lavanya I.

Married on 11/27/2022

Iyer-Venkataswamy Wedding

Lovin Oven catered a cookie sheet cake for my sangeet function and the cake for my reception. Everything was delicious! Thank you so much - we will definitely cater for future birthdays and functions.

Lovin Oven Cakery's reply:

Thank you for the kind review, Lavanya! It was a pleasure working with you. I will look forward to working with you in the future...especially to order your top tier replica!
Hope you have a wonderful 1st year together!
Sincerely,
Stephanie

Kaley B.

Married on 11/26/2022

Perfect cake!

They did everything I could have asked for an more! It was perfect! My husband was so surprised by having our dogs on the cake & the designed did more than I ever could have envisioned.

Claudia C.

Married on 11/12/2022

Best Wedding Cake Ever

I can't begin to express the delicious, beautiful wedding cake, which was accompanied by outstanding customer service for our daughter's wedding. Stephanie was a dream to work with the marble cake with tiramisu filling was enjoyed by all of our guests, The special little surprise appearance by our daughter's dog under the fondant was a sweet surprise. Please note we purchased the felt dog head from an Etsy shop so we could keep it as a keepsake. Thanks so much for everything!

Lovin Oven Cakery's reply:

Claudia, Thank you so much for your very nice review as well as sharing your photo. It was a delight to work with you! I am so happy to hear that you, your daughter and new son-in-law, and the rest of the guests enjoyed the whole cake. The donut wedding rings and dog peaking out of the cake really make this one unique.

I hope they have a wonderful first year together and I look forward to putting in their top tier replica order!
Sincerely,
Stephanie

Are you interested?

Send a message

Megan L.

Married on 11/05/2022

Amazing as always!

Lovin Oven was my families go to bakery for cake and cupcakes while I was growing up so going to Lovin oven for my wedding cake was a no brainer. My husband and I loved every cake we tasted and Stephanie was so knowledgeable and helpful when we made the decision on what flavors to use in our cake and the pastries we got for our sweets table. We got so many compliments from our guests on our sweets table, everything was perfect!

Lovin Oven Cakery's reply:

Megan, Thank you so much for your very kind review. It was a pleasure working with the both of you! Your cake photos you shared here are so beautiful. I really appreciate you sharing your experience. Looking forward to putting in your order for your top tier replica on your 1 year anniversary! -Stephanie

Lucy C.

Married on 10/29/2022

Excellent cake and cookies

Stephanie was fantastic to work with! She was very creative and helped us design our perfect autumn cake and wedding cookie favors. I appreciate that she worked hard to make our special day perfect. Our guests loved the cake and the cookie favors! Wonderful and creative bakery!

Lovin Oven Cakery's reply:

Lucy, you were such a pleasure to work with! I'm so happy that you trusted the creative process and that everything turned out beautiful and delicious for you. It is clients like you that make my job fun and rewarding! I hope your 1st year together is a wonderful one and I look forward to your order for your top tier replica on your anniversary next year.
Thank you sincerely,
Stephanie

Nicole D.

Married on 10/22/2022

Beautiful Wedding Cake!

We found Lovin Oven Cakery through our venue and we were required to use them.... and I am SO happy we were! They were so wonderful to work with and we had a great tasting experience! Staff were so friendly and created a stunning cake for us. Highly recommend!

Lovin Oven Cakery's reply:

Nicole, thank you for your kind review and sharing your beautiful cake photo with us! Your topper and flowers make this cake seem so unique, I love it!
It was a pleasure working with you. I'm happy that we were able to make your special day that much sweeter. I hope your first year together is a wonderful one. I look forward to putting in your top tier replica order!
Sincerely,
Stephanie

Jaclyn K.

Married on 10/15/2022

Loved our wedding cake from Lovin Oven Cakery

We absolutely loved our wedding cake from Lovin Oven Cakery! My husband is generally not a cake person but was so excited when we left our tasting, as he thought the quality of the cake was exceptional and the fillings were flavorful without being too sweet. The final cake looked beautiful and was just what we asked for. We were able to split the tiers between yellow and lemon cake, paired with chocolate fudge and strawberry buttercream. We would highly recommend Loving Oven Cakery for your future event!

Lovin Oven Cakery's reply:

Jacklyn, you bet I just gasped at the photo of your wedding cake..so beautiful and thank you for sharing! It was a pleasure working with you and your husband. I hope you have a wonderful 1st year together. Again, thank you for this lovely review and being great clients to work with.
Sincerely,
Stephanie

Cath

Married on 09/09/2022

Fantastic!

Stephanie has been the kindest and sweetest. She was also super responsive and helped us out a lot - she understood exactly what we wanted.

Lovin Oven Cakery's reply:

Cath,
Thank you so much for the lovely review! I'm so glad I was part of making your big day special. I'm looking forward to putting in your order for your 1st Anniversary cake...I hope you have a wonderful first year together

Lizzy O.

Married on 08/13/2022

Wonderful!

Such a great experience with such a beautiful outcome! Delicious and great presentation

Lovin Oven Cakery's reply:

Elizabeth, you and your groom are absolutely stunning! That photo is truly beautiful. It was a pleasure working with you for your special day. Looking forward to putting in your order for your anniversary cake! Thank you for being great clients and for the great review.
Sincerely,
Stephanie

Samantha A.

Married on 10/16/2021

We will be back!

Our Lovin' Oven cake was to die for! We chose the white and chocolate cake with lemon berry filling and buttercream frosting--let me tell you, it didn't disappoint. All of our guests reported loving the flavor and the cake. We will surely be back for future events. Marlo was great within the planning process and was very responsive to our needs.

Lovin Oven Cakery's reply:

Samantha, I am so happy you loved your cake for your wedding. I hope your anniversary replica was just as amazing! Thank you for your lovely review.
-Stephanie Wedding Cake Coordinator

Arianna H.

Married on 09/24/2021

Beautiful and Great Taste

Our cake was amazing and everybody wanted more. All you have to do is look on their Facebook to know they make beautiful cakes, but the flavor will surprise you and your guests every time. Lovin Oven was professional and timely. I worked with Marlo to arrange everything and have our cake delivered and it couldn't have been more perfect. I am so excited for my one year anniversary topper cake. I highly recommend Lovin Oven.

Lovin Oven Cakery's reply:

We are so happy that you enjoyed your cake. Thank you for the kind review.
-Stephanie Wedding Cake Coordinator

Kirsten R.

Married on 09/10/2021

Easy to work with!

We went with a variety of donuts for our wedding dessert. They were affordable, delicious, and delivered to our venue which made it a breeze! The whole process was easy, and the donuts were a hit. We introduced a few people to their first maple bacon long john!

Jenna K.

Married on 09/10/2021

Positively flawless and delicious

The customer service was wonderful and the cake was the best cake I've ever had. Many guest said the same thing. We did lemon cake with raspberry buttercream filling and a marble cake with Tiramisu filling. Both were exceptional!

Lovin Oven Cakery's reply:

Jenna, I am the new wedding cake coordinator at Lovin Oven Cakery. I just wanted to say how beautiful your wedding cake photos are; you both look lovely. Also, I hope that you enjoyed your anniversary cake too!
Thank you,
Stephanie

Agatha H.

Married on 08/20/2021

I want more cake! SOOO good.

Most delicious wedding cake!

Our wedding cake was prepared by Lovin' Oven. We selected the lemon with lemon berry mousse and it was a hit with everyone.

Marlo did a great job helping us coordinate the style, flavors of the cake for our big day. We were very pleased and want more! LOL.




Rachel N.

Married on 05/29/2021

Drool worthy everyone is STILL TALKING ABOUT

Having a Pastry Arts degree myself I was very nervous I'd have to settle on a cake I didn't love. Not with Lovin Oven! A friend from work recommended them and I will now too! Beautiful location that was easy to work with even sending my mom home with samples to try with my fiancé and I. So, so, delicious and elegant. Our friends and family have called and told us they wished they'd taken more home!! Plus with three tiers you can choose six flavors inside!! We've now made them our bakery destination for all events. Run don't walk to them!

Allison P.

Married on 05/22/2021

Most delicious desserts ever.

We booked with this bakery because our venue had a partnership with them. I WAS SO GLAD. We got a smaller cake because nobody seems to eat the cake at a wedding and 250 mini pastries. They came out more as a late night snack instead of right at dinner because sometimes you aren't wanting dessert right away. Our guests were RAVING about how delicious the cake and the pastries were. They created a huge variety of so many favorite desserts and there wasn't a single one left at the end of the night because people were grabbing more as they left. We highly recommend them!

Jenny B.

Married on 08/15/2020

Purely Amazing

My (now) husband and I weren't going to have a cake this year because we split our wedding due to COVID. This year, we just did a 2-hour ceremony and cocktail hour event, so we were going to save the cake for the reception next year. Last minute, my parents offered to pick up a cake from Lovin Ovens. I called to place my order and did not have much direction--the woman on the phone asked the right questions and guided me through what information she needed. When my parents brought the cake, it was unbelievably perfect! The colors matched my decor PERFECTLY down to the exact shades. It was SO delicious and perfect, and I'm so happy we got the cake last minute.

Kaitlyn

Married on 10/19/2019

Delicious and beautiful!

Lovin' oven was very fast in there response to email. When we went to taste cake they were very accommodating and brought us gluten free options for us as well. They listened to all our thoughts and took our inspiration picture to make sure the cake turned out the way we wanted it.

It was even better than we hoped. We were able to alternate tiers of our cake to be gluten free and regular so we had something for everyone. The gluten free white cake was absolutely delicious! (As was the marble) but it can be very difficult to find a decent gluten free dessert and lovin' oven hit it out of the park!

Alexandria

Married on 09/28/2019

Amazing experience

Lovin Oven was absolutely AMAZING to work with!! Our tasting was so much fun and our wedding cake turned out exactly as I imagined! They even made our rehearsal dinner groom cake and generously transported it to the venue for us. I can't say enough how great and easy they were to work with at the Antioch location. I will be recommending them to all my friends!!

Jacqueline

Married on 09/07/2019

Delicious and beautiful!

We got our cake from Lovin Oven as part of our wedding package at Makray Memorial Golf Club on July 27, 2019. Having worked in the wedding & event industry for several years, I knew them well and was very excited to have them make the cake for our wedding. We went to their location in downtown Antioch, IL to do our tasting and pick out our design. They were exceptionally patient and helpful throughout that process and had lots of photos and design examples for us to choose from. Closer to the wedding day we had to make some small changes based on the number of RSVPs we had and they were very accommodating and made sure that we had exactly what we needed. Last, but not least, the cake looked terrific and tasted even better!

Amy C.

Married on 08/30/2019

Gorgeous and Simple

Part of our wedding package was a customized cake from Lovin' Oven Cakery and we were ecstatic. We had 5 tiers and every tier was a different yummy combination. The only thing that was tough was that our tasting was all the way in Antioch. We received many compliments on the "naked" style cake. Their other pastries are awesome as well.

Shannon B.

Married on 07/28/2019

Wedding pie!

We had our wedding at the Lincolnshire Marriott Resort and we had blueberry pie as our pie we cut into. We also had 7 other pie flavors and mini blueberry cheesecakes. Everyone adored the food and even took the leftovers home! The dessert was amazing that my husband and I went back!!

Taylor A.

Married on 07/13/2019

Delicious and Pretty

Lovin Oven made us the perfect pretty purple ombre cake that was also delicious! Everyone said they loved it. It was included in our wedding package for the country club, so we only had to pay the up charge for the ombre. Looking forward to getting our top tier re-created for our first anniversary as well!

Kristin

Married on 06/08/2019

Delicious!

We had a 3 tier cake, with chocolate cake and peanut butter butter cream, lemon with strawberry, and red velvet for us. They were very accommodating with the tasting and helped us pick what we wanted with the combos and the design. We couldn't wait to have our topper, which was delicious even after being frozen, and we look forward to getting another for our anniversary.
Lovin oven was contracted with White Deer Run, our venue, but we would have chosen them either way.

Erin W.

Married on 05/18/2019

Exactly what I dreamed it would be!

Not only was the tasting delicious and fun but the staff was super friendly and accommodating. We told them what we envisioned and that's exactly what we got and more! The cake was beautiful, unique (airplane themed) and delicious! We also had Lovin' Oven make airplane cookies for our wedding guests to take after the reception and they were perfection! Thank you Lovin' Oven!!
Are you interested?
Send a message