121 Reviews
Recommended by 97% of couples
Quality of service

4.9 out of 5 rating

Average response time

4.8 out of 5 rating

Professionalism

4.9 out of 5 rating

Value

4.8 out of 5 rating

Flexibility

4.9 out of 5 rating
3 User photos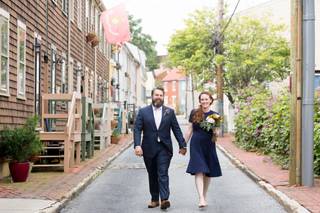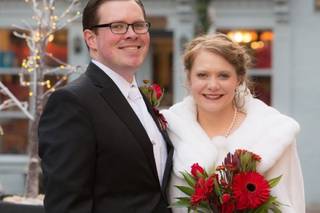 Amanda B.

Married on 07/13/2020

Amazing company!

I cannot possibly say enough positive things about Amanda! Due to COVID we had to reschedule our big celebration to next year, so we decided to have a small ceremony at home this year. Of course we still wanted Lovestruck for this year on top of rescheduling with them for next year. Amanda has been super supportive during a crazy and unsure time for us brides, which is such a big deal right now. She takes amazing pictures and even sent us a preview within the same day! I look at my pictures every single day just because of how obsessed I am with them. She took great candid shots, which is one of the big reasons why I picked her, not to mention how nice and laid back she is! One of the best things is the whole album is yours, no picking only certain ones for such an important day. Not only that she didn't put a limit on how many she took which is awesome. Lovestruck is an amazing company who has been so supportive and understanding during such an unprecedented time. I can't wait to have Lovestruck at my big celebration next year!

Heather S.

Married on 08/31/2019

Highly Recommend!!

Katie did an AMAZING job on our wedding pictures! From the moment I spoke with her on the phone she made me feel comfortable and at ease! She was extremely professional, flexible with my schedule, returned my calls and emails in a timely manner and an overall absolute pleasure to work with! During our engagement session and on our wedding day she helped put us at ease and did a fantastic job at guiding us through the entire event! Our pictures are absolutely beautiful and I can't thank Katie enough for being a part of our special day!

Kathryn L.

Married on 05/26/2019

Wonderful photographer

We had such a great experience working with Katie. We were on a strict budget, and she was so gracious about putting together a package that worked for us. She did our engagement photos, which we loved. And of course we had a great experience with her at our wedding! We just ordered prints of our photos and we are so pleased with the way they came out. Katie was amazing to work with, and we highly recommend her!

Are you interested?

Send a message

Charles

Married on 03/16/2019

Great! Definitely Recommend!

Working with Katie and Lovestuck Photography was great! She took two people who aren't comfortable in front of the camera and managed to both make us comfortable and get great photos too. She was great with both of our engagement photos and wedding photos, with the perfect combination of posed and candid shots. We got all of our photos back very quickly and Katie worked with us to make additional edits so that we were totally happy with everything we had.

Haven

Married on 10/13/2017

Took over a thousand photos at the wedding, and edited over 800 for us. Amazing shots and very high quiality images. Made the wedding so much more fun and less stressful. On top of their game!

Lucinda

Married on 09/23/2017

We loved working with Katie. She was very flexible, as our plans for a destination engagement shoot and bridal portraits changed, and allowed us to add on additional time to our wedding reception. She came equipped to the wedding with ladders, as my husband and I are taller and didn't want to be looking downwards for portraits.

Stephen

Married on 09/22/2017

Katie did a great job with our wedding. Her creativity with shots really captured the moment. She used the scenery in Annapolis, MD to create some great portraits.

Kristine

Married on 09/22/2017

Katie is the best! I love that any time someone has seen her photos of our wedding day the first compliment they have is how amazing the photos are - THEN they mention that we look great too ;) She's such a pro and patient and full of fantastic ideas for truly memorable shots.

Tracey

Married on 07/09/2017

My husband and I got married on July 9, 2017. The most important thing to me for the wedding was to have great pictures. I used Lovestruck images was recommended to me and I'm so happy I used them! Katie was amazing! She want above and beyond what I expected! The wedding was at the beach in ocean city. Maryland and the photos were absolutely beautiful! After the wedding my photos were available to me in a very reasonable amount of time which was the best part ever because after you get married... all you want to do is look at the pictures!!! I'd highly recommend lovestruck images to anyone who is getting married soon!

Lauren

Married on 01/07/2017

Katie was INCREDIBLE for our wedding! We were planning from a distance, and she was able to work with our schedule and our questions, then made time to meet us in person when we arrived in Alexandria to talk through the photo list and plans for the day. She was incredibly kind and took amazing care of us, while also moving things along efficiently and smoothly.

Lauren

Married on 01/07/2017

We are about a year out from our wedding, and have just moved and finally gotten a chance to print and display our wedding pictures. We were reminded how grateful we were for Katie's services! She was so kind and flexible and great managing our family and friends to take beautiful pictures on a very cold day while also making sure everyone stayed warm and comfortable. Would recommend her to anyone!

Kara

Married on 11/11/2016

From the initial meeting, we both felt confident in Katie's photography skills, point of view, and her ability to hear what our wishes were for our wedding day. Once the day arrived, she moved with quiet confidence -- she was not pushy, but she ensured that things moved along efficiently during the pre- and post-ceremony portraits. While at the reception, several guests commented that Katie was everywhere ensuring that nothing was overlooked. We are thrilled with the quality of our photos and they were available sooner than we anticipated! She was able to capture the joy and intimacy in spontaneous moments, which, of course, turned out to be our favorite pictures. All of this was done at what we found to be a great value. Thanks Katie!

We met with Katie during our search for a wedding photographer and appreciated her outgoing personality, interest in us, and wealth of photos and experience in the area. We did a thorough search of DC area photographers and felt that she was probably the best bang for the buck. In the end we chose to spend more on another photographer with a higher level of experience. But had we kept to budget Lovestruck would have been the winner. And I bet we would have been very happy with the results and her friendly presence at our wedding.

Kelly

Married on 10/22/2016

Katie was absolutely wonderful. She was fun to be around, approachable, and always had us laughing. We met Katie at a Starbucks before we decided to hire her and we totally clicked. We were comfortable with her right away and we loved her candid shots- they totally capture the spirit of what's happening in the setting. And the pictures are perfect. She was great with the kids- and even had one of them smiling who usually does not smile for pictures. We trusted her completely and did not have any worries on our big day- which is just want a bride and groom need! Thanks so much Katie!

Kerry

Married on 07/06/2016

My husband, family, and I are so pleased with Katie and Lovestruck! From the first introduction to the delivery of the photos, she was an absolute pleasure to work with. I'm not the easiest person to work with, but she gelled with me seamlessly!
It is important to note that Katie not only captured the moments I wanted, but she also captured ones that I didn't know would happen. Her pictures show the true emotion and happiness of our day. We are so thankful for her time and talents.



Maryanne

Married on 06/25/2016

My husband and I worked with Katie for our wedding this past June. She was very professional but still so fun to work with! She helped family and friends feel at ease and made the large family group portraits feel effortless! She also got some amazing shots of our venue and of my husband and I on the property. We absolutely love each and every one of our photos! I am so excited to see our finished album.

Mary

Married on 02/06/2016

It was phenomenal to work with Katie. We initially met with her to see about being our main photographer, and then ended up going with a distant family member who gave us an offer we couldn't refuse. We still wanted to work with Katie, and she was understanding and gracious bout our choice about the main photographer and still willing to work with us... So! Lovestruck Images also has an amazing photo booth, the kind we were hoping for - props galore (REALLY hilarious ones and lots of variety - a chicken hat, tons of glasses and mustaches, crazy Mickey Mouse gloves... a werewolf mask - you know, the essentials!), high resolution files that can be downloaded later from a gallery, AND print-outs for our guests. Katie worked with us on getting a fun backdrop (gold! one of our wedding colors!), and she and her hubby (a team! :)) were discreet about setting up the booth and operating it at all the appropriate times (and not operating it during the times when attention needed to be elsewhere!). We loved her, our guests loved their photo strips, and we love having all the great images from the photo booth as memories for years to come. Thank you, Lovestruck Images!

We hired Katie for our wedding pictures and couldn't be happier with Katie's work in photographing our pre wedding and wedding! The pictures were exactly what we had envisioned and she was very friendly and personable. Not only the photographs were beautiful and creatively inspired but also she was a total professional in all of her dealings with us. She was responsive and very easy to work with. Always punctual and we feel we made a friend in her after working in our special event. She provided us with the greatest of memories for this special day in our lives.

Brennan

Married on 11/07/2015

Katie Whitestone is an exceptional photographer and we are so glad that we chose her for our November wedding. She captured the emotions of the day incredibly well, and the looks on guests' faces really told our story so nicely. Our ceremony room was a bit dark, but Katie lit it very well and the clarity in every shot was stunning, something I was worried might be an issue. Katie was also super flexible on the event day with helping gather different family members and friends for various group shots afterwards. We didn't have a lot of time to work with, but she made the most of every moment, while also keeping a sense of humor! We had a cultural ceremony (Indian) and Katie got all of the details like the marigold flower petals, religious idols, flame, etc....and each shot was caught at a unique angle. I also liked how Katie got so many shots without ever being in the way. I don't like how some photographers get up in guests' faces, but Katie didn't need to----she has an eye for capturing the moment and then moving to the next one. Finally, we were so impressed with her responsiveness leading up to the big day. From the moment we reached out to her, Katie was prompt, friendly, organized, and informative----making sure that we knew our options, and asking us all the right questions (as well as answering all of ours!) Granted it was a slower season, but Katie still managed to have all of our photos to us in less than one month! We have looked through the images numerous times, and see new details emerge each time. Our guests have also viewed the gallery and were blown away as well. Fantastic job, Katie!





We loved working with Katie! She made the whole process so easy & painless. She was always prompt in returning emails and phone calls during the planning. On our wedding day she was wonderful! She immediately put me at ease and I forgot all about my nerves. The pictures are great. I love all the candids she got of my crazy dancing family. I can't wait for our album to come!

Katie was amazing!! My whole bridal party had so much fun with her! She made everyone feel so relaxed and comfortable from the moment we met her. The pictures were more amazing then I could have imaged!! She captured every detail and posed my bridal party of 20 beautifully! You would've never noticed she was even there-- except for all the times she was helping me with last minute issues, like my veil!

Jeff

Married on 09/12/2015

My husband and I had an instant connection with Katie from the moment that we met her when we were interviewing photographers. The photo package we purchased from Katie ncluded an engagement session, photo guest book for the wedding and photography at our ceremony and reception. For the engagement session we wanted photos from our neighborhood in downtown Silver Spring. We had given Katie a couple of location ideas and she scoped those locations out prior to meeting with us. She even scoped out other ideas to find the best photo spots. The guestbook, which included photos from the engagement session, turned out great. Our guests loved it and really enjoyed being able to thumb through the photos. The guestbook lended a very personal feel to the wedding. At the wedding we had Katie and one other photographer. We loved working with both of them. They captured the posed photos that we wanted plus all the fun, candid action shots that we wanted. Our guests told us afterwards that they didn't even notice Katie and her assistant because they were so deliberate to not be noticed. The wedding photos were absolutely perfect. They really captured the day and got all the moments we didn't get to see. We are so excited to see our wedding album. We would wholeheartedly recommend Lovestruck Images for your wedding photography needs.

Marguerite

Married on 05/30/2015

Katie was exceptional and Lovestruck was worth every penny! I would recommend Lovestruck to anyone. Katie worked with our budget, needs and walked us through the process. She was flexible and always responsive. During the planning she was so helpful, with so many wedding gigs under her belt she is a wealth of knowledge on all things weddings. We knew we loved her when we did the engagement photos and then saw them. If you are going to book, I highly recommend also doing the engagement package since it really helps you get a feel for this sort of stuff. All our photos look amazing and we are happy to have the quality and variety of photos. Lastly, it wasn't just Katie's professionalism and organization that was exceptional, but she is energetic and fun to be around, exactly the kind of fun positive energy you want your photographer to have on your wedding day!

Katie was wonderful at both our wedding and engagement photos. She was easy to work with - firm when she needed to be with our families but always easygoing and pleasant. Her pictures came out wonderfully, particularly in capturing our friends and families at the reception. She also gave us some great advice about structuring things at the wedding and on the day of that really helped make our wedding perfect for us.

Marie

Married on 06/14/2014

Katie and Matt of Lovestruck Images were the perfect pair for our wedding day! We started out with an engagement shoot around the Mall in DC to get comfortable with Katie before the big day. The pictures turned out great and we had a really good time! Katie and Matt made sure to capture the best moments for us from our big day, moments we would have never seen without them there. I never felt rushed, pushed, or uncomfortable with them and we were able to get every must have picture taken on our list. Not only did the pictures turn out beautifully, but the turn around time was incredible.
Are you interested?
Send a message