33 Reviews
Recommended by 100% of couples
Quality of service

5 out of 5 rating

Average response time

5 out of 5 rating

Professionalism

5 out of 5 rating

Value

5 out of 5 rating

Flexibility

5 out of 5 rating
37 User photos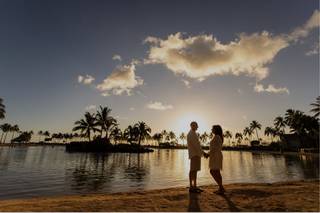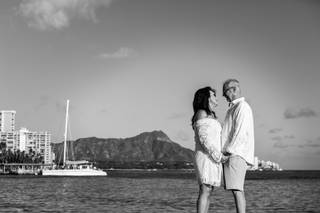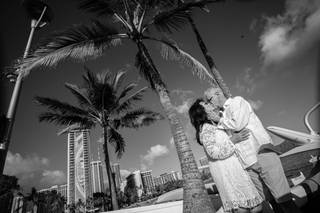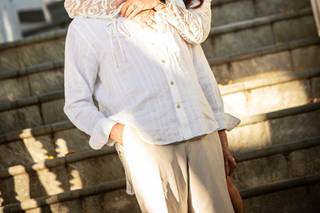 + 33

photos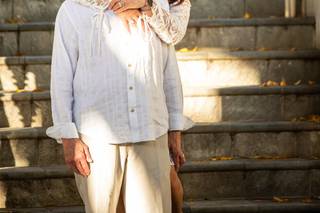 Summer

Married on 07/03/2022

Incredible experience and lovely photos!

We LOVED working with Vince and couldn't have asked for a better photographer. We got married at the Kahala, and Vince made the experience so much fun for us, our family and our friends. He had wonderful inspiration on poses, was totally game with impromptu requests we made, and got along easily with us and our guests.

Vince somehow kept us right on schedule too, not easy to do when you have 10 tables of friends and family, and a sunset that isn't going to wait for you.

The photos were lovely and really brought us back to those wonderful moments. We'll treasure them for a lifetime. THANK YOU Vince!

Bex M.

Married on 05/14/2022

Flexible and Efficient on Wedding Day

Vince was great to work with. He was helpful in making package deals to help meet our budget. On wedding day he was very efficient and confident in getting people into position (or out of the background) for photos in a timely manner. My wife and I are impressed with the results of his work. He and his team were the picture of professionalism.

Sandra S.

Married on 08/20/2021

Beautiful pictures!!

Vince was very accommodating, easy to work with, kind and patient. His photo suggestions were so helpful and they turned out beautiful! My hubby and I were celebrating our 47th wedding anniversary in Hawaii and Vince definitely captured our hearts. He was not hurried but really wanted to the session a great experience. We are very pleased

+ 5

photos

Are you interested?

Send a message

Lisa N.

Married on 06/04/2021

Incredible photographer, incredible experience

We loved working with Vince! He did our engagement photos as well as our wedding day photos and we are thrilled with the results. He has a way of making people feel very comfortable, even when in not-so-comfortable poses. His easygoing nature and funny personality always made us feel at ease. We were very impressed with his professionalism and his "eye" for the right shots. We'd definitely recommend him to family, friends, and anyone in need of a photographer.

Mbm

Married on 05/09/2021

Highly Recommend

We chose Vince after we met him at the Bridal Expo. As a couple, we are very camera shy, and were not exactly looking forward to a day full of pictures. Vince took all that nervousness away! He was very professional, fun and easy going, making us feel relaxed and comfortable taking pictures. After going through the wedding process I realized the photographer pretty much runs the timeline for the wedding. We had all the shots plus more that we wanted, and we even ended up ahead of schedule! His organization, timeliness, and execution was flawless. I could not have asked for a better photographer on my wedding day. He prepared us for the event with a few meetings before the big day, so we knew exactly what to expect and was able to tell him what we wanted. Our pictures turned out wonderful, and he even made a photo album with our favorites. We highly recommend Vince!

Riley H.

Married on 07/06/2019

Professional, funny and an excellent work

Vince was great to work with for both our engagement shoot and wedding ceremony and reception. He was very professional and did whatever it took to get into good positions for the best shots. He cracked jokes to get everyone to relax and was very easy to talk to. I would recommend his services and we look forward to working with him again if we get a chance to. Thanks Vince all the photos came out great!

Laura K.

Married on 03/03/2019

Highly Recommend! Very professional and lots of beautiful wedding photos

I actually met Vince Shin at a wedding expo. My mother and I really enjoyed talking to him and he is so personable and has a great sense of humor. We were lucky enough to win a prize with him so my husband and I decided to go with him for our wedding photography at Ala Moana Hotel. Would definitely recommend him! He is very responsive to emails, has tons of experience, and now after being married for 2 months and looking back on our photos of the day (over 1000 absolutely beautiful photos), we are so pleased with the results. The lighting was challenging in the ballroom, but every picture looks so professional and you couldn't even tell that the lighting was not ideal. Ala Moana Hotel doesn't exactly have a lot of scenic outdoor locations, but he managed to make our outdoor photos looks so beautiful too and seemed to know exactly how to frame everything. He and the assistant he brought that day were also able to capture some amazing candid moments. He provided lots of good advice about where and when to take pictures for first look, table photos, etc. He was great to work with, and I would highly recommend him.

+ 3

photos

Bernardo E.

Married on 12/16/2018

Equila-Liu Wedding

My husband and I were very selective with our vendors due to our same-sex courtship.

We were introduced to Vince from our local wedding expo and visited his booth to leave our names on for a prize. We were very lucky to have won a complementary photo album from him.

When we met him, we were scoping him out and his ability to work with us. Before him, we were introduced to vendors who were either pushy on the whole "gays are cool, my best friend is gay so let me do your wedding," to vendors who simply showed know enthusiasm or willingness to work with us. First impression of Vince was he was a chill and cool guy, who knew about our situation and simply provided us excellent service. We saw his work and immediately took his offer and objectively laid out what we needed and how much it was all going to cost. His prices were perfect for our budget, and he was willing to work with us to get what we needed.

On the day of our wedding, he was there on time and was ready. All I can say is that he was very friendly and professional to us, our guest, and our other vendors. He stayed through our whole wedding (what we agreed on) and was focused the entire time, caputring as much as possible.

We recently got our photos a few days ago and I was provided 700+ photos! All edited. The time it took to get our photos was 3 months (understanbly since we booked him in December, wedding season). Each photo brought me back and I honestly love that he was able to get our "good side" on almost every photo.

We love working with Vince and will refer him to our friends and families in the future. It is our goal to keep him as a contact whenever we need a photographer within ur grasp.

Thank you again Vince and Love Story Wedding Photography for caputuring the Equila-Liu love story

Francene R.

Married on 08/08/2018

Definitely captured our love story!

Vince is amazing! We have so many wonderful photos to remind us of our special day! We love to look back and fall in love all over again.

Monica

Married on 06/30/2018

Very speedy responses!! I could always count on a email back the next day but usually within the same day. Our pictures turned out absolutely amazing. Well worth the wait since we got married during peak season.

Nicole

Married on 06/24/2018

When we met Vince at the wedding expo,I knew we needed him as our wedding photographer! Vince makes everyone feel so comfortable by making you laugh and have a good time on your wedding day. Not only did my bridal party love him, everyone at our wedding said he was the best!!! I love his spontaneity and his creative eye with catching the best moments for your wedding. Everyone needs Vince as their photographer if they want to have fun and amazing photos that will make you relive the day.

+ 5

photos

Monet

Married on 06/16/2018

Vince was amazing! He was everything we wanted and more! We also took engagement photos with him before the wedding which was great because we got to know him! We were so comfortable with Vince we will be having him take our photos for years to come. If you want amazing beautiful wedding photos go with Love Story Wedding Photography!

Brei

Married on 03/13/2018

Absolutely incredible photographer!!
Vince was warm, polite, funny and exceptionally professional. My wife and I were super impressed with his enthusiasm for the 2 hours and is humbleness and cool attitude. Our wedding guests thought he was amazing too!!!
Particularly love how he made my 7 month old nephew smile and laugh in the photos!
Vince we love your work!!!
Highly recommend!!!!

Lisa

Married on 03/13/2018

Vince was amazing on our wedding day, our photos look incredible and he kept everyone so relaxed and happy.. He even got smiles from the babies..


Neysa H.

Married on 02/24/2018

Perfect Day!

Vince is great! I highly recommend him for engagement shoot and all-day wedding coverage in Hawaii. He went to extra mile to get really special shots for us.

Rachel

Married on 02/18/2018

Vince is an amazing photographer! He truly has made my "fairytale wedding" capturing moments that make you relive the moment. From day one he has graced us with his charm. My husband and I started out going to a wedding expo and won his raffle, after meeting with Vince and viewing his work, we knew that he'd be able to captivate our special day. With a background in theatrics, he worked with our party and brought out their characters in the photos. I can't thank him enough. With a wedding that's elaborate as ours and knowing how difficult payment is throughout the process he helped us make a plan that was convinent for us as well as for him. On the day of our wedding it had rained but Vince had made it work, not only did he make it work through the rain but with a large crowd and individuals with special needs. Vince's vision was amazing especially when you feel like it wasn't gonna work given the rain situation, but Vince made the best of everything and really TOOK CHARGE!!!! I have to say our weddings photos were amazing. I want to thank Vince from the bottom of our hearts!!!! We loved all the photos and you definitely can tell that he takes care of each and every photo by his edits, it's not like other photographers that say they edited it but clearly it wasn't taken care of, Vince gave it his all with so much passion and made everything amazing, from the experience to the photos and the customer service, you can't do wrong! Again thanks Vince!

Nancy

Married on 09/06/2017

Loved working with Vince! Everyone from our wedding loved him and he brought such enthusiasm to our wedding. If I am in Oahu again I will definitely have him take portraits of my husband and I!!

Nikky

Married on 08/12/2017

Vince was simply amazing! He was genuine and super personable from day 1 from our first encounter. We loved working with him and he made our wedding not only fun and filled with laughs but also very memorable. We will definitely recommend Vince to all of our family and friends who need photography services.

Travis

Married on 08/12/2017

Vince was awesome! He really knew how to make everyone smile. He was very good about keeping us on time. We really enjoyed working with Vince and would recommend him to all of our friends! Thanks Vince!

Sooyeon

Married on 08/03/2017

Vince is awesome! He is very professional :)

Cara

Married on 07/01/2017

Vince is so talented and so fun, the perfect combination for a photographer. He helped make our wedding day amazing and I can't wait to see the photos! We saw Vince often at the wedding expos and got introduced to him by one of our close friends. Our bridal party and parents had so much fun with Vince as our photographer. From the funny nicknames (as there were 12 in the bridal party) to the many jokes and laughs, I am so happy we went with Vince. I would highly recommend him to be your photographer!

Selina

Married on 06/04/2017

We loved working with Vince. Not only is he an amazing photographer, which he really is, he was also fun to be around — very important because he is around all day. Weather wasn't great, bridal party running late, nothing phased him, he kept us all laughing and enjoying the day!

Robert

Married on 03/11/2017

We loved you, thanks a lot!!! We highly reccomend them! =)

Catherine

Married on 02/17/2017

Vince is such a great photographer to work with! He has a great personality that puts you at ease and makes you laugh. He has some really creative ideas that no other photographers would come up with like some amazing silhouette photos. Vince provides a lot of bang for your buck as well and he provided us with our wedding photos a lot faster then I anticipated. You will not be disappointed by hiring him for your special day.

Kimberly

Married on 01/07/2017

We hired Vince because he is AWESOME... my husband isn't the most comfortable in front of a camera and Vince was great at keeping it light by joking with us, posing us, and directing us to get the best shots. He commands the room - we had 10 bridesmaids and 10 groomsmen and they were all listening and paying attention - which is no easy task. Vince was great leading up to the wedding with quick responses and flexible meeting times and he continues to be quick and accommodating post-wedding with questions and requests! Definitely a great choice for photography!
Are you interested?
Send a message