154 Reviews
Recommended by 99% of couples
Quality of service

5 out of 5 rating

Average response time

5 out of 5 rating

Professionalism

5 out of 5 rating

Value

4.9 out of 5 rating

Flexibility

5 out of 5 rating
40 User photos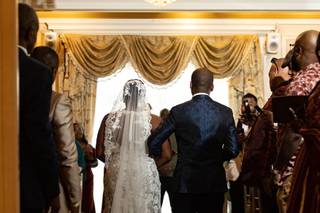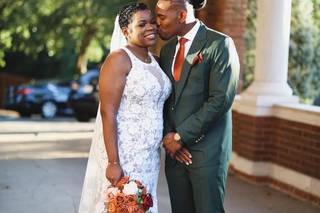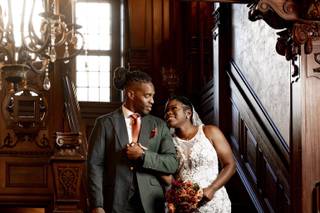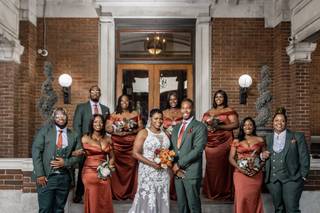 + 36

photos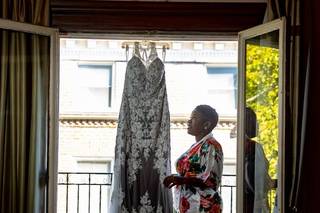 Featured

Lisa

Married on 10/08/2022

Beautiful venue, great food, exceptional service, stress-free planning

Choosing Loose Mansion is one of the best decisions we made during wedding planning. The space is obviously gorgeous, but it's the event team that made it really spectacular. When my husband and I started planning our top priorities were the guest experience, delicious food, and minimizing stress for us and our family throughout wedding planning. As soon as we set foot in Loose Mansion for an open house my husband was sold. Everything we tasted during the open house and later at food tasting was absolutely delicious. Their staff was incredibly helpful and responsive throughout the process. We loved how turn-key the planning process was because it made planning much less stressful. Having food, drinks, and decor all managed by the venue significantly simplified planning. The space is so beautiful as it is that we decided to just add some greenery and lean heavily on the decor they provide as part of the package instead of spending a lot on florals. As our wedding approached we had full confidence that the Loose Mansion team would execute our vision flawlessly. The day of our wedding we were able to relax and enjoy the day. They made sure that we were able to eat dinner and checked in to see if we wanted any more drinks or dessert throughout the evening. Everything was seamless and many of our guests commented that they really enjoyed the food. We had the best day and would choose Loose Mansion again in a heartbeat. You can tell that the owner, Barbara, and the whole Loose Mansion team really know what they are doing and care about their clients.

Ryan B.

Married on 04/15/2023

Loose Mansion - Iconic and Incredible Venue for a Wedding Reception

From the moment we started planning our wedding reception, we knew immediately where it would take place (Loose Mansion), as we had attended other weddings and receptions at the venue and saw firsthand how well-executed those events had taken place. Our experience lived up to our expectations! Firstly, the property itself is iconic and a relic to old Kansas City. From planning to execution, the Loose Mansion staff were amazing! Karen, Abbey, and Chris were great hosts and coordinators and made the entire process seamless and flawless. Karen, Abbey, and Chris were always professional and welcoming and responsive to any questions or requests we had throughout the planning process. Another reason we booked at Loose Mansion was the all-inclusive food and beverage that was part of the booking – the food was fantastic and the service provided by the Loose Mansion staff during our event was excellent! I want to thank everyone at the Loose Mansion for making our reception so memorable and a night to remember!

Mary F.

Married on 10/15/2022

Loose Mansion Is An Incredible Venue!

I was married at Loose Mansion this fall, and I cannot express how wonderful an experience it was. Loose Mansion itself is gorgeous, romantic, and historic. However, the Loose Mansion staff were even more incredible. Their hard work and communication relieves so much stress for my partner and I. I cannot recommend this venue enough, my wedding day was a joy and I attribute that to all the planning and preparation Loose Mansion did. If you are looking for a venue that truly cares about its clients and their vision, Loose Mansion is for you.

Are you interested?

Send a message

Ashley B.

Married on 10/01/2022

Everything you'll ever need!

When looking for wedding and reception venues, we wanted a place that was all-inclusive. We didn't want to have to look for vendors or ask anyone else for help with things. We searched and found Loose Mansion and absolutely fell in love. Having our wedding at Loose Mansion was the best decision we ever made. It's so beautiful and elegant! The venue matched my dress perfectly. You don't need much to spruce up your event either. It's perfect. The whole process was made easy because of the staff. They were easy to work with and made sure everything went smoothly. When we felt stressed about making decisions, they had no problem with narrowing things down for an easier decision. Abbey, Abby, and Karen were very attentive and were always there to answer any questions we had.

The day of our wedding was perfect. It was so calm. Abbey and Karen made sure everything and everyone was in order. We literally didn't have to lift a finger. The food was amazing! The atmosphere was amazing. Everything was perfect. We can't thank the team at Loose Mansion enough for their help with our wedding. Thank you, thank you, THANK YOU!

+ 2

photos

Delilah S.

Married on 09/17/2022

Stress free wedding venue!

Loose Mansion was our dream wedding venue! We wanted the planning process and wedding day to be as low stress as possible and Abbey and Chris made every step easy. They are truly professional event coordinators and seemed to predict our questions and always had answers waiting in our inbox within an hour or two. All our other vendors (photographer, videographer, florist, officiant, etc.) commented on how helpful it was to have Chris reach out to confirm arrival times the week of the wedding. The morning of the wedding, Chris was at the venue with a smile on her face and made sure everyone knew where they needed to be and when. We did not have to worry about anything and were able to enjoy the day with family and friends.

The venue itself is beautiful! We rented the entire mansion and were able to use the whole space for our wedding. Our guests loved being able to move throughout the mansion all night. I would 1000% recommend Loose Mansion for your wedding!

Alita T.

Married on 06/11/2022

Wonderful service at Loose Mansion!

Great experience at the wedding reception! The staff were very helpful from the 1st day of the planning to the day of the event. Our guests were very impressed with the service and location! Thank you so much to the staff at the Loose Mansion!!

Stephanie A.

Married on 10/27/2021

Loose Mansion Can't Be Beat

We couldn't have been more pleased with Loose Mansion and their staff. Abby was wonderful to work with all the way through. She was kind, responsive, helpful, flexible and 100% about walking alongside Adrienne, making her wedding the most special day ever. Of course the venue is gorgeous and then it was made even more so with the flowers that our florist was allowed to bring in. The food was delicious (more red sauce on the cannelloni, please) and plentiful. From initial planning to clean up, the Loose staff was fabulous and we wouldn't hesitate to give them the highest rating possible!


Mckenzie R.

Married on 10/24/2021

Stress free, elegant and classic

Our wedding this past weekend was better than I envisioned. As an out of state bride, this venue and the Loose Mansion team made everything go so smoothly. They are prepared for it all, and they made me feel so confident that my day would be special. It was really important for me to choose a place that had a place for me to get ready on sight, where I could have the reception and ceremony in the same venue and they made the food! I didn't have to think about bringing in caterers or decor - seriously stress-free. They accommodated all of my requests, including having the bartenders craft a speciality cocktail created by my sister. We couldn't do photos outside because of the weather and the team effortlessly helped us change plans to do them inside. The guests were so happy, it was such a convenient location from the plaza. I would recommend this venue and their team to any Kansas City bride and/or groom.

Brandon W.

Married on 10/01/2021

The best all-inclusive wedding venue in Kansas City

TL;DR - If you're planning a wedding, a small corporate event, a family reunion, a class reunion, or any other kind of event that requires catering, coordination, and other resources, give Loose Mansion a call. You won't regret it.

Honestly, Loose Mansion is by far the most underrated small event space and venue in the entire metro area, especially for weddings. My wife and I recently held our wedding there, and after having done wedding photography for 11 years, it was honestly one of the most seamless, effortless weddings I've ever been involved with in any capacity.

First off, the venue itself is gorgeous and well-kept. It practically decorates itself, and if you're any fan of the series Downton Abbey, this building will appeal to your aesthetic (if Kansas City had a version of The Breakers mansion built by the Vanderbilts in Rhode Island, it would be Loose Mansion). It's evocative of a bygone era, but has all the modern appointments one could need for any event.

Second, the venue can provide you with nearly everything you'd ever need to put on a wedding: food, booze, photos, sound/media/DJ equipment, staff, coordination, all of it. While we only ended up utilizing their in-house catering options, being able to rely on the staff for setup, tear-down, and coordination across the board was invaluable. The food was **incredible** across the entire menu, and I highly recommend using it because you'll get more for your money with that option than you will with any other caterer. One thing that stuck out to me about the building itself was the vast number of bathrooms it has (literally over a dozen of them across several floors).

Third, the venue itself is in an area that's quite conveniently located (close to Westport, the Plaza, and even downtown), which made getting places around the wedding weekend much, much easier for everyone involved. Parking was not an issue at all, as their lot was large enough to accommodate everyone with space leftover for more if we needed it.

Finally, above all, the expenditure for all of this was well worth it in the end. We paid far less to have more organization and a better overall experience than we probably would've received at any other venue, and with other vendors for the various wedding aspects combined.

And this was all in the midst of a pandemic, with only 4 months of planning.

+ 12

photos

Shannon T.

Married on 09/30/2021

Loose Mansion was perfect and flexible

Loose Mansion helped us plan everything, and they were professional and flexible. It meant the world to us, especially during these times. We had a perfect, stress-free day, largely in part to their phenomenal staff. The in-house baker and photographer are amazing people! (Everyone there is.) They responded to our questions quickly, and helped out so much. I cannot thank them enough for the perfect memories we will hold onto forever.

Joyce C.

Married on 09/24/2021

Outstanding success in working with Loose Mansion!

My daughter & her husband had planned to have their wedding reception at Loose Mansion in May of '20. That date was postponed not once but two times due to the pandemic. However, Loose Mansion was incredibly understanding & cooperative to work with regarding these changes. The reception in Sept of '21 was a great success! All details were handled by Loose Mansion (both Abby & Abbey were fantastic event planners!) seamlessly. The food (appetizers & dinner) was delicious, the bar was free-flowing and the wait staff was top notch! As mother of the bride, it was such a relief to me that this venue was all inclusive. The staff handled all of the decor & clean up, thereby allowing me to enjoy the day. The table decor available was so lovely that the need to purchase additional flowers for the tables was eliminated. Our guests loved it .... my daughter & her husband loved it ... and so did I. I enthusiastically endorse Loose Mansion!

Mary B.

Married on 09/03/2021

We highly recommend Loose Mansion!

Loose Mansion was the only wedding venue my husband and I toured because we knew that was the only place we wanted to get married from the second we stepped in the door. The ambiance is unmatched and the natural decor (especially the fireplaces, mahogany grand staircase, and chandeliers) is absolutely stunning. The Loose Mansion staff does an outstanding job of making you feel like your event is the only one they are coordinating, although we all know that's not the case. It didn't matter if I was communicating with Abby, Abbey, Barb, or Karen - every response I received was prompt, professional, and overly accommodating. We reached out to Loose Mansion within weeks of our wedding (after we already had a meeting to finalize details) with concerns about the surge in COVID-19 cases in the Kansas City area. They immediately responded with alternative layout suggestions to consider to increase social distancing among guests and were more than willing to make these changes for us in such a short time period. The wedding planning experience was made SO easy thanks to the Loose Mansion staff. Abby was our main point of contact throughout the process and we can not say enough about her caring, thorough, and personable approach to coordinating our event. Our wedding day was everything we had hoped for and so much more! Guests raved about the Oscar-style layout, the amazing hor d'oeuvres (meatballs, flatbreads, spin-art mac & cheese bite), entrees (salmon, beef tenderloin, boursin stuffed chicken breast, vegetable wellington), desserts (cheesecake, chocolate indulgence), and frozen margaritas. Finding a wedding venue that is truly "all in" with every aspect (including planning, decor, and catering) is very rare, but that is exactly what you get with Loose Mansion. We can not emphasize enough our positive and seamless experience with everyone at Loose Mansion and could not have envisioned a more perfect place to host such a special event!

Martha W.

Married on 08/28/2021

100% Perfection

The reception was 100% perfection. The mansion was gorgeous and every little detail was seen to. I simply can't imagine a more wonderful place for Beckie and Chris to have celebrated their marriage. From the moment we booked Loose, you and your staff were unfailingly responsive, respectful, patient and kind. Every request was met with "sure, we can make that work." I'll never forget how you stayed with us during Covid and our need to reschedule. I heard horror stories about other vendors, but you were simply amazing. I will be forever grateful. I also wanted you to know how wonderful the vendors are that you recommended. Every single one of them stayed with us and did not charge us a single extra penny for postponing. They reflected the leadership tone you set, also being unfailing responsive and helpful. I can only imagine how tremendously difficult these last 18 months have been for you. But you never let it show to us. You had our backs every step of the way and it gave us so much confidence that we could still have a special celebration, even in the midst of Covid. Thank you from the bottom of my heart. I can't recommend Loose more highly. For those who are wondering about an "all in" vendor, I found this greatly simplified the planning and was probably less expensive than going with separate vendors. Researching, hiring and especially coordinating vendors took the most time in our planning. Having one stop shopping with Loose was wonderful. The mansion itself is also gorgeous with marble, a gorgeous staircase and Tiffany chandeliers. In addition, we didn't spend any money on flowers or decorations because Loose has an entire huge room filled with decorations to choose from. Both Abbys and Barabara were wonderful to work with. We had to postpone the wedding and then faced a big Covid surge right before the re-scheduled event. They kept us up to date on all developments and helped ensure we had an unforgettable event. This place is a gem! Finally, my daughter, her finance and her finance's family all lived in New York. Loose has many ways to communicate across the miles and their inability to be physically present for most of the planning did not create any issues

Debbie J.

Married on 06/09/2021

Loose Mansion is the perfect venue

Not only is Loose Mansion beautiful, the entire staff was an absolute dream to work with! They responded promptly to all of our questions and had a wonderful plan in place due to the COVID restrictions. It made the whole experience less stressful as they handled everything! We could not have asked for a more perfect day.

Anna D.

Married on 05/23/2021

The Wedding of My Dreams

I truly had a vision for my wedding. I am an older bride and I wanted a venue that was sophisticated, with lots of character, and everything I needed in house. Loose Mansion gave me all that and so much more!

Barbara, Abbey, Abby, and Karen are a fantastic team and they all work together to make your wedding day perfect! They handled every little detail of my wedding and made the planning so easy and the whole process absolutely stress-free. All the staff that I interacted with were kind, professional, and meticulous. I was truly treated like a queen on my wedding day with everyone looking after me and making sure everything went perfect.

I had a very intimate wedding due to Covid. Loose Mansion treated my little wedding of 40 like it was the biggest and only event they were coordinating, which of course was not the case at all. But they really make their brides feel like they matter and that their event is the most important one.

The venue itself is resplendent. The most beautiful place I have ever seen! All the details and character... There is not a bad place in the whole mansion to have a picture taken. It is gorgeous. All the food was excellent, with lots of menu items to choose from. The bar packages are easily customized and very generous. They handle all the decorations, put up and take down... You do not have to worry about a thing.

I would absolutely highly recommend Loose Mansion to any bride. You will not regret it. They helped make my wedding day the best day of my life.

+ 5

photos

Caitie B.

Married on 04/15/2021

The Loose Mansion is not only beautiful the team is truly amazing.

The Loose Mansion is not only beautiful the team is truly amazing. After postponing our wedding several times due to COVID we decided to have a small ceremony with just our closest family. For ease of travel for my new in-laws we chose Kansas City, a place neither of us had been to, nor would we get to visit before the ceremony. The team at LM helped me plan our ceremony and dinner for 15 from start to finish, including all the details of decor, custom menu, music, etc. They also provided a list of vendors they had worked with in the past (all of which reassured me LM was beautiful since I hadn't seen the place in person yet) and I was able to create all our florals, cake, transportation, photography, hair, and makeup from New York, which the team then helped coordinate on the day of. I really can't recommend the Loose Mansion enough!

Marisa F.

Married on 09/09/2020

Elegance + Professionalism

My husband and I can't say enough good things about Loose Mansion! It's an incredibly beautiful place with a fantastic team. With our 90-person guest count, we enjoyed the entire ground floor for the ceremony and reception, basement room for cocktails, and both the bridal and groom suites during the day. Each room is decorated exquisitely and provided the exact elegant atmosphere we hoped to achieve for our wedding day.

Abbey, Charlotte, and Brad are all seasoned professionals whose extensive experience ensured our day moved like clockwork. In the months leading up to our wedding, they responded to my many emails thoroughly and in a timely manner. Our design sessions were efficient, and we appreciated their input when we waffled on decisions. All of this planning, along with their work with our external vendors, led to a smooth wedding day.

As Loose Mansion has a full kitchen staff, we utilized their services for the supper and were incredibly pleased with the delicious food! The beef, chicken, and vegetarian dishes were real crowd-pleasers. We also requested they bake some macaroons to accompany the wedding cake and the last time I had such delicious macaroons was in Paris!

The last point I'd like to make about Loose Mansion is how incredibly convenient it was. Having the ceremony and reception at a single venue ensured we got to spend as much time with our guests as possible, which was particularly important as many guests flew to KC specifically for our wedding. Further, Loose Mansion offers overnight accommodation at their Carriage House which heightened the convenience factor significantly! We wavered on booking the Carriage House for the wedding weekend and during the weekend, itself, were so pleased with our decision!

We would recommend booking Loose Mansion and the corresponding Carriage House to everyone!

Alison C.

Married on 09/28/2019

Best Decision We Made! (Other Than Getting Married)

GOSH! When trying to review such an amazing venue, I am honestly at a loss for words. Loose Mansion left us completely speechless in the best way. This old, romantic, historic home and LM's staff can truly create the event of your dreams. It was the best decision my (now) husband and I made during the wedding planning process -- other than marrying each other! HA!



Whether it be elegant and refined feel, or quirky, goofy, and fun feel, LM can do it ALL! The Mansion has the most intimate feel, yet it can accommodate many guests for quite the shindig! PLUS, the mansion has a beautiful love story interwoven through its walls! You can truly feel all the love and history in the home. I just kept telling my husband that it has to be good luck that we are getting married in a home that was built in so much love.



We truly loved the entire planning process. Brad and Charlotte made everything as easy and smooth as they could - while staying completely patient with our fickle decision making. Not very many brides can say the planning was not stressful, but I can confidently tell you that with the LM staff at your side, you will not be stressed! I had tons of family members and friends say "you seem all too calm to be the bride" throughout the planning process and even on the week and day of!



Loose also has the most delicious food with such a wide variety of menu choices. We ended up choosing the plated meal option, and our dinner was plated so beautifully! My mom and I also loved that their beautiful décor was included in their package. We didn't need to make any crazy Hobby Lobby runs for final touches or anything of the sort.



I could go on and on, but what I want to leave the reader with is this: you will not be disappointed. Your wedding will go off without a hitch and both you and your guests will be amazed with how smooth and easy Loose Mansion makes the process. Connor and I joke back and forth that GOSH maybe we should just get divorced so we can do it all over again (Parks & Rec reference)! HA! We are so thankful for this beautiful home and how AT HOME it, and the incredible staff, made us feel

Michelle

Married on 06/08/2019

All-inclusive

The Loose Mansion was a perfect venue for both out ceremony and reception. They provided the food, décor, and day-of coordination services that made out wedding beautiful, stress-free, and fun! Would recommend to anyone.

Jesse W.

Married on 03/16/2019

Wonderful experience!

They have an amazing venue. The were easy to communicate with from planning to after the event. The food was on point. During the wedding, the staff took care of everything. A++

Taylor

Married on 03/09/2019

Would book again without hesitation

Loose Mansion is everything we could've wanted in a wedding venue. It brings elegance that is truly timeless, yet has a warm charm that keeps it from being too traditional and stuffy. The staff is amazingly responsive and excellent at anticipating your needs, keeping track of all the important details, and keeping your big day on schedule. Since the venue also functions as the coordinator, caterer, has their own stock of rental chairs/tables/linens, and an entire room of decor for you to peruse and select from, it cuts down on the total number of vendors you need, which means fewer lines of communication to keep track of, and overall less stress. The food is delicious and there is a large selection of dishes to select from. The dressing room spaces are perfectly functional with a formal feeling, yet comfortable enough to try to relax the nerves. There is also a recently remodeled 5bd/2ba carriage house on the property that is a perfect place for family or the bridal party to stay.
Sorry for no photos- the website wouldn't load them. Trust they are beautiful :)

Kayla R.

Married on 11/10/2018

Absolutely perfect

The team at Loose Mansion made everything as easy and enjoyable as possible. I had both my ceremony and reception there and my only wish is that I could relive the day again. The venue is obviously absolutely gorgeous and their food is great, but the staff's attention to detail, responsiveness and knowledge exceeded every expectation I could have. You cannot go wrong by booking with them!

Kelli O.

Married on 10/27/2018

Absolutely Amazing!!!

Everyone at Loose Mansion is fabulous to work with. They provide excellent guidance throughout the planning process. All details are managed so that you can enjoy your special day. Additionally, the venue is absolutely amazing with all of its historical features. Loose Mansion is truly a hidden treasure!!!

Yuki

Married on 09/02/2018

The Loose Mansion is amazing both for their beautiful venue and perfect service. I cannot spot a single negative thing about their hospitality. I worked in hospitality industry for long and I have never been so satisfied with my experience before. Every single one of the staff is friendly and professional, and they would make sure everything is well organized so I never had to worry or feel stressed about anything. My now-husband and I had a last-minute trouble with guest count but they were so kind and quick to respond to us and took care of everything perfectly. I honestly had the best experience and am so happy I chose them as our wedding venue. I am a foodie myself and I just want to say I loved all their food too, from appetizers to plated dinner. After the wedding, I had so many of our guests come up and comment on how wonderful the place is in terms of both their service and the Mansion's beautiful outlook. If you are looking for a beautiful, classic wedding at a historic Mansion with amazing staff to work with, the Loose Mansion is definitely the one.

Cory

Married on 06/09/2018

Loose Mansion was amazing to work with! I didn't have to stress out about my wedding at all. They take care of all the 'day of' things and make sure the ceremony and reception flow together seamlessly. The food and drinks were amazing, no one left hungry or thirsty. We were getting compliments all night from our guests about how good the food was, the beautiful venue and the perfectly orchestrated evening. I have been told our wedding was elegant but at the same time relaxed, which makes me happy knowing our guests enjoyed themselves. Also, because the mansion was so beautiful on its own we really didn't need to purchase decorations or tons of floral. My wedding was absolutely perfect and Loose Mansion was a big part of that. I HIGHLY recommend them!
Are you interested?
Send a message