65 Reviews
Recommended by 99% of couples
Quality of service

5 out of 5 rating

Average response time

4.9 out of 5 rating

Professionalism

5 out of 5 rating

Value

5 out of 5 rating

Flexibility

5 out of 5 rating
15 User photos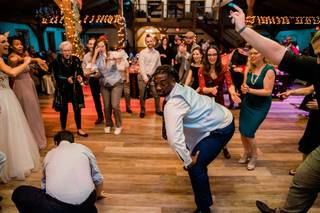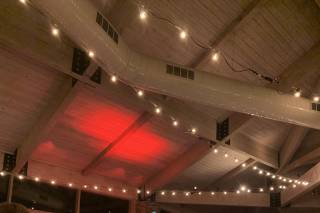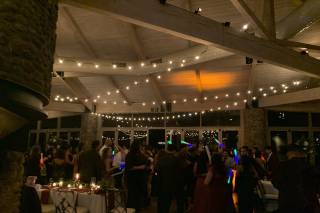 + 11

photos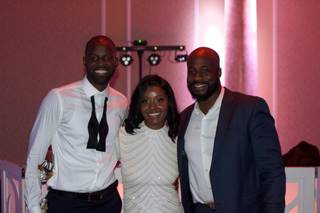 Jamie S.

Married on 10/07/2022

Jamie Spehar - Bride

Rob was phenomenal and would highly recommend him if anyone is looking for a wedding DJ. Our wedding day wouldn't of been as amazing if Rob didn't bring the party!! Best of the best!!

Jordan

Married on 10/02/2022

An excellent DJ

Rob was an exceptional DJ for our wedding. We needed someone who could balance a wide blend of music into a cohesive, fun night. He met with us multiple times, listened to our needs, and delivered perfectly. Thanks for mixing and incorporating American, Trinidadian, Indian, Latin, and Afro-beats. Everyone at the wedding enjoyed and raved his work! WE HIGHLY RECOMMEND.

Anna A.

Married on 09/25/2022

Amazing DJ/MC

Just got married 9/25/22 - Rob and Mike were incredible! Rob was great throughout the whole entire process. He listened to the type of music we wanted and he delivered. I would recommend him to anyone! He will have everyone on the dancefloor!

Are you interested?

Send a message

Chuka I.

Married on 04/30/2022

Excellent by every measure 💯

DJ Rob was my DJ and MC for both my weddings. I had a traditional church wedding and an African wedding and he was excellent. I have known him for a while and have worked with him on many occasions. I would highly recommend him; he's as good and as professional as they get, and he totally is the man for all occasions, because he really understands all kinds of demographics.

Eunice Y.

Married on 04/02/2022

Rob is the best!

My husband and I got married this past April and were blessed to work with really great vendors. Rob was no exception!

Rob has the humility to listen to all concerns or preferences his clients have along with the professionalism and confidence to work with music from cultures outside of his more frequent client base. We wanted a DJ who was equally comfortable working with K-pop and Korean hip-hop as he was with nostalgic songs both my husband and I grew up listening to as 90's babies. Rob hit all the marks!

Throughout the whole planning process, Rob was always patient, professional, and fun to work with. He takes pride in his work and truly cares about making this huge milestone a celebration. We couldn't recommend him more!



Angela

Married on 11/05/2021

Amazing DJ- can play to any crowd

Rob was the best wedding DJ we could have asked for! We are an interracial couple and wanted someone who could play to a mixed crowd. He did an incredible job of making everyone feel comfortable and happy to be on the dance floor. He had a wide array of music and it all transitioned well. He was great at reading the room and playing not only to the people already dancing, but also putting on songs to get more people into the floor. My husband and I both come from a theater background and wanted to play some broadway songs during dinner. Rob was so accommodating and let me edit songs and send them to him to be played. He even offered to edit them himself. There were some really specific requests we made in other areas as well and he was great at accommodating everything we asked for. We barely left the dance floor and had a great time, as you can see in the picture of the groom here. Rob also seemed to have fun himself, which really elevated the whole evening.

Caitlyn K.

Married on 10/09/2021

Absolute perfection

Rob and his MC were an absolute 10/10!!! I can NOT stress how amazing these guys were. Everyone had an absolute blast and they knew exactly how to read the crowd at every moment. They had me dancing all night. People still talk about how much fun they had and how amazing these guys were!!

Cheryl

Married on 09/24/2021

Very professional

Robert was great in accommodating all our requests…even at the last minute!!!!

Very professional and really did get the party going..they didn't want to get off the dance floor!

Michelle

Married on 09/18/2021

Rob is fantastic!

Rob and his team were a blast. We are so incredibly lucky to have found someone who could meet all of our needs--unique venue (restaurant), multiple floors, room flip, very long dinner, and particular song requests. Rob was friendly from the jump and he made sure that everyone danced the night away. I would recommend Long Life Entertainment to anyone in the Philadelphia area!

Porsche J.

Married on 09/17/2021

DJ Rob Made My Wedding Perfect!

DJ Rob was one of the best decisions I made for my wedding. Music was extremely important to me! He created the perfect atmosphere for all the parts of my wedding by listening to what I wanted and understanding what I wanted even if I could not articulate it perfectly! Leading up to the wedding, he was very attentive and super chill when it came to planning . He even did a great job collaborating with me to create the perfect edit for my intro dance. Overall, DJ Rob was professional, easy to communicate with and had the best DJ set up too! Also shout out to his hype man! My wedding was perfect and it was thanks to the two of them!

Veronica H.

Married on 10/10/2020

Beyond fantastic throughout the entire process

We were so happy to have found Rob for our September wedding. He was beyond fantastic throughout the entire process! He really listened to our musical preferences and understood the crowd throughout the evening. We had SO much fun with him and his assistant. The life of the party! Thanks again!!!

Jean A.

Married on 08/15/2020

Rob is very good at what he does and very professional

Rob is very good at what he does and very professional. He took the time to know us at a personal level, our needs, the type crowd who will be at our wedding & type of music we wanted to have at our wedding. We wanted for our wedding to be a big party dance and RoB had everyone on the dance floor dancing ( Social dist-dancing) and enjoying the moment. He also MCed the whole reception , he worked well with our wedding coordinator...every was seamless and on point. We really recommend him for any event or wedding

Brian H.

Married on 06/10/2020

Wedding 18th October 2019

Rob did an excellent job at our wedding. Dawn and I were particularly impressed how Rob was able to mix up the various genres of music. We had a crowd of people from ages 20 to 70+ and somehow Rob was able to keep the dance floor full. He also mixed up various styles at our cocktail hour and people commented on the variety of the music and sound quality. Dawn and I certainly recommend anyone preparing a wedding celebration to choose Rob!

Anna A.

Married on 08/24/2019

Best DJ Ever! Our wedding was a huge success thanks to Rob

Rob was the BEST DJ we could have ever asked for!! He made the entire evening flow super smoothly, from our fun bridal party entrances, to the speeches, to an amazing set of dance music that had EVERYONE out on the dance floor. We loved how Rob met with us to determine what sort of vibe/atmosphere we wanted for our wedding and constantly communicated with us leading up to our wedding day. We had so many people, friends and family alike, asking for referrals to Rob because of how much fun they had at our wedding. He's literally the best and you will not be disappointed booking him for your next event!

Jessica W.

Married on 05/05/2019

We COULD NOT leave the dance floor!

Music was one of the most important things to us at our wedding- it can make or break a party after all- and we truly lucked out by selecting Rob as our DJ. After checking out his super professional website, listening to his amazing and unique mixes, and peaking at his awesome reviews from past clients, we (easily) took the leap of faith and booked with Long Life Entertainment, without even meeting with or pursuing any other DJ. Rob was thorough, easy to work with, and totally receptive to our ideas; he helped us structure our timeline for the evening, which seemed like a daunting task initially as we opted for a long cocktail style reception over a formal sit-down dinner. His wonderfully thoughtful spreadsheet helped us organize our must-plays and musical tastes, and with that he delivered AMAZINGLY smooth mixes and perfectly timed bangers. The number of guests- from family, to friends, to old folks and party animals- who gave compliments on the flow of music was unbelievable. I am so grateful for Rob and his talent- the jams and fun we had dancing with our friends was one of the most memorable parts of a whirlwind of a day. HIGHLY recommend- wish I could throw another party on this scale to have Rob as our musical guru.

Gia

Married on 02/15/2019

A True Artist and the Best DJ!! Look No Further.

Music is very important to the both of us and from the beginning we knew we needed the best dj for our wedding — enter DJ Rob. We were so grateful to find him and can not recommend him enough! Our musical genres were all over the place (disco, hip hop, classic rock, boy band) and Rob seamlessly checked all of our boxes—getting everyone of all ages on the dance floor and keeping them there all night! Some guests told me they had blisters from dancing, which in my opinion is the sign of a fantastic dj and money well spent.

Rob is a true dj and artist, he custom made our first dance sing mix (which was amazing and we still listen to often), listened to all of our requests (and do not plays!), and kept the party going all night long. There were so many little details he added (i.e. in the best man speech) during our wedding and even sent us photos and videos he captured during our wedding of the endless dancing. Rob is a professional who impressed us from our first conversation. We live in NYC and planned a wedding in Philadelphia and Rob made our planning a breeze. He was extremely organized, kept our flow and timeline perfect and offered suggestions about planning the reception, and worked with us to fit our budget and venue. We cannot stress how critical the right dj is for your big day. Music is extremely important but you also need a professional to read the crowd and keep the flow and party going— DJ Rob is all that and more, look no further than him for your special event. Thank you again so much!!!!

Laura H.

Married on 12/02/2018

Wedding Day

had the pleasure of working with Rob for my wedding in Philadelphia. Not only is he extremely talented, but his attention to detail was like NO OTHER! We provided a must play list for cocktail hour, dinner & the reception & trust me when I tell you; he listened! He implemented our picks & fed off of the crowd & played the perfect mix of music for everyone to enjoy. He gave honest, valuable feedback through the planning process & was a pleasure to work with. Almost a year later & guests still bring up Rob & the music in conversation when talking about my big day. I keep saying I want to have another party just so he can DJ again. To be honest, he was my first choice & I'm so pleased I didn't "shop around" for anyone else. With almost 165 guests he brought an MC to make sure they were able to interact with everyone there. Their energy together was amazing & I would not recommend anyone else! If I could ten stars I would!! Thank you Rob for being awesome, accommodating & taking your craft seriously. Music can truly make or break your wedding day & he definitely made it!

Elizabeth J.

Married on 12/01/2018

Best Dj in the WORLD!!!!

Rob was extremely professional and passionate about our big day. He made sure he got everything we wanted for our ceremony and reception. He made sure to meet with us multiple times, whether it be in person or via Facetime, until he fine combed every detail. On my wedding day, he literally made no mistakes, everything was as I imagined and as we hoped it would be. My music was on point and made my day flow and made it very easy to coordinate our bridal party through each step. Our reception was nothing short of amazing! Rob was very efficient in ready the crowd and mixing the music that we put on our playlist. We had an amazing night thanks to Rob. Music is an essential part of a wedding, make sure you book the best. Make sure you book Rob!

Ato E.

Married on 10/27/2018

10-17-21 Wedding with an outstanding DJ!

DJ Rob was amazing for our wedding at Wolf Mountain Vineyard (Dahlonega, GA). During this challenging year of the pandemic there was never a better time to have a creative, entertaining, and EXPERIENCED DJ for the biggest day of lives. On the day before the wedding, it was obvious he was well prepared for every possible outcome that could risk our perfect evening. He was very detail oriented and masterful at working with others so our ceremony and reception - he DJ'd both - ran beautifully. He was very flexible and found ingenious ways to get around any day-off challenges! And there were many because of COVID. His DJ savvy was fantasticcc.. All our guests raved about his skills by the end of the night. Can't say enough about DJ Rob. Thanks for helping us put together such a great event!

Jaz L.

Married on 10/21/2018

Jaz and Don's Wedding

Thankful for choosing Rob as our DJ! He truly kept the evening lively with perfect mix and transition.

William Z.

Married on 10/13/2018

"He's the Greatest (DJ)"

Much like that dancer Sister Sledge sang about, Rob is truly one of the greatest DJ's in the Philly area. I cannot overstate how happy my wife and I were with Rob's performance at our wedding on 10/13/18.

If you'll permit me another song reference, as Daft Punk aimed to "Bring Life Back to Music," in 2013, Rob did exactly that. We had planned months in advance with him every fine detail of our reception, but when that day came, I just put my trust in Rob and told him to feel the room out. He did exactly that, kept it within our style, and got just about everyone up to dance. We've been to a lot of weddings where the DJ's just press play for a set list, and they don't add any spark or life to the party; Rob is not one of those DJ's. The energy and talent he added truly set the vibe for the party. Almost two weeks later, and we are still getting compliments on the DJ from friends and family.

The process of booking and planning with Rob was flawless. We spent time face to face, had several calls, and e-mailed frequently. The level of detail and attention he paid to our event was impressive. He'll cut tracks, blend set lists, and basically bend over backwards to get exactly what you want on your wedding day. He was extremely helpful guiding us through the process and making recommendations to make our wedding reception a perfect night. Opt for the Mcee, they work well together.

Price might be a little on the higher end, but we've learned from our wedding, you truly get what you pay for. Rob is truly worth every penny and more. My wife and I had absolutely no idea where to start looking for DJs, and we are so lucky to have found Rob online by chance. Anyone on the fence, just book him already, you'll be glad you did.

Samantha

Married on 08/25/2018

Beautifully Memorable Experience

Rob played an instrumental role in the amazing success of our wedding! He gave us an extremely useful form to fill out that not only captured every meaningful song we wanted to hear that day but also helped me, since I was planning the wedding, schedule the entire order of the day. He was extremely accommodating and adept at making our musical vision come true including perfectly timing songs for the moment, having a must play and do not play list and being on time and prepared for split second changes. Not only did my husband and I really enjoy the musical atmosphere throughout our wedding but our guests did to! We have continually received compliments on our DJ that had everyone out on the dance floor throughout the night. Thank you so much Rob!

Kevin

Married on 07/03/2018

Let's just say that if DJ Rob were to follow me around with a boom box, I'd never stop dancing! Without a whole lot of reviews, I'll admit we were a little skeptical. After a phone call we knew Rob could do the job and after an in-person meeting we knew that he would get our guests got on the dance floor keep them there until they kicked us out! Rob made sure to get to know us, our taste in music, and our overall vision for our special day. That definitely showed, everything went perfect. Great MC, Great DJ

Marissa

Married on 06/08/2018

Wow! Rob was an absolute pleasure and we're SO happy we had him as our DJ for our wedding. We found him by chance looking through this website and after speaking with him, we realized he quickly checked all of our boxes. Throughout the planning process, Rob was extremely detail oriented and mentioned items that we didn't think of as a couple! He was on top of everything. One of the things that stood out to us was how conscious he is of our guests and recognized the importance of blending both cultures. He did this flawlessly and our guests were constantly on the dance floor with smiles! Everything was absolutely amazing and we're so thankful we had him as our DJ! Thank you, Rob!

Mckayla

Married on 01/20/2018

Haiti meets Nigeria

So.... My husband and I were married January 20, 2018. We had the privilege to have DJ Rob as our mistro for the order of music at the wedding and the DJ at our reception. The level of professionalism and special care in ensuring our day was amazing was definetely noted in DJ Rob B. I met with him a month prior after he sent me a spread sheet which was detailed allowing me to think through things I didn't even naturally would of think of. He was able to apply some of the special details I requested into the wedding proceeding smoothly without a hitch. His pricing was definetly reasonable and it help that he was timely and knew exactly what music would engage our guest to party all night. He really was amazing!
Are you interested?
Send a message