Reviews
5.0 out of 5 rating
Quality of service

5 out of 5 rating

Average response time

5 out of 5 rating

Professionalism

5 out of 5 rating

Value

5 out of 5 rating

Flexibility

5 out of 5 rating
100%
Recommended by couples
8 User photos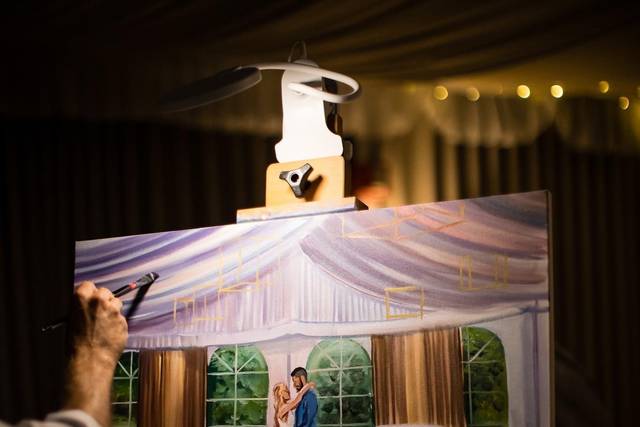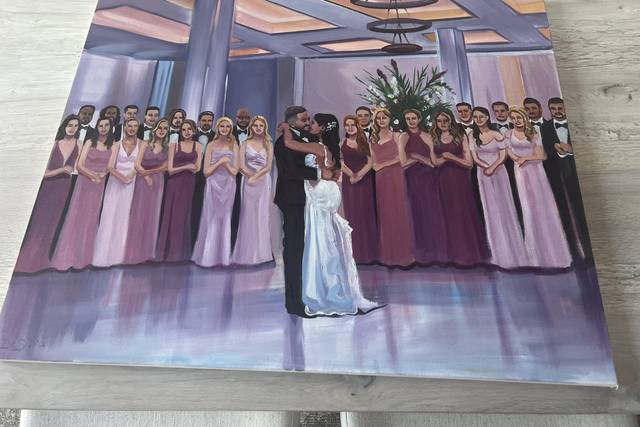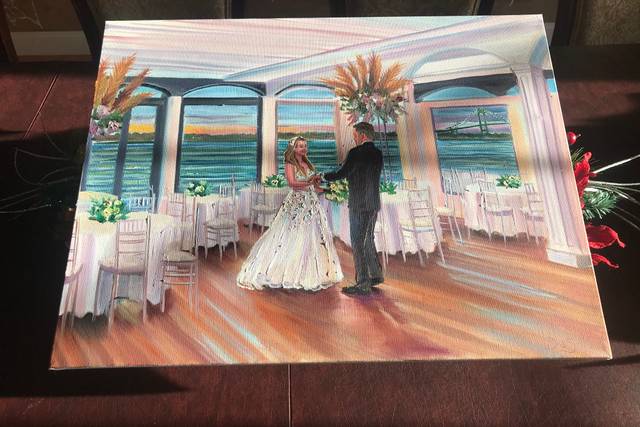 + 4

photos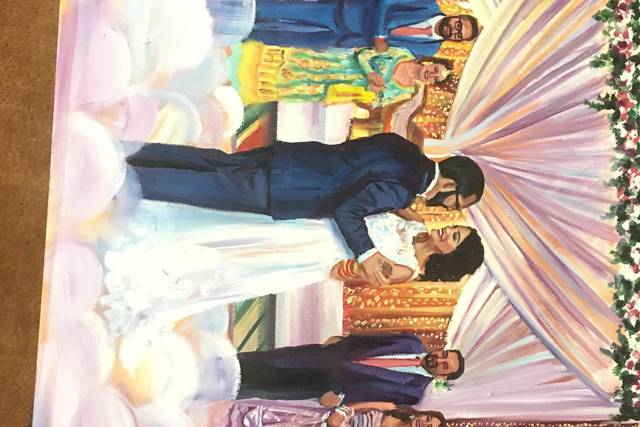 Alyssa

Married on 09/03/2022

Breathtaking art work

We hired Mark for our wedding and it was one of the best decisions. He showed up on time, was professional, and created a live wedding experience that our guests loved. He was friendly, talkative, and you can tell he loves what he does. He was able to incorporate our dog into our portrait as well! Thanks Mark!

Live Wedding Painting by Mark's reply:

Thanks so much. It was a pleasure working with you, too. I am glad you love the painting. I had a great time painting during your wonderful wedding.

Dhalia

Married on 10/22/2021

Truly amazing

Amazing is truly an understatement. Our painting is more than we could have ever imagined !! I had to reschedule my wedding three times and I truly lucked out that Anna and Mark were able to accommodate. They had Great communication skills and always followed up. We knew that we wanted to have mark the second we saw his work. He is beyond talented. Our painting is truly stunning , the detail is unreal and overall it's so beautiful. Our whole bridal party is in the painting too which makes it even more special. If you're looking for a wedding painter , look no further . Mark is it !!! He's professional , talented, hardworking , fun and wonderful to work with !!! He even went out of his way to touch something up for us in his car ! We are forever grateful !

Live Wedding Painting by Mark's reply:

Thanks so much. It was a pleasure working with you, too. I am glad you love the painting. I had a great time painting during your wonderful wedding.

Tina T.

Married on 06/05/2021

Amazing !!

Mark painted for my daughter's wedding. We loved what he did so much, we asked him to paint at our sons wedding 7 weeks later. We highly recommend him!!! You and your guests won't be disappointed!!! Tina and Brian Trainor

Live Wedding Painting by Mark's reply:

Thanks so much. It was a pleasure working with you, too. I am glad you love the painting. I had a great time painting during your wonderful wedding.

Are you interested?

Send a message

Ali

Married on 05/01/2021

Philadelphia Wedding

Mark created an incredible painting for our wedding and we are truly thrilled with his work. Would happily suggest him to other couples!

Live Wedding Painting by Mark's reply:

Thanks so much for sharing your experience. Mark enjoys painting at your wedding. It's our pleasure to be part of your big day :))

Abs

Married on 08/23/2020

Amazing painting!

W hired Mark for the live painting at our reception in August 2019! We are so happy with the painting Mark has created for us and our family. It really captured the best moment of the night. The detail in each person and background is incredible! He is a gifted and talented artist and we were so delighted to have the opportunity to work with him. One of the best decisions we made planning the wedding. We definitely will be requesting his services in the future and recommend his work to anybody in the search of a talented live painter.

Live Wedding Painting by Mark's reply:

Thank you very much. It was our pleasure working with you. And thank you for sharing the photo of the painting. We hope to hear from you soon for your brother's wedding :)

Kelsey

Married on 09/27/2019

The best part!

This was one of the best decisions we made while planning our wedding - it was a gift and a show all in one! Mark did a fantastic job not only capturing our first dance moment, but also day of on our wedding day he chatted with guests who were so interested in this live painting! Mark was so awesome afterwards as well checking in with us and sending us photo updates of how the painting was finishing up. Can't wait to hang this! LOVE!!!!"

Live Wedding Painting by Mark's reply:

Thank you very much. It was our pleasure working with you. And thank you for sharing the photo of the painting.

Courtney

Married on 06/01/2019

Best wedding decision!

We LOVE our wedding painting by Mark! One of the best decisions we made.

Live Wedding Painting by Mark's reply:

We're glad you love it. Thanks very much for sharing the photos of the painting hanging in the living room. It looks great in over the couch. :)

Anh-Thu

Married on 06/23/2018

Amazing Talent!

Our wedding was held at the lovely Aldrich Mansion in Warwick, Rhode Island on October 20, 2018. After learning about live painting from a friend, my husband and I knew that we wanted a painting to capture our first dance as a momento and it turned out beautiful. Mark was able to capture the entire wedding party and all of our guests loved watching him work throughout the entire evening. Make, thank you for adding a special touch to our wedding day!

Donna

Married on 10/09/2016

Mark did an amazing job on the painting for my daughter and son-in-law. Every part of this transaction went smoothly and professionally. I plan on having him paint for my other daughters when they get married. It was such a special gift that they will always treasure.

Mary

Married on 09/11/2016

Excellent service and follow up. Nice people. Great work.

Gina

Married on 09/09/2016

Mark was great to work with. Our painting is beautiful and something so many people at are wedding were amazed by!

Ashley

Married on 07/09/2016

This was by far one of the best choices I could have made for my wedding day. From the moment I first contacted Mark, to the moment he hand delivered my painting to my moms house the day before thanksgiving!!! I can not say enough about this experience. My family and friends loved watching Mark paint, he captured my first dance with my husband perfectly. And even painted in family members around us. My husband and I just had the painting framed, and We are in love. It is a great piece for our home, a wonderful reminder of our special day, and Mark and his wife are a great team. A true pleasure to work with and My husband and I would recommend them to anyone!!! So beautiful, worth every penny. Thank you doesn't even begin the express our gratitude.

Lori

Married on 05/27/2016

I surprised my daughter with the gift of Mark DeSilva at their wedding who captured their 1st dance together outside with his tremendous talent as an artist. They didn't know Mark was going to be there and the look on their faces when they saw his easel set up was more exciting than we had imagined. The oil painting was incredibly done, capturing their features and expression, her dress and the surroundings of the Aldrich Mansion. It hangs in their bedroom now and will be a lifelong addition to the memory of a very special day. They were thrilled with the finished piece, as were both my husband and myself. Mark and Anna were great to work with, a truly kind and warm couple who seemed so intent on making sure that the bride especially was happy with the gift of his talent. I would highly recommend Mark DeSilva and his work for a wedding or any other special time within your life...a timeless gift that grows more meaningful.

Kristen

Married on 09/26/2015

Add a piece of luxury to your wedding for an affordable price!
Mark painted our first dance at our September 2015 wedding at The Dorrance in Providence, RI. Mark's wife, Anna, the studio manager, was quick to respond to email inquiries and the booking process and the contract was very easy.
Our completed painting is gorgeous and is a beautiful piece for us to admire for years to come!
Many guests told me after the wedding, how much they enjoyed chatting with Mark throughout the night as he was painting.
Mark was very accommodating and flexible, when we wanted to add people to the final version.
Highly recommend!

Crystal

Married on 04/25/2015

First and foremost, Mark is an amazing talent. A custom oil portrait, done live at my wedding, of me and my husband, was something I thought I never would have been able to afford. After searching, I found Mark, and needless to say, I am really impressed with what I got. I was in contact with Mark and his wife Ana, for over a year before my event. They were forthcoming in answering all of my questions, and very receptive to my ideas. I booked them a year out. Mark's services are very affordable, and to help matters, payment for services rendered are broken down into three payments. 1/3 due on deposit, 1/3+Travel fee (extremely reasonable) due on event day, and 1/3 due upon delivery. To choose a painting, you go through Mark's portfolio and choose a style you like. About a week before my wedding Ana contacted me to make sure of the type of painting I wanted. I had chosen a long shot of my venue, meaning guests would not be able to see Mark work. I asked Ana if we could change to have Mark paint our first dance instead. No problem, Ana sent me a new contract. Then, I changed my mind again and again and asked if Mark could paint me and my husband in front of the venue with a classic car we had for the occasion. Mark contacted us personally and asked some more questions. Again, no problem, and contract was changed. Day of, Mark and Ana arrived before guests did and got to work. The coolest part about this is that guests were able to interact with Mark, and ask lots of questions. It was great to be able see Mark work. About 80% of our painting was done live, and my guests thought having him there great. We got our finished painting about 2 weeks later, only after we were shown the final to make sure it met our approval. Ana hand delivered it to my office so as not to inconvenience me. The level of customer care given by this couple is amazing. Our painting. . . to beautiful for words to describe. We are so lucky to have found Mark. I would recommend him to anyone.

Where do I began with Mark??? Words' can't describe how amazing Mark is...My mom saw something on tv about live wedding painting and knew I had to have it at my wedding.....My reception was held at Black Rock Country Club in Hingham...Mark set up in the corner before we arrived and had all the details done of our wedding, every single person at our wedding said how beautiful the painting was before it was complete...After we got back from our honeymoon, my husband had decided he wanted to add his Dad who had passed away two years ago in the photo...I emailed Mark and Anna, and they gladly accommodated the request...I emailed them pictures of my husbands dad, and it looks as if he was at our wedding watching us during our first dance...If you are looking for something unique that you will have forever you will not go wrong with Mark..He is amazing!

Jennifer

Married on 09/06/2014

Our wedding was held at my grandmother's beautiful ocean front house on Cape Cod, and we wanted to give her a meaningful thank you gift. After hearing about live event painting through a friend, I knew a painting of the event would be the perfect memento. I searched the New England area for painters and was lucky enough to find Mark and he was available on our day! I did not have an exact idea of what I wanted him to paint, but once he arrived and scouted the area, he came up with a creative and beautiful idea of painting the house with a reflection of the ocean and lighthouse in the windows. It was so fun to have them at our wedding, all of our guests loved observing the painting. Mark and Anna were amazing to work with and very responsive! Their pricing was incredibly reasonable for the quality and skill involved. I would highly recommend Mark for any special occasion!

Stephanie

Married on 06/27/2014

My husband and I were searching for a live event painter, and we spent a lot of time researching to find someone who met the style which we were looking for. When we came across Mark's paintings, and his Facebook page, we realized that Mark would be the person who would paint our first dance at our wedding. From our initial contact, Mark and Anna were open to communication, and to hear the ideas we envisioned for our first dance. Upon signing our contract, we discussed our musts, as well as what we wanted to see within our painting. When Mark arrived at our wedding hall and I saw all the detail he had already accomplished, I knew that we were getting everything that we had hoped. Mark completely painted our vision, what we wanted from our initial research. It was very hard to find someone who made such a beautiful, clear, and accurate portrait of a live action shot, and Mark's portrayal was absolutely perfect. We are in love with our painting, and we cannot express how thankful we are to have such a unique, beautiful memory, that we can look at for the rest of our lives. Thank you to Mark for his complete dedication and frequent updates after our wedding was over. The frequent communication,as well as Mark's attention to detail made our wedding painting absolutely perfect. We cannot thank you enough for our gorgeous memory!! We have, and will continue to recommend you to everyone we know!!

Cynthia

Married on 05/23/2014

Amazing talent!! Would highly recommend for any event!


Amy

Married on 10/12/2013

I hired Mark and Anna for my wedding this month - from my very first communication with them I knew it was going to be a great experience. Anna is extremely quick to communicate via email or phone and thoroughly answers any questions or concerns in our prepping for our image of the painting. On the day of our wedding we briefly talked with Mark - he wanted to make sure that everything he had worked on was to our liking - and how could it not be? The beautiful detail and colors that he used were perfect. Both Mark and Anna are great professionals who are there to help you capture a beautiful moment on your day - my husband and I are so pleased with the result and it is a treasure that we will be passing on through our family. Our wedding guests were excited to watch the painting transform throughout our reception! It was a wonderful addition to our special day. THANK YOU Mark and Anna!!! I hope we have an opportunity to work together again in the future and I would highly recommend you to any bride and groom who are interested in having this service at their wedding.
Are you interested?
Send a message