266 Reviews
Recommended by 100% of couples
Quality of service

5 out of 5 rating

Average response time

5 out of 5 rating

Professionalism

5 out of 5 rating

Value

5 out of 5 rating

Flexibility

5 out of 5 rating
33 User photos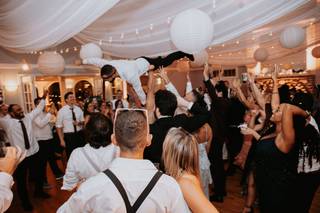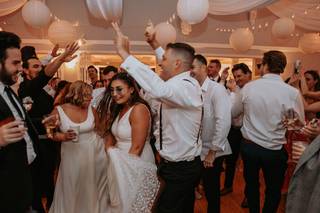 + 29

photos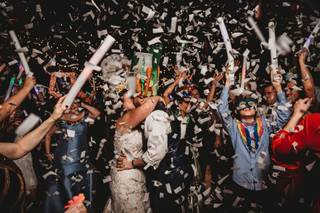 Featured

Jacqueline C.

Married on 09/24/2022

Brought our wedding to life

There are not enough great things I can say about this company. The owner Duane, Manager Brianna, and our DJ Danny gave us top rate service from start to finish and responded to any exchange within minutes to hours of contacts. Danny put so much time into organizing our ultimate wedding night and music compilation. his attention to detail, experience-based suggestions, and unique ideas based on our preferences in our first meeting alone made us knew we had an awesome DJ. In the weeks leading up to the wedding, Duane, Brianna, and Danny made sure everything was planned out to the greatest extent possible. On the day of the wedding, Danny helped our ceremony flow seamlessly and with the music sets he was playing the dance floor was ALWAYS full. Even during dinner, ourselves and our guests couldn't help but jam out to the awesome sets Danny picked out based on our taste. He really could not have done a better job, he blew everyone away and our friends are still talking about how much fun they had dancing at our wedding all night! This is absolutely the best DJ company you can hire, and I somewhat regret not hiring them for the additional skilled services they offer. They made wedding planning and my wedding day stress free and insanely fun. Thank you so much!!!

Amy W.

Married on 12/03/2022

Best Wedding DJ in CT!

We used Lights/Camera/DJs for our "Wedding Celebration" in December and they are literally the best! From start to finish, they were so professional and easy to communicate with. I can't thank Brianna, Duane and of course Michael our MC enough!! Michael was absolutely amazing and so fun! He played just about all the songs we requested ahead of time and mixed in what he thought fit the evening and crowd. We were completely shocked to see the dance floor full all night long and haven't heard one complaint from our guests. We've actually had several guests tell us that they loved the music played and it was one of the best weddings they have attended! Overall, it was fantastic evening and exactly what we envisioned. Having LCDJs there made it even better! We'll definitely use LCDJs for future events and recommend to friends and family! :)

Rachel A.

Married on 10/21/2022

Amazing experience

LCDj provided us with Brandon as our dj- who killed it. He kept the party going until the very end, his playlist was awesome- good mix of country, classic, and radio hits. They also provided us with Jen, our photographer. I can't say enough about her. She has such a great eye for pictures- pays attention to detail, the lighting, etc. Her work is nothing short of amazing. I'm so pleased with everyone at this company.

Are you interested?

Send a message

Kimberly S.

Married on 10/09/2022

Dj nailed it!

DJ Stevie C was absolutely amazing. He not only got our vibe as a couple, but completely adapted to whatever our guests threw at him. He played everything we asked for and then some. The dance floor was never empty. Photo booth was also a hit with the guests - strongly recommended!

Thomas L.

Married on 10/08/2022

Great Night With Lights Camera DJ

We used Lights Camera DJ for our wedding in October and could not have been more pleased. We began our experience with a meeting with Dwayne the owner and he matched us with a photographer and DJ. He could not have picked better people to work with us.

Our photographer Amanda met us and did an engagement photoshoot which allowed us to get to know each other. We felt very comfortable with her, her style and she could not have been a nicer person. She was easy to work with and we loved the pictures she provided to us.

Steve our DJ spent time with us in planning our playlist, the order of how everything would go during the ceremony and the dinner. He too was easy to work with and made great suggestions to make the night move smoothly. We loved the music he played and was exactly what we had hoped.

The day of the wedding both Steve and Amanda were great. We just wanted to have a great night with our family and friends. Steve and Amanda helped make the night exactly what we wanted. Our family and friends told us our wedding was one of the best weddings they ever went to and a lot of that was because of Steve, Amanda and all the staff at Lights Camera DJ.

Matthew

Married on 09/17/2022

Great unforgettable night

We had an amazing night, the DJ really took over and everyone spent the night dancing to great tunes.

Hannah D.

Married on 09/10/2022

Best experience!

Lights, Camera, DJ was a 10/10!! They were so professional and easy to communicate with. Provided beautiful ceremony music for our outside ceremony. Then provided excellent entertainment for our reception! Our guest couldn't get off the dance floor. Highly recommend using this company for your wedding or any event!

Elizabeth M.

Married on 07/30/2022

Absolutely amazing!!

Michael from Lights, Camera, DJs was absolutely the best! We hired him based off a recommendation from our venue and he did not disappoint! Everyone from LCDJ was extremely responsive throughout our year of wedding planning. On the day of, Michael was very much on top of everything- our timing, making sure we were happy, communicating about the timeline as we went, and he took song requests from our guests without hesitation. Absolutely the best and highly recommend! We will be using them for any future events!

Abbie

Married on 07/23/2022

Wedding DJ in CT

We had an amazing wedding day and received so many compliments on the music. Danny and team did a great job and truly made our day so special. Lights, Camera, DJ has an extremely thorough planning process and were always available when we had questions. They created and provided a custom song and went through many rounds of revisions with us to make sure that one of our special dances was exactly what we wanted. The team was pleasant to work with and we recommend them to any and all future lovebirds!

Cassandra P.

Married on 06/24/2022

Can't stop talking about our wedding

Our venue La Bella Vista uses LCDJS as a preferred vendor and I can see why. We had an initial call with Duane Dec 2020 after getting engaged October, he who was so fun to chat with that we knew we wanted LCDJs to be apart of our special day we cancelled other DJ meetings we had lined up that following week. Brianna was our go to for communication from our contract signing to post wedding thank you email. Day of our wedding Duane and Bryn had everyone on the dance floor (even my Husband who hates dancing lol) the entire time. I have been to weddings where no one would dance, not our wedding Duane hyped everyone up while Bryn played the best hits. I can't recommend LCDJs enough! If ever in need for their services in the future I will be calling.

Brittany T.

Married on 06/05/2022

Awesome DJ!

We booked Lights Camera DJs for our DJ. They are wonderful! We did our initial call with Duane who was super fun to chat with, he had great ideas for music (and encouraged my partner to include some of his own work into the day!!) We really appreciated that he gave us helpful insight on what we would benefit from in their DJ package and what we didn't need (based on our venue). There was no hard sell or upselling, it was really consultative and helpful! They have a great questionnaire set up so they get all of the info they need for your day so they won't miss anything. We ended up being assigned Brandon as our DJ and he was AWESOME! He's a really great guy and we enjoyed having the chance to chat with him leading up to the wedding! He helped us navigate some challenging family dynamics during speeches and nailed the music all night. The only real guidance we gave was "play wedding music" but we've had several guests come up to us and say it was one of their favorite wedding playlists! We had a smaller wedding but the dance floor stayed pretty active thanks to Brandon!

Sarah W.

Married on 05/28/2022

Fantastic Music and Photobooth

We booked this vendor for our DJ and photo booth services. Duane was great to meet with and he matched us with Brandon who was our DJ for the night. I had questions throughout the process and always felt like I could reach out to the company. Brandon met with us and got to know our music tastes. Everyone raved about the music and danced all night. The photobooth was also very popular and they provide an album that doubled as a guest book. We are so happy we chose Lights Camera DJs.

Kimberly P.

Married on 05/14/2022

Amazing at every step

After attending another friend's wedding where the DJ and emcee were provided by LCDJ, we hired them the next week for our own. They provided DJ services and a photobooth for us and everything was spectacular. Shouts to Brandon, our DJ, who was awesome and played all our favorites and kept the crowd going all night. Our photobooth was SO much fun and such a great surprise to get an album of all the shots at the end of the night. They were professional, responsive, timely and would 1000% recommend them for your next event!

Nicole B.

Married on 05/14/2022

Great fun and Loved Our Custom Monogram!

Lights Camera Djs kept the party going with the music, photo booth, and custom monogram! Our guests loved the magic mirror photo booth! My husband and I were so happy to see how our Legend of Zelda Monogram came out and it fit our theme perfectly! Thanks so much guys!!!

Franny A.

Married on 04/29/2022

A great choice!

Michael and Matt from Lights, Camera, DJs were great! The music selections were awesome, and they kept the reception moving along, and the guests moving on the dance floor! When an unruly guest caused a problem, Michael handled it promptly and professionally so we didn't have to worry about it. Also, they seemed genuinely excited to be there! 100% would recommend!

Daniela P.

Married on 03/26/2022

Best Night Ever!

Duane and the Lights Camera DJs crew went above and beyond to make all our wedding music dreams come true! We couldn't have imagined a better DJ for our wedding. From listening to all our requests, to suggestions that would make it better, to even playing the song my husband and I do for karaoke that we didn't think would play (thanks, Duane! Lol). It was perfect and everyone was on the dance floor until the very end!

Mariana T.

Married on 02/18/2022

Bicultural Musical Needs? Hire Duane!!!

My husband and I got engaged in Jan 2021 and married in Feb 2022. He's American and I'm a Venezuelan immigrant, and it was important for us to have our wedding be a bicultural event that celebrated both of our backgrounds. We also wanted our wedding to be FUN and memorable! Finding entertainment that wanted to not just "play the playlist we give them" but truly take the time to understand and become an active part of this blended wedding process was probably the most anxiety provoking part of our planning… until we found Duane. Not only did he make us feel comfortable in the first 5 minutes of our meeting, but the curiosity and excitement with which he asked us about our vision for this day had me in TEARS of relief! Not only did Duane know about many of the artists I brought up, but he took it upon himself to LEARN about Venezuelan music, our wedding customs, and how to best mix these with American traditions. We told him about Hora Loca (a Venezuelan custom where you bring out props and hats at the "peak" energy of the party), about the food that would be there, about our families and our first dances… He WANTED to know about these details because he KNEW these were at the core of what we were trying to do. His team was responsive, open and honest when we asked them for feedback (they are true experts at what they do!), and so easy to work with!
Fast forward to February 2022… Duane is not only killing it with an amazing blend of music during cocktail hour and the reception, but he's also smiling as he sees the guests dance Venezuelan folk music. He's working closely with the venue to make the magic of Hora Loca happen. At one point, I saw Duane getting my dad water because "that man hasn't stopped dancing in 3 hours!" Our guests, American and Venezuelan, raved about him – his personality (because they kept trying to be friends with him haha!), his talent, and his clear LOVE for what he does!

I could go on for a million more paragraphs about Duane and his team, but let me summarize with this: We knew we were a "complicated order" because we didn't want just the usual wedding playlist (though I have no doubt they'd kill it with that too!), and we were terrified that we'd have to sacrifice our vision because of a limited pool of vendors who could truly pull off a bicultural wedding. But Duane and his team (THANK YOU BRIANNA FOR ALWAYS BEING SO KIND!!) not only rose up to the occasion, but they LOVED meeting this challenge and eagerly joined, rather than just "worked," our big day! They made our wedding the most incredible and JOYFUL day of our lives. Thank you Lights, Camera, DJs for your talents, your heart, and your drive. We are FOREVER grateful!!


Amanda S.

Married on 10/15/2021

Amazing service



We are blown away with your above and beyond service! Everyone loved you all and commented on how amazing you were the day of the wedding. From Jen helping coordinate us and helping the guys out with their boutonnieres , Duane making sure everyone was dancing and having a great time and even joining us on the dance floor. Danny captured every special moment. It was such a magical night for us and we are lucky to have had you part of it!

Thanks a bunch the new Mr. & Mrs. Mariconda!

Francesca S.

Married on 10/15/2021

Best DJ ever!

Brandon was the DJ for our wedding this past weekend and he was AMAZING! We told him we wanted to dance all night long and dance we did! Every song was so fun and he totally listened to what we wanted. We also hired the photo booth and our attendant Victoria was so sweet and helpful. We had great and fun props, and Victoria even made us a little book with all our pictures which we weren't expecting. Definitely recommend!!!!

Brenda T.

Married on 10/10/2021

Best decision we made

Booking you guys were one of the best decisions we made for our wedding . Brandon was so amazing in our wedding prep and got all the details and information he needed to make it such a spectacular night ! He was able to be diverse in the music and always had people on the dance floor . We loved the uplighting , it made the venue look so much more elegant. The photo booth was so entertaining for our guests , kept them busy while we made our rounds we got so much amazing feedback about the photo booth .We would absolutely book with you guys again .

Lights Camera DJs's reply:

Hi Brenda,

Thank you for posting those wonderful pictures! We had so much fun at your wedding and glad to hear that your friends love the booth!

Stefanie W.

Married on 10/09/2021

Highly recommend

Duane and his team were such a pleasure to work with. They were there for us with any questions we had along the way even when it came down to services they were not offering us. Such a kind and helpful team from the beginning to the end. It is clear that they are there to do anything to make sure your special day is just that. The only mistake we made was to not hire them for more aspects of the wedding. HIGHLY RECOMMEND!

Lights Camera DJs's reply:

Hi Stefanie,

We are happy to hear that you had so much fun working with us and that we were able to answer all your questions and make the wedding planning go smoothly. We had so much fun with you at your wedding!

Alyssa A.

Married on 10/08/2021

Lights, Camera, DJ is on fire!

Photo booth was so fun! DJ (Brandon) literally put out a fire on our centerpieces. He was very entertaining and played great music. He was even dancing with us to the Cupid Shuffle. Monogram was great. One of our best vendors!

Lights Camera DJs's reply:

Hi Alyssa,

So glad to hear that you had with Brandon and he had you guys dancing all night long. Your photo booth pictures looked like you had so much fun in the booth!

Radmila P.

Married on 10/02/2021

Exceeded our expectations!

Lights Camera DJ's exceeded our expectations for our wedding in so many ways. Duane was so flexible and went out of his way for us multiple times when last minute unexpected issues came up and even found equipment for our violinist and accordion player. Steve, Eric, Brianna, and Danny were all AMAZING also. All of them worked hard to help us incorporate Bulgarian traditions, and they were all very flexible when we changed our wedding date 3 times due to Covid. They were very well organized, very professional, did everything how we wanted, and kept the energy up of our guests the entire wedding. The dance floor was full of people the whole time. We are blown away by them and have already recommended them to others. THEY ARE THE BEST!!!

Joe S.

Married on 09/26/2021

Stress Free

Mike was an awesome DJ for us and Brianna was very responsive via email for us for over a year of planning!

Rachel W.

Married on 09/25/2021

Fun and talented

We had DJ Steve for our wedding and he really brought our thoughts to life! He played perfect music to our ideas/taste and was helpful with planning. The whole team was helpful throughout the process, very responsive, and fun to work with the day of. There was never a time the dance floor was empty!
Are you interested?
Send a message