34 Reviews
Recommended by 100% of couples
Quality of service

5 out of 5 rating

Average response time

5 out of 5 rating

Professionalism

5 out of 5 rating

Value

5 out of 5 rating

Flexibility

5 out of 5 rating
1 User photo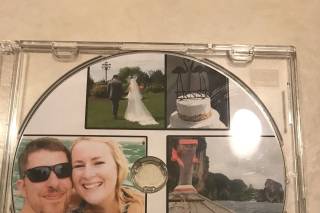 Whitney

Married on 07/05/2019

Life's Flix, you simply outdid yourself and your gift of editing have given us a true treasure with memories on film to relive year after year. Each time we watch our video we feel every emotion we felt on our Wedding Day because having the people we love most capture our memories have allowed us to view our day through their eyes (including moments we didn't even know happened). We recommend Life's Flix 110% - you will not be disappointed and will just wish for another event to happen in your life so that you can hire them to capture those moments too.

Life's Flix's reply:

Whitney,

We were so happy to be a part of your wedding week... You had some VERY special moments and nuances of the event that you will never forget. I was so happy to see Gram's and Pop's getting jiggy. :) I'm glad we could deliver!

Susan

Married on 07/11/2018

Best decision of our wedding planning

Met these guys at Seattle Wedding show and like they say... you spend all that time & money on plans - the dress, venue, food, cake, etc. and it all does fly by in the blink of an eye. That's what photos are for, right? Sure. But watching our wedding video from Life's Flix is like reliving our wedding night (and week!) all over again. Soooo much fun. Do it!

Life's Flix's reply:

Loved meeting you both at the wedding show! We couldn't agree with you more amazing memories are always best told with videos. I'm positive that production is one you will want to see more then once. Thanks again!

Morgan

Married on 05/20/2018

Such a fun idea for your special day!

I am the sister of the bride who used Life's Flix at her wedding, and it could not have been a better experience! Having multiple cameras before the ceremony, at the wedding, and during the reception captured angles, that when pieced together, were beyond memorable. Our family shared both laughter and tears at what Charles and his team were able to put together. I would recommend Life's Flix to anyone who is looking for a fun and unique way to remember their day for years to come!

Life's Flix's reply:

Thank you so much for your kind words. We are happy to hear perspective outsode the bride or groom... Oh, and your speech to your sister was amazing! A huge thank you! ❤️

Are you interested?

Send a message

Brittany B.

Married on 05/20/2018

Favorite part of our wedding day!

Our wedding day was a whirlwind but our video from Life's Flix has allowed us to relive our special day over and over! It is by far the best part of our wedding! The video they put together captures the entire day from different perspectives and showed us parts of the day we may not have seen otherwise. We also had a camera for our honeymoon and they included clips from that in our video! We highly recommend Life's Flix!!

Life's Flix's reply:

It was such an honor to be a part of your amazing, beautiful, and so perfect day! A million thanks for including us on your journey. Your family seems amazing and couldn't be happier with your end result. Everyone shooting your video really made this one special!

Landon K.

Married on 02/04/2018

This last minute booking was the best decision we made!

First off THANK YOU for fitting us in your schedule last minute... It totally skipped our minds and we didn't think that we could make this happen until a friend told us about these guys. WEDDING PLANNING mistake #1 not booking Life's Flix first. There were so many options to be had at our wedding but none more unique or meaningful! The memories made will preserved for us and our families forever! We will recommend you to all our friends and family!!!

Life's Flix's reply:

Landon,

Our concept allows for those last minute deciders which we get more often then on would think. 😉 We are elated you choose us and would do it ten times over. With open arms we will take your family and friends!

Lauren

Married on 09/02/2017

I am beyond grateful that we chose Life's Flix for our wedding video. I wasn't sure how it would turn out, but I could not be happier. Our video captures the beauty of the day in a genuine, more realistic way. It includes so many personal messages from our family and friends that we will cherish forever. Having the cameras for a week enabled us to capture part of the rehearsal dinner and other gatherings during our wedding weekend.

Charles and Russell were both incredibly responsive, helpful and accommodating from the moment I started working with them. When I asked if they could close caption my video for several deaf family members, they put in extra time to research the best way and present me with a number of options. The video was perfect and I was able to share it with those who could not attend my wedding. I never thought I would want to watch a wedding video in the future, but I've already watched this one a number of times and most certainly will again for years to come.

Life's Flix's reply:

Lauren,
It was our pleasure to serve you with a video that you will cherish forever! One of the best compliments ever comes from your last comment when you said " I've already watched it a number of times and will watch it again for years to come". WE appreciate you trusting Life's Flix to capture your moments and don't forget to at least make a tradition by watching it every anniversary!


Toni

Married on 09/23/2016

We are so happy with our wedding videos! Using our family and friends to record the videos makes them seem so much more genuine and "us!". Life's Flix went even one step further and let us take two cameras on our honeymoon in Italy which means we have footage of our favorite trip AND our favorite day. These are videos that we will treasure for years to come and can't wait to share with our friends and family.

Life's Flix's reply:

Toni,
We are glad you left this review as it is our goal to make every memory a genuine one that could not traditionally be captured. We were glad we could go with you on your Honeymoon. We thank you for taking us on that trip to Italy it was truly an epic journey!


Larry

Married on 09/17/2016

Truly exceeded my expectations from the first communication with this company until we received the finished product. The video of my daughter's wedding is truly a family treasure.

Life's Flix's reply:

Larry,

We hope to work with you again in the future for your sons wedding! 😉 Your family is great!

Gwendolyn

Married on 08/06/2016

We couldn't be more pleased with the service and products that Life's Flix provided! Initially, we were a bit hesitant to have a video made for our wedding (thinking photography alone would be enough), though the flexibility and unique aspect of having multiple cameras that were shared between and videos created by our awesome family & friends made the decision easy - especially with the amazing price for the "everything" package!!! And we are so glad that we chose this option!

The customer service and communication with Life's Flix was continually exceptional! Their survey allowed us to provide guidance as to the type and feel of our desired video and the outcome was, quite frankly, inspiring! The beautifully edited video allowed us to see so much more of what actually happened during (and documented the journey of) our wonderful weekend event. Additionally, the raw footage allowed us to see so much more "behind the scenes" interactions - and even helped us discover who gifted us an unmarked present! WE CAN'T RECOMMEND LIFE'S FLIX ENOUGH!!! The product & service is fantastic for weddings, though also for reunions, birthdays, graduations, group vacations, and so much more!

Life's Flix's reply:

Gwendolyn,
We take such pride in every video from the service to the end product as we know it is one of the most special events in a couple's lifetime. Yours was nothing short of perfect and we are so happy your video captured so much of your wedding week. We look forward to working with you again in the future!


Molly

Married on 08/06/2016

I have had the privilege of using Life's Flix at multiple weddings I have participated in. The thing I am always most impressed by is that each and every video has been uniquely tailored to fit the bride and groom and represent them perfectly. We have captured some hilarious moments as well as the most special of moments. The cameras are easy to use, easy to charge and the customer service is most excellent! If you're looking for an affordable and truly special way to capture the best moments life has in store for you, Life's Flix is the only way to go!

Life's Flix's reply:

Molly,
Editing multiple cameras with the perspective of different friends and family members allows us to get to know "your family" which in turn helps us tailor it and make it special. As they say, "you are who you hang with". You couldn't be more appreciated we will always be your video guys! THANK YOU!!!


Sally

Married on 05/29/2016

If you want to be delighted by seeing different angles of the wedding and the events leading up to it, this is a wonderful service. We had several video cameras for 5 days and captured the girls going out, the rehearsal and rehearsal dinner and really cute footage of the professional photographer doing her magic. This format put a camera in the hands of people from all parts of the couple's life; family, old friends, new friends, and coworkers. It captured the big moments as well as smaller more intimate ones. I took a camera out the next morning and filmed the beautiful natural surroundings that would have been forgotten otherwise. It was very impressive how the guys at Life's Flix took hours of raw video and created a professional, artistic and carefully crafted finished product. As the mother of the bride, I really appreciate seeing so much of the event after the fact. It's easy to get really busy the day of the wedding and it's fun to sit back and see it all afterwords. I know the video will be a special keepsake forever.

Emilia

Married on 03/19/2016

They say your wedding goes by like a flash of an eye. It's so true! One of the best things about my wedding was having Life's Flix there. As the days and hours went by and all the way thru the ceremony and reception, there was SOOO much that I never even saw or thought to see or remember. Having good friends and fam recording all the moments is like you have several sets of your own eyes seeing everything so you don't miss a thing! Then, all that footage is turned into something really special and amazing by the Life's Flix editors. My wedding video really is like a documentary shot by my friends but edited together amazingly by a pro. It tells the story chronologically with music and chapters... It's like my own personal movie! The editors catch all the funny stuff too and get that in the vid. Highly suggest! Thanks guys!

Johanna

Married on 03/12/2016

This a GREAT option for wedding videos (or for any event)! I had a small wedding so I wanted something very personal. All the staff are all so professional, very friendly, and they were excellent at keeping ongoing and open communication with us. The cameras are so easy to use, and for someone who was on an extremely tight budget, this was very affordable and the quality of the final product was OUTSTANDING! I have been telling all my recently engaged friends about Life's Flix. The tech was simple enough to learn (truthfully, the hardest part was get a few willing people to take a camera for the day!), and the final video was very well edited. They took the effort to get to know me so they could give me what I was hoping the final video to look like, which really showed in their final product. I highly recommend them for your big day! Two giant thumbs up (plus fireworks) for these guys!

Life's Flix's reply:

Johanna,

First off it was so nice to meet you, Ethan, and the rest of your family! Your support and review is greatly appreciated. Your video turned out PRICELESS so two giant thumbs right back at you for the great video work. PS. Tell your dad thank you!


I normally leave the reviews up to my wife but I felt obligated to do this one as I said we didn't need video. As I'm not normally one who likes to be in front of the camera this worked out great because it turns out I didn't remember a bit of the reception and the cameras were actually fun to have around. The video wasn't cheesy, the music was great, and it had a great humor throughout. So I am learning as the saying goes happy wife happy life I'm glad I listened to her.

Life's Flix's reply:

We are glad to have the other sides opinion as we know how to truly make the house hold happy. :) Having unique experience can push it over the edge special and we are happy to have provided that! Thank you for your feedback.



Words can't express how much we love our video. First off I think my Uncle had too much fun with his camera. :) That being said having multiple cameras for the
whole week allowed our family to capture (in which they REALLY enjoyed) all the little cells of happiness in which we would have otherwise missed.
We also carried a camera all the way up until our ceremony and were able to capture some very intimate and special moments in which I will never forget.


Life's Flix's reply:

Haha… We all have the Uncle who loves to get his hands on one of these babies and who better? He knows who's who and who knows what… Having the perspective from so many different angles really is what helps capture everything happing on such a busy and special week. We were glad you were able to record and see everything that happened with all your family and guests!


Sarah

Married on 08/19/2015

If you are looking for an affordable way to capture your special day on video then you are in luck, because you have found he right company to hire. Look no further. We absolutely LOVE our video and have enjoyed sharing it with family and friends. We also LOVED LOVED LOVED working with this company.
When we were planning the wedding videography was on the never ending todo list but I kept skipping over it....I found myself two days before the wedding without a plan to capture a video at our wedding. I contacted my DJ Adam Tiegs and he recommended Life's Flix. I called and left the company a message late that night. The next morning, (the day before the wedding), I called them again...they answered. He said that he had received my message from the night before and had already started charging the cameras for me! (I think he heard the panic in my voice). We talked about pricing but the real issue remained that I had NO time in my schedule to go pick up the cameras from the company, sign the contract, pay and then learn how to use the cameras and the process. Even though Charles had plans with his family that day, he said "no problem I will come to you". He literally met me at the hair salon while I got my hair done before I left for my wedding rehearsal. He even stayed with me while my stylist finished my hair and then walked with me to the bank so I could pay him. He couldn't have made the process any easier for me. The level of customer service they provided from day one to the day we received the videos was amazing. I am so impressed with this company from the customer service to the quality of the product they produce. It was an absolute pleasure working with this company.
We want to say thank you so much! I recommend this company to every bride and groom that wants a great video from a great company. (Or any special event)

Life's Flix's reply:

Sarah,

We couldn't be happier to have been a part of your wedding! The memories captured were unbelievable and irreplaceable! Meeting you was actually one of my highlight memories since starting this company. It was a neat experience seeing you through a small part of your day. I'm sure I absorbed some of your energy and spunk as it was definitely contagious! Editing your video and footage was equally as much fun… It was our pleasure working with YOU and hope we can work with you on your next event!


Wow Wow Wow! They say you get what you pay for with Life' Flix you get that and so much more. I couldn't stop holding squeezing my new hubbys hand and wiping my tears as we watched our video. And, I even think I saw a tear in his eye but don't tell him I said that. Thank you Life's Flix for the memories!

Life's Flix's reply:

We may have shed some tears ourselves but don't tell anyone else! :) We know there will be many more memories in your future that will spread joy to others. THANK YOU! THANK YOU! THANK YOU!


We couldn't have had a better experience!! The guidance from the get go, the personal touch of Charles meeting with our videographers, Russell following up with our editing questions to the end video product… They provided the best customer service of any vendor we worked with during our wedding expedition.

Life's Flix's reply:

The pleasure was all ours! We have so much fun providing memories of a lifetime. Customer service is one of our main goals so we couldn't be more thankful…


Jeff

Married on 12/13/2014

Everyone tells you that the wedding day will come and go in a blur. However, I was sure that would not be the case for our big day… Boy was I wrong.

At most we had 5 minute conversations with our guests. With some of them traveling quite far to come celebrate with us, it was bitter sweet that we were not able to spend much time with them. While we still have pictures from the day, it feels like we missed out on a lot. Even as I'm typing this I'm finding it hard to remember much from that night.

Luckily for us we found Life's Flix through a friend. At first I was worried that it might be a bit too complicated for our friends and family to use… however, it was clear from the start that was not the case. Easy to use, everyone took the handy little cameras to heart. It was nice seeing people walking around with the cameras talking and videoing all of the fun. It will give the whole thing a different perspective and I can't wait to see the end product.

It should be mentioned that I have yet to see the edited video, but after looking at the other videos on their site, not to mention the quality of service, I felt I had to jump on here and give them 5 stars for that alone. Furthermore, if you are on the fence about getting a videographer and/or on a tight budget I would highly recommend them. After all, memories of your big day will fade with time, but with Life's Flix, you don't have to worry about that. My wife and I can't express how happy we are that we found them for our wedding.


Life's Flix's reply:

Thank you for those kind words about our service! We totally agree (from personal experience) that the wedding day flies by in a blur. But great news! Your footage looks awesome already and your family and friends really left a lasting memory for you to enjoy. Thank you for using Life's Flix and we hope all the best for your two in the future :)

Angelique

Married on 08/08/2014

Life's Flix was an amazing addition to my wedding. It was very easy and relaxing to talk to the life's Flix crew, they were very helpful and gave some great advice on things to shoot before the wedding. They sent the cameras in advance so i could capture things, such as wedding registry shopping, that happen before the wedding. The cameras were extremely easy to use and and came with plenty of memory to capture everything, even mistakes. It was definitely nice having the cameras floating round capturing moments i never would have though to even consider videoing form my wedding. In the end the wedding was great, the Life's Flix crew was amazing, and the wedding video, personalized to fit my husband and i, was SO much more then i could have ever imagined. I would most definitely recommend this service to anyone who is looking for a video of there wedding or special day.

Life's Flix's reply:

Angelique,

This Montana adventure was like no other! The corn hole game was classic and the amount of fun from all parties involved was spectacular. Your family is obviously special to and that is why we started this venture. We hope you enjoy your memories and marriage for many years to come!


The whole team at Life's Flix does an AMAZING job!!!! Charles is super personable and easy to discuss all aspects of the process with you. He is more than happy to give great creative suggestions for your video to make sure that exceeds all expectations and even includes some surprises ;-) We are so thankful for Russell for editing our video beautifully, especially during such an important time in his life he was quick wit' it! Love you all thanks for helping us capture memories of our wedding day that will last a lifetime!

Life's Flix's reply:

Andrea & Andrew!

We couldn't be more thankful! Having the opportunity to be there for you on your wedding week was nothing less then perfect. It was AMAZING, BEAUTIFUL, and TOUCHING... You're both so very warm and inviting. I know we'll be putting together something special for your kids one day! :) We wish you the best in life and marriage!

Buona Fortuna!

The Life's Flix Team

Katie

Married on 11/16/2013

I met these guys at the wedding show and knew I had to work with them. Originally I did not plan on having a videographer whatsoever. They were so easy to work with and extremely accommodating. I got married in Mexico and they were a great alternative to a traditional videographer. In fact, I would have much rather used their service than working with an individual at the event. The staff was so helpful, informative, & spot on. I cannot imagine my wedding without their help. The cameras were easy to use (even for my grandma and 7 year old cousin) great quality, and I was very impressed with the microphones. I didn't think a little camera would be able to capture my entire wedding week! I can't believe they were able to sort through all of the footage and create such a memorable, funny, amazing video for me to have for the rest of my life. Thank you Lifeflix for creating such a wonderful video!

Life's Flix's reply:

Katie!

We couldn't be happier to be there for your entire experience. At least it felt like we were there! For the next occasion, we are coming! :) All I can say is we are THANKFUL that you both gave us a chance to put together your special moments in a way that you, your family, and friends can enjoy your the rest of your life. Salute! -The Life's Flix team

Jason A.

Married on 08/24/2013

These guys are AWESOME. From Russel's editing to Charles' video footage at the wedding, everything was fantastic. Incrdibly friendly and more than happy to work with family to make sure everything is covered. It is evident that these guys take great pride in their work after seeing a video of our most memorable moments perfectly crafted and choreographed using 10+ hours of home video footage from multiple cameras. their service was prompt and very much appreciated. We cannot imagine not having a video of our wedding and these guys nailed it! some of the small details of the day are easy to forget or miss out on in the commotion of the day, with Life's Flix, we were able to capture them all for a lifetime. This is a priceless service provided by very friendly professional people!

Life's Flix's reply:

Thank you so much for the kind words! It was great working so closely with your event and getting to share the bond that you both have. The amount of effort that was put into all aspects of your wedding was apparent in your footage. Your videographers were great! All I can say is amazing! I hope we are able to work together sometime in the near future! THANK YOU!

Julie

Married on 06/29/2013

Life's Flix is wonderful! Charles Davis was awesome to work with and followed through on everything he promised! He arrived to our venue early and was one of the last to leave capturing every moment. Our finish product was perfect!

Life's Flix's reply:

Julie & Lee,

I couldn't thank you more for the part you let me play in such a big part of your life. I hope to hee haw around with your family again! I think I went country. :) You two are perfect for each other! Call me anytime!

Krystina

Married on 06/29/2013

Life's Flix did a amazing job and my husband and I cannot thank them enough! They were very helpful leading up to the event in keeping us notified of when the cameras were going to be shipped and how to return them. The time that they took to review the footage that was taken during the week of our wedding and the day of and putting it together was fantastic. The video will always remind us of how special that day was for us and we just want to say thank you so much for everything!

The Bittermann's

Life's Flix's reply:

Krystina and Brett,

It was so real! So happy we had a chance to connect. Your wedding was very emotional and special! You have such great family and friends. Continue to make fireworks together. Love it and thank you for allowing us to be a part of it!
Are you interested?
Send a message