97 Reviews
Recommended by 100% of couples
Quality of service

5 out of 5 rating

Average response time

5 out of 5 rating

Professionalism

5 out of 5 rating

Value

5 out of 5 rating

Flexibility

5 out of 5 rating
37 User photos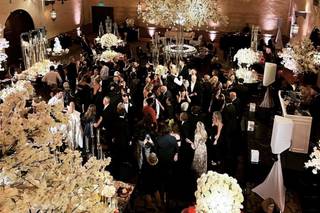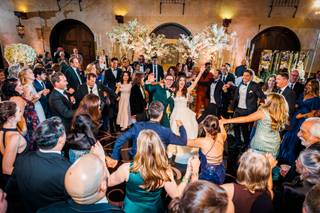 + 33

photos
Alana G.

Married on 09/10/2022

Bryan was amazing!

Bryan DJ'd our wedding this past September and kicked it out of the park! The flow of the night and sound ran smoothly from the ceremony to cocktail hour to the reception. He took care of everything, including live performances and three locations. His MCing of the event was never over the top but always clear, and his music choices completely fit the crowd. We literally had the entire party (and I mean EVERY PERSON) dancing until we shut it down at midnight! He took the time to get to know us and our style since we are a bit off-center in our music choices, and he was able to meld many different styles together with ease. So many of our friends commented after the wedding about how good he was that they just couldn't stop dancing. From start to finish, Bryan made us feel listened to and excited about our event. He's a great DJ who will keep all your guests happy, regardless of their age or taste!

F P

Married on 09/01/2022

Thank you Bryan!

We very highly recommend Bryan Chesters/Let's Party LA. He was very professional from preparation to the wedding day. He was a superb MC and DJ, and had a very positive outlook. We were so impressed by how hard he worked to make our wedding day the best it could be. For example, he arranged for an incredibly talented saxophone player to play for our wedding, We were especially appreciative at Bryan's proactive approach: Bryan spoke with our Rabbi, Cantor, day of wedding coordinator and Hotel assistant director, and brought in lighting to make sure he made the cocktail hour, ceremony and reception so beautiful and elegant. He timed the live elements such as backup music excellently for our live singing performances. Moreover, Bryan took the extra time to create such an excellent Hora medley that we received compliments from guests who had heard many Hora medleys!

Kaitlin

Married on 08/27/2022

Best. Dance party. Ever.

BRYAN IS THE BEST. Total Pro. Super Classy. Everyone was out on the dance floor and they did not want to get off of it!!! It was amazing!

Bryan DJ/MCed our Wedding up in Sonoma County and HE WAS AMAZING. Bryan and I actually went to theatre school together, and so I knew he was an amazing actor and singer and I just had this gut feeling that he was going to bring a wonderful presence to our wedding, and he DELIVERED.

He set up a few meetings with us before the big day to make sure he knew our taste in music and he really dialed it in. We created a whole sound schematic for the day with different musical moments for each part of the event, and everything sounded so beautiful, and each moment was unique and intentional.

I really didn't want any cheesy or overplayed wedding music and he really heard me, and made such unique choices that aligned with the few inspirational songs and playlists that I sent him.

We also had a live component, where my two best friends sang and played guitar as I walked down the aisle and he set that up effortlessly and it sounded so good.

He did an amazing job at introducing and weaving in all the speeches, and as soon as dinner was over the dance party was ON.

In addition to his amazing presence on the mic and the music he played... he saved the day on so many other levels. Our venue had a few logistical challenges, and Bryan problem solved every single technical issue and our wedding went off without a hitch. We had to run on generators because our venue was mostly off the grid, and Bryan handled it like a boss. You would never have known.

We had ZERO audio issues the entire night. It was a dream.

He also brought such amazing lighting to our reception tent and also brought extra lights for the trees in the orchard surrounding us, and it was SO BEAUTIFUL. It really transformed the space.

Hire Bryan. You'll be in great hands.

Are you interested?

Send a message

Lisa

Married on 08/27/2022

This DJ Mic Dropped the House!!!

What can I say to sum it up...MC/DJ Bryan "Mic Dropped" this party!!! As a wedding planner myself, it was such a pleasure and SO refreshing to work with a DJ who took initiative from the beginning of the planning stages. Not only did he make sure to get in touch after booking, he made it a point to stay in the know of everything up to the day of. He was very thorough to read the timeline I supplied him and did an amazing job helping me keep everything flowing.
Making announcements when necessary to keep the main parts moving along was a big part. When you're trying to move a large party of 140+ guests on a private family vineyard, from one location, all to a completely alternate location that requires a walking distance. He was such a HUGE support! I can't say it enough that his willingness to fill in wherever needed was so appreciated!
You cannot go wrong with this DJ. And to top it off...He throws an amazing DANCE PARTY :))))))) He could read the room and feel the vibe and know how to get everyone up in their dance shoes. When the Bride and Groom are in the center pulling their top dance moves and the dinner tables completely empty because ALL of their guests are up on the dance floor busting their moves...you know he's doing something right ;)
By the end of the night I was the last, along with him, to leave the venue. He made the extra effort to make sure my team had what we needed and that we weren't alone, in the dark, on a giant vineyard. Having the care and concern for the team you join to make a special day happen for others is such a key element that defines true team work vs. just another gig day. He truly understands what it means to "Be a Team!" I would ABSOLUTELY, 100% recommend DJ Bryan @Let's Party LA Entertainment. You can't go wrong with this guy!!!

Hailey H.

Married on 06/04/2022

Wedding DJ

Bryan was the DJ at our wedding and absolutely crushed it! Multiple guests came up to my husband and I saying he was one of the best wedding DJ's they had ever heard! He had the unique ability of fulfilling all of our musical requests, while still putting his own expert spin on the night! Absolutely would hire Bryan again for our wedding.

Joshua C.

Married on 04/16/2022

Nailed our vibe perfectly

Of all the things we invested in for our wedding, we felt that the DJ was one of the most important decisions to make or break the vibe of the wedding. Bryan really took our wedding to the next level. We had multiple calls with Bryan in advance of the wedding to prepare songs that we did or did not want, as well as flow and design. We even hired a violinist to perform, and he worked with her perfectly to design the perfect playlist for us. We gave several playlists of must have songs as well as vibes to hone in on our tastes, and Bryan was able to incorporate them perfectly. Not only that, but as Bryan played certain hit songs, he was able to quickly adjust based on audience participation with ease. We had so many compliments with several people asking for his information so that they could pass him on to their friends or use them as their own events. We could not have picked a better DJ!

Amanda R.

Married on 04/14/2022

Wow- outstanding work and personality!

From the second we were put in touch with Bryan we were blown away with his enthusiasm. He is the kindest person. From the start, he got to know us on Zoom, even though our wedding was over a year out. He spent 40 minutes on a call with us just getting to know us! We had so many last minute hiccups and headaches from our venue. He didn't complain once and went to extreme lengths to help make our day better. This is the person you want at your wedding. What an incredible individual! All of our guests loved him. He did a great job gathering people around and keeping the party going. Thank you, Bryan!

Jodi H.

Married on 03/26/2022

Simply the Best!!!

Planning a wedding can be extremely stressful. We had used Bryan and Let's Party LA for other family and work events, so when we asked Bryan to DJ and MC for us, we knew we were in good hands. From ceremony to celebration, music and lighting, he took the time to personalize the experience, making our daughter's wedding the fairytale she always dreamed of. With Bryan in the lead, we were able to relax and enjoy our memorable day. There's no one else I'd rather work with than Bryan and Let's Party LA!!!


+ 5

photos

Evelinda U.

Married on 02/22/2022

Let's Party LA Entertainment

Bryan is simply the best! He had patience, great music suggestions and understood what it takes to get the party going. Talk about going the extra mile: He found us the perfect party planner, photo booth rental and this was beyond: We needed a zoom for a 90 year old grandma to watch the wedding; everyone so busy on the wedding day and when mentioned to Bryan he volunteered to record and set up the zoom. You won't find better service anywhere.

William N.

Married on 12/24/2021

Kind and skillful DJ!

We met Bryan through our wedding planner Natalie's recommendation. When we met him it was over a zoom call right at the beginning of the pandemic as everything was shutting down. Since neither of us knew what it entailed to speaking with a DJ for our wedding, it was such a pleasure to find out Bryan's thoroughness to walk us step by step, as well as getting to know us throughout the process so he can better gauge it in his musical recommendations as well as improvisations during the event. We were able to come up with a playlist we're happy with thanks to Bryan's guidance and advice. On our big day, Bryan rocked the whole floor. He knew all the perfect moments to insert appropriate songs based on the crowd's mood. He also asked us if he could start certain songs in the middle, to better match the pacing of the event. All of the attention to detail, as well as his patience are incredible to see in action. We got to meet Bryan several times during the wedding planning and everytime we do, he's been extremely pleasant and down to earth. We're so happy to have gotten the chance to work with Bryan and he will surely bring life to many people's special days.


Let's Party LA Entertainment's reply:

Thank you so much for this wonderful review William! I loved DJ'in your and Kat's wedding. You had really interesting and wonderful music choices and loved all the instrumental, orchestral movie songs we played during dinner. It was truly an honor to work with you both and wish you all the best! And I loved seeing you and your friends jamming out on the dance floor! So much fun!



Kat M.

Married on 12/12/2021

Incredible DJ with great energy and professionalism

We met Bryan through our wedding planner, Natalie Sofer. He is absolutely incredible. Since our first meeting, he has been kind, professional, and helpful. Our event was delayed multiple times due to COVID concerns and throughout these difficulties, Bryan was extremely accommodating. He is a fantastic showman who really knows how to get the energy going. We would easily recommend him to anyone hosting a big event!

Let's Party LA Entertainment's reply:

Thanks so much for the great review Kat! You were such a beautiful bride and after working with you both so long -- it was such a joy to finally see you all dressed up and enjoying your wedding! Also loved your eclectic music choices and seeing you guys light up the dance floor! Wishing you all the best!

Stav F.

Married on 11/20/2021

Highly Recommended!

Bryan is such a great DJ! He played a great selection of songs and kept the party going all night. Our wedding was such a special night and that was in part thanks to the great work of Bryan and his team. We thank him so much and would recommend him to anyone.

Let's Party LA Entertainment's reply:

Thanks so much for the great review Stav! I loved DJ'ing your wedding at Calamigos! We had such a great time and loved watching you guys tear up the dance floor all night. Such a great time! Truly appreciate you taking the time to share your kind words! Wishing you all the best!

Valarie I.

Married on 11/13/2021

Bryan is the best!

We hired Bryan for my 50th birthday party in Los Angeles. and he was amazing. He was on time and brought his own equipment, including some beautiful outdoor lighting. Which truly made our event feel magical. It was totally unexpected and super appreciated. As for the music, he played all of our favorite songs and was kind to our friends and played their requests as well. The best part of any DJ is to be able to read the crowd and Bryan did that perfectly. He set the mood at the start of the party and then turned it up when we were ready. Keeping the party going all night long!! We've done a lot of parties over the years and Bryan is our favorite. Got lots of compliments on him the next day from our guests, too. Absolutely recommend Bryan for any event.

Paola V.

Married on 11/12/2021

I can't recommend Bryan enough!!

My husband and I hired Bryan for our wedding at Quail Ranch last month and he exceeded our expectations. Not only was he very responsive throughout the entire process but he was very easy to work with when we needed to postpone our date because of COVID.
He was a fabulous MC and pumped up our guests before our big entrance. The dance floor was POPPING the entire night and we received so many compliments on our fun DJ. If you are looking for a DJ who is energetic, professional and knows how to keep the dance floor buzzing all night, Bryan is your guy!
Thank you so much Bryan, you made our wedding so special!!
P.S. He helped us book our photo booth (it was truly an amazing deal) which our guests loved!

Let's Party LA Entertainment's reply:

Paola! Thanks so much for the great review! It was so much fun Dj'ing your wedding! Your relatives from Bolivia rocked out on the dance floor! And I loved mixing it up with the top 40 dance songs and the latin songs. It was so much fun to finally get to celebrate with you both along with your friends and family! Wishing you all the best!!!

Jessica K.

Married on 10/24/2021

Awesome DJ!

Bryan was an amazing DJ! He kept everyone dancing and was such a pleasure to work with. He is very easy going and professional. So glad we used him for our wedding!

Christina B.

Married on 10/23/2021

Best Wedding DJ EVER

Wow! We cannot thank Bryan enough for hosting the BEST dance party at our wedding!!! From the perfect MC to keeping the dance floor hopping ALL NIGHT we had the best time with Bryan and we can't imagine our wedding day or the epic party without him! We've heard SO many compliments from our guests about the amazing DJ we had (several of our guests let us know they were obsessed and a handful are soon to be engaged so you may get some phone calls 😊). Bryan truly made our wedding magic and we are so grateful to have had him on our vendor dream team!!

Elizabeth T.

Married on 10/17/2021

The Best DJ!!

Bryan is hands down the best DJ!! You should 100% go with him!! He will also help guide the party along, which just helps the night go so smoothly. Super easy to work with from the beginning. We started working with him 2 years ago since our wedding was postponed from COVID and everything 2 years later stayed the same with our plans. He was professional and has a happy positive ready to party personality. We planned out some of our rehearsed songs in advance, and he's also okay with last minute day of changes. All our guests even complimented and had so many great things to say about the music.

Let's Party LA Entertainment's reply:

Thank you so much Liz!!! I had so much fun last weekend. Loved partying with you & all your friends and family. I wish you and Ken all the best!

Derinda M.

Married on 10/08/2021

Simply the best!!

Brian Chesters is a 5 Star D.J. Not only is he fun and talented, his sense of timing, pacing and choice of music created the perfect atmosphere for our event. He's been our go to D.J. many times because he is simply the best!

Let's Party LA Entertainment's reply:

Thanks Derinda! It's always a pleasure working with you. I truly appreciate you taking the time to share your kind words. :)

Stephanie D.

Married on 08/28/2021

DJ for our Wedding

Bryan went above and beyond to make our night special. He was professional, organized, supportive of our needs and a pleasure to work with. He really set the mood for our wedding. At our request he led line dancing lessons, on the dance floor, for our guests and they absolutely loved it! Bryan knew how to take charge to ensure things went smoothly according to our timeline and each transition throughout the night was seamless. He knows how to read the room and is strategic in how he keeps the momentum going on the dance floor. He accommodated our needs by staying 3 hours past the original time frame (until 2am!) because our guests didn't want to leave the dance floor. He really knocked it out of the park. We will definitely be hiring him again for our next event!!

Let's Party LA Entertainment's reply:

Thank you so much Stephanie! It was truly an honor to Dj your 'surprise wedding!' You and Erik made a beautiful couple and loved meeting and partying with all your friends and family. A truly incredible night!

Jeanne K.

Married on 08/21/2021

Highly recommend, loved working with Bryon

The best DJ ever!!!! Would hire him over and over again.

Let's Party LA Entertainment's reply:

Thanks Jeanne! I truly enjoyed working with you and Steve. And I loved DJ'in and MC'in Lisa and Eric's wedding!

Arden T.

Married on 08/20/2021

There's no better than Bryan

There is no one better than Bryan if you want someone who will give you 150%. He will get on the dance floor and get the party going, when needed. His enthusiasm is contagious. His equipment and lighting is exceptional and does all the things necessary to make the party great. Mostly, he is a dream to work with and you will want to be his best friend. Don't look any further, Bryan is the one.

Eric M.

Married on 07/10/2021

Bryan is easy to work with , and brings an energy to the wedding you will appreciate.

Bryan was the best DJ we could've asked for! everything went perfectly! He planned everything so well! I had over 12 people walking in my wedding and he played every music exactly the way each of my wedding party had asked for! I wanted a mix of different music both Persian and upbeat dance music and he blew it out of the water! I wanted a very specific type of music for my cocktail hour and he aced it. I had two musicians that were also playing and he worked so well with them! He is the real deal! Worth every penny! Best vendor in my wedding ( after my wedding planner of course !)

Let's Party LA Entertainment's reply:

Thank you so much Eric! I loved DJ'in your wedding. You and Mandy make a beautiful couple and it was such a pleasure to share this very special day with both of you! Truly appreciate your kind words. :)

Erica

Married on 06/19/2021

Bryan is amazing! Highly recommended!

Bryan was absolutely amazing! And he had quite a journey with me. Our wedding was originally June of 2020, and Bryan helped me to sort out what to use for the ceremony, and helped to guide me toward good music for the reception. I was feeling reading, but of course COVID forced us to delay our wedding to June 2021. He was more than understanding, and helped us to delay with compassion. Fast forward to March of 2021, and due to a really devastating year on our family, we decided to cancel our wedding altogether. Bryan worked with my husband and I (we legally got married in 2020) to have an "unwedding" party, just some good music and karaoke in our backyard, to take our minds off of the tough times. It was so much fun, everyone had a great time, and Bryan helped us to lighten the mood to keep us distracted from what could have been a really sad day for us. I highly recommend him for weddings, parties and everything in between. Thank you Bryan for helping us through the crazy journey that was 2020 and 2021!!

Let's Party LA Entertainment's reply:

Thank you so much Erica! Truly appreciate your kinds words and it was an absolute pleasure to DJ for you!!! So much fun! :)

Gina S.

Married on 10/24/2020

Best night of our life!

Our wedding was supposed to be in October 2020 but we had to cancel it days before due to Covid and rescheduled for May. We met Bryan Chesters In early 2020 through our wedding planner. My future husband and I just loved him from the first meeting! He is so kind, great listener and very creative. He showed up at the event Property for all walk-throughs without hesitation. He was available to us at any time. And the night of our actual wedding he was amazing! Completely seamless and we didn't have to worry about a thing best night ever. Thank you Brian for your professionalism talent and heart. We were higher Let's Party LA Entertainment again and again!

+ 3

photos

Let's Party LA Entertainment's reply:

Thank you so much Gina for this wonderful review! I truly enjoyed working with you and Neal… from our first meeting for coffee through — Covid and then finally an incredible wedding at your beautiful estate. Love your energy & warmth! Look forward to seeing you again sometime soon!

Raffi T.

Married on 09/09/2020

Bryan Chesters was an incredible DJ!

During the ceremony, he made sure the sound system was tuned perfectly for both the officiation/vows as well as for the string quartet we hired. Cocktail hour and the rest of the night went by very well, a lot of people mentioned how the music was on point the entire night. Incredible mixing skills that really made our wedding the best day of our lives.
Are you interested?
Send a message