Reviews
5.0 out of 5 rating
Quality of service

5 out of 5 rating

Average response time

5 out of 5 rating

Professionalism

5 out of 5 rating

Value

5 out of 5 rating

Flexibility

5 out of 5 rating
100%
Recommended by couples
44 User photos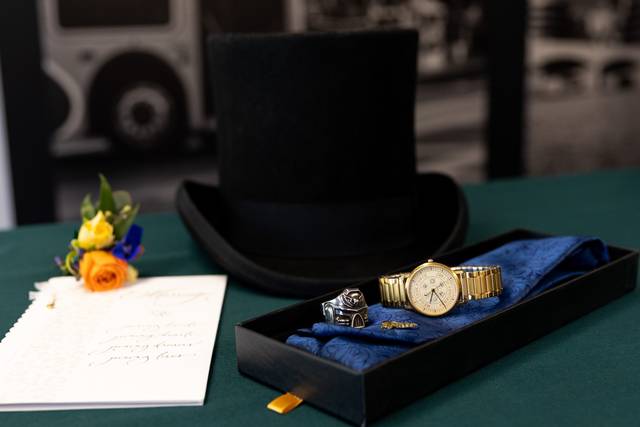 + 40

photos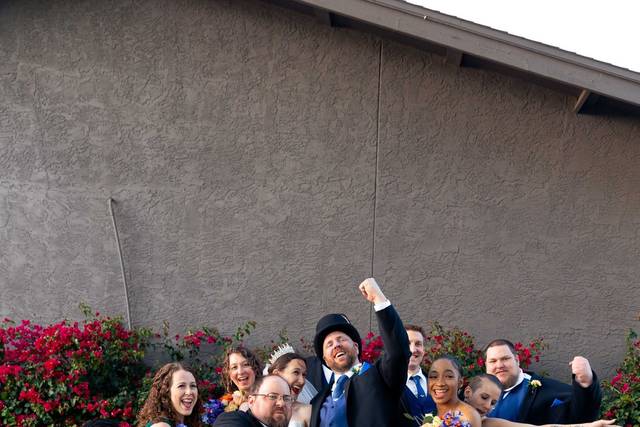 Featured

Katharine S.

Married on 11/12/2022

Amazing experience

We had the best experience with Lee Media. James made sure to get to know us and understand what we were looking for and what we wanted the end result to be. Day of the wedding Marc was amazing. He made everyone feel comfortable and blended in with the crowd which let him capture the day perfectly. I was initially hesitant to hire a videographer as I didn't see the value but I'm so glad I did. They captured not only things we missed but the entire vibe of the day. Everyone we have shown our video to has commented on how amazing it was and they wished they had a video like that from their wedding

Lee Media's reply:

Katharine! So kind of you to say. Marc's a lot of fun and we're happy to have him on the team. We're so happy that your film will bring YOU happiness for decades and decades to come!

Bridgette W.

Married on 11/12/2023

Fun on tape!

I knew I needed a videographer for the day but man was I spoiled by some really wonderful guys! I can't wait to see the finished products but the experience with the talent was phenomenal and exceeded my expectations! They got my humor and were so thorough about how to execute my vision and how to capture my day best!

Lee Media's reply:

Bridgette!!! Thank you SO MUCH for the kind words. I knew your team was the PERFECT team for you, and I knew that you and yours were and ARE 1000% amazing people. It's so great that we share the same humor and values, and look forward to showing you your awesome film!

Mattsarah T.

Married on 03/24/2023

An absolute joy to work with!

Lee Media was an absolute pleasure to work with from start to finish. From the first phone call to the final result, James was always friendly, knowledgeable and flexible. He and his team played a big part in making the wedding day go smoothly. They managed to direct and pose photos while adding to the fun and flow of the festivities, and grabbed great candid shots as well. James was very present, active, and professional during the day of the wedding, while maintaining a cheerful and lighthearted atmosphere. He had a really good read on people and knowing what they want and when a good time to interject and offer his vast knowledge of how to set up good shots while still keeping everything candid and real. They even managed to catch quite a few shots of the groom's REAL smile (as opposed to his someone-is-taking-a-picture smile) and also great serious shots where he doesn't look grumpy or intimidating. Both the pictures and the short videos truly captured the spirit and joy of the occasion and everyone there. We could go on for ages about Lee Media's virtues, but nothing beats seeing the amazing results – so definitely go and check out the examples on their website!

+ 4

photos

Are you interested?

Send a message

Steph V.

Married on 03/21/2023

Videos to Remember Forever

We decided about a month out from the wedding to add videography to our budget. Looking at the videos now, it was SO WORTH IT FOR US. James and his team were absolutely amazing! It felt like we clicked right away and had great chemistry with everyone, even though these guys were the last vendors to join the fun! Their work was awesome, we didn't feel like cameras were in our face at all, but there was so much caught on film that we would never have remembered otherwise. The edited film is beautiful, our guests can't stop talking about how amazing it is and what a good job the team did. Thank you so much! If you can make it work, we HIGHLY recommend you hire a videographer and definitely one from James' team!

Brynne H.

Married on 11/19/2022

Experienced and well thought out!

James did a fantastic job. He has a very well trained eye and is extremely experienced! We loved working with him and was able to make everyone laugh and smile. So we'll organized and thought through. 10/10!

Lee Media's reply:

It's reviews like these that get me up in the morning. Thanks Brynne! It was an absolute blast, and I'm very proud of the work we accomplished together. Thank you, you and Mark, for being terrific subjects!

Kayla S.

Married on 10/22/2022

Absolutely amazing

Our video came out exactly how we wanted! I am so happy we went with having a videographer, I will always look back at our video!

Lee Media's reply:

Kayla, thank you thank you thank you for your praise. The team loved working on your beautiful film, and your private first-look vows were so sweet. We're so happy you'll be able to cherish these forever!

Stephanie W.

Married on 10/16/2022

Easy and stress free!!

Lee Media has been great to work with and I would highly recommend them. Great communication leading up to the wedding. Jason was our day of videographer and he was so nice and easy going which was great on such a big day. I'm so excited to see our finished product!

Lee Media's reply:

Stephanie! So kind of you, this is so appreciated! Jason had a blast and we can't wait to show you how great everything looks!

Peter P.

Married on 10/15/2022

Amazing video that captures everything we wanted and then some!

We had a semi-tricky situation as rain wanted to make its presence felt at the beginning of our wedding day. The team handled it perfectly! The videos turned out amazing and were done perfectly and timely. We are so glad we signed on with James and his team and highly recommend to anyone! The quick turnaround trailer was a must as well.

Lee Media's reply:

Peter, thank you so much for the great review! Marc had a great time celebrating with you and your crew, and we love the video! Totally unique film for a totally unique day!

Joe F.

Married on 09/10/2022

Grade A job!

Lee and Marc (videographer) were excellent. They were very energetic and easy going while photoing and videoing our wedding. They made things very easy and no stress. They helped us have fun. We were very happy with the turnout of pictures and videos we received. I highly recommend them for your event!

Lee Media's reply:

Thank you, sir! Very much appreciate the kind words! This is literally why we get up in the morning!

Jessica M.

Married on 07/12/2022

Love Lee Media!

We love working with Lee Media! Their attention to detail and getting the perfect shots are what separates them from the rest. We love how professional and fun they are and, of course, love their wedding videos that capture the day. We highly recommend them!

Lee Media's reply:

You're too kind. Having a team like yours not only makes our job easier, but allows us to do our absolute best. Cheers!

Bobbie

Married on 05/02/2022

We're in love with our wedding photos!

James and his team did an amazing job at our wedding. I had looked through the photos on his website and Instagram, and really liked his work. Before our wedding day, he took time to chat with me and find out about us as a couple and what we liked. On the day of the ceremony, he arrived promptly and was super patient with us to help us get the best shots. Several of my guests mentioned how much they liked him. And we were blown away by our wedding photos. They are absolutely stunning and perfectly captured the beautiful day. We got the package with a videographer, and I'm so glad we did! The video is magical and definitely something we will treasure forever!

Lee Media's reply:

Bobbie, thank you so much for this review. It was an absolute joy to work with you and yours on your most special day! Reviews like this are the reason we get up in the morning!

Elizabeth K.

Married on 03/05/2022

Just Magical

WOW! We got married March 5, 2022 and knew we had to find a cinematographer that could capture such a glorious day. Our experience with James and the team at Lee Media were more than we could have ever dreamt. It was truly incredible!
Our cinematographers were Alex & Marc - they went above and beyond to capture every moment, so delicately! They kept up with our crazy, dancing guests and didn't skip a beat! We felt every emotion watching our film. Words do not do them justice!!
Thank you so much to the team at Lee Media for creating something so magical to be with us for years to come, we cannot wait to share it with our children one day.

Lee Media's reply:

Wow, Elizabeth - thank you so much for your kind words. I knew when we spoke over the phone our team and our storytelling was going to be a perfect match for your family's story. We are honored to have produced memories that will last you the rest of your lives (and then some)!

Nicholas F.

Married on 02/10/2022

James Lee and Co are exceptional

James and his team are exceptional in the service they provided for us. We found them at a wedding event and we are so happy we did. Dana and Jack, photographer and cinematographer respectively, were excellent. They were able to direct and move our wedding in an organized fashion in the most maximized way especially with our available light.

Dana was great to work with, she's fun, energetic, and provided great ideas for cherishable moments. Jack was the silent camera man and played the part well; able to get in and get those great glamor shots that portrayed our moments in great movie fashion.

I couldn't recommend this stellar team more. For the price and the service they provide, I'd argue to say they are unmatched.

Khoa T.

Married on 12/24/2021

Proposal Event

Marc was the best videographer. He was so amazing and cool to work with. Being so nervous, he definitely made everything so perfect. Couldn't ask for a better person to catch a memory that will last forever.

Lee Media's reply:

Thank you Khoa! Your proposal video was so sweet, and Marc had a great time working with the two of you! Congratulations again!!!!

Alex F.

Married on 12/17/2021

Amazing Experience all around

Working with James and the cinematographer Alex from Lee Media was an amazing experience all around. Would highly recommend to anyone.

Weddings are more stressful and more expensive than anyone would expect. Lee media made things smooth and were a pleasure to work with. They paid particular attention to what was important to us about our wedding.

The day of the event was seamless and our cinematographer Alex was great.

The end product was even better than we could have imagined. They captured the overall day so well and highlighted the very best of it. We're so glad Lee Media shot our wedding, and now we'll have the best parts of our wedding day captured forever :)

Lee Media's reply:

It's hard to do a bad job when your couples are as easy going and fun as the two of you! Thank you both for your kind words!

Hunter K.

Married on 12/11/2021

Everything we could have asked and more!

We cannot thank you enough for these AMAZING photos and videos!! Hunter and I are absolutely blown away by all these amazing shots! We've spent the last three hours looking through everything and excitingly calling our parents to show them sneak peaks!!

We are so so honored to work with you and your team, you captured everything and more than we could ever want for our wedding photos!! And WOW those Astro photos are the most gorgeous photographs! We can't wait to print them and hang them up in our house!

We also wanted to thank Jesus as well for such an amazing next week trailer and wedding video! We definitely shed a tear or two watching them and we loved sharing them with our family!! We can't wait to watch the videos over and over again!!

Thank you so much for your amazing work that you and your team did for our wedding!!

Lee Media's reply:

Oh my goodness thank you so much. It is reviews like these that get me up in the morning and keep the team psyched! Thank you for having us on your biggest day!

Kerri M.

Married on 11/13/2021

Outstanding

My wedding video was just what we wanted! I could not be more pleased! And Lee is a joy to work with. As was the videographer he sent out. Very professional.

Lee Media's reply:

Kerri, thank you so much for the kind words about your experience with us and with Marc. You two were a joy to work with, and it's couples like you who bring us joy. Knowing how much happiness we're bringing you is very fulfilling, and we're lucky to have been chosen by the two of you. :-) Thank you again!

Benji U.

Married on 10/29/2021

Awesome job by James Lee Media

James and his team did an amazing job at taking care of our photos and video for my wedding. He and his cinematographer Alex came out and were very friendly, very professional. They know what they're doing. Before the event we had a meeting with them to discuss in detail everything that was going to happen. James really made sure to capture what was important to us. He makes sure we are all on the same page. On the day of the event, he arrived on time, and was very friendly. What I loved the most is how many of our guests told us after the wedding how great James and Alex were, we were so happy about that! They knew what they were doing and we had good communication with them throughout the night. They delivered the final video and pictures within the time that they advertise on their website, so they are true to their word. We loved how the video and pictures came out! They put careful thought into the video, it was not just something put together in a few days. The pictures looked amazing, we were so stunned. I definitely recommend James Lee and his team for any event that you are doing. What are you waiting for? Hire them!!

Lee Media's reply:

Benji! Thank you so much. You and Alexis were an absolute blast to work with, and it was a joy to celebrate with the both of you. Thank you so much for having us, for loving the work, and for sharing your experience!

Mark D.

Married on 10/14/2021

Dream Wedding

We hired James Lee for our dream destination wedding and wanted the very best to capture everything on our special day. James did exactly that!! The pictures and video that he took perfectly captured the day and take us right back every time we look at them. They are incredibly personal and beautifully taken. We couldn't ask for anything more. James was so easy to work with and his attention to detail is awesome. We truly felt he wanted to make it a day we would never forget, which he certainly accomplished. He not only met every one of our expectations, but exceeded them. We highly recommend James to anyone looking for a photographer.

+ 2

photos

Audrey K.

Married on 05/08/2021

It's like reliving the best day of your life.

IF YOU ARE ON THE FENCE ABOUT BOOKING A VIDEOGRAPHER- Don't be. Do it and book Lee Media ASAP!! (We are in Chicagoland area!)

My husband and I knew that we wanted a video to capture our special day and we wanted to be able to "relive" it after it was over. I didn't really know if that was possible, that feeling of reliving the best day of your life, but with James and his team, it is.

The film that James made for us was everything I could have ever imagined. I remember being happy- but seeing it played back, you can just see on our faces pure joy.

James & his team captured my husband and I exactly how we are and who we are. When I watch the video and film of the wedding ceremony and toasts, I laugh just like I did that day. I cry just like I did that day. Their talent transforms you back in time!

This is a memory that I will forever cherish and I am so thankful to have this footage. I sobbed when I watched it back the first time and we plan to watch the video every anniversary until our future kids get sick of it.

Thank you, James & Lee Media team for everything. They were so responsive, professional, easy to work with and made us feel very comfortable. My husband was not 100% in on doing the "interview style" but after some convincing from James he decided to do it and we are so glad we did!

Our video is called Audrey & Logan's Wedding at Mistwood if you want to look on Lee Media's site to see it :)

THANK YOU LEE MEDIA!


Lee Media's reply:

Audrey, you and your family are a complete delight. It's been an honor for my team and I to have produced films for both you and your sister. :-) Reviews like this are why we do this in the first place! Thank you thank you thank you for giving us the opportunity to preserve your memories for life!

Amy B.

Married on 04/24/2021

The PERFECT wedding keepsake

Booking James as our videographer was the best decision! He is professional, kind and thoughtful. He managed to beautifully encapsulate the wedding weekend into the most touching film. It feels like living the wedding day all over again watching it.

Lee Media's reply:

Amy - it was so great spending time with your family and preserving your memories. Thank you for your kind words and your hospitality, and may the film bring you happy tears for years to come!

Emily C.

Married on 04/24/2021

The Most AMAZING Wedding Video

We could not be happier that we found James to produce our wedding video. He had filmed weddings for several of our friends and we loved his work so much that we knew we wanted him to capture our day as well. Our wedding had to be postponed twice due to COVID-19 and we ultimately changed cities completely. James could not have been more understanding and flexible. In all the chaos and stress of planning, postponing and replanning a wedding, he was undoubtedly a bright spot. He was encouraging, easy to work with and incredibly helpful every step of the way. When it comes to the actual film and his work, we knew it would be amazing, but what we got absolutely blew us away. He captured us as a couple perfectly and documented the day better than we could have ever hoped for. Being in front of the camera can feel very vulnerable, especially on a day as emotional as your wedding, but James makes everything feel so easy, fun and comfortable which in turn creates a video that is completely authentic. We worked and planned so hard for this day that was over in the blink of an eye, but thanks to James, we will get to relive it forever!
We could not be more grateful!
Also... DO THE INTERVIEWS, you will not regret it!

Lee Media's reply:

Emily - you are FAR too kind! Thank you so much for choosing quality cinema for your day, and thank you for including my team and I in your memories!

Tiffany

Married on 04/17/2021

Don⠹t hesitate, just book! :)

James and his team are phenomenal! Hands down the best decision we made was booking a videographer, and specifically, Lee Media! James pays such attention to detail, is fantastic with communication, and so easy to work with! I have recommended him to all of my friends, two of which have booked him already for their weddings. He is the BEST! Hands down, you won't regret your decision. We chose the signature package and have the most precious film to enjoy forever. It had us in tears of laughter and joy the entire time. Cannot say enough about this team, so hurry and book now!!!

Lee Media's reply:

Tiffany, thank you so much. All the same love goes right back to you and Tyler --- you and your crew were so fun to document. Thank you for choosing us, and for having us celebrate with your rowdy and fun bunch!

Jessica

Married on 04/16/2021

Absolutely stunning production 😭

Our wedding video turned out AMAZING, our crew Marc & Conner did an awesome job capturing our day and special moments. The quality is superior, the guys were super easy to talk to & everything just went really smooth. Exceed expectations! Our video was almost 20 minutes long, and James got it done pretty quick! Extremely communicative, super friendly, would 100% recommend. If you're reading my review - LOOK NO FURTHER! This crew is it! 🤩

Lee Media's reply:

Jessica, thank you so much. Unique stories like yours are what get us up in the morning, and knowing these memories will bring happy tears for decades are what keeps us at it! Thank you again so much for the kind words!

Casey A.

Married on 04/05/2021

James is the best we could dream of!

James is a consummate professional, and an all around great guy. His photography is absolutely stunning, and we couldn't be happier we chose him for our engagement photos & wedding photos.
He's been so flexible and helpful during the COVID pandemic, working around our changing needs. He was also sensitive to social distancing and mask requirements. I would recommend him to anyone looking for a great photographer for any need...but especially weddings!

Lee Media's reply:

You do know how to make a guy feel special! :-) Thanks Casey! It's clients like you that make this job extra rewarding!
Are you interested?
Send a message