41 Reviews
Recommended by 99% of couples
Quality of service

5 out of 5 rating

Average response time

4.9 out of 5 rating

Professionalism

5 out of 5 rating

Value

5 out of 5 rating

Flexibility

5 out of 5 rating
5 User photos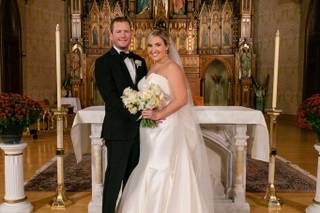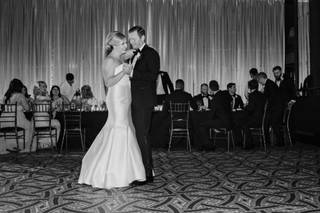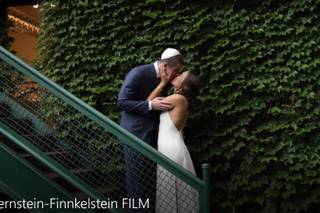 Erin G.

Married on 04/30/2022

Amazing in ever way

Where do I even start? Firstly, if you're trying to decide if you need a videographer for your wedding or not….you probably don't. UNLESS it's LEAP Weddings. Trust me. You. Need. Them. We didn't think we wanted or needed a wedding video. We're awkward on camera; we didn't think we'd actually want to see ourselves moving in action. We didn't value videos like we value photos of us together over the years. Still, we wanted to at least see what's out there. So, we weaved over countless wedding videos from wedding videographer companies. Both of us agreed that all the other companies were beautiful, but for us, the money wasn't worth it. It wasn't something we were sure we would want to watch more than once a year. Then one day, I asked my wedding day photographers (shoutout Juancho SC) for any recommendations and they suggested LEAP Weddings. I watched one video from LEAP and I still remember the feeling I had…I was shocked. I felt like I was watching an episode of a new wedding TV series. Only the good parts, no drama of course ;). I knew they were different from anything we had seen. I was particularly drawn to their videos labeled "The Principal Experience" on YouTube. They had such a unique style and you could see the complete dedication to telling the couples love story in the most authentic way; through the words of the couple and their loved ones. Even their "trailer" interpretation was unique in that it was a nice summary of the evening and not your typical "wedding day trailer." You know what I mean if you've looked around. No cheesy 2 minute video with slow music and even slower walking. Just authentic storytelling with natural sound bites mixed in with the background music. We knew we had to go with them and after looking things over, we decided on the "Principal Package." This included elements from all the lower level packages but included a narrative filming of the couple, family, and friends. Not only did we get an amazing video including those interviews, but we got beautifully edited videos of the ceremony and reception. I've watched a lot of wedding videos and let me tell you, the quality was unreal. They made sure to get multiple angles of things like the speeches so that our reaction to the speeches were included at the perfect time. All three works of film were so carefully edited and cut and we can tell they took their time making sure that we were given a cohesive and unforgettable complete package. The music selection, the transitions, and just everything about the complete work was amazing. Everyone who worked on it (editor Roxanne and creative director Becky) made sure to deliver something special. We have a newfound appreciation for videography and the work that goes into creating. We can confidently say, no other company would have provided us with what they did. They made us feel comfortable around them, and were patient with us in every way. Joshua made sure to call us before the wedding and took his time getting to know us. He really enjoys what he does and we ended up being on the phone for an hour just laughing about our relationship over the years. The flow of the day was awesome thanks to Joshua, Luis, and Cesar working so well together. They are so much more than your typical wedding day videographers. They are family heirloom creators; they give you something that you'll watch over and over again for generations to come. It feels like we have the most touching love letter written simultaneously by the most important people in our lives, but it's captured on film. It is a serotonin booster that we, our families, and friends cherish so much already. They were worth every penny and more. Bailey communicated thoroughly and was always prompt with responses to emails. They were so flexible to work with, considering we had to change our wedding date due to the pandemic. We spent 2+ years emailing back and forth and they made the process as easy as possible. I would absolutely work with them again and again and recommend them to anyone who will listen! Thank you so much, LEAP! We are forever grateful for your part in our special day.

LEAP Weddings's reply:

Thank you SO much for your thoughtful words Erin! We truly loved getting to know the two of you and being able to tell your epic love story. We only wish we could have spent even more time with you and Wemi! Cheers friends!

Justin S.

Married on 04/30/2022

Amazing Videographer

What an absolute delight it was to have Grayson work with us throughout our big day. He was so fun and worked flawlessly with the photographer. His shots were innovative and it was fun to see him see a shot and get us into position without skipping a beat. We can't recommend Leap and Grayson enough!

LEAP Weddings's reply:

Thank you so much Justin! Grayson and our entire team were honored to work with you and Sarah. Cheers to you guys (and Olivia!!) and a lifetime of happiness!

Heather

Married on 12/11/2021

You never even knew they were there

LEAP was very responsive and accomodating when we had to change our wedding date dur to COVID. Bailey usually answered emails within hours! Both videographers with us all day did a great job of capturing important moments and the candid ones. And they had fun ideas for posed photos and action shots! I was on the fence about spending money on a videographer, but I'm very glad we did. We barely even noticed them during all the festivities, and now we can go back and relive the most amazing day!

LEAP Weddings's reply:

Thank you so much for your kind words Heather! You and Sean were a joy to work with and were honored to be a part of your much anticipated day. Cheers!

Are you interested?

Send a message

Julie

Married on 11/17/2018

Chicago's Best

We hired Braxton Black to photograph for our wedding on 11/17/18 and couldn't be happier with our decision. At our first initial meeting, we were impressed with Braxton's experience and attention to detail. For example, he mentioned what time the sun sets at the time of year we were getting married and how we can keep that in mind while planning the day. We had Braxton do our engagement photos about 9 months before our wedding day and after seeing our photos, we couldn't wait to see the final product from our actual wedding day.
The day of our wedding, Braxton was extremely punctual, flexible and genuinely excited to be there. We were very comfortable around him which is something that is key with a photographer especially when you aren't accustomed to have a professional photographer photograph you. My bridesmaids, day of coordinator, and family all gave us numerous compliments about Braxton. We were very thankful he was able to capture these important moments in our life. Thanks Braxton!


Diana G.

Married on 10/19/2018

Best wedding videography company in Chicago!

Leap Weddings is the best wedding videography company in Chicago!! We were so thrilled to have them capture our big day. The crew was so great to work with and added to the excitement of getting ready at the hotel. Ben and Joshua are absolutely the best! We cannot recommend them enough!

Jeanne F.

Married on 10/18/2018

Easy to work with

Ben at Leap Weddings was flexible, professional, and created an outstanding result. He succeeded in capturing all of the must-have moments as well as shots I now can't imagine living without. He blended into the crowd and the result is fantastic.

Ashley

Married on 10/22/2017

As a former wedding planner, I had worked with Leap Weddings on several occasions and they were always my favorite video company to work with. When I got engaged, I told my fiance that they were the only team I wanted to work with, and after he did his own research, he quickly realized why: they are simply the best. Their team is comprised of the most talented in the industry while simultaneously being the most fun and humble people. Jack and Eric were completely up for anything on the wedding day, ran and jumped for every shot, and smiled despite the cold and, at times, rainy weather. Even though we haven't received our video yet, I know it's going to be amazing. I've seen enough of their work to know. I cannot wait to relive the wedding day through the video, and am so incredibly happy we invested in Leap for our wedding.

Brittany

Married on 07/15/2017

I can't rave enough! Best of the best- not just the final film they created for our wedding day (that perfectly captured our love and our vibe) but they were the most fun people to work with on the most important day in our lives. Leading up to it all- so communicative. Beyond professional every step of the way. I felt like they were absolute professionals but also really invested in understanding our personalities too. As fun as they are creative as they are professional. We are beyond grateful to them for capturing the moments of our wedding day and treasure the film they made so we can look back on the magic forever ! Not only did they add to the happiness of our day, but they really created a piece of art that will always take us right back to that moment. Best decision ever to hire these guys!

Caren

Married on 05/28/2017

5 star experience from start to finish!

We had such a great experience with the Leap team from the very beginning. They accommodated our smaller COVID friendly wedding with an affordable package, worked with us on a tight timeline without complaints, and the final videos they provided will be treasured forever. They even re-edited our final micro highlight to make sure all family members were featured. I highly recommend working with this team, they displayed high quality service and are extremely talented!

Brittni

Married on 04/29/2017

LEAP Weddings has a way of capturing your love story and the day of your wedding and weaving it into a cohesive, beautiful cinematic video that you will cherish for the rest of your life. They go above and beyond just capturing your wedding. They are the best in the business and are worth every penny. Our videographers Josh and Nick were so easy to work and got amazing video. Stephanie, edited our video to really show our love story and what our wedding day felt and looked like. Amazing since we never met her! Becky was so easy to work with in this process! We could not be more happy or thankful we went with LEAP!

Lauren

Married on 11/12/2016

5 stars is not enough. Can we give them 10???

We had Jack and Eric as our videographers. They were patient - meeting with us, talking through everything, hearing what we liked or didn't like from other Leap videos we saw online. They were unobtrusive the day of the wedding - catching all the right moments without taking over the scene or stumbling into the shots our photographer was taking. And the end result was FABULOUS!!!! Exactly what we were looking for. Captured the essence of the day and key moments from getting ready activities and speeches. We just loved working with them and loved their final product. They were GREAT.

Cannot recommend them enough!!!!

Kim

Married on 06/11/2016

LEAP Weddings is the wedding videographer to hire! We have nothing but great things to say about them. Our wedding was filmed by Jack, Eric, and Christian and all of them were simply the best. Everyone on the team was a pleasure to work with and the finished product is absolutely incredible! We just received our video which was edited by Steph (who is also amazing!) and definitely had happy tears because it really is just the best wedding video we have ever seen. They have a unique and creative style which we love. We are obviously biased but the feedback we are receiving from our friends and family shows that LEAP Weddings is a company with very talented people and is in a class of their own! They did a great job capturing all the special moments on our wedding day. They were all very professional and worked very well with all of our other vendors. Also, they are just cool people! They made us smile and laugh quite a few times. Thank you LEAP for allowing us to relive our special day through our gorgeous video all over again. We highly recommend choosing them for your wedding videographer!

Justin

Married on 04/16/2016

Josh, Cesar, Christian and the entire LEAP Weddings team are creative geniuses and brilliant to work with. Although we weren't initially sure if we had room in the wedding budget for videography, we reached out and within minutes were effortlessly chatting it up with the incredibly engaging team and began to realize that LEAP Weddings is just awesome. When we got home we must have watched over a dozen cinematic summaries of happy couples getting hitched courtesy of LEAP Weddings' Vimeo page. After each video, we felt like we now knew this random couple and were both emotionally moved by the sentiment captured and energized by the excitement of their wedding day. We made sure to do some competitive research, but in short order we decided that we had to lock it down with LEAP for our big day.

We just received our short artistic film yesterday and have already watched it 5 or 6 times in succession; each time noticing something new that we hadn't seen or had forgotten about in the chaos of the day. They incorporate these documentary-type interviews of your family and friends that bring so much depth, emotion and character to the video. On top of that, they piece the day together in a way that flows so effortlessly. Josh, Cesar, and Christian absolutely busted their butts to get gorgeous shots of all the milestones and minutia of the day and the editor, Becky, somehow managed to take hours of raw film and craft it into an epic cinematic adventure. She made our awkward nervousness seem charming, our inside jokes have context, our bad side look good and most importantly of all, she uniquely highlighted the love and happiness we felt on our wedding day.

The LEAP Weddings team is charismatic, professional and so easy to work with. Their product is unparalleled in style and quality. If you're looking for a creative film that will truly capture your special day, we highly recommend LEAP Weddings!

Jen

Married on 08/15/2015

We absolutely love our video footage from Leap! The Leap team was very easy to work with and took all of our feedback and preferences into account throughout the process. The team was fun and easygoing the day of the wedding (Jack and Robert), capturing great footage without us feeling like they were in the way of the events during the day. Our video highlight is better than we could have imagined and such a great memory of our wedding - they used the speeches from our family members during the reception and highlights from our church ceremony to stream together perfect highlights of all the events during the day. They put in the time and effort to make our highlight unique to us. We are so happy we hired a videographer and would recommend Leap to anyone in the broader Chicago area!

Thomas

Married on 06/07/2014

I would highly recommend Leap for your wedding. We got married in June 2014 and we searched for a company to produce a video to capture our big day. We are so lucky to have found Leap. From our very first planning meeting, to the receipt of our final edit and DVD, the whole experience was amazing. We had Josh and Charlie as our videographers during the day, and they were awesome. They not only captured the moment perfectly, but they also added a super fun element to the day. We are so happy with the end product and enjoyed working with everyone from Leap. We ended up with a fantastic highlight film of the best moments of the day, but also got unedited video of the ceremony and most of the reception. If you are considering a videographer for your wedding, I highly advise you to go for it, and I would only choose Leap!

Kelly

Married on 07/27/2013

Leap Weddings was already on my radar when looking for a videographer as they did my sisters wedding as well! Fantastic work! Stephanie is quick to respond to questions and concerns prior to wedding. Aaron and Cesar were great on the day of our wedding! Can't say a bad thing about them! They do great work!!!!!

Nicole

Married on 06/22/2013

There is a reason why Leap Weddings is rated as highly as it is. And you should sit up and take notice. Throughout our wedding planning my husband didn't want a video camera anywhere near the event. And I have to say I agreed 100% at first..... Then as we got closer and closer to the big day, I realized it was going to be really important to me to document and memorialize our wedding ceremony. I want to be able to pop in the DVD 50 years from now and take a walk down memory lane including hearing my husbands voice and seeing my friends and family in the audience. It is a special day and since you can't go back in time and relive those moments, this was going to be the next best thing. So after much conversation we agreed that documenting the ceremony would only be a possibility if (of course last minute) we could find someone a) cost competitive, b) who knew what they were doing and c) could produce something wonderful without shoving cameras in our faces and blinding us with lighting all over the place inevitably junking up our venue and getting in the way of our photographer. Ben and Steph did all of that with a calm professional confidence that let us know that like Allstate we were in good hands. Actually the best hands ever! From our first meeting with them over a beer (thank you) till the final viewing we have been nothing but blown away with them and their work. Steph is on top of her game. She's will document everything including your day of schedule and make sure Ben has everything he needs to work his magic. And we don't know what sort of wand Ben's got in his back pocket but he really made something that we love and will cherish forever. Our only regret was not having Ben and team video the entire evening. I'm confident if you just pick up the phone and call Leap, you'll be better for it.

Leap Weddings is the best wedding videography company. We had the pleasure of working with Ben Mahoney and his assistant Eli on our wedding day. Their creativity, open mindedness and unique perspective truly make your video different from all other wedding videos. They capture all of the significant moments and candid moments of your day without being intrusive. Our wedding party and guests enjoyed their humor and enthusiasm and we cannot wait to share our video with family and friends.

Despina

Married on 09/29/2012

Leap weddings was amazing! I have never seen a wedding video edited the way leap did it! My video is so special to me I can watch it over and over again! Not only was the editing amazing but the guys were so much fun to work with! They made the day so much easier! They also followed us on an unexpected stop to the hospital where my dad was at, they were so amazing and so sweet and replayed the church back for my dad which was so special for me! I didn't expect that and was so touched by the offer of that! Leap was a great decision! People cannot believe when they was my video they say feel like they watched a Hollywood movie ;). Thanks leap!

Erica

Married on 09/08/2012

I had such an amazing experience with these guys! When I found their website I literally spend hours looking at their sample videos. I was hooked. We made an appointment to meet with Ben and the studio manager Stephanie to get all the details. We left so happy to have found such an awesome team to work with, and were beyond excited to finalize everything and check one more thing off our to-do list of wedding planning. I would say once a week I would find myself on their website just to see if they posted anything new. It was almost guaranteed they would have me in tears over a complete strangers wedding. We had Ben and Aaron on our wedding day and they were amazing! Judging from the 2 years worth of videos I have watched online, all of their videographers and editing staff are so talented! I think some of these bigger companies just take anyone off the street to send to your wedding and then edit with very little experience. You can tell this crew really knows what they are doing! There is nothing boring and traditional about their videos. I have had people tell me they have never actually sat down and watched their wedding videos! How sad! I seriously can't stop watching ours. Instead of one big long video they let you pick a variety of favorite songs (which makes it even more personal) and make sort of music videos to them. You still get all the important parts of the wedding (ceremony & speeches etc.) but these clips are so fun and you can share them with friends and family without making them sit down for 4 hours, and there is still so much to see! It amazes me how great all the shots were in my video because at no point do I remember there being a camera in my face.... They were super fun and still so professional. They even worked so well with our photographer who was from Indianapolis and not quite familiar with the city. We left choosing our city photo spots to them. We wanted something fun and different and they made it happen and I couldn't be happier.

Kate

Married on 10/29/2011

I actually found Leap Weddings a year before (2009) I was engaged (2010). My best friend and I sat down for a few hours and watched their collection of work via their vimeo website, and I remember thinking to myself, if a video of complete strangers can get me teary eyed, I can only imagine what a video of my own memories would be like.

A videographer was definitely not something we originally thought we "needed" in our budget. Since we were paying for a large portion of our wedding ourselves, we had to put together a very strict budget with what we considered to be the essentials. For a period of a few months, I tried to convince myself I didn't "need" a videographer. That I could go without...Photos would be enough...Then those thoughts slowly shifted into thoughts of maybe I could find a videographer that I loved almost as much, but would fit our budget a little better. And that slowly shifted into the realization that you absolutely get what you pay for and no one else was going to compare.

The more I watched Ben and his associates' work, the more I fell in love with the idea of them capturing our day. I realized having Leap Weddings be a part of our day was not just a "want" --- it was a "need" --- and I couldn't imagine them not being a part of it.

Ben and Stephanie found a way to work with my budget, and I was able to have my dream videographer team capture one of the most important days of our lives.

Jack and Aaron shot our wedding and the two of them were phenomenal! I would recommend them as a team to anyone. They're quirky, fun, personable, and most importantly... you can tell they really love what they do. There wasn't a single moment where I felt uncomfortable and filming with them was incredibly fun! There were a few times throughout the day that I began to become stressed and Jack would say something to make me laugh. I truly felt like I was with friends that day and I don't think a bride could ask for anything more.

When I received our final product, there were not words to describe the beauty of what Leap Weddings had put together. Beside bringing me to tears, it brought new meaning to the word "investment" and I know we will cherish it forever.

They completely captured the happiness and love my husband and I shared that day. I could see it in our eyes and smiles... and being able to relive those moments so perfectly has no price tag.

I have yet to see a wedding video I have loved more than those captured by these talented individuals. I truly believe Leap Weddings is the best in all of Chicago!

Megan

Married on 10/15/2011

Jack and Aaron were amazing to work with along with everyone else @ Leap Weppings!!!! We as well as our wedding party, our beyond excited to see our video. Jack and Aaron put me at ease b/c our photographer was difficult to work with and I was very relaxed with them!!! I would recommend them to ANY bride getting married!!!! Can't wait for our video!!

Marci

Married on 09/02/2011

We just got our wedding videos back and we're so glad that we chose Leap Weddings to film our wedding! Aaron and Josh were professional and very fun to work with. They were able to handle several unexpected situations during the wedding and they coordinated very well with our photographer. With very little direction from us, our videographers and the creative edit team were able to capture our most special moments and turn them into these great short films that make us look so good! It was probably the best decision we made for our wedding.

Allie

Married on 06/05/2011

Leap Weddings was an awesome vendor. I'll review again once we get our DVD but our videographers were amazing during the wedding. They were all over the place but totally unobtrusive and I even glimpsed Carl jumping on and off of things to get good angles. He also totally broke down his camera station and ran to the other side of us during the end of our ceremony so he wouldn't miss us breaking the glass (without distracting me or almost anyone else). They were incredibly professional and always responded in a timely fashion. We're really excited to see our video but so far we have really felt like they were a great company to work with!!

Amanda

Married on 05/07/2011

THIS COMPANY IS THE BEST!! If you are a bride who really wants time and effort put into your wedding video, this is your crew! They are young, fun and super passionate about filming. They have a ton of ideas to capture your day, are creative and really offer the total package. I put a lot of time into researching videographers and I have to say with no hesitation that Leap Weddings stood out!!

What I liked most about them was they offered everything I wanted out of a video:

Full coverage
Voice overs
Music
Ceremony
Old school film feel
Multiple cameras
Variety of packages and add-ons to choose from
Their support crew is just as great as their lead crew. Work well together from what we saw!
...and the list goes on

This team without a doubt knows what they are doing and seem to have the wedding thing down. Ben and Stephanie were awesome to sit down with - they got to know us a little bit, made sure they knew what we wanted before they told us all they did. They took the time with us and after signing them on Stephanie was awesome on email answering any question we had.

Aaron was our lead guy the day of the wedding, had a broken foot and we didn't even care cause we knew he would get the job done ...and he did. We were so happy with how our video turned out from how they matched up the music, to the chapters laid out and a perfect recap of the day in the end.

Leap Weddings captured our wedding day in a different way that we feel so lucky to have. Don't miss out having your wedding day filmed. I am so glad we will have what they put together in the years to come.

Thanks again to Aaron and team for being great to work with! HIGHLY recommend...seriously make your appointment now to meet them, I guarantee you leave feeling good.



Are you interested?
Send a message