127 Reviews
Recommended by 100% of couples
Quality of service

5 out of 5 rating

Average response time

5 out of 5 rating

Professionalism

5 out of 5 rating

Value

5 out of 5 rating

Flexibility

4.9 out of 5 rating
4 User photos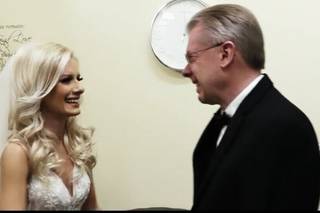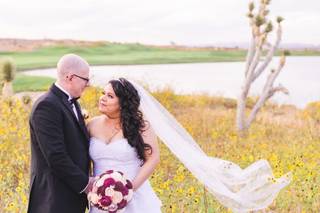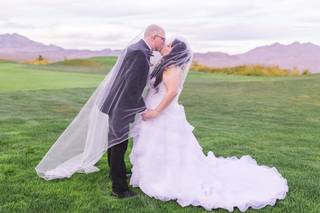 Ashley M.

Married on 12/04/2022

12/4/22 Wedding Video Review

I definitely recommend Kelly Langdon video services to anyone looking for a good and affordable videographer in Las Vegas for their wedding. My husband and I got married on December 4, 2022 at Rainbow Gardens. Kelly and his wife went above and beyond to capture everything on our special day for our video. We received the full video and highlight video within 2 weeks of our wedding date (right when we came back from our honeymoon). The video was beautifully done and brought me to tears. It brought back memories from that special day that we can watch over and over again. My husband and I consulted with multiple videographers, but no one compared to Langdon Videos. They were the most affordable and provided full length videos when other companies wouldn't. They were also so accommodating and made sure to incorporate everything we wanted in the video such as guests interviews, quote at the end of the video, song choice for highlight video, etc. I recommend to all couples planning to get married to do a video with Langdon. My husband and I are so happy we did.

Audrey

Married on 11/11/2022

Kelly & Debbie Langdon 7 Star Services ⭐️

I can't explain the value that Kelly & Debbie added to our wedding day. They were able to capture moments of our wedding day that we can't express in words to other people. We were married at the base of the Grand Canyon through Maverick Helicopters in Las Vegas. I'm so grateful that our photographer Julie Bergonz recommended their services. Our videographer and photographer captured our expectations and beyond. We will treasure our video for years to come.

Kelsie W.

Married on 10/15/2022

Beautiful Video

Kelly and Debbie were FANTASTIC. From the moment I reached out to them to capture me and my husbands wedding they were both so professional and responsive. They both attended my rehearsal to ensure they knew what to expect on my wedding day, Kelly asked if I was planning on a first look with my husband and I stated yes, Kelly confirmed he would be at the venue early to ensure he captured it on camera. They both went above and beyond and captured every special moment of our wedding day on camera. I received a highlight video of the footage after only just 1 week from my wedding day and then received my entire video 2 weeks after my wedding. The quality of their work is amazing and their price is unbeatable. I will be recommending them to anyone needing to capture their special moment.

Are you interested?

Send a message

Best videographer in Vegas!

We planned a destination wedding at the JW Marriott LV. Initially we weren't planning to hire a videographer but we are so happy we did. Kelly did fabulous in putting together our video! It was so much more than we expected. He stayed till the end event to capture all the memories and we were able to relive the best day of our lives!
The highlight video came within the week and his full length video came in 2 weeks. He is so quick and efficent! For this quality of work his price is more than reasonable.

Thank you Kelly and Debbie for letting us relive the happiest day of our lives together whenever we want!

Ashley F.

Married on 02/12/2022

The Best Videographer You Could Ask For

Kelly and Debbie were so friendly, and readily available to us, guests actually thought they were family of ours! The level of professionalism and skill was unmatched. Despite all the chaos our wedding day brought Kelly gave us complete peace of mind the entire time. We got all the shots we wanted, and the final video that was put together brought us to tears. It was incredible. I would 100/10 recommend Langdon Video for your wedding. They made our day so special. Thank you Kelly and Debbie!!!! Xoxo - Ollie & Ashley

Tiffany S.

Married on 09/26/2021

the best videographers!

Kelly and Debbie were the best!!! They answered any question we had and paid attention to the smallest details. They captured our day beautifully and the video turned out beyond amazing! They are the sweetest people and really care about their couples and go above and beyond in their work. I highly recommend them for anyone looking for the best videographer vegas has to offer!!! I will definitely recommend them to everyone!

Anne-Marie L.

Married on 09/21/2021

Amazing video! Perfect event!

They are wonderful! Thank you!

Kyle V.

Married on 09/05/2021

Awesome Quality!

Langdon was great to work with! Quick responses with emails and all communication. Our highlight video and our complete video turned out amazing.

Kristy W.

Married on 08/06/2021

Beautiful Video of our Wedding

Initially, we were not going to have a videographer for our wedding. But, with the chaos of COVID, we knew our parents may not feel comfortable travelling to our Las Vegas Wedding and thought a videographer would be a nice solution so our families could still watch our ceremony. To our delight, all of our family did attend the wedding. We watched the wedding video and I was brought to tears (I didn't even cry at the wedding!). Kelly did an amazing job and captured our special day beautifully. Would absolutely recommend Langdon Video!!

Dena D.

Married on 06/23/2021

5 Star Video

I found Langdon Video on line, their website convinced me right off the bat that they were the videographer I knew would be best for our wedding. I phoned and received an immediate response. Kelly was on the same page out the gate, addressing all my concerns and understanding all my needs. As well, he was very familiar with the venues where our ceremony and reception were to be held. The end product, our wedding video was provided with his professional edit to our specific request, which no other videographer I had inquired about offered. He was accompanied by his lovely wife Debbie whose presence provided the added confidence that the show would go on as rehearsed. Our video was ready for delivery ten days following the ceremony. Quality for a most competitive price at a time when expenses are pilling up, couldn't be happier with our choice, when perfection is paramount. As a SAG actress, I know camera work and Kelly has got the angle down better than any other videographer in town. He's your cameraman!

Alexi

Married on 01/01/2021

Great people, easy to work with! Even better quality.

Kelly and Debbie were great to work with and super easy to communicate with. They were very patient and understanding of the situation changing more than once due to covid. Although we had a very small wedding it was still beautiful and kelly made sure to get all of the perfect footage and all of the special moments. Our video is beautiful and we had it sent to us in a very timely manner. A video is one of the number one things you should have of your wedding day, and langdon video services will not disappoint! 10/10 recommend them for your wedding day.

Princess C.

Married on 12/14/2020

Great Video and Service

Kelly and Debbie were very professional in their email exchanges. I was from out of town but they made it easy and I stressful to work with them. They were there for the rehearsal and even stayed longer than agreed upon during the wedding just so that they could guarantee that we'll be happy with the resulting videos and we are. Thanks for all your help!

Amanda S.

Married on 10/16/2020

Amazing Service and Product!

From the first email, we knew these were the right people to capture our wedding day! We loved their documentary style video, and when we met in person, we could tell that Kelly and his wife were just amazing people. They attended our rehearsal and were quick to respond to all Emails and requests. We received our highlight video within a week of our wedding, and the full video was ready within two weeks! The video is incredible and everything we wanted in it. They captured the best moments of our wedding. I'm pretty sure I've watched my highlight video 100 times and the full one just as many. We will cherish this forever, and I am so thankful we decided to choose Langdon Video for our special day!

Janie Z.

Married on 10/03/2020

Lovely video

We got married about a month ago at the Neon Museum and our officiant, Rev. Roland August (as Elvis), suggested Langdon Video. We weren't sure if we were going to hire a videographer in the beginning since we already had a photographer and our wedding was pretty small. However, having heard regrets of not having a videographer from other couples, having seen some of Roland's past work (always had a wonderful message, great delivery, very personable), and having been offered a discounted rate from bundling with the officiant, we decided to go with it, and I am so glad we did! We had the option of a Blu-ray disc or a USB stick and went with the USB since we'd be able to play it on the TV or computer. We received it in the mail about 2 weeks after the wedding but didn't get around to watching it until today. It was one continuous shot of our wedding ceremony (~23 minutes), but it had nice touches, including a brief intro in the beginning and volume fade out at the end. Excellent video quality and sound. Captured a lot of singing, dancing, emotion, and good cheer. I can see us watching it every year, just to relive the lovely memory. Thank you, Mr. Langdon!

Sabrina P.

Married on 09/26/2020

Absolutely amazing

Langdon Video is the BEST. He was so easy to work with and professional We got our highlight video a week after our wedding and our wedding video back in less than 2 weeks. Kelly puts his heart and soul into his work to give you the video you have always dreamed of. My husband and I would absolutely choose Langdon video again for our wedding! You wont regret this decision for Videographer, I promise!

Featured

Christina G.

Married on 09/26/2020

Easy to work with!!!

Kelly and Debbie were amazing and super easy to work with !! They delivered the video within 2 weeks and we LOVED it. I HIGHLY recommend hiring Kelly for your wedding. Having a videographer made me completely forget about having to pick up my phone to video any memorable moments. He was there to capture it all!!! Every time something fun or funny was happening he was right there ready with the camera ! My husband and I loved watching the video together! It was cool to even see the moments that I wasn't there for too, like any pre ceremony or when the bridal party was walking down the aisle. or even seeing the stuff again that you completely forget about! I recommend hiring Kelly to all of my bride friends. Also if this is something that is not in your budget, this is a perfect wedding gift for a family member to gift you! You won't regret it !!!

Charlene

Married on 04/13/2020

Fantastic service, delighted with the results

I booked Kelly and Debbie having read their reviews here, and seen their work on YouTube, for my destination wedding in Vegas which was supposed to take place in 2020. Owing to Covid, we had to cancel and rearrange our wedding twice, finally tying the knot in April 2022. Kelly and Debbie were so understanding, and consummate professionals throughout - their communication during the last 3 years has been amazing. Their experience in the industry is unbeatable and really shows. On our wedding day, Kelly was absolutely amazing - very reassuring, professional, and a great problem solver when our timeline moved unexpectedly. The highlight video is amazing, tears all round! Wouldn't hesitate to recommend their services, or to hire them again :)

Liz L.

Married on 10/16/2019

Amazing!!!!

My husband and I were looking and researching for a videographer to do our wedding for months. But after researching we decided to book Kelly Langdon, meeting with them talking about how they work we felt comfortable and loved their work. After seeing our video and Highlight of our special day tears ran down. .. tears of joy!!!! We Couldn't be happier and pleased to have chosen Kelly and his wife. Highly recommend them !!! Great work and quality for a reasonable price!!!! Thank You once again !!! Happily Ever After,
Mr & Mrs LeMay :)

Samantha N.

Married on 10/09/2019

Worth it!!

Kelly and Debbie are amazing!
I could not stress this enough, they captured every important moment in our wedding.
The time and effort they put in to taping, editing and compiling the video was well worth every penny.
I would recommend 100%

Thank you Kelly and Debbie for the wonderful work you guys did, we appreciate everything that you both did! ❤

❤

-CJ and Samiii

Sharyl

Married on 06/08/2019

Fairytale Video

They captured every moment and more. We are so happy that we chose them to capture our big day! I would highly recommend them to anyone looking.

Alexandra M.

Married on 06/06/2019

Our wedding video

Amazing service and did an amazing job on our wedding video. I was very pleased with the quality of the video. It was so amazing it made me cry ❤️ Thank you kelly

Latonya

Married on 03/09/2019

Best decision

It did not take long for us to receive our video and I have to say that Kelly and Debbie did an amazing job. Initially, my husband and I decided that we were not going to get a videographer so they were a wedding gift from family and ended up being one of the best gifts ever. It's such a great feeling being able to view your wedding, on video, for the first time and knowing that you'll have the opportunity to view it for years to come. Thank you Kelly and Debbie.

Alexandra

Married on 03/01/2019

Great service for great price

Working with Kelly was easy and pleasant. He is a real professional. We got our video in a few days! Price was great too. I highly recommend Langdon video services for everyone who likes good service for good price.

Veronica

Married on 12/20/2018

Great videographer

Kelly was professional and prompt from our first email communication. He was flexible with needing to change times as our wedding grew from an elopement to a group of 30 people. He arrived on time and got to work filming. He worked well with our other vendors and developed a good rapport with our guests. The final video took about a week to edit and turned out beautifully. The price was right and the quality was great. We would absolutely recommend him to anyone.

Brandon

Married on 09/07/2018

Langdon Video was phenaminal from start to finish. We were able to book late notice and it was cake it from there. Didn't even notice them during our big day. Finished video was ready a mere week after the wedding. Definitely would recommend to anyone!
Are you interested?
Send a message