278 Reviews
Recommended by 99% of couples
Quality of service

5 out of 5 rating

Average response time

5 out of 5 rating

Professionalism

5 out of 5 rating

Value

4.9 out of 5 rating

Flexibility

5 out of 5 rating
1 User photo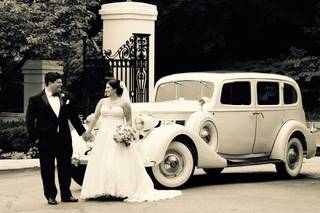 Jessica

Married on 01/15/2022

On time .. Very professional .. The limos were clean and beautiful .. I would absolutely recommend Lancelot

Lancelot Limousine Services's reply:

Thank you Jessica. I am glad we met or exceeded your expectations.

Regards,
Rob

Caitlin

Married on 07/06/2018

This company was hands down the best vendor that we chose for our wedding on July 6, 2018, and I am so happy and grateful that we chose them! Darian is THE MAN, and was so patient and thorough with us over the phone and in person whenever we went over the plans for our wedding (which were complicated!). I must have called him back 5, 6 times to change things or add things, change pick up or drop off times, and Darian was so patient and made sure everything went off without a hitch. Darian made sure that all of our wedding dreams came true. I was so worried about picking a limo company because a lot of the reviews said that limos did not show up on time, or with the wrong vehicle--this was NOT the case for Lancelot limos. They showed up EARLY for each of the pick-ups--we had 4 vehicles, with three different pick-up locations, and they got everyone where they needed to be safely, early, and in style. The drivers were also such sweethearts--they made sure that our day ran smoothly and we did not have to worry about anything. The pictures that we took with the '37 Packard were some of the most striking and beautiful! It was so cool to ride in style with my honey in that car. THANK YOU THANK YOU THANK YOU to Darian, all of the drivers, and Lancelot limos for making all of our wedding dreams come to life--you guys are the bomb! I highly recommend choosing them for your wedding day!

Carolyn

Married on 03/24/2018

Judy and Rob were SO helpful. I booked them for my 3-14-18 wedding. I had a large white party bus for 39 people and a coach bus at the end of the night to shuttle people back. The vehicles were clean and the drivers were wonderful, all very friendly and reliable. I highly recommend.

Are you interested?

Send a message

Sandra

Married on 12/30/2017

My husband and I jut got married on Dec 30 3017, we were extremely happy with the service we received, they were great. They were on time, professional and courteous. Rob was extremely helpful throughout the whole process. I definitely would recommend them.

Thank you again
Sandra an Andrea

Jennifer

Married on 09/01/2017

Lancelot and Rob did an amazing job helping us plan the transportation timeline for our wedding day. Everyone was professional and promptly on time. Would highly recommend Lancelot!

Daniel

Married on 05/20/2017

We booked with Lancelot for our May 20 2017 wedding in Long Island and would do it all over again in a heart beat. We booked several vehicles including three 10 person limos, one 22 person limo, and a princess rolls royce. EVERY vehicle showed up either early or exactly on time. Each vehicle was in outstanding shape and the drivers were professional, friendly, and very accommodating. Not once did our limos become a source of stress for me or my wife.

In addition to the seamless execution of our day, the booking and planning also went very smoothly. I worked mostly with Rob who made it very clear that when he was talking to me, I was the only person he was working with. He made sure to call me back if he had other things going on to make sure we focused on the details. Judy was also excellent in the days leading up to the wedding to make sure the schedule and details were accurate. Everyone was professional and a true pleasure to work with.

The easy communication and planning was particularly meaningful to me and my wife as I am in the military and she has a very busy job that didn't allow her to be in the area of our wedding during our planning. This was ALL done over the phone which can certainly be risky but Lancelot never let us down.

Pricing was fair and comparable if not better then surrounding companies. We definitely feel we got what we paid for and that is a clean, reliable fleet of limos, professionalism, and class every step of the way.

Would recommend this company without hesitation to any area couples looking to book for their wedding or special event. A true pleasure. Many thanks to everyone at Lancelot!

Alyssa

Married on 09/03/2016

After reading all great reviews we went to meet with Rob at Lancelot Limousine. From the moment my husband and I met Rob and discussed our needs for our wedding, we loved him and hired them right on the spot! He explained to us what we needed to accommodate our huge bridal party and the best option to make our money go the furthest. We got an antique car, party bus and limo the day of our wedding. All of these vehicles were extremely clean and stocked with drinks! All the drivers were wonderful and on time for everything! The bus was big and amazing, our bridal party loved it! We also used the bus for the end of the night for the shuttle to the hotel. I would highly recommend Lancelot for your transportation needs. They are professional, communicate well and have extremely clean vehicles and great drivers & staff.

Alyssa & Chris
9/3/16

Kaitlin

Married on 08/26/2016

Lancelot is professionalism at it's finest. Rob and his team were unbelievable in every aspect of transportation for our wedding. We used them for a vehicle for ourselves, party bus for our bridal party, as well as the transportation for our guests between the hotel and venue. Rob runs an extremely tight ship. Our drivers (Tom and Frank) were extremely polite, professional and made sure we stayed right on schedule. The vehicles arrived magnificent and before the scheduled time.

Judy was also an essential piece to helping us figure out the logistics of transporting almost 100 wedding guests to and from the hotel to venue. Judy and Rob were very helpful in answering all of our questions and confirming all of our pick-up and drop-off locations. We can't thank them enough. The professionalism of the Lancelot team will help make a critical part of your big day stress free.

Emmanuel

Married on 07/30/2016

Rob runs a first class operation. His cars are current and clean. His classic Rolls that we selected for our wedding day was perfect for our theme.

When it comes to limo companies you want someone who won't nickel and dime you and is reliable. Rob actually went out of his way to suggest a timeline that would net net save us money. Who does that? Very honorable.

Look at the number of 5.0 reviews. You get what you pay for with Lancelot and won't be disappointed.

Choosing Rob at Lancelot was by far one of the best decisions we made during our wedding planning. Rob truly kept his clients first and that was shown repeatedly from his interactions and communications with us. On the day of our wedding all of the drivers were OUTSTANDING. They arrived early, were extremely courteous and friendly, great drivers, and genuinely nice people. When we arrived at the church, they rolled the runner down the aisle with ease, and helped make my grand entrance amazing. Lancelot truly felt like extended members of our family on our wedding day.

Mariselle

Married on 12/27/2015

Wow! What an awesome company. From the moment we met with Rob in the office to initially discuss our wedding to the attention to detail provided by Judy and then our incredible driver Nick, we cannot say thank you enough! The service is incredible and they are beyond flexible and cater to every need you have. I must have changed details about 6 times and nothing was ever too much. Nick arrived 45 minutes before scheduled and instantly I felt more relaxed and knew Nick would ensure everything went smoothly with all our transportation requests, a huge relief as an anxious bride. Once the bridal party got into the limo there was complimentary champagne on ice and more bottles were provided for the grooms party and the guests for the following 2 pick ups. Ahead of schedule once more Nick arrived with a party bus after the wedding reception to take guests to the hotel or to the after party. Once again more champagne was provided and nothing was too much to ask. Nick even called the location of our after party to ensure a smooth change and went to pick up beer for the party bus at the best mans request, this is absolutely above and beyond what we expected. We cannot thank you enough, you were all incredible and so professional and Nick is an absolute credit to the company. You were all amazing and you are the only place I will consider when needing transport in the future. As the first of our friends to get married we are telling them for the future that they must come to Lancelot. Thank you!

Jessica

Married on 11/27/2015

Lancelot was the first limo company that my husband and I met with, primarily based on their reviews and location. We spent over an hour talking with Rob and coming up with a plan. After visiting a few other companies, we signed with Lancelot because of the attention to detail and comfort we felt with Rob and his staff. We had an antique car and 16 passenger limo. Our drivers showed up early, were professional, helpful, courteous and SAFE! They made the day flow perfectly and helped direct us at the church. We were also offered a town car at the end of the night and were sent a limo instead! Transportation can really make or break a wedding and staying on time, and I am so happy we chose Lancelot. We have recommended and will continue to recommend them to our friends planning their weddings!

Theresa

Married on 10/10/2015

We got an antique car, party bus and limo the day of our wedding. All three care were clean, well maintained and the drivers were great. They all arrived one time and never faltered in their directions. The bus was particularly nice. It seemed brand new and they stocked it with plenty of drinks for the ride there. They even made sure there was a cooler on board for the groomsman to fill up with their own drinks. I would highly recommend Lancelot for your transportation needs.

Ashley

Married on 10/10/2015

Lancelot limo service was the absolute best on our wedding day. They accommodated all of our special requests and were incredibly responsive and diligent with making sure all the details were perfect. We had gotten limos and buses for hotel transportation and even a ride to the airport on our honeymoon morning. Rob was incredibly easy to work with and we highly recommend them for any occasion.

Crystal

Married on 09/19/2015

Married on 9/19/15--Thank you to the whole lancelot crew. Forgive me for not remembering all names, that day was crazy. I will start with Judy, she was amazing amd very professional with all of the coordination amd communication for the last year. She always made me feel at ease even when it was the week before. Rob you were amazing from start to finish, always answered all of my questions and accomodated all of our needs. You are were very professional at all times and run a very organized business. I truly enjoyed working with you this past year. All of the limos were very clean and the drivers very professional and extremely prompt. My rolls royce driver was wonderful and the car was absolutely beautiful. We took some great pics with it!! The limo party bus was absolutely awesome and so much fun!! We had such a great time on the bus!! Your whole staff was extremely professional and organized. I couldn't have asked for a better limo company!! Phil our driver the night of the wedding back home and also to the airport for our honeymoon was nothing but a gentleman as everyone was. I would highly recommend this company to anyone looking for limo services and I already have recommended your company to several people. Thank you for all of your professionalism!!

Crystal & Craig O'Toole

Lancelot Limousine Services's reply:

Crystal:
Thank you for the wonderful and very kind review. Having clients such as you is what makes running this business worth it. I wish you both a lifetime of love and happiness.

Warm regards,
Rob

Michael

Married on 09/06/2015

Absolutely phenomenal!!! We used Lancelot to rent a party limo for transportation for our wedding guest, us and wedding party throughout the night and we were blown away. Lancelot is the best limo service we have ever worked with in my life and the level of service, attention to detail, responsiveness and quality was even beyond our expectations. Our driver was extremely friendly, flexible, and personable. We had a bunch of different trips planned throughout the night and every passenger was given five star service and the logistics worked out flawlessly. Stop you search and just use Lancelot for any of your transportation needs...you will not be disappointed.

Michelle

Married on 08/09/2015

Lancelot Limo was great for our wedding day. Everyone there is very helpful and professional, and you can tell Rob knows what he's doing. The day of, all of the drivers showed up on time and were very knowledgeable and professional. There was a lot to think about the day of the wedding, so it meant a lot to know that I didn't have to worry about the transportation. I would highly recommend Lancelot Limo!

Ian

Married on 08/07/2015

Rob, the owner of Lancelot, was extremely professional and friendly when we met him. We had initially suggested getting a limo for ourselves and our wedding party, and a separate shuttle bus to transport our guests from the venue (they were parking their cars there) to the church and back. After hearing us out, he suggested that we got with one party bus that will act as our ride and will also shuttle our guests back and forth. It actually made a lot more sense considering our timings and everything was relatively close by. And we saved some money!

On the day of the wedding, somebody from Lancelot called to confirm all the details for the day. As planned, our driver showed up fifteen minutes prior to our first scheduled stop. The bus was clean and there was champagne and drinks for some of the younger folks. Our driver was also not just a driver. He helped put on the boutonneieres for all the guys. He also coordinated the entrances for the bridesmaids walking down the aisle at the church.

I would highly recommend Lancelot to anybody looking for a limo. We couldn't have asked for a better experience with Rob and his team.

Carolyn

Married on 07/04/2015

I was fortunate enough to find Lancelot Limo's for my wedding day. My [now] husband and I were slightly concerned [since we were getting married on a holiday] that there would be traffic and/or people would be running late. Definitely NOT the case! Lancelot was EARLY to all destinations we needed them to be at. They were incredibly professional. When I left my house to go to the church it was drizzling and they made sure I didn't get a drop of water on my dress, hair, or flowers. They also did the same for my bridesmaids and mom. The day went so smoothly and they even helped my mother into the house with all the wedding leftovers, flowers, packages etc at 3am. I HIGHLY recommend them!!

Lancelot Limo's is an amazing limo service! The two men that took care of me on my wedding day were so nice and truly helped make my wedding perfect. Although it rained on my wedding day, the men made sure that I did not get one drop of rain on me when transporting from my house to the church and reception hall. Great service!!!!

Lancelot Limousine Services's reply:

Thank you for the kind review. We always strive to go above and beyond anyones expectations for chauffeur services. When it comes to weddings we strive to be even better then that.

Thank you for choosing Lancelot.

Warm regards,
Rob

Ilyssa

Married on 06/20/2015

Lancelot is great! They were super accomodating and professional. I would recommend them to everyone!

Lancelot Limousine Services's reply:

Illyssa:

Thank you for the nice review. You were great to work with. KEEP THOSE REFERRALS COMING, LOL!

Warm regards,
Rob

Lancelot was one of the easiest vendors to work with in the whole wedding process. As our needs changed, they accommodated and worked with us. Drivers were friendly and punctual and helped the day go smoothly.

Nicole

Married on 05/29/2015

Great vendor ! Rob and his staff were down to earth, professional, and extremely accommodating. Would not risk going to another limo company on such a special day, choose Lancelot !

Lancelot Limousine Services's reply:

Thank you Nicole for the thoughtful review. I am truly grateful we could be a part of such an important day in your lives.

Regards,
Rob




Christine

Event on: 05/22/2015

I was extremely satisfied with my party bus and Antique Car. The cars were clean. The drivers were friendly, great, and on time. They accommodated all my requests. I was truly happy and have recommended your company to my cousin and friend's upcoming weddings.

I highly recommend Lancelot! The drivers were professional on time (if not early) and well dressed. This assisted me in having a stress free wedding.

Rob, the owner is amazing! Love him. He assisted us with figuring out the most cost effective vechiles to use the day of our wedding. He is a genuine, compassionate person. He goes above and beyond for his clients. I had a family emergency the night before my wedding. He was calling to do a routine check ins hen he could tell I was a mess and in tears. He was a very calming influence and brought peace to a hectic moment. Hecled later that evening ( around 10:00 pm) to check in and ensure my family was ok. This is an example of above and beyond and a genuine person.

We had our honeymoon pick up at 3:30 am, and there were no objections from Lancelot. Our driver arrived early and was happy to see us. He remembered us from our wedding, and well dressed at 3:30 am.
Rob&Co are genuinely good people! We had a great experience. We will definitely be using them again in the future. Hard to see any other company out performing Lancelot!
Are you interested?
Send a message