4 Reviews
Recommended by 93% of couples
Quality of service

4.4 out of 5 rating

Average response time

4.5 out of 5 rating

Professionalism

5 out of 5 rating

Value

4.4 out of 5 rating

Flexibility

5 out of 5 rating
9 User photos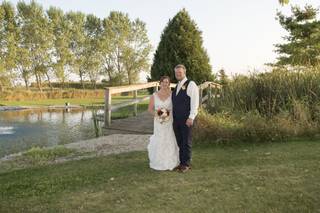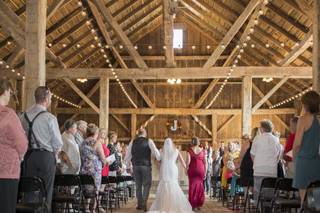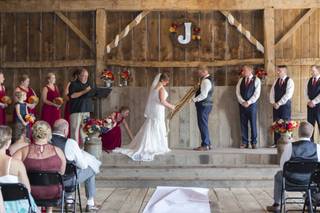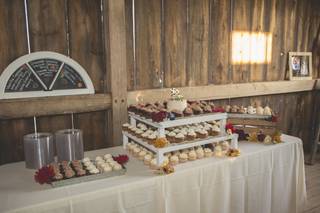 + 5

photos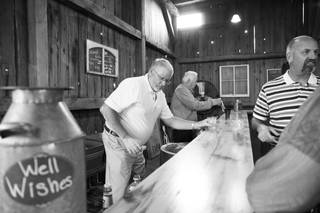 Erika

Married on 08/19/2017

Nate & Mary of Lake Orchard Farm Retreat were so great to work with! They were very flexible and accomodating to our needs to make our day exactly what we wanted. Their Event Barn is absolutely gorgeous, with doors and siding that all open up to let the breeze in from all directions, along with bistro lighting across the entire ceiling. Our ceremony was perfect with beautiful weather and amazing Lake Michigan views all around. Even if it did rain, we knew we had the barn as a back up and that would be just as beautiful. I would recommend this venue to anyone and everyone I know, especially if you are looking for a waterfront ceremony, this is the place to go to! My husband and I will definitely be going back just to spend a weekend at this little piece of paradise. Happy wedding planning! :)

Lake Orchard Farm Retreat's reply:

Thank you very much! We are so happy you had the wedding of your dreams here at the Lake Orchard Farm Retreat! We would love to have you come visit us again at the Bed and Breakfast. Congratulations and best wishes to you!

Elizabeth

Married on 05/27/2017

My husband and I got married at Lake Orchard Farm Retreat. We spent the whole weekend before the big day there with our families and bridal party. Nate and Mary were always available if we had any questions or needed anything. Nate was very helpful during the months leading up to the wedding. We would contact him and he would have no problem setting up a time that worked for us to take a tour and show us around the grounds. He was very responsive and flexible to help answer any questions we had. The Calkins made what could have been a very stressful experience of planning a wedding almost stress free. They helped make our special day perfect! They had staff on our actual wedding day were there to help transition between wedding and reception and to drive people up from the parking area. They were so efficient though I hardly knew they were there and they made everything go so smoothly. On top of having our perfect day, the whole stay at the Retreat was phenomenal. The rooms are so spacious and beautiful and the cabin was the perfect place for our bridal party to stay. The groomsmen took full advantage of the golf course and had so much fun with it throughout the weekend. And you truly cannot beat the views that Lake Orchard Retreat has. Being right on Lake Michigan we got some gorgeous pictures throughout the weekend. If we had to get married all over again we would definitely do it at Lake Orchard!

Lake Orchard Farm Retreat's reply:

Thank you so much for the great review! We were thrilled to be a part of your big day.

Jay P.

Married on 03/05/2020

Excellent! Everything we could ask for

We chose Lake Orchard Farm Retreat as our wedding venue for Memorial Day weekend 2018. Overall, my wife and I give the venue an excellent rating! Weather is not something you can control, but we were unbelievably fortunate to have a wedding day full of sunshine and (abnormally) hot temperatures. All this did was amplify the amazing beauty and landscape of Lake Orchard Farms. We had approximately 210 guests. See our thoughts and notes below:

Owners: Nate and Mary Calkins are great people! When we came to see the venue, Nate gave us a great tour and explained everything about the property, including stories, thoughts and recommendations for the wedding. The majority of the communication up until the wedding was done with Nate. He is very open to questions and will try to accommodate all requests as best he can given the legality and protection of the property itself. Even when Nate or Mary were not around, Nate gave us the okay to stop by, go inside the barn, and check out whatever we wished. Nate would always call or text very quickly if we did need to get a hold of him. Nate was around all day on the wedding making sure everything was running smoothly. A contract is signed upon booking the venue that lays out rules, but Nate is flexible with the contract. If you raise or bring up a question, Nate is more than open to working on a solution. He does have a few strict rules (smoking in specific locations on the property, excessively loud music), but they are rules you would have to adhere to at any venue.

Accomodations: One major reason we looked at Lake Orchard in the first place was that we wanted flexibility with choosing food, drink, decoration, etc. We basically had to setup and coordinate all the logistics with separate parties as Lake Orchard does not run a restaurant or bar for weddings. The main things Lake Orchard will provide are the wedding barn itself, staff during the reception, and the Cottage and Bed and Breakfast. Nate and Mary do have staff that cleaned the bathrooms, took out the trash, and maintained barn during the dinner and reception. They do everything very efficiently and respectful. The staff helped teardown tables and chairs after dinner. There is also a Bed and Breakfast and Cottage on the property which must be rented as part of the two day wedding weekend. The B&B has 4 rooms, each with a separate bathroom and space to sleep 4. The rooms are very spacious and accommodating. On the lowest level, there is a "rec room" with a pool table, television, bar area, and dining room table w/ chairs. There is also a full kitchen for use. You must bring your own food and beverages, but it is a great gathering area for all the people that stay in the B&B and Cottage. We used it the night before the wedding to hang out and the morning after the wedding for breakfast. The Cottage has multiple bedrooms and bathrooms. There is also a full kitchen, dining room, and rec room in the Cottage. It had everything we needed for the guests that weekend. The styles of the Cottage and B&B are much different, as we would say is normal when comparing those two in general, but the upkeep and accomodations in both are very nice. Parking for guests is available on site.

Rehearsal and Setup: We did our rehearsal on Saturday afternoon at the time we were able to officially check in. We then setup and decorated the barn. Nate had the tables setup according to our plan, but then we had to setup and prepare everything else (tablecloths, table settings, bar area, etc.). The venue comes with standard black folding chairs, which we did not use.

Ceremony: Held outside by the deck overlooking the lake. Nate is more than willing to allow outdoor ceremonies, but we had to coordinate the music, microphones, setup and cleanup. He told us beforehand that he and his staff would not be involved with the outdoor ceremony. Since we rented chairs, we set them up the night before and had guests bring them from outside into the barn.

Cocktail Hour: Held on the lawn outside the barn and the deck attached to the barn. We rented a tent outside (which we had to coordinate the setup), had a beer trailer, which worked great, along with lawn/yard games for guests to play.

Reception/Dinner: Held inside the barn. Our dinner vendor was able to utilize the kitchen space inside the barn. Only one woman's bathroom and one men's bathroom, so we did have some lines, but bathrooms were kept clean and tidy by Nate and staff.

Music: The barn has a stage on the east end which we had a 7 piece band for the music. Our music vendor brought all of the speakers. Nate worked with the manager of the band during his setup for the proper functioning of the sounds and lights. The barn had more than enough power for everything. The band concluded at midnight, but we then listened to music afterwards. Nate did not say anything about any music being too loud.

Clean up: The day after the wedding, we had to clean up the barn for what possessions were ours and what we had brought in. Nate was not around for the clean but did have dollies and ladders available for our need. The nice thing was that he did not absolutely need us out at a certain time, so we could take our time and, we actually left a few things there a picked up the next week.

We tried to give as much detail above of the property and processes as we could. Overall, Lake Orchard Farm Retreat is a beautiful and wonderful spot for a wedding! In terms of the nature and scenery, it is absolutely stunning. The accommodations are great and everything we needed and wanted. If you are looking for a wedding venue that has a detailed timeline of when things need to start and stop, timeframes for setup and cleanup, or assistance and coordination of your ceremony, reception, dinner menu and beverages, this may not be the spot you want. We chose this venue because we wanted to make our own choices on all those aspects of our wedding weekend. Nate and Mary basically let you "own" the property from the time you check in to the time you leave. They very much understand this is a once in a lifetime event and they want you to enjoy every moment. If you treat the property like you would your own home, your weekend will be perfect. Thank you Nate, Mary and Lake Orchard Farm!

Are you interested?

Send a message

Brittney

Married on 09/23/2017

Overall, Lake Orchard Farm Retreat is a great place for a wedding. When I inquired about setting up a meeting time and dates they were on vacation so that made timeliness of response not the best, but besides that it was very good. We were one of there first few weddings and many of my bridesmaids had to help set up tables and help decorate in between the wedding and the dinner something I wasn't very pleased about. Something that might be a down fall for couples interested is you have to rent out/ pay for all the rooms on the property. Which I understand why you have to, it just comes at an expense that is greater than a hotel for the couple. Like I said though, it was a great place for our wedding and we wouldn't of changed anything except for our guest having to help setup our reception.

+ 6

photos

Lake Orchard Farm Retreat's reply:

Thank you so much for taking the time to share your comments. The pictures you posted are so great! We loved hosting you. While we never request the wedding guests to help transition tables, some just jump right in. We have re-evaluated the number of staff on hand to help with smooth transitions. Thanks again.