43 Reviews
Recommended by 100% of couples
Quality of service

5 out of 5 rating

Average response time

5 out of 5 rating

Professionalism

5 out of 5 rating

Value

5 out of 5 rating

Flexibility

5 out of 5 rating
12 User photos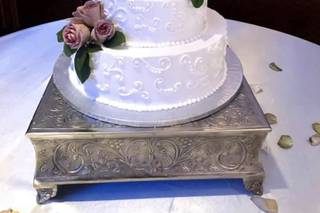 + 8

photos
Sarah

Married on 09/25/2022

Nothing But a Godsend!

Kristine was nothing short of a miracle from my last minute engagement plans to our wild ride of a wedding day . She made us as a couple feel special and cared for through her work, kindness and creativity. We loved her want to do photography in both the traditional route and creative, editorial looking route. Our favorite parts were getting some wedding photos with our cats and the Polaroids she left us in our card box to find the next day. I would look no further than Kristine for your wedding.

Ana M.

Married on 07/01/2021

So glad we hired her

Kristine was everything you could want in a photographer; punctual, professional, flexible, charming, good with children and adults, just a class act. She did such a fantastic job making us feel like a million bucks for our small event.

Alaina R.

Married on 06/12/2021

Kristine is amazing!

I cannot say enough good things about Kristine. She is an absolute joy to work with, and a very nice person. We knew two other couples that had a used her for their weddings so we found her through great recommendations from them. We met her for the first time at our engagement shoot and we were a little nervous, but she made us feel very comfortable and we had a fun time. She is very thorough and professional. She made sure she knew the timeline for the wedding day to make sure she would be where she needed to be. I only have a few pictures from the wedding as of yet, but they are absolutely beautiful and amazing! I can't wait to see the full album!

+ 7

photos

Are you interested?

Send a message

Jessica F.

Married on 12/12/2020

Wouldn't Have Picked Anyone Else

Kristine was beyond amazing. Planning a wedding during COVID-19 was stressful to say the least, but Kristine was so incredibly flexible. We had to postpone our reception, but she still came during the entire time of our ceremony and the pictures afterwards. We booked her again for our reception next year too because she puts repeat clients first.

Right when she came to my mom's house, she asked everyone's names and knew all the bridesmaids names. I have seen a lot of photographers - but I have never seen them try to learn the other people in the bridal party's name. This shows how thoughtful and considerate she is.

While my husband and I were on the party bus, there was great lighting, and she took notice and said we should come out to take pictures. They came out amazing. She did that another time too with a rainbow. Those pictures will probably be my favorite. That proves that Kristine is always on the lookout for the best shots possible - not just the ones during the scheduled times.

Kristine was honestly worth every penny. She was not just a fabulous photographer, but she's a great person who will make you feel comfortable, beautiful, and relaxed on the most important day of your life.

Monica

Married on 09/21/2019

Great Photoghapher who captured our special day!

Kristine was wonderful to work with! I took a chance selecting her & I couldn't be happier. She's professional & very easy to work with. She had great ideas for poses & captured all the moments of our special day. My husband & I couldn't be happier with our pictures. I highly recommend Kristine. You won't be disappointed!

Ashley

Married on 08/24/2019

Engagement & Wedding Photographer

Above and beyond our expectations. Provided significant time and care to every part of the process. It is obvious Kristine loves what she does and is incredibly talented. Our pictures turned out so fun and full of love!. She truly captures all of the moments.

Erika

Married on 07/05/2019

One of the best decisions we made!!

Working with Kristine was like having a close friend by our side the entire day!! She is so kind, funny and professional! The photographer plays such an important role on your wedding day...it is so important to chose one with a good personality like Kristine. She was always so calm and happy! Beyond that, she is extremely talented! Her photos are bright and natural. She captured all of the emotion with every image which is exactly what we wanted! We feel blessed to have had her as our wedding photographer.

Kaitlin

Married on 10/14/2017

Our experience with Kristine from the very beginning was absolutely amazing. Even in the initial stages of selecting a photographer for our wedding, Kristine stood out among the rest. She was friendly and incredibly responsive. When the ceremony time and location changed for our wedding, she didn't even bat an eye. Prior to our wedding, Kristine took the time to reach out to us to see if we could meet in person before the wedding. We were planning the wedding from out of town and didn't have the opportunity to do an engagement photo shoot, so we were thrilled to have the opportunity to meet with her in person prior to the wedding. Meeting Kristine in person assuaged all of my anxiety about our wedding. We were able to chat with her as if we had known her for years. On our wedding day, Kristine was even more amazing than we ever thought a photographer could be. She was so calm, cool and collected throughout the entire day (and let me tell you, it was a long 12+ hour day). She was so respectful and kind to all of our family members and friends; several people came up to us on our actual wedding day commenting about how wonderful she was (even without seeing the amazing pictures she took)! The pictures she took were just icing on the cake. She captured our entire day so beautifully! There wasn't a moment she missed out on. We had such a hard time picking out pictures for our album because there were so many incredible pictures to choose from! Additionally, her timeliness, professionalism and responsiveness after the wedding was just as astounding as it was prior to the wedding. I could go on for days, but the bottom line is you should choose Kristine!

Crystal

Married on 09/09/2017

Kristine was the most fun photographer to work with! She made sure my husband and I had fun while taking our photos, helped make the day-of planning process as seamless as possible, and captured amazing moments that we will have to treasure forever! If you book Kristine for your engagement and/or wedding photos, prepare yourself for a great time & amazing photos to swoon over! :)

Kristen

Married on 07/08/2017

My husband and I met up with Kristine to go over her services and look at her portfolio before we booked her as our photographer. We were super impressed with the pictures she showed us, and we were definitely not disappointed when we booked her and let her photograph our day! ee had a very large wedding party... 10 bridesmaids and 9 groomsmen and Kristine was the perfect person to keel everybody on track but having fun at the same time. She was very organized so the day went flawlessly and I loved having her easygoing spirit around all day! I'm obsessed with my wedding photos by her and her personality combined with her skills make her the very best!

Cayla

Married on 06/17/2017

Kristine is awesome! I'm trying to think of other occasions we can have Kristine be our photographer next! She is such a sweet person and our pictures are AMAZING!! She definitely captured everything I wanted on our wedding day. The day goes by so fast, so it's important to have someone that will capture every moment so you can relive it. Choose Kristine as your photographer!!

Katherine

Married on 06/10/2017

Kristine did both my engagement photos and the wedding day and she was just amazing. Both can be very long but she makes it easy to feel relaxed and to keep smiling. Even more than that the picture are just amazing. I loved everything I saw from her and she easily captured our relationship on camera. She is worth every penny and then some. Check out her blog and then contact her! You will not be disappointed!

Stephanie

Married on 06/03/2017

I cannot say enough good things about Kristine. Choosing Kristine as our wedding photographer was easily one of the best decisions we made throughout the wedding planning process. Right off the bat, she was very responsive, professional, and accommodating. She's so warm and friendly, and really listened to what my now-husband and I wanted in terms of photography for our wedding. We met with another photographer who was clearly not interested in giving us the experience that we wanted. In contrast, Kristine was very receptive to what we wanted (minimal time spent taking formal pictures before and after the wedding, and not going to another location other than the church and reception venue for photos) and absolutely delivered on that.

Kristine really made everything so easy on us. She sent such sweet emails leading up to the wedding that brought smiles to my face (even when I was stressed with planning). She made sure to figure out what we wanted and what was important to us, and made it happen. She worked so hard on the wedding day – it's a long day, but she was super energetic, friendly, and so dedicated. During the "formal" pictures, Kristine was very efficient and really kept things moving along, and also checked in with us on the time and made sure that we were sticking to the schedule we had put together. Everyone was impressed by how professional Kristine was and how she really was very unobtrusive during the ceremony and reception.

I was also super excited to see a post on Instagram the day after the wedding. How special! The pictures I've seen that Kristine posted on Instagram and her blog are all beautiful (and I normally do not like photos of myself). Kristine put us at ease and made the "formal" pictures easy and fast. I really am so grateful to Kristine for being our photographer – everything was wonderful, and she's also just a great person and I'm happy to know her!

Julie

Married on 05/27/2017

I knew Kristine was amazing since the first time we met with her. Throughout the entire time leading up to our wedding, she was prompt and clear with planning for the day. On our wedding day, she absolutely blew me away with how incredible she was. She made our day so much fun, and she really helped us all stay relaxed. Her pictures don't even do justice for the great work that she does. I cannot say enough great things about her! She was able to capture the true emotion of the day, and I really felt like she took the time to get to know us as a couple and as a family, allowing her to get the most special moments of the day. Her attention to detail was so clear. She went above and beyond anything I could have expected, and I am so thankful that we were able to have her capture our day.

Kristine went above and beyond as our wedding photographer!!! We found Kristine online since we were having our wedding out of state and she was very responsive and thoughtful about making sure we were prepared and comfortable. She was so fun to work with and made us (unphotogenic people) feel comfortable and look good in all our pictures. We LOVE all our pictures and how she captured our day - we receive so many compliments! Kristine is amazing and we aren't sure how we got so lucky finding her!

Laura

Married on 11/19/2016

Kristine was seriously amazing- she captured SO many great pictures from our day- from the getting ready photos, the bridal party pictures, the ceremony, family formals, and reception. I couldn't be happier with the content we received. Check out her website for examples of her amazing work. She is the perfect person to capture your day!

Lauren

Married on 10/15/2016

We could not have asked for a better wedding photographer than Kristine. She was so helpful from the moment we first spoke, offering advice with an always positive and upbeat attitude. While my husband and I were married in Medina we live in Columbus, Ohio. Kristine offered to shoot our engagement session in Columbus which was above and beyond and meant so much to us. Wedding planning is stressful and Kristine's professionalism, responsiveness and willingness to help really made a difference. I'm not one who loves having my picture taken, but Kristine made me feel so comfortable and made the entire experience fun! A month after the wedding we are still getting compliments from guests on how hard our photographer worked on our wedding day to capture every special moment. We have been so happy with both our engagement and wedding pictures, they are absolutely gorgeous and she really capture "us" and the essence of our day. We would highly recommend Kristine and look forward to using her again in the future for other special family moments!

Olivia

Married on 10/08/2016

Kristine was our photographer for our engagement photos and October wedding and she did an amazing job capturing our day. We just let her do her thing, and she got some awesome photos (though if you have specific photos/poses you want, she gives you every opportunity to let her know). Everyone at our wedding was very impressed with her!

Stephanie

Married on 09/10/2016

Absolutely loved having Kristine be our photographer. She really captured every beautiful moment from the day. She was the perfect addition to our wedding day. She is super responsive and easy to reach, which was great! If I did it all over again I would choose her in a heartbeat.

Brittney

Married on 07/30/2016

Kristine is by far the best photographer we have ever worked with! She makes everyone feel so comfortable and just makes everything fun! She is the best!

Kristen

Married on 06/25/2016

Honestly I can't say enough good things about Kristine. She was so fun to work with and always had good location (and back up location) ideas ready to go. We weren't totally comfortable having our pictures taken but she made it so easy and helped us feel relaxed. We had a blast working with her and are thrilled with the photos from our wedding. Will definitely use her again and recommend to anyone! Thank you Kristine!

Christina

Married on 06/25/2016

Kristine is absolutely amazing! She is so kind and patient and captured everything on our special day. We were so lucky to have her as our photographer. I would recommend her to any one who needs an outstanding, caring, photographer. Our wedding was hot and she was so sweet and kept checking on us to see if we needed a break or water. The photographs she took were absolutely amazing!

Kristine went above and beyond our expectations and captured such beautiful moments in her photography! She was willing to be with my husband and I from start to finish on our day and even took traveled in the freezing cold for our winter wedding! She has the option for couples to be a part of her blog which provides such a fun sneak peak to engagement and wedding pictures. She is very creative and I love the candid and natural shots she is able to take to make her pictures look so genuine and full of love. Kristine also has a wonderful personality and makes you feel very comfortable ... Very important to me because I don't always feel comfortable being in pictures! I HIGHLY recommend Kristine for your photographer! Her work is truly outstanding and she goes above and beyond to capture special moments of your day!!!

Rebecca

Married on 12/21/2015

Kristine was AMAZING and our photos turned out so good!!! She was a blast to work with and really knows the right angles and lighting. We did our engagement photos with her and they could not have turned out better!!!

Bailie

Married on 10/31/2015

Kristine was super friendly and laid back. She made us feel at ease even though we hate getting pictures taken! Her professionalism is accompanied with a beautiful artistic eye. We could not have imagined anyone better to capture our day.
Are you interested?
Send a message