19 Reviews
Recommended by 98% of couples
Quality of service

4.9 out of 5 rating

Average response time

4.8 out of 5 rating

Professionalism

4.9 out of 5 rating

Value

4.9 out of 5 rating

Flexibility

4.9 out of 5 rating
Awards
4 User photos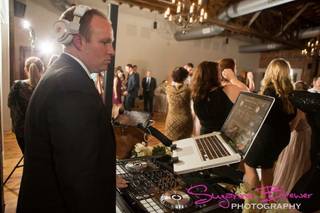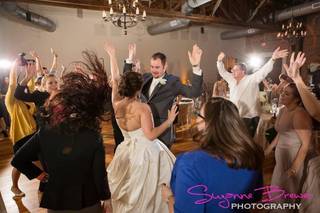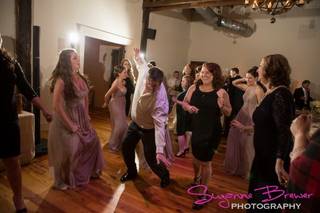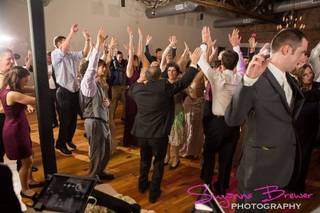 Michael R.

Married on 04/30/2022

Killer wedding dj

I'm a stickler for good djs. I have a funny frustration caused by djs that don't mix well resulting in dance floors that stop because the music doesn't flow. The party should flow all night! I took the unusual step of requiring all djs to send me an example of them mixing and Kevin turned out to be our guy. I couldn't be happier we chose him! Not only did he keep the people dancing all night with awesome mixing, but he was also a great partner in running our wedding the way we wanted. We wanted to get to the party sooner, so he expertly ran the events quickly and got us to start the reception dancing at 8:20 when it was supposed to start at 9 am- almost an extra hour of party time with our friends! You couldn't get a better wedding dj if your goal of to have a killer dance floor all night. Thanks Kevin! You rock dude

Stephen K.

Married on 10/10/2020

Awesome DJ

Kevin created the right atmosphere we wanted at our wedding. Working with him was fun and easy. He made sure we had all the songs we wanted and kept everyone dancing all night. We would highly recommend Kevin for your wedding or party!

Alison M.

Married on 06/22/2019

Fun and personable! Very professional!

Kevin is an excellent DJ! He understood our music preferences and played an excellent mix of music. He's fun and personable. He DJed for other weddings we attended and we were so glad to have him DJ for us!

Are you interested?

Send a message

Ashley

Married on 05/04/2019

Awesome DJ

Kevin did a great job. He DJed at my brother's wedding years ago and was awesome, so we booked him for ours as well. He had all our music choices and did great emceeing the reception. We definitely recommend him.

Katherine

Married on 09/15/2018

Fantastic wedding DJ

Kevin did a fantastic job as our wedding DJ. From our first interview with, he made a great impression. We could tell he really was listening to what we wanted and that he would work hard to make sure all the details were taken into consideration. When Hurricane Florence arrived the weekend of our wedding, Kevin was very flexible around various changes in plans, including a last-minute venue change. He was friendly, easy to work with, took our suggestions into account, accommodated various requests about small details, and did an all-around wonderful job. We are so glad to have worked with him and would highly recommend him.

Maria

Married on 05/26/2018

A fantastic evening with Kevin at the helm. He made sure all our requests weee handled and we danced nonstop all night!

Courtney

Married on 01/06/2018

Kevin with KM DJ made our wedding day soo perfect!! He was quick to respond, Met with us to go through our timeline and song list, offered a huge music database for us to choose from or just hear samples, and made it a personal job instead of feeling like a checked box. We love Kevin and so did our guests. People continuously came up to us during the wedding and after to ask us where we found him! He kept everyone moving and on the dance floor. It was so much fun!!!! Thank you so much Kevin!!

Grace

Married on 12/29/2017

Kevin was a blast and completely stress-free to work with. I became ill during the reception and he quickly distracted guests. I'm extremely thankful for his and my planner's quick thinking. I cannot recommend him enough!

Amanda

Married on 09/09/2017

Kevin was absolutely wonderful to work with! He provided sound for our outdoor garden wedding (for the violinist, pastor and groom) and he DJ'd our reception. Kevin was very responsive via email/text during planning. His website was extremely helpful with song selection for special dances. Kevin loves what he does and he's AMAZING at it! We only chose songs for intros, special dances and exit. We trusted Kevin to do what he does best and WOW he did an AWESOME job! Everyone at our wedding was on the dance floor the entire night! Our families and friends have raved about having such a wonderful time dancing!

Thank you for exceeding our expectations and all your hard work, Kevin! We're so thankful to have worked with you.

Gina

Married on 06/16/2017

Of course when you are planning you wedding, music is something that is very important. We have all been to those weddings where the DJ was a mike hog and it seemed to be more about them then the bride and groom. When looking for a DJ, we went off a recommendation from our wedding planner, and I could not be more happy that we did. We met Kevin on our initial meeting and we instantly felt comfortable with him. By the end of the meeting, we fully trusted he would make our wedding really special. About a week out from our wedding, we had another meeting with him (bride jitters and all) and he put my mind at ease about our music selection. He came with great ideas and suggestions for songs I was having a hard time deciding on. He also happily played any song I requested, no matter how silly it seemed. He had amazing equipment, not an ipod shuffle to be found. He played beautiful music for our ceremony, background music for our cocktail hour, and kept the party going all night for our reception! We could not have been happier working with Kevin, and if we had the opportunity to do it all again, we would absolutely go with Kevin again and again. He is the best, and made our day really really special.

Casee

Married on 03/04/2017

Kevin is an awesome DJ! Very experienced and professional! He provided the music for our wedding ceremony and rehearsal. We had some non-traditional requests and he was able to accommodate our needs no questions asked! We highly recommend his services!

Elizabeth

Married on 11/14/2015

Kevin was our DJ for our wedding about 2.5 years ago and guests are still talking about the great party we had! He was great to work with, fun, yet professional! I recommend him to everyone we can. He isn't the cheesy, metallic vest wearing, awkwardly dancing DJ we have all seen at weddings...(yikes, am I right?!?) He has sleek, modern equipment, he's great at song selection, keeping guests informed throughout the evening and making sure the dance floor is full! The process to let him know what songs we wanted/didn't want was super easy and he would gladly take the lead where we left gaps in what we wanted. Family and friends of ours that I know for a fact do not dance...ever....we dancing their socks off. I feel like we have a great friend in Kevin and can't wait to attend a party where he is in charge of the dance floor again soon!

Jennifer

Married on 06/14/2014

Kevin was absolutely fantastic. He did the music for my ceremony and my reception and I will never be able to thank him enough for how perfect everything went. He set the mood at the ceremony and then ran the party at the reception. We had a blast. He was so easy going and easy to work with that it made the process a breeze. Anybody that wants to have a good time that their event should hire Kevin. You won't regret it.

Jessica

Married on 01/18/2014

Kevin is awesome! He is so easy going and he made our wedding and reception so much fun! He was flexible and incredibly easy to work with. Considering we planned our wedding from out-of-state, Kevin really made our wedding unique and exactly what we had envisioned. Soooooo much fun and an unbeatable music collection! I would recommend Kevin for any event!

Alicia

Married on 05/19/2012

Kevin was just plain awesome! Since we were planning from Charlotte for a wedding in Chapel Hill, we were only able to meet with him on the phone prior to the actual event. He was very flexible and reachable, as well as forthcoming with suggestions and opinions based on weddings he'd done in the past. That was very helpful to us because we were having a lot of difficulty thinking through the timeline of the evening.

On the actual day, Kevin was professional and handled all of the announcements, toasts, special dances and introductions perfectly. He mixed fun with work, and literally kept the dance floor full from 9pm until we shut the venue down. It's as if he was reading the crowd and transitioning from perfect song to perfect song. As cliche as it sounds, it really was epic. I have never seen a dance floor so full for so long in my life.

We couldn't have been happier with our choice!

PS - Oh, and Kevin also recommended to us the best Cake baker ever ... absolutely true (Ashley Cakes!)

Alexia

Married on 11/07/2010

Excellent music! Very accommodating and worked extremely well with my husband and I. Went above and beyond to make our special day perfect!

Kim

Married on 04/14/2018

Kevin was awesome to work with for our daughter's wedding in April. He suggested songs and playlists, but listened to what we wanted. He ran the audio for both the ceremony and reception. Had WAY more people up dancing then we thought we would! Way to go Kevin.

Kevin was great. He is really sarcastic which we liked, although my parents still believe it was his first wedding since that's what he told the bridal party right before the reception. I wish we would have gone through a better timeline of exactly when we wanted him to announce certain things like the photobooth opening or what time the exit would be so guests were more in the know. He came up to us and asked if we wanted him to do each of these things during the reception and I think we would have rested a little easier knowing it was all taken care of up front. His music selections and recommendations were awesome. The dance floor was full the whole night starting with the first song he played.

Ryan

Married on 09/17/2011

Excellent DJ and played a great party. We and our guests all had a blast. The only problems were minor ones, that only the bride and groom would notice. He was not easy to get a hold of leading up to our wedding. Our intro song was a techno version of what we requested and there were certain songs that we requested that he played while we were busy taking pictures.

KM DJ Company's reply:

Ryan...I'm so sorry that you reviewed me the way you did. Your wedding was one of my best events I had all year. Your dance floor was packed all night long. The only problem was that you and Molly weren't on it. That is the reason you missed all of your requested music. You must realize that I have to play your "must play" music at some point of the night. If you will recall that I came to both of you several times to check in with you to see what was going on? (The family drama) You do remember that right? You never one time expressed any concerns to me any time that I talked to you that night (about my dj'ing). Your introduction song was ABSOLUTELY not a techno version and there really isn't anything else to say about that except that I spend about 20 hours preparing a wedding and there is no way I would miss your introduction song! I'm sorry, but that simply just isn't true. As fas as my response time and availability to my clients...Ryan, I respond to every client within 24 hours via phone or email and that's my standard and in every case I respond way before that. I make myself available to meet whenever and wherever my clients need to including going to their house and I did that for you and Molly as well. I apologize to you Ryan and Molly both, but I had no idea that there was anything wrong with my services that I was providing by the looks of your dance floor because it was packed the entire night and you had several opportunities to talk to me if there was something wrong. I wish that there wasn't so much other stuff going on behind the scenes that had nothing to do with me and maybe that would have freed you up to do a little more dancing. Again I do apologize.
Are you interested?
Send a message