Reviews
5.0 out of 5 rating
Quality of service

5 out of 5 rating

Average response time

5 out of 5 rating

Professionalism

5 out of 5 rating

Value

4.9 out of 5 rating

Flexibility

5 out of 5 rating
99%
Recommended by couples
38 User photos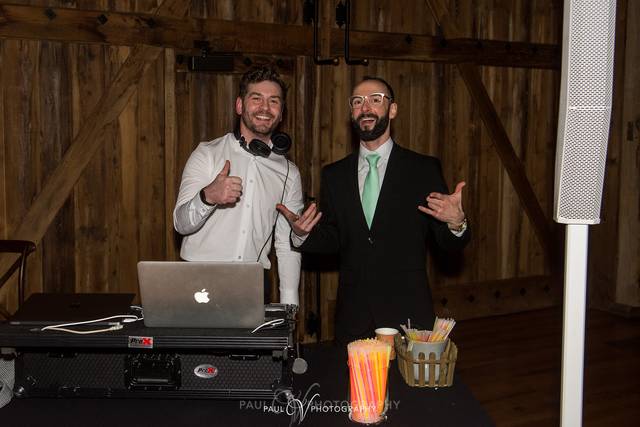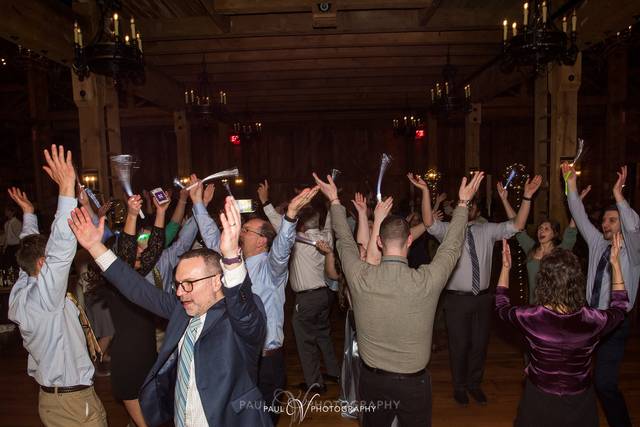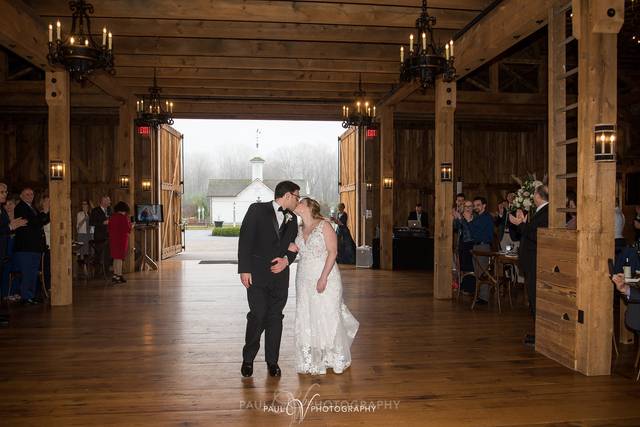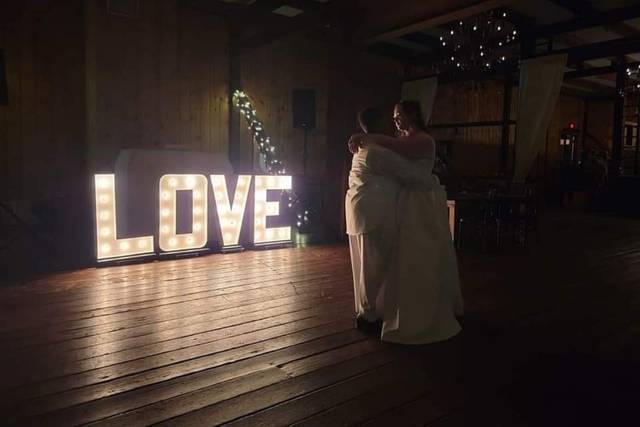 + 34

photos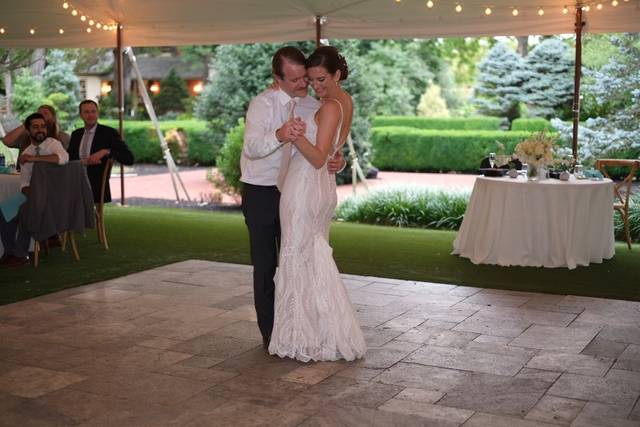 Brianna

Getting married on 10/21/2023

Klock Entertainment was an amazing choice for DJ. Everyone that I spoke to throughout the entire process was so kind and friendly. I couldn't have asked for a better DJ, Tommy was absolutely amazing. The fact that they send two people to make sure that the music and everything runs smoothly was fantastic! We used them for our ceremony music outside as well as the cocktail hour and reception music. They did an amazing job coordinating with our officiant to know exactly when to start and stop each song for our ceremony. Again, couldn't have asked for a better DJ for our wedding, they were absolutely amazing and worth every penny that was spent.

Taylor P.

Married on 08/05/2023

Excellent Experience

Chris Brenner at Klock Entertainment was a fantastic DJ! He did an excellent job keeping the event on schedule and the party going. He was flexible and easy to work with, accommodating our last minute requests. We couldn't recommend him more!

Zachary D.

Married on 03/01/2023

Klock with Nick = Best Wedding Ever

If you have a wedding, you NEED HIM! Lauren and I are SOOO excited! I am posting this right after our wedding! Our pre wedding day moments, and our wedding day of 170 guests which encompassed the whole Stone Gables Estate, which is massive, and was mainly at Star Barn was a dream of laughs and special moments.  Our guests were primarily family members and Nick expertly DJ'd for us with communication, and providing our guests with a hype, emotional, high quality, classy, and fun experience.
Lauren and I thoroughly researched DJs for our Wedding 3/25/2023 at Star Barn Stone Gables Estate. Star Barn, and our Photographer Paul V both advised that Klock Entertainment with Nick Fortini as our DJ was the best!
We were considering multiple other DJs before our conversation with Ben Cavallaro who is in charge of books with Klock. On our first call with Ben, Lauren and I recognized how knowledgeable and professional Klock Entertainment was. Anytime I sent an email I knew I was going to get an almost instant, well thought out professional email back.
When it was building up to the wedding Nick Fortini was super friendly, flexible, organized, and so easy for us, our guests, our vendors, and planners to work with. I remember Lauren and I were stressed about wedding stuff and Nick Fortini was just perfect.  I would send him texts, emails, and request random phone calls. It was just so easy to communicate with him.  It was also awesome that you get two DJs with Klock!
Lauren and I gave Nick Fortini, our DJ, the least amount of attention building up to the wedding with all him knowing was our preferred style of music, our ceremony music, entrance songs and that Lauren's grandfather would need a mic during the ceremony to sing.  Day of the wedding we changed our mind on a couple things and Nick Fortini executed perfectly.  We would walk up to him and request a song with a special introduction and announcement from him. Nick Fortini and Klock Entertainment are the total package! For example, 20 minutes before our first dance we told him we only wanted to dance for 2 minutes and for him to crop this 5-minute song.  He handled it expertly multiple times throughout the wedding.
Lauren and I got a ton of compliments during, and after the wedding about Nick Fortini and his system from our guests which really cemented that picking Klock with Nick Fortini as your DJ is a sure win.
https://www.klockentertainment.com/meet-the-team/nick-fortini/
Our PERFECT wedding team (vendors):  Klock Entertainment (Nick Fortini) DJ, Paul V Photographer, Star Barn Venue, Moonstone Manor Venue, Food for Thought Catering, Miss Lyss Planner, Fx Photobooth, Blossom Bliss Florals, Tangles Hair, Dublin Bridal Dress, Premiere 1 Shuttle.

-The Groom

Are you interested?

Send a message

Lauren

Married on 02/11/2023

Jason with Klock Entertainment was absolutely awesome, big thanks to Tommy Toone and Nick Fortini for keeping the crowd hyped all night!

Thank you,
James and Lauren!

Morgan

Married on 11/26/2022

We worked with Nick at Klock Entertainment. Both Nick his "mixmaster" were a fabulous component of our wedding reception and they were a joy to work with during the planning. Nick was very attentive, having two meetings with us prior to the evening to get a really good feel for the type of music we were looking for. The online digital planning tool was also easy to use and made the process very easy, especially as we were planning remotely.

They didn't play just a standard mix during the reception and you could tell with the constant stream of people on the dance floor. They hit the target with the vibe we were going for, in order to engage multiple generations. All of the guests kept remarking on how they were actually mixing music and not just playing song after song, which added a great dynamic to the celebration. It was the only wedding I have been to where the guests were chanting for one more song at the end of the evening because no one wanted the dance party to end. It made for the most memorable night.

Molly B.

Married on 11/19/2022

Highly recommend!

As a manager of two wedding venues, I am always looking to work with the best vendors and Klock truly is that. Always a packed dance floor and guests having a great time!
We have specifically worked with Doug, Chris and Kevin in the past- always a consistent, excellent experience. I even use them for our company events- cannot recommend enough!

Nicole A.

Married on 11/11/2022

Noon Wedding

We absolutely loved having Klock Entertainment as our drj for our wedding! We had them pick our Dj and it was the best choice! Super easy to get in contact with. Would highly recommend!

Justin M.

Married on 10/28/2022

Energetic, passionate, fun, and professional!

We decided to go with Klock entertainment because we heard they were the best of the best...and there is a reason for that! Ben who set up and explained everything they offer to us was excellent. Every question I had he always had a quick response and was very helpful. Doug was our DJ and he was the best! He brought life to the party, had a great mix of music, and was willing to do anything we needed. We had the "dancing on the clouds" option which made for beautiful pictures. We also had Klock entertainment photo booth at our wedding which was outstanding! The photo booth attendant was great and the pictures turned out awesome. Everyone at the wedding loved it. Klock entertainment was worth every penny!

Riley H.

Married on 10/22/2022

Wouldn't change a thing

We hired Klock Entertainment after experiencing them as wedding guests for a friend's wedding. We knew we wanted the professional and seamless experience they had for our wedding. We let them choose the DJ for us, and Chris Brenner could not have been any better. During our meeting, he listened to our requests, helped us nail down the event's flow, and showed interest in helping us have such a great time. The day of, he was on time, professional, brought great, quality equipment, and was absolutely fantastic. We would choose Klock Entertainment and Chris all over again and would recommend them to anyone looking for professional DJ services for any event.

Ian L.

Married on 10/08/2022

Chris was amazing

Chris from Klock Entertainment was an amazing choice for us for our wedding DJ. From the first meeting to the day of, he totally understood what we were looking for even when we were fairly vague. He was able to put together our procession and recession music to work flawlessly and he really excelled at getting people moving on the dance floor. We had a blast with Chris running the music all night and I would recommend him to anyone looking for a stellar wedding DJ.

Edward Z.

Married on 09/24/2022

Best dj ever

Doug was AMAZING!!. He was so professional and his transitions went so smoothly. He picked all of the songs correctly and everyone in attendance said he did a great job. I would have him again.

Alexandra F.

Married on 08/27/2022

Incredible female Emcee playing my dream playlist keeping the dance floor hot all night long

I am so thrilled to be writing this review for my friends Jess and Mike who DJ for Klock entertainment and made my wedding EPIC from start to finish. They curated the music from my wedding playlist on spotify and the vibe I was going for from ceremony to cocktail to dinner to party time. They knew exactly when to transition, said all the right things to make the night feel special and get people on the dance floor and they truly created a memorable experience we will never forget. My final memory of the night is the send off they orchestrated and I will have that image in my mind along with their kind words sending us off, for the rest of my life. I couldn't be more thankful and had a wedding even better than what I could've dreamt thanks to this dynamic DJ duo with Klock entertainment. Thank you!!

Debbie M.

Married on 08/27/2022

Wil was the best!

Honestly, Wil M. was the perfect DJ for us! He kept the energy alive, engaged our guests and kept the dance floor filled! He was great at reading the room and matching the vibe. He was exactly what we hoped for! We had a photobooth as well from Klock and the planning process was easy with that. The photobooth was a hit with our guests! The only thing I wish they had done was ask ou preference of why guestbook to use. They supplied one but we had purchased on that we liked better and had hoped to display at home, but they did not use that one. Other than that, everything was perfect with them!

Christian W.

Married on 07/23/2022

Josh & Klock set it off!

Working with Josh and Klock Ent. was an absolute pleasure and an essential part of our wedding - from our first conversations and planning meeting, Josh was attentive and helped us to organize our ideas into a cohesive structure. Throughout our wedding day he was invaluable in keeping things flowing, helping everyone understand the plan, and he oversaw the entire night with impeccable care. The music was exactly what we'd hoped for, including our must-plays at the perfect moments and weaving them into a mix that kept our guests on their toes all night. We fielded many compliments from them on the music and the vibe! We knew we wanted the highest quality DJ we could find for our wedding, and Josh and Klock Ent. delivered above all our expectations.

Ginny N.

Married on 05/09/2022

Wil Monestime was the perfect Headliner for my daughter's wedding.

I was very anxious about how my daughter's 'backyard' wedding during a pandemic would go. Would people feel comfortable dancing? What kind of music should we play? How much 'energy' should there be? Before the wedding, Wil came to the bride/grooms house (where the reception was being held) and made sure of the set up. He reviewed their music selection and made them feel very comfortable. Then Wil called me about two weeks before the wedding and calmed all my worries. He reassured me that he would 'read the crowd' and if the vibe was that people didn't feel comfortable, he wouldn't push the celebration-type of music. Needless to say, that was not the case at all. Wil had the perfect amount of energy, played the perfect music and my guests danced the night away. The day of the wedding could not have gone better. Will was perfect in controlling the timeline of events (introductions, toasts, dances, etc) which meant I had nothing to worry about. He set up the perfect amount of 'up-lighting' in the tents to give a magical look.
So many of my guests came to me after the wedding asking who the DJ was, and I was pleased to say Wil Monestime from Klock Entertainment. I would highly recommend Wil for any event - he was amazing and made my daughter's wedding reception a day she, her husband and our guests will never forget.

Lauren H.

Married on 05/07/2022

Highly recommend Klock!

Klock Entertainment DJ'd our wedding in July 2020 (yes, you read that right, July 2020 during the pandemic). Throughout the entire COVID situation they were very helpful, quick to respond, eager to still make our day the best it could be, and professional. Wil (and Griffin) were very entertaining, involved, and read our guests so well. Everyone has told us it was the most fun they've had at a wedding and they couldn't get off the dance floor. We are so grateful to have chosen Klock to be part of our wedding day. Highly recommend them!

Donna B.

Married on 05/02/2022

Great music

The DJ was wonderful he interacted with the crowd and keep the music going all night. He even hugged the bride before they left. Great group to work with. Would highly recommend them.

Ryan K.

Married on 04/15/2022

The best day of our lives

Not only did Klock come through on our big day, but none of it would've been possible without Wil. We have both been to weddings where the DJ/MC is over the top, to the point that they are almost trying to become the center of attention. On the flip side, we've been to weddings that the DJ sat on a chair and played music from their iPhone. Wil is the perfect middle ground. He was the life of the party and kept it going without making the focus on him. I would HIGHLY recommend Wil & the team at Klock for your special day.

Jennifer F.

Married on 04/09/2022

I can't even put into words how much I loved Klock. It was the best time ever, not only for me but all of my guests.

Wil worked with my husband and I to plan a fun wedding celebration. He was SO fun to talk to and very helpful(since we had no idea what to do). But I truly believe that the dj has a HUGE impact. Announcing bridal party, talking between songs, positive energy; and just all around helps the flow and fun. Wil was hands down incredible! Beyond anything I could ask for. He created MANY special moments for me and my friends to always remember!!! And it was simply FUNN!!!

Dave Z.

Married on 03/19/2022

5 Star Service!

Klock Entertainment and DJ Wil were top notch for our daughter's Sweet 16! Highly recommended!

Kimberly

Married on 02/26/2022

Hire Kevin!!

Kevin was AMAZING!! I had some unique music that I wanted to use as background music to fit the theme of our wedding and it was so perfect! He was able to keep the wedding flowing :) He was so organized and easy to comminunicate with. Klock as a whole has been so great and anything I wanted to have done they did and was so excited for my wedding day. They managed to make the whole venue transition from day to night so smoothly and beautiful both inside and outside. With COVID I had to delay my wedding and even change my venue. They made the transition so easy.

Carly N.

Married on 02/09/2022

LOVE them!

Wil did an amazing job and really helped us pick music that aligned with our personality and he got our wedding guests out on the dance floor. We had a mix of age groups at our wedding and Wil picked music that everyone knew and enjoyed!

Maci J.

Married on 01/22/2022

Our wedding Jan. 2022

Wil was our dj and he did an amazing job! Wil had great energy and did an awesome job with our music selection. He took so much time beforehand making sure we were on the same page with everything for the wedding. Klock Entertainment was great, and pick Wil for your DJ you will not be disappointed.

They were all amazing!! Exceeded our expectations and went above and beyond with everything. Always kept the crowd going. Fabulous lighting and music mixing!

Brooke B.

Married on 10/09/2021

Easy to work with, great experience!

Klock Entertainment was so convenient to work with; they were able to coordinate everything I wanted and needed with ease! Dephillip understand the vibe we were going for and made out wedding a blast! Thank you Klock!
Are you interested?
Send a message