26 Reviews
Recommended by 98% of couples
Quality of service

4.9 out of 5 rating

Average response time

4.8 out of 5 rating

Professionalism

4.9 out of 5 rating

Value

4.9 out of 5 rating

Flexibility

5 out of 5 rating
Awards
4 User photos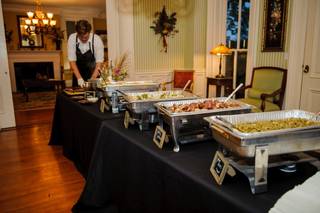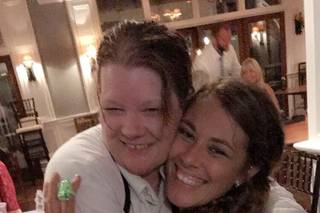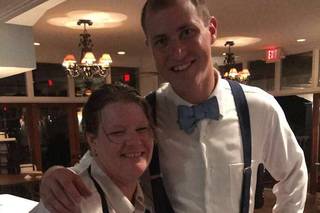 Jessica

Married on 11/14/2020

Excellent service.

We got compliments on our food and bar tending services for days! Excellent delicious and warm! Kingsley's is the best to work with.

Sherry B.

Married on 06/28/2019

excellent food and service

Great food and service, very friendly

Lauren

Married on 06/22/2019

Great Food

Kingsley's was amazing! They were so professional and take care of all the linens, plates, napkins, etc. We even hired our bartenders through them. The food was phenomenal. We had many of our guests rave about the citrus chicken. They worked with us even when we had questions the week of the Wedding. They made the bride and groom a plate and even boxed up our leftover cake. I would highly recommend these experts!

Are you interested?

Send a message

Krystia D.

Married on 04/27/2019

It Was Fabulous!

The staff at Kingsley were wonderful to work with. As a wedding planner the last thing I want to worry about is the catering end. They made it great. Janet was flexible, agreeable and easy to work with. Her staff were as well. They were precise and professional. The food was delicious as well.

Casey

Married on 12/01/2018

Best food hands down!

I had numerous people tell me great things about Janet and the staff at Kingsley's and after working with them I couldn't agree more. The staff were very professional, great to deal with and super assertive! The food was AMAZING (I'm still getting compliments on it actually)! There is NO way you'll run out of food with Kingsley's either, Janet and her team make sure there is even extra so there's no worries on running short.
We rented the bartenders from Kingsley's, as well, and they were well worth it! They never had a line because they stayed on top of it all night!!

Kim

Married on 10/13/2018

The food is amazing

I love that I went with this local treasure. Janet with Kingsley's was amazing start to finish. She really made me feel important and was so generous the whole way through. She made sure I tried everything on their before making a decision. The entire wedding she was focused on making sure we (bride and groom) were taken care of and cleaned up after. Her staff was professional and worked very quickly and efficiently. My guests ranted and raved about how yummy all the food was... thank you Kingsley's!!!

Jessica

Married on 09/08/2018

Kingsley's Catering was amazing! We had so many compliments on the food, and we had plenty for everyone. The staff were very nice and made sure to keep things filled. Thank you, Janet, for everything!

Caitlin

Married on 10/08/2017

Janet, the catering manager at Kingsley's, is the best! Janet knows the Louisville wedding scene so well, and does everything she can to be helpful. She makes sure that your day goes perfectly - from set up to packing to-go boxes for the bride and groom, to working with other vendors. I can't imaging our wedding without Janet, and the food at Kingsley's is incredible! You get so much food with tons of options, and Kingsley's even offers appetizers, desserts, plates/utensils, linens and so much more! If you work with Janet at Kingsley's you won't have to worry about anything!

Bethany

Married on 10/07/2017

We booked Kingley's for our wedding reception on 10/7/17 and we are SO HAPPY we did. Kingsley's provided our meal as well as bartender services. Everything was perfect. As soon as I met Janet at our tasting I felt completely confident that she would take care of absolutely ANYTHING that could potentially come up, and she totally followed through! I trust her completely. We had so many compliments on the food as well as the friendly servers and bartenders. Janet and her staff were super flexible when we had to consider moving around our schedule due to rain. They were willing to do whatever had to be done to make the evening perfect, and collaborated well with our other vendors. The food was amazing, the price was totally reasonable, the drink pours were strong, they did a great job cutting and serving our cake, and all around they were just a joy to work with. We can't say enough good things about them!

Rachel

Married on 07/07/2017

Janet and her crew/bartender went above and beyond our expectations! We had a small reception of 50 people, so not many staff was needed. Janet did more than her catering responsibilities, she assisted with setting up the chairs for the outside ceremony, gathered plate chargers that were to be picked up after dinner, cut and served the cakes and helped clean up. I am sure there is more that I may be forgetting, but she is awesome! The bartender knew his drinks and kept them coming. Janet responds to emails in a timely manner and helps with suggestions when you ask. They were the only catering company we went for a tasting with and so happy we went with them. Even on the tasting she sent us home with leftovers :-) The food was amazing and packed up leftovers for us and our guest at the wedding. We tipped above the suggested 20% because they earned it! I insisted that they ate and they did and we didn't even notice they we gone. Please always feed your vendors, they work hard!! I could not ask for a better experience with Janet and Kingsley Meats! Highly recommend.

Rachel

Married on 07/07/2017

They will be catering our upcoming wedding. The tasting was amazing, super friendly and very reasonably priced! We also hired their bar tender since our venue allows for us to bring our own alcohol.

Jessica

Married on 09/03/2016

Delicious food, fantastic price, responsive and helpful staff--just a fantastic experience! We booked them because they offered a full roast pig and wow they did not disappoint! In every detail they went above and beyond--from the cheese appetizer display to the bar staff, they provided exceptional service.. And the guests raved about the food!

Aurora

Married on 05/21/2016

The food was exceptional, aplenty, and tasted amazing. Though I didn't get to eat much the day of the wedding, some of my guests are still talking about the food (and it's been three months).
My mother handled all the correspondence, and had nothing but good things to say about working with Kingsley!

Megan

Married on 04/09/2016

DELICIOUS! Everyone raved about how good the food was! Plus they let us have a free tasting with a ton of food. Also served as our bartenders and did a great job. They will go above and beyond to do whatever you need on your big day. Highly recommend them!!

Ashley

Married on 10/25/2014

Our wedding food was RAVED about by everyone. Kingsley was always so helpful and answered our questions in a timely manner. The food and staff was wonderful on our wedding day and we loved our mashed potato bar!

Aftan

Married on 05/17/2014

Everything was amazing!!! I honestly have no complaints whatsoever. The food was amazing and the one worry I had prior to was if the food would be hot. The food was hot and served with awesome professionalism. The bartender was amazing. The appetizer "waterfall" was exactly what we wanted so guests weren't bored waiting for us to finish our pictures. Their service was exemplary and we weren't disappointed in the least. We weren't sure what was going to happen with the leftovers but when we went back to the venue the next day, there was a fridge full of food that we were able to take home. We ended up eating the wedding food within the next few days because it was THAT GOOD!!! You absolutely could not go wrong with choosing Kingsley. I saw a prior review about issues with cutting the cake. I'm assuming they saw that review and corrected the issue because the staff were on hand and immediately started cutting and distributing the cake after we cut the first piece. Overall, exemplary service, amazing food (we are still getting complements on it), and Elly was amazing to work with and coordinate with.

Hannah

Married on 06/23/2012

My husband and I decided on a pig roast for our wedding at Farmington Historic Plantation, and since Kingsley works with Farmington on a regular basis for events, they were our clear choice. Here's the breakdown of my review:
Service: Kingsley was very friendly and easy to work with. We did a tasting with Ella to decide on food, and she was very kind and helpful. The food was spectacular, exactly what we were looking at for our rustic-themed wedding. She made very good suggestions as to what dishes would work best together, and helped us figure out the best deal. Up to the day of the wedding, she was easy to reach if we had any last-minute problems, and the wedding-day setup was seamless. They even cut and served our pies that we had made!
Food: The food was GREAT. Many of our guests complimented the pig roast lunch and took pictures of the roasted pig. The potato salad was a big hit, as was the pig itself (they served it with Bourbon BBQ sauce and cherry BBQ sauce, rather than the run of the mill sauces). We took home the leftovers and froze them, and they're still good! :)



Melissa

Married on 10/04/2014

I have heard nothing but rave reviews from our wedding guests regarding Kingsley Catering. Working with Ella and the staff was a great experience. Whereas other local caterers will try to nickel-and-dime you, Ella's response when we asked if there were certain up-charges was to laugh and say, "Why? It's just cooking!" or "Of course we cut the cake for free!" It was like having a family friend with us through the whole process. And the wedding day staff was terrific. They took care of everything and even boxed up leftovers (which there were plenty of!) for us to take home. Thanks!

Kathleen

Married on 08/02/2014

We knew we wanted to do a pig roast for our wedding and Kingsley was perfect! They helped us pick out the best package for us and we were able to sample all of our food before hand. I have had so many people tell us how delicious our catering was, most said it was the best wedding food they'd ever have. I definitely recommend them!

Danielle

Married on 10/20/2017

Kingsley catered our wedding in October and they were amazing! Janet was especially accommodating, which was incredibly important to me since I was planning my Kentucky wedding from Seattle. I was able to do a tasting where I tried tons of food so I knew exactly what I wanted. We called so many times with a million questions and Janet always got back to us quickly and was so helpful! The night of our wedding she even made us to-go boxes with everything (including cake!) to take to the hotel when we inevitably were hungry later that night. Bartenders were fantastic as well! Great catering, wonderful customer service, I'm very glad Kingsley took care of us on our big day.


Leah

Married on 08/13/2016

Kingsley did a wonderful job catering for my wedding. They also provided an open bar. They were MUCH cheaper than other caterers and the food was delicious. They include their server charges, which other caterers didn't, so it ended up being such a good deal. Usually buffets don't thrill me, but everything was so good. My family from out of town was really impressed with the quality of the food. They also worked with me on their bar packages and subbed out a couple liquors for me, which was awesome.

Samantha

Married on 04/25/2015

The only things you need to know are:
1. The food is amazing!
2. The pricing is fair!
3. I didn't have to worry about a thing the day of my wedding, and they went above and beyond to make sure it was perfect!

Food was delicious everyone enjoyed if. Our only complaint was they kept asking when they could leave when our assumption was they stayed until the end for the full 4-5 hours. But food was as requested

Rebecca

Married on 05/08/2010

My budget was tight, but I still wanted good food. I have left many a wedding discussing with my fiancé the cold, dry food we've sampled. I didn't want to have one of those weddings. We thought we'd selected a caterer, but he was still a little more than I wanted to spend. He was the cheapest I'd found at the time...but then he came into my dad's store and acted like a complete jerk...not recognizing my dad from the tasting we'd had just a few weeks prior. I saw that as a sign that I could do better. After perusing the internet, I stumbled upon Kingsley meat and catering. I'd heard the name before, but didn't think of them as a fancy catering place. I decided we'd do a tasting anyway, just to see if they would work. Not only was the tasting amazing quality and taste, the price was right! I was able to feed a huge reception for under $14 a head. And again, everyone talked about how good the food was! We had a buffet with several options. Granted on the day of, I only got to eat about three bites because everyone wanted to come say hi to us, but what I tasted at the reception was similar in amazing taste to what we had at the tasting at their deli. The only reason I didn't give them a perfect 5 was because there was some confusion about cutting the cake. Ella, the coordinator at their store I who worked with, assured me that they would cut our cake. After we had cut the cake I expected their workers to jump on it and start distributing. It took some coercing and several repeated requests to finally get them to cut the cake. It was about half an hour of delay from the time we cut it to the time they distributed it. I was a little miffed about this, but that was my only problem of the night!

Bridgette

Married on 05/29/2016

From begining to end this place rocks. Our tasting was exceptional and we booked without even trying any other places! They we flexible and fairly priced. The food was amazing, we got so many compliments i lost count. They set up our ceremony perfectly and our reception looked amazing. Everything looked wonderful and tasted delicious for our "formal pig roast". The bartender was fast and friendly as well as the servers. Janet was also pleasure to work with, you can tell she cares and it all was just perfect! Thank you Kingsley, I would recommend you to anyone in a heart beat!
Are you interested?
Send a message