176 Reviews
Recommended by 100% of couples
Quality of service

5 out of 5 rating

Average response time

5 out of 5 rating

Professionalism

5 out of 5 rating

Value

5 out of 5 rating

Flexibility

5 out of 5 rating
47 User photos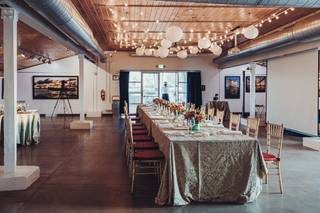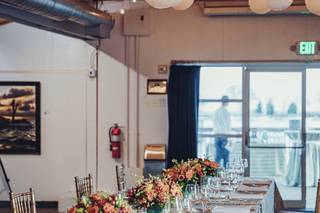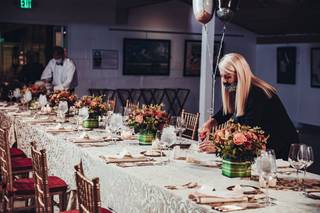 + 43

photos
Featured

Joe K.

Married on 09/14/2019

The BEST in the business!

Ken's Creative Kitchen ("KCK") was absolutely KEY to the ease and grace with which our wedding came off. As first-timers (parents who've never done this before), we had MANY many questions and worries. The first meeting at KCK was with Ken himself, in a relaxed setting with all samples of dishware, glassware, etc. all at the ready. Despite KCK's being in VERY high demand, year-round, for events all over the greater DC-Annapolis-Baltimore-Eastern Shore area, Ken took the time to meet personally with us and put over every concern to rest. (NOTE: Of the 8 caterers we initially e-mailed initially, Ken was the very first to call us back (responsive) and that set the tone for our entire months-long relationship. ) Once we'd met with Ken and KCK, all subsequent meetings at other reputable Annapolis caterers just fell FLAT! Ken, personally, is an Artist and "idea-machine" with a genial, easy manner of taking our rough ideas/thoughts and presenting us with many "how's THIS?" riffs on our basic themes. (NOTE: His serving staff are all seasoned professionals-- as compared with the "just off the street" waiters and others that so many caterers use: that makes WAY more difference that you realize!) KCK handled everything, from tables and linens to dishware/silverware and glassware to bar-tending. The food was beyond Excellent, and everything was very smoothly orchestrated with our venue manager for perfect "casual elegance" feel throughout the ceremony and reception. PERFECT!

Ken's Creative Kitchen's reply:

Thank you so much for taking the time to write a review! We are glad to hear you had such a positive experience and look forward to the opportunity to work with you in the future!

Ciara D.

Married on 10/01/2022

Best Caterer Ever

Ken's catered our wedding during Hurricane Ian, we were married on a yacht so as you can imagine our plans changed drastically due to the weather. We were moved to a new evening and a new vassal and Ken's was happy to accommodate our last minute changes. The food was fantastic and the staff was the best! They treated our guests so well and the quality of food and service was the best I've every had!

Ken's Creative Kitchen's reply:

Dear Ciara,

Thank you so much for your kind review. We were so impressed that you were so flexible and you were a joy to work with and we enjoyed every step of the planning process. Katie Wildt

Jenny

Married on 06/18/2022

INCREDIBLE wedding experience with Ken's Creative Kitchen!

We got married at Annapolis Maritime Museum on 5/29/22 and got so lucky with booking Ken's team for our special day! The whole experience of working with Ken's Creative Kitchen was absolutely flawless. During wedding day, all of our guests commented on the incredible food throughout the evening, and we almost didn't even want to go dance because of how good the crab cakes were. :) The appetizers were also out of this world. Beyond the food, the service of Ken's team was amazing. They could not have been more flexible, responsive, friendly, and professional. Kathi, in particular, went above and beyond. She made sure that we had appetizers (saved a platter just for us!), made sure we had drinks, and was totally devoted to making sure we were well fed and had a great evening. She was spectacular!! Leading up to the day, Ken answered countless questions for us and was exceedingly patient and supportive during our planning process. He was not only supportive but also very informative and gave helpful tips and advice for us to consider. He knows the ins and outs of the wedding planning process and how to create a smooth, wonderful wedding day. The whole experience of Ken's Creative Kitchen was incredible and we consider ourselves so lucky to have discovered them. Thank you for putting so much effort and energy into our big day -- your team made a huge difference in helping us have a wonderful planning process and actual event!

Are you interested?

Send a message

Chelsea H.

Married on 05/21/2022

Incredible

The food was amazing, affordable and classy. We got so many compliments. Katie was amazing to work with and flexible when I needed to add vegan meals or change around appetizers at the last minute. The staff was helpful and Katie kept everything organized.

Dustin S.

Married on 05/15/2022

The absolute best you could ask for

Ken and his team provided professional service from start to finish in order wedding planning and absolutely fantastic food. They kept our guests raving about the experience for weeks after our wedding.

He spent a lot of extra time with us to iron our every little detail. They were extremely accommodating with changes as we moved through the process and even made us a custom dessert that turned out fantastic.

Cara P.

Married on 05/14/2022

There is no better catering company out there!!

Kens Creative Kitchen went above and beyond all expectations! Kathi, our on-site event coordinator, made sure my husband and I had a his and hers as we exited our ceremony - even as I left to bustle my wedding dress, she ensured the scallops we selected for happy hour were on a tray walking with me so I didn't miss out on the happy hour food our guests were raving about! Even my bridal party could not stop gushing about how wonderful Kathi was. The service was incomparable to any catering service I've been around before! Our guests were so impressed with the presentation but even more so by the flavor. Each dish was cooked and presented perfectly and we were so grateful! If you're looking for the best, look no farther, its Ken's!

Elise D.

Married on 04/23/2022

The best catering!

We could not be more glad to have had Ken's Creative Kitchen cater our wedding reception. In addition to the food being truly perfect, the staff was beyond kind, communicative, and helpful --- from the planning process all the way through the day of. 10/10 would recommend!

Jahnavi J.

Married on 09/04/2021

Amazing wedding and brunch food and service for our wedding

Ken's already has so many glowing reviews and for good reason! They were absolutely amazing in helping us plan a perfect South Indian/American fusion wedding reception!! Their food and service is absolutely incredible, our guests were raving about them! It's not easy to plan a wedding in the midst of a pandemic but Katie was a pleasure to work with to help organize everything! Kathi and the staff did a phenomenal job on our wedding day and the post wedding brunch and service was also amazing! We will definitely keep Ken's as our go to catering team for future events!! Thank you for everything!!

Sara F.

Married on 06/01/2021

Amazing Food!

All of the food we served at the wedding from Ken's was absolutely fabulous and we got so many compliments raving about how great the food was! There were so many options to choose from and we were able to pick and choose which items we wanted to serve. The whole Ken's staff was extremely helpful, professional, and very friendly.

Leslie S.

Married on 05/22/2021

The best by far!

Lauren, Kathy, and the entire team at Ken's are truly a delight to work with. We keep getting compliments on the food months after our wedding, but even more, their experience and commitment to hospitality made everything move so smoothly day of. LOVE!

Kristin A.

Married on 04/17/2021

Ken's is the best!

Ken's Creative Kitchen is THE BEST. We got married at the Paca House in Annapolis and decided to go with Ken's as the caterer. Our guests were raving about how delicious everything was and many people said that they had the best crab cakes they had ever eaten. We also had signature cocktails served which were a huge hit. Lauren is the absolute best and we had such a fantastic experience working with her. She was so kind, had great ideas, and ran everything the day of the event SO smoothly. Lauren went above and beyond for our event. I am not sure what we would have done without her. I cannot recommend Ken's Creative Kitchen enough- 10/10!

Rachel

Married on 02/26/2021

Ken catered by wedding for 300 people. The food was outstanding & people are still talking about how delicious EVERYTHING was. The oyster bar was a huge hit! Everyone really loved the crab cakes, beef, and lobster mac & cheese. They did a great job with everything and i hope i can use them again some day for a different type of event!

Colleen D.

Married on 11/14/2020

Bon Appétit

Ken is a genius. His entire team has a servant heart! From the cooks to the servers to the bartenders and especially his Day of Managers / On-Site Manager. I have worked with Helen and Nikkia -- what servant hearted women! They made me feel at ease the entire night! And then the food --- oh my gosh the food! Just go sit with Kevin in his Bay view office and peruse his menus and cast your vision to him. Or if you have no vision he will cast several for you to choose from! You. Cannot. Go. Wrong. Every single one of my guests -- the vegans, the vegetarians, the lactose free folks and gluten free folks were well fed and blessed by the food!! Additionally, Ken helped us with the plates, chairs, tablecloths and silverware and plates. It was all breathtaking! You are truly in an expert's hands with Ken and his team. Thank you to that entire staff for making my wedding in 2020 and my 2021 reception both incredible food experiences!! When the babies come -- you will be catering the baby shower!

+ 4

photos

Ken's Creative Kitchen's reply:

Dear Colleen,

So happy that you were pleased with our efforts. It was so much fun planning your wedding celebration with you. I wish you all Best, Ken

Katie F.

Married on 10/22/2020

Best Caterer and AMAZING food!

Kens Creative kitchen was hired for my wedding and rehearsal dinner. Covid-19 really put a dent into our wedding plans. We had to cancel our wedding in Cabo, Mexico and decided on a small wedding with immediate family in Annapolis MD. With just over a month to plan a second wedding, Kens Kitchen stepped in a made our wedding one we will never forget! Lauren helped make our rehearsal and reception dinner everything we could have asked for! I was unable to travel to Annapolis before the wedding but you would have never known! Lauren helped make my vision come to life! Kens staff was attentive, nice, respectful and so fun to work with! They made everything so easy! The food was also to die for! We had crab cakes and fillet migon for the reception dinner and everyone is still talking about how fantastic it was days later! We had a crab feast for the rehearsal dinner and I was completely blown away by the jumbo crabs! Overall, Kens Creative Kitchen not only had food to die for but their staff made such a great impression. My fiancé and I were unable to hire a day of coordinator because of the financial impact of our original wedding that was cancelled. Kens kitchen went out of their way and took on job responsibilities out of their scope. I can't thank them enough for everything they did to make my wedding so special. I will forever be grateful. Book Kens Kitchen! You won't regret it!

Michelle G.

Married on 09/26/2020

The One Thing Our Guests STILL Rave About

Katie and the team were incredible to work with. She was responsive and she gave us advice and direction when we needed it. The tasting blew away my family from the start, so we knew we were in good hands from the start. Our proposal included butler passed refreshments before the ceremony and at the start of cocktail hour —huge help for a large party and a small bar! They allowed us to customize desserts too, which was a nice bonus. Our guests still keep telling us how great the food and cocktails were and it's been two months!

+ 3

photos

Gabrielle M.

Married on 05/30/2020

Amazing food & service!

Ken, the food, and his wait staff were the highlight of our wedding weekend! I have some professional chefs in my family and tough critics and we were all SO IMPRESSED with our rehearsal and wedding dinners. Ken could not have been more responsive and flexible with replanning some of our events due to COVID. Use his team for your wedding!

Mara B.

Married on 08/31/2019

Best of the best!

When it comes to catering, Ken's is a no-brainer. From the moment I connected with the team about my wedding day, the rest could not have been easier. Katie was so on top of everything from the very beginning, and Kathy and Helen were literal angels the day of as my right-hand gals—true professionals in every aspect!

Now let's get to the food. ABSOLUTELY IMPECCABLE. I can't even count how many people were talking about how delicious everything was (not to mention are still talking about it!), and how flawless the service was all day and night. Catering was the easiest decision we made while planning, and Ken's took our wedding from great to spectacular. Seriously, look no further!

Lia B.

Married on 08/31/2019

Superb wedding!

Helen, Kathy,Katie and staff at Ken's are pure professionals! Guided us through every catering detail from rehearsal dinner to wedding food stations. The food was outstanding! Our "foodie" guests could not stop complimenting or eating!
Also, day of- the staff were on top of the timing of everything! Leaving the bride, family and guests carefree to enjoy each spectacular moment! Thank you for the cherished memories!

Martha

Married on 08/24/2019

Incredible food and service!

Cannot say enough wonderful things about the team (and the food!) at Ken's Creative Kitchen! Lauren was incredibly responsive in setting a menu for our tasting. When we got to the tasting, she had a beautiful table set and had made our signature cocktails for us to try. We had the best meal and knew we had to choose Ken's! She was also so helpful with working with our venue and helping us place alcohol orders for our wedding day. On the day of, Lauren and the team made sure my husband and I had champagne and plenty of hors d'oeuvres in our bridal suite so we could have a nice moment alone between the ceremony and reception. Often, the bride and the groom don't get a chance to eat during their reception but the Ken's team made sure we were able to enjoy all of their amazing food! Highly, highly recommend! I just wish we had another party to plan so we can enjoy more of their food!

Caroline

Married on 07/20/2019

Incredible Experience!

I cannot say enough positive things about our experience with Ken's Creative Kitchen! Ken's continually went above and beyond to make our wedding perfect. The food was delicious and I had many guests tell me how much they enjoyed their meals. Beyond the food though, Lauren, our catering coordinator, and the entire staff really made everything from rentals to food to timelines come together. I didn't have a wedding planner and I honestly didn't need one because Ken's services were so all inclusive. Lauren was so helpful throughout the entire wedding planning process and also so sweet to me and our families on the wedding day! Thank you to Lauren and all of Ken's staff for all of your hard work!

Jen D.

Married on 07/13/2019

Easiest wedding decision

Let catering be your easiest wedding vendor selection. Ken's Creative Kitchen is the pro team. Food was excellent. Service was fantastic. Katie is incredibly responsive and professional. She made the planning process seamless. We left the tasting with happy full bellies. On the day-of, Helen was that smiling kind face that kept checking in to make sure we had what we needed. Guests raved about the food, especially the crab cakes. I am so happy we selected Ken's for our wedding. We originally considered other vendors to "feel like we'd done our research," but, as my fiance pointed out, I was so comfortable and trusting of Katie and Ken's reputation. It was a stress-free experience (what a treasure in wedding planning!). Thank you Ken's!

Jane

Married on 06/02/2019

Words cannot describe - Ken's is simply the best

Ken's Creative Kitchen really made the difference between a good wedding and a spectacular wedding. The service their staff provides and the food that they create (from the tasting and follow-up communication all the way to the wedding day) cannot be compared to any of the other caterers we spoke to. Even our guests noticed and commented on how wonderful the caterers were. I cannot thank Ken and his team enough.

Samantha

Married on 06/01/2019

Best Caterer Ever!

The BEST food, service, and planning imaginable! Our wedding guests are still raving about Ken's from our wedding a few months ago. We can't imagine any other caterer coming close to Ken's amazing service!

Charlotte

Married on 05/11/2019

Delicious and Amazing!!

I could not more highly recommend Ken's Creative Kitchen. We had MANY people tell us they were the best wedding food they had ever had. We worked with Katie for most of the process. She was incredibly organized and provided suggestions as requested. On the day of the wedding we worked with Helen. She put me at ease. She had everything under control. I would ask a question and she not only knew the answer, but would often have checked in on whatever I was thinking about already. She was a rock star! The whole team was. It felt like we had a specific server attending to our needs. She went above and beyond to make sure we had everything we wanted. The entire night, I knew everything was flowing easily. I didn't have to worry about a thing. Do yourself a favor and hire Ken's!!

Rachel C.

Married on 04/06/2019

A-mazing from start to finish

My husband and I worked with Lauren throughout the entire wedding planning process. She is truly exceptional. Smart, personable, professional, flexible...she worked with us to create a catering menu we could afford, and staffed appropriately to execute a flawless dinner service. She is also quite knowledgeable about aspects of the wedding day outside of just catering. She acted as our coordinator on the wedding day as well, perfection! She greeted us with drinks and appetizers the moment our ceremony ended, and was always one step ahead in ensuring every aspect of the reception unfolded perfectly. She is a gem!
Are you interested?
Send a message