132 Reviews
Recommended by 99% of couples
Quality of service

4.9 out of 5 rating

Average response time

4.9 out of 5 rating

Professionalism

4.9 out of 5 rating

Value

4.9 out of 5 rating

Flexibility

4.9 out of 5 rating
91 User photos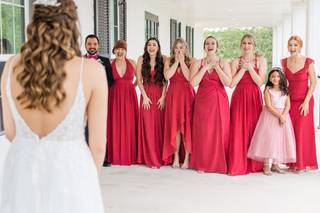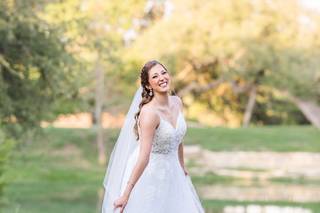 + 87

photos
Jimmi N.

Married on 10/07/2022

The BEST venue for my fairytale wedding

I cannot say enough amazing things about Kendall Point. Kristin, the owner, was deemed my fairy godmother of my fairytale wedding because she truly was instrumental in making my magical day what it was. From our first tour she helped make our STUNNING venue truly the best choice for us. She is one of the top, if not the top, expert in weddings in SA and her advice was unparalleled. Her recommendations in vendors was so helpful and her and her team worked so hard to make every detail we wanted come to fruition. She also cares about her brides and their experience. She was amazing at answering my many questions and checking in to make sure wedding planning was going okay and was there to help when needed. She even brought her family to see me perform as Cinderella at the Woodlawn Theatre!

This venue has literally thought of EVERYTHING and has so many features that naturally help curate these magical moments on your day and make it go sooo smooth! The staircases, greenery, pond, and scenery is something out of a fairytale. Our guests still to this day, rave about how beautiful our venue was and how it was the best wedding they have been to.

This team is professional, straightforward, genuine, kind, experts, and share in the excitement for your day and make your wedding wishes come true. I could not have asked for a better team or more beautiful venue. If you want a smooth sailing, perfect, GORGEOUS venue, you have to go with Kendall Point!

+ 14

photos

Haley M.

Married on 08/20/2022

Brides look no further!

We could not have picked a better venue than Kendall Point to celebrate our special day! They were helpful at every step of the planning process and made our day so easy! I highly recommend Kristin and her gorgeous venue, you will not regret getting married here!

Aimee

Married on 05/23/2022

Kendall Plantation was one of the first venues my fiance & I looked at online together & after seeing the pictures we labeled it as the "dream wedding" spot but didn't even consider calling to set up a tour because we thought it would be way out of our budget. All of the other vendors we had gone to were literally nickle & diming us down to the utensil. Hopeless, I thought it couldn't hurt to call KP & just get a price quote. I was immediately connected with Kristin, one of the owners, and she provided me with all the information I needed. We knew almost immediately after stepping onto the property that this was going to be our wedding site because of how spectacular the place looks! But what REALLY sealed the deal for us was getting to talk with the owners. My fiance & I walked out feeling so at peace about our choice because we could feel how geniune they are about what they do. They were so helpful & encouraging throughout the entire wedding process. They are VERY experienced with weddings & had such awesome advice, to keep us in our budget but still get everything we wanted. Kendall Plantation is very upfront about any & all fees associated with your day (which wasn't much at all!) & it came out to EXACTLY what we were quoted. They catered to every single one of our needs. If there is any type of advice I can give to brides who are looking for a venue...You can find many venues that may be beautiful - but if the people managing it aren't geniunely there to make your day special & love what they do - MOVE ON. It's not ever worth putting such a special day in the hands of someone who isn't going to understand the value of it. We got so much more at Kendall Plantation. Great location, breathtaking venue, great service & support. We are so thankful to the Lord to have found this venue!


Are you interested?

Send a message

Andrea

Married on 04/16/2022

Gorgeous venue

From the moment I laid eyes on this venue I knew I had to have it! Gorgeous inside and out, the steps allow for a grand entrance into ceremony site and reception site! I just love this venue, the setup is very accommodating for what I had wanted.

Brandi R.

Married on 07/25/2021

Beautiful and professional

We got married on Sunday, July 25, 2021!
I decided to have an all indoor wedding due to this Texas summer heat! As gorgeous as the property is, we just had the bridal party walk down the grand stairs, and then my husband and I stopped at the bottom, and were married three steps down…the aisle was created with chairs. It was beautiful and simple! As soon as the ceremony was over, all guest cleared the inside to go grab drinks and prepare for the reception- so the chairs were moved immediately while we took a few photos outside. We came back in and had tables set up for dinner and a huge wide open floor to dance on! It was a small wedding but so perfect. I love Kristin and she was always responsive with answers, ideas, & solutions! She's super sweet and I'm thankful for her reaching out to me. Our photos came out SO BEAUTIFUL! This proposal just a dreamy, hill country TEXAS venue. It was everything that I hoped it would be. Thank you Kristin for everything, much love ❤️

The Nichols

+ 17

photos

Nina A.

Married on 10/18/2020

Kendall Point is Amazing

I don't even know where to begin when talking about how great Kendall Point is as a venue! Not only is this venue wonderful, but Kristin and her team made our day one that we will cherish forever! Booking a wedding date before the pandemic started and then having to plan during a pandemic not really knowing what was going to happen was extremely stressful! However, Kristin took away away all that stress with her professionalism, kindness, and flexibility. They took every precaution to make our guests feel safe! Just a small example of how great the venue and Kristin is: After our ceremony we were going to take photos and my feet were hurting so I took off my heels, however I was apprehensive about walking in the grass barefoot. With no hesitation Kristin kicked off her shoes and let me wear them as we took our scenic photos (which was a good 20-30 minutes)! If you are looking for a venue where you want to feel warmth, kindness, and love this is the place for you! We love Kendall!!

Kendall Point's reply:

Oh Sweet Nina!!! I love you guys and your sweet family. You guys know how to have a party! I will lend you my shoes anytime!!

Maria H.

Married on 09/12/2020

Amazing venue!

Not only is the venue incredibly beautiful, but Kristin was extremely helpful in deciding what was important to worry about and what wasn't. She has a great list of well-proven vendors as well. The backup plan for rain relieved a lot of stress. It was a wonderful experience and an amazing wedding. You can't ask for a better backdrop for wedding photos! -Mother of the Bride

Kendall Point's reply:

Thank you to the best MOB (mother of the bride) ever! This means so much to us! It was a wonderful day- and you guys get 5 stars for being the best clients ever! Welcome to the KP family !

Lydia G.

Married on 08/21/2020

Fantastic Venue

My wedding was originally planned for March 20th - but then the COVID shut down happened just FOUR days prior. Everything was in place; all the details were done and vendors were payed. But as any 2020 bride knows, we didn't get a choice and there was nothing we could do.
Thankfully, I was a Kendall bride which means you get Kristin on your side. She was so compassionate through those heartbreaking days. She immediately helped me pick a new date in August, while brides with other venues were being told they were just out of luck and would have to pay everything again if they wanted a new date. We still got married in a tiny ceremony in my parents backyard, and I was very skeptical that my second "wedding" would feel like what I'd always dreamed of. Thankfully I was completely wrong! You can see for yourself the incredible beauty of the venue. The staircases are truly magnificent and the bridal suite is one of my favorite places of all time. But the thing that made the difference to me was how supportive Kristin was in the midst of the storm, and how she really cared about what I was going through. I knew she was on my side through it all and was working as hard as anyone could to make sure my day happened as I'd envisioned it. I could text her with questions or concerns and she was always so quick to answer them. When our DJ discovered a conflict at the last minute and was going to send us a substitute, she was on top of it and figured out a solution to where everything went as planned. Setting up and tearing down are so easy here with the amazing team that they have in place. I can't imagine having had my wedding anywhere else - the day was absolutely perfect!

Jessica H.

Married on 07/25/2020

Wonderful venue!

Kristin was amazing throughout our entire planning process! She was always professional, patient and accommodating. Not to mention, Kendall Point is an absolutely gorgeous venue! I would highly recommend KP to any bride to be looking for a venue with beautiful Texas Hill Country views.

Erika P.

Married on 02/08/2020

Best decision!!

My fiancé and I had visited 9 different venues, but when we saw Kendall Plantation we knew that was the place we wanted to get married! It is absolutely gorgeous and truly something from a movie. It checked off all my boxes for what I was looking for. Beyond that, we met with Kristin and she was wonderful. So professional and just a over all great person! My fiancé and I live about 3hrs away from the venue, but Kristin made it so easy for us. With vendor recommendations at our finger tips that she provides to quickly responding to my emails....she really made it easy to feel prepared for the big day! We are so grateful to her and everyone that made our day special. To every bride out there....if you are looking for your dream, fairytale venue....Kendall Plantation is IT!! :)

Craig P.

Married on 01/11/2020

Kendall Plantation

Kendall plantation is absolutely and without question a phenomenal venue. Our day was perfect and there were so many options for my wife and I. Lots of things included with what we paid and couldn't asked for a better venue.

Kendall Point's reply:

Thank you Craig! 5 Stars for you and Mary Ann too! What a wonderful day your wedding was ! Thank you for trusting Kendall Plantation! - Kristin

Renee

Married on 12/19/2019

THE Venue of our Dreams

We instantly fell in love the first time we saw the Kendall Plantation in pictures online. We lived out of town but when we saw it in person, we KNEW it was the place we would get married. Everything about the venue is perfect.... from the beautiful staircases, the gazebo with the lake, and the amazing wrap around porch of the plantation home...it's breathtaking. Even though we lived out of town, it was well worth the traveling. You cannot find a venue like the Kendall unless you venture out into the hill country of Boerne, Texas. The venue Manager Kristen made it easy to create our dream wedding with great communication and a list of preferred vendors. We LOVE KP and it will always hold a special place in our hearts!

Kendall Point's reply:

Thank you so much Renee! This means so much to us, and we can't thank you enough for trusting Kendall Plantation for your special day! Congratulations!

Ericavongruenigen

Married on 11/09/2019

Dream venue!!!

I can't say enough about this venue! The venue itself is absolutely stunning. We received so many compliments about how perfect of a venue we chose. As for Kristin, I can't say enough wonderful things about her either! She has great communication skills, is very professional, runs a great place, and is very kind! I will recommend this venue to anyone who wants to get married in the Hill Country. Thank you, Kristin & Kendall Plantation for helping us with our dream wedding!!!

+ 2

photos

Bonnie D.

Married on 11/02/2019

Perfection

The Kendall plantation was absolutely stunning and was my dream venue! Kristin was amazing to work with and was so helpful throughout the entire process. I would highly recommend all brides to have their wedding here!

Kendall Point's reply:

Thank you so much Bonnie! I enjoyed working with your wonderful family on creating the perfect wedding day !

Brandon F.

Married on 09/30/2019

Can't go wrong with this venue!

My Wife and I got married at Kendall Plantations on 9/30/19 this was the first venue we looked at when we were looking for venues. As soon as we took a tour of the venue we fell in love. The day of the wedding went by so quick but everything with the staff was amazing! Definitely we would highly recommend Kendall Plantations for anyone looking to get married at.

Ashley S.

Married on 09/21/2019

The perfect venue.

STOP WHAT YOU'RE DOING AND BOOK YOUR WEDDING AT KENDALL PLANTATION. I cannot rant and rave enough about how perfect this venue is. Kristin goes above and beyond to make sure your fairytale wedding comes true not to mention even throwing rose petals so your photographer/videographer gets that perfect shot!

I probably toured at least 10 venues and kept comparing all of them to Kendall plantation, that's when I knew it was the one. Everything is completely customizable and for the lost bride, her list of preferred vendors is SUPURB🙌🏼 It's just enough "hill country" yet close enough to civilization for your guests.
The venue truly speaks for itself. 15/10 would recommend this venue to anyone and everyone.

Shannon

Married on 05/11/2019

Perfect Venue

I could not have imagined a better place to get married. This was the very first venue I looked at and just simply fell in love with it right away! Kristen is amazing and answered any and all questions we came up for her. What was fantastic is she has an amazing list of vendors that will make your wedding what you want, that vary in price range. This venue easily held my 187 person wedding and was absolutely gorgeous! Could not have asked for anything better!

Emily

Married on 03/16/2019

The perfect day!

We were prepared for a million things to go wrong on our big day, but that was not the case! Our day at Kendall Plantation was a dream! Everything went so smoothly with the help of all of our amazing vendors. Kendall Plantation is absolutely breathtaking so having our wedding there was a "no-brainer!" It accommodated our 300+ guests comfortably & ALL of our guests raved about how beautiful our wedding was! Kendall Plantation is the "picture perfect" place for the dream wedding you want!

B059F4Fbd7Ac651Daed095144C272A51095F8B41

Married on 02/16/2019

Classic, Elegant and Timeless

We are so incredibly happy that we chose to get married at Kendall Plantation!! The venue was absolutely PERFECT--it is classic, elegant and absolutely timeless. I cannot even count how many compliments we received from our guests regarding the venue! Kristin and her family truly go above and beyond for their couples--she made our special day absolutely perfect and stress-free! Book Kendall Plantation now!! Their weekends fill up super fast!

+ 12

photos

Ashton L.

Married on 02/08/2019

This venue surpassed our expectations!

Kendall Plantation is the perfect venue for anyone! It's timeless and matches any "theme" out there. Kristin and her team were always professional and willing to help! Book Kendall now and wait no more.

Abby B.

Married on 02/02/2019

Everything I could have asked for

Having my wedding at the Kendall plantation was the greatest decision I could have made. Not only was it an amazingly beautiful venue, it also had connections which led me to my planner and photographer. Kristin made sure every step was taken care of without me having to worry about it. Would highly recommend!!

As soon as my fiance' and I walked into this venue we knew that this was the place we had to have our wedding. It's so elegant and romantic! Everything I've always wanted in a place! I love the beauty and charm of the venue! The location is perfect for guests to get to, and once they pull into the road and see the venue, they will be speechless just as we were. I appreciate that they do offer a golf cart to the ceremony venue for any guests that cannot go down the stairs, and that all tables/chairs are included in the rental price. I also love that there is a bridal and grooms suite to use to get dressed in, and we can get there early! I swear I could go on and on about the Kendall, but I trust me, just go out there and you'll understand! Cannot wait for our big day there!

Hayley M.

Married on 10/27/2018

Could Not Have Asked For A Better Venue!

Guests loved the outdoor ceremony space, as well as their ability to flow inside and outside of the reception area for the entire evening. We also loved having the venue entirely to ourselves for the entire day. Not to mention, it's beautiful!

Casey

Married on 10/20/2018

Great venue

Kristin was great to work with and really helped us to get everything we wanted for our big day! So glad we went with KP for our wedding!!

Kendall Point's reply:

Thank you Casey!
You chose all the right vendors for your wedding, it was perfect! Thank you for your time to write a review :)

Alexis

Married on 10/20/2018

You can stop looking now, this is your VENUE!

Can you say PERFECT?! I have nothing but positive things to say about Kendall Plantation as a venue itself, but the wonderful venue owner, Kristin is a whole other story!
Besides KP's obvious beauty and elegance, the flawless transition between indoors and outdoors is just perfect. Whether you're looking for a indoor venue or outdoor venue, KP has you covered. You can truly make this venue your own. The interior is as beautiful in person as it is in pictures, TRUST ME! Nothing about the interior or exterior is overpowering, making this venue a blank slate. It's very apparent that this venue is well kept with love and that is probably one of the most attracting things about it. The grounds are nothing but perfect, groomed with love and precision. I feel as though KP's grounds yield some of the most unique and beautiful photo opportunities that you won't find anywhere else. Just WOW!
I happened to stumble upon KP while out searching for another venue in the area with my sister in law. We passed the KP sign off the main road and thought "might as well check this one out since we're here" as I had seen it online prior. Upon our approach to the KP driveway, I got that feeling every bride waits for, but never thinks will happen to them. "THIS IS IT!". If its regal elegance wasn't enough to attract me, the venue owner, Kristin was for sure the cherry on top and the deciding factor for us. Kristin is nothing short of fabulous. She is professional, fun, incredibly personable and genuine, but most of all she is REAL. Kristin was so understanding and flexible with all of our requests, I don't believe we would have found someone willing to work with us anywhere else. I say that with all seriousness.
Weddings anymore today are a business and you're fooling yourselves if you think they aren't. As newlyweds, it's easy to get caught up in all the excitement and not see through the false compassion that so many vendors try to show. As a bride, we tend to forget that we are walking dollar signs to so many vendors, and most of them only care about that signed check. Kristin is THE exception. She is one of the most genuine people I've met and from day one I felt as though she was as invested in my wedding as I was. She didn't make my day feel like a business deal, but rather a special day for her as well! This was everything to me and ultimately the main reason why we choose to go with KP. I can honestly say that having her as the venue owner and being able to work with her was more important than what the venue looked like.
Lastly, I will also say that KP's preferred vendor list is on point, and instead of taking on the daunting task of sourcing all of my vendors myself, I used her list with confidence and was incredibly happy with all of my vendors. If you end up picking KP as a venue, I highly recommend picking off her list, as Kristin has a good reputation with all of the vendors and in turn the vendors all have a good reputation with Kristin.
I'll conclude with saying, thank you so much for being a huge part of our day, I will always have a special place in my heart for KP for years to come. I wish you continued success, KP!

Kendall Point's reply:

I do not think there could be a more perfect wedding, family, and crowd at KP. Your wedding was spectacular in every way! We are truly honored to have been a part of your day Alexis! Forever a part of the KP Family!
Are you interested?
Send a message