35 Reviews
Recommended by 99% of couples
Quality of service

5 out of 5 rating

Average response time

5 out of 5 rating

Professionalism

5 out of 5 rating

Value

4.9 out of 5 rating

Flexibility

5 out of 5 rating
9 User photos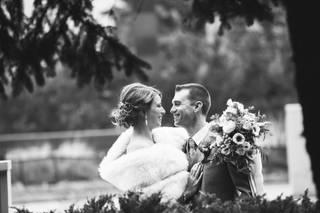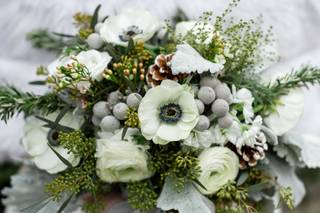 + 5

photos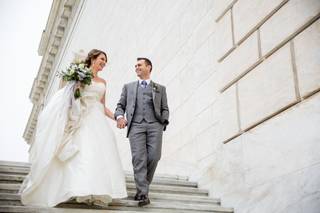 Samantha L.

Married on 08/14/2021

Absolutely amazing

Where do I even begin with other than AMAZING. We worked with Kellie for our engagement photos in 2019 and it was incredible from the start. Kellie is super responsive to emails and questions and very professional. She made us feel like naturals in front of the camera and kept us laughing the whole time. Unfortunately due to COVID we had to postpone our wedding to August 2021 but the photos were worth the wait! Kellie was super flexible with making sure we were still able to have them for our wedding photography this year. We just got our photos back and WOW. We are speechless with how incredible the photos were. Kellie and Jen worked with us on our wedding day and made the flow of the day so easy and they were so helpful. They even calmed me down a few times when we had minor problems with other things. They truly make you feel like family!!! We are so grateful for the incredible experience. We would highly recommend them for your photos!

Lindsay

Married on 09/14/2019

Kelli is great! She quickly put me at ease about one of the biggest wedding planning decisions we've had to make to date. Kelli's been in business for 13 years and really knows the metro-Detroit wedding. Not only was she able to offer tips on photography, but she was able to steer us in the right direction for hotels, restaurants etc. We can't wait to shoot with her!

Erica

Married on 02/22/2019

We had Jen and Aaron for the day and we LOVED, LOVED, LOVED these two! Jen is seriously my twin and when I'm back in Michigan or if she's in Nashville, we're grabbing a drink together – we had SO much fun with these two! You spend A LOT of time with your photographer(s), so even though how much you like them doesn't always come as one of your top items on your checklists, it should be! Jen and Aaron not only helped capture moments from what will be one of the best days of our lives, but we had a blast doing it! Tons of laughs, smiles and fun!

We had an intimate wedding of 46 people so we only needed them for a short time of 5 hours, but we managed to go to so many locations and snag all the photos we needed and wanted! We've only seen the sneak peeks but are supposed to get the full gallery this month and we know based off of what we've seen so far that they'll be wonderful!

Family portraits – the things you have to do but no one likes doing them. They were the dream team! Aaron shot the photos while Jen got us all in place and helped grab the kiddo's attention by making them laugh and smile! We sped through those with ease!

I truly was so sad when they had to leave since we had TRULY, the best day ever with them. The day flies by and hubby and I were so glad we were lucky enough to spend it with Jen and Aaron!

You're in great hands!


+ 2

photos

Are you interested?

Send a message

Janiris

Married on 08/24/2018

Kellie is thee BEST photographer out there! Even our wedding guest had nice things to say about her! She is just so much fun to work with, so funny and professional. And she made us feel comfortable taking pictures which to us, was the most important thing. Our pictures are absolutely beautiful and we are so grateful to kellie and her team for all the hard work. We 100% recommend Kellie!

Monica

Married on 05/20/2017

Kellie was absolutely amazing to work with! From our very first time meeting with her over Skype, to our engagement photos, to creating a timeline for the wedding and the actual wedding itself, she was great at communicating, figuring out what we were looking for, and most importantly, having fun! She's so energetic and easy to work with that we never felt uncomfortable in front of the camera, even though neither of us had professional pictures done before. She's also great at taking control during the posed portraits at the wedding to assure that the bride and groom get the photos they want, and was able to politely keep camera happy relatives from getting in the way! Our pictures turned out absolutely gorgeous and we cannot wait to hang them in our home. Every time we look at them, we love them even more! Overall, Kellie is a fun and fantastic professional to work with who will provide you with wonderful photos that you will love for years to come! I recommend her to any couple looking for a photographer who will not only capture their day, but help assure that it is truly special as well!

Erin

Married on 07/16/2016

What can I say, Kellie was everything we were looking for in a photographer and more! First of all, she is immensely talented and professional. She takes her work seriously and puts forth the effort to get you the most beautiful and exquisite photographs you can imagine! She is also incredibly hilarious and fun, and I can't emphasize this enough-you need this on your wedding day! We worked with her for our engagement shoot months beforehand in December-which was seriously THE WORST weather Detroit could offer-and we still had a blast and got gorgeous photos! She was enthusiastic and made it happen since it was our only possible chance. Our wedding was just this past weekend, so I haven't seen the photos yet but I know they will be amazing. I couldn't have been happier with the experience. She moved through our portraits at the church with poise and organization-there was no yelling or barking orders or people running around. Our family all commented that it was by far the easiest and nicest photo session ever. She was creative and open to ideas including following us to our house after to take photos with our dog! I cannot wait to see those! Overall, I would highly, highly recommend Kellie, she will not disappoint!

Rebecca

Married on 05/07/2016

Hiring Kellie was the best decision we could have made! She made taking a ton of pictures fun and captured all the perfect moments! My family raved about how awesome Kellie and her assistant was and how great of a job she did! She thought of every detail! She was professional but made it fun which made it even better! Thanks Kellie for everything!

Katie

Married on 10/17/2015

There are not words to describe how awesome our pictures turned out! We look like we should be on postcard! I had a destination wedding 3 1/2 hours away and Kellie made the trip (even though she was sick) and did an amazing job! The whole reason we went up north was for the fall colors (we got married in the middle of Oct during the peak color time) but the night before my wedding, it was a blizzard outside. I was pretty devastated because I really wanted outdoor pictures with all of the vibrant fall colors, but with the heavy snow flakes falling, it wasn't looking good to me. Kellie completely eased my fears! She kept reassuring me that no matter what the weather was, we were going outside and would get awesome pictures. And holy moley did we ever! The night before the wedding she sat with me and showed me some of her work from other weddings that had snow or rain and all of the pictures were gorgeous. I don't think she even knew, but she really helped me sleep that night! Even though I woke up to 3 inches of snow the morning of my wedding, because of the talk we had, I knew that she was still going to be able to capture all of the wonderful and amazing moments throughout the day. The weather that day was bizarre! By the time we married, the snow had melted and the sun came out, but it didn't stay out. As we were taking pictures, a snow squall came through, so not only did Kellie capture us in sun with the vibrant colors, she also took pictures of us with snow falling all around as well. Kellie is super creative and talented. I have received so many compliments on my pictures! People keep asking how I will choose which ones to use for my photo album because they are all so gorgeous. What I love most is that they aren't your typical wedding photos. They have more flare to them! She captured not only the surroundings, but our true emotions throughout the day. I can't thank her enough for giving me such a wonderful lasting memory! Do yourself a favor and book her now!

Brittney

Married on 10/09/2015

Kellie was the best decision we made when it came to our wedding! She was so much more than a photographer. She offered tips and tricks and even helped us set up a timeline for the whole day so that everything ran smoothly. I highly recommend her to anyone!

Amanda

Married on 10/03/2015

Kellie was greatttttt to work with!! She's so fun, but professional at the same time! Her work is impeccable!

Lauren

Married on 09/11/2015

Kellie is amazing. She is genuine, professional, extremely talented and honest. Her prices are cheap compared to her talent. She should be charging way more in my opinion! She genuinely cares about her clients and does not rip them off like some photographers! There are no hidden fees or small print or tricks she gives you exactly what you are asking for. I have gotten so many compliments on my engagement and wedding photos. She is seriously an amazing photographer and wonderful person

Meg

Married on 05/09/2015

From the moment I first spoke to Kellie on the phone, I knew she was the photographer for me. She was fun, friendly, extremely energetic, and most importantly -- she 'got it' - she saw my vision and was onboard right out of the gate. Weddings are stressful and expensive and the last thing you need is a vendor who makes you feel uneasy or like you're bothering them - and Kellie NEVER made me feel anything but welcome and reassured which I SO appreciated. Kellie is so professional -- I never had to worry about a thing. On the day of the wedding, she was not only my photographer, but an awesome addition to the day's festivities. She was funny, easy-going and made my entire wedding party and family feel comfortable. I worked with a wedding planner and she worked with her seamlessly. Her assistant was awesome as well. My husband lost collar magnets he brought and her assistant was calling around to stores in the area to try and help find what he needed - so appreciated! Ok, all that and we haven't even talked about the PHOTOS! I wanted candid moments captured more than I cared about formal shots and she delivered on both. I actually love my formal family shots more than I thought I would and my candid captures are so great. She really made my vision come to light. She caught all the awesome laughs, cries, glances, hugs, funny dance moves, and every special detail. I can't say enough good things about Kellie - if she is free on your wedding date, snatch her up! Seriously - photography is one place where you need the best and Kellie is the best. Love her! Thank you Kellie!!

Alisha

Married on 04/25/2015

Kellie was absolutely AMAZING and our photos are INCREDIBLE!! We are so, so happy with not only our photos but our experience with Kellie. She has a great personality, was flexible, prepared, and a great listener. Kellie made sure to talk to us about what formal pictures we wanted so that nothing was missed. I didn't have a list of other photos I wanted, I trusted Kellie and was not disappointed. Every moment was captured perfectly! Also, I'm (the bride) not always comfortable in front of the camera or don't always know what to do, and Kellie helped me relax and got some raw emotion captured on our wedding day. Our pictures take us back and help us re-live the day, which is exactly what your wedding photos should do. Kellie also brought along a very talented and professional second shooter and appears to be very connected in the industry, so you should not be worried about this at all. We really can't put into words just how happy we are, we made the best decision by hiring Kellie. I should also note that my mom is a photographer and was blown away by the pictures and is so happy. All of our family and friends loved them. Thank you SO much for the beautiful pictures that we will enjoy the rest of our lives :)

Shannon

Married on 12/27/2014

Kellie was, without a doubt, the best decision we made for our wedding. I can't express how much of an asset she was during the entire process. As a person, she is funny, kind, complimentary and showed the utmost professionalism. She was always accessible and made time for us. Living out of state, she helped us with other vendors and through her suggestions, we found our officiant and our DJ (who were both outstanding!) She prepared a great document to be completed so the day of was streamlined and organized. She took our wedding day photos as well as our engagement photos. Although we haven't seen the final product for our wedding day, the engagement pictures were AWESOME. Everything looks so good and she made us look like models! So many of her positioning suggestions were so crucial in making us look our best. She gave perfect guidance to ensure we had great pictures. I would highly recommend doing an engagement shoot so you can practice having your picture taken by a pro. It made us much more comfortable on our wedding day having rehearsed with Kellie previously. For our wedding day, she came prepared with great shooting locations downtown. Even though it was pretty cold, she kept us laughing and made it work for us. She had two different second shooters, Rebecca and Shannon, with whom working was great. I can't put into words how much fun we had working with Kellie and how pleased we are with her entire service. Again, booking Kellie was our BEST decision for our wedding!

Sarah

Married on 10/18/2014

Kellie is an amazing person who truly loves her job. She took our engagement pictures first, and then our wedding photos too. She was super speedy with both email and phone correspondence- two key factors for busy people.

The day of our wedding went SO smoothly, as Kellie and I made a timeline together and my husband and I were able to get ALL our family photos in. Kellie even got my MIL to smile in photos which is no easy task.

I get nervous both being the center of attention and turn red and white. We were so comfortable after the engagement session- that I had NO issues the day of our wedding at all. If you are unsure, I highly recommend taking engagement pictures first. They are well worth the money- and when else can you rationalize having so many pictures of just the two of you?

To say Kellie is amazing doesn't even cover it. She is skilled with lighting, and always knows the best angles. When working with her you feel as if she's your new best friend. Kellie is always honest, helpful and truly cares about a her clients. We had a small issue where our check got lost in the mail. Kellie went out of her way to make sure WE didn't stress out about it. Who does that? I am SO happy we chose Kellie, she is absolutely the BEST!!!!



Jessica

Married on 10/11/2014

I am so so happy with our choice to have Kellie as our photographer! We haven't seen our wedding photos yet as it was just this past weekend but we had our engagement session with her and we were just so pleased with her service on the day of the wedding! Kellie is just such a fun person I knew I would love to have her around all day on our wedding and she is incredibly talented! She knows exactly how to pose people and use lighting to get incredible images and she has the funniest tricks to get people loosened up and laughing for awesome pictures. She worked with our rather tight timeline but did so without making us feel rushed-I just know we are going to have some amazing pictures to see soon! I would highly recommend her to anyone and I am so happy with our choice! Thank you so much Kellie!!

Kellie was a pleasure to work with for our wedding this past weekend. She was very prompt and in great spirits! I had so many people compliment how personable and nice she was to everyone! She handled our crazy family/wedding party with ease :)
She had amazing picture ideas on the fly- and made everyone feel super comfortable.
Our dinner service went a little long, and Kellie stayed longer than she needed to to get some amazing pictures. I am so appreciative, she really went above and beyond :)


Abby

Married on 10/05/2013

I saw some family photos Kellie did of a friend of mines and knew instantly she would be my photographer. We booked Kellie at least 1.5 years out and I am soo glad we did. She is amazing to work with! She is quick to respond to emails, willing to work with you and genuinely cares about making you happy. Kellie did both our engagement photos and our wedding photos. Our engagement photos were amazing and I have not seen all the wedding photos yet but from the few I have seen she outdid herself.
The day of Kellie and her assistant Cara arrived on time and went above and beyond to make our day special! If we wanted a photo Kellie made sure it happened. Her attention to detail and creativity is amazing. She is an awesome person and I would recommend her to anyone looking for a wedding photographer!! You will NOT be disappointed!!

Jessica

Married on 09/07/2013

I cannot say enough great things about Kellie Saunders. She is so down to earth, professional and takes stunning photographs. My fiance and I could not have imagined anyone else to be there to document our special day. I would highly recommend Kellie to anyone searching for a photographer on their special day.

Emily

Married on 06/22/2012

There is no doubt in my mind that Kellie was the right photographer for our wedding. From coming out to Ann Arbor for an incredible engagement session, to being patient with my large and slightly rambunctious bridal party, Kellie was helpful, professional, and fun. She worked with us to make sure we got what we wanted while staying within our budget. I am really happy with the literally hundreds of images from my wedding, and can't wait to get some prints up around my house! Thanks Kellie!

I cannot say enough positive things about Kellie. I talked to about 4-5 photographers during my planning, all of which had great work and would have been great to work with; however, I had the feeling that I should wait to meet with Kellie before making a fiinal decision. Photography was very important to me, so I new that both I and my now husband needed to be comfortable with whom we chose and it was the right decision! Since you will spend almost your entire wedding day with your photographer, it is important to feel at ease. Kellie has a very professional but easy-going demeanor and in the end becomes a friend. Although a very busy photographer, she makes you feel like your event is the only one on the calendar. We had an engagement session about 7 months before the wedding which allowed us to get to know Kellie and Kellie to get to know us. And we had a blast! I didn't worry much about any of my vendors, but I had absolutely no worries about the photography. Now that my photos are coming through from our wedding last month, it is pretty clear why. I've recommended her to friends and I look forward to having another reason (boudoir, baby, or children) to work with Kellie again in the future! -G

Lindsey

Married on 11/11/2011

Kellie is an amazing photographer. She is very professional and personable. From the moment I met her I felt very comfortable with her and liked the work she did. I used her for our engagement and wedding photos. Her prices are very affordable for the service she provides. I have and will recommend her to anyone I know that is getting married or needs photos taken.

We love Kellie!! She has been so easy to work with and so excited from the first night we met with her. Kellie makes you feel as ease and she has such a creative eye. Having Kellie be apart of this entire experience made it so much better. She will be our go-to photographer for everything. She is great in so many ways!!!

Kellie Saunders Photography's reply:

Thank you so much Crystal!!!! I had absolutely the most fun working with you and Patrick. You both are so easy going, kind and just plain fantastic. You were a photographers DREAM!! And hands DOWN - you had the most original themed wedding I've ever shot and the most FUN unique wedding cake!!! And of course - the best bridal party ever. ;-)

Alyssa

Married on 09/23/2011

Kellie was great to work with. From the moment I met her, I knew that she was the one I wanted to capture our day. She made me (someone who is not very comfortable in front of a lens) feel very comfortable in front of the camera. Also, whenever we had any questions or concerns in the months before the wedding, she was quick to respond by e-mail or phone.


On the wedding day, she helped me feel at ease. She even helped my Mom and bridesmaids with my corset! Our wedding images turned out beautiful, and I would definitely recommend her to other brides.


P.S. She also does great boudoir work!

Kellie Saunders Photography's reply:

Alyssa - your wedding was one of my most favorite this year for so many reasons. You and Kris were so wonderful to work. I hope we are friends for years to come and wish you both a life of love and happiness!!!!

Laura

Married on 06/18/2011

Absolutely perfect!!!! And I am not just saying that. While planning my wedding, the most important detail to me was my photography. I am a graphic designer, and I wanted someone with that also had a creative eye to give me photos I would cherish forever. I have had so many friends who just find cheap photographers and then regret the photos later. I did not want that... and did not get that! Kellie's photography was vibrant, colorful, and fun and she really captured our personalities.

Her photos speak for themselves, but Kellie herself was awesome to work with! Her personality is so fun, but she means business! She was so helpful in our wonderful but stressful day. We had a few issues with the venue, but she worked around them great. She was also awesome with my two-year old niece flower girl and got great photos of her while making her laugh.

I am so happy to have stumbled upon her, and I have to tell future brides, you will NOT regret hiring her!!!


Kellie Saunders Photography's reply:

Thanks so much Laura!!! Your wedding was just as beautiful as you and your family are. I wish you and Jordan the best in years to come!!!
Are you interested?
Send a message