15 Reviews
Recommended by 100% of couples
Quality of service

5 out of 5 rating

Average response time

4.9 out of 5 rating

Professionalism

5 out of 5 rating

Value

5 out of 5 rating

Flexibility

5 out of 5 rating
3 User photos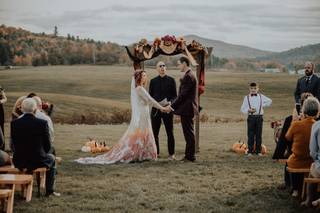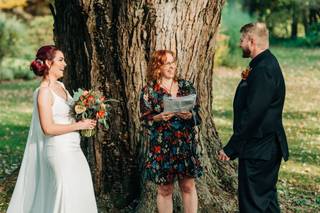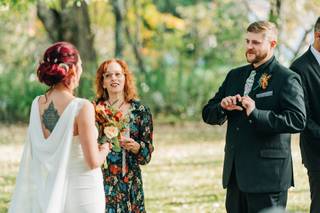 Kristina T.

Married on 10/09/2021

the mostt beautiful custom ceremony

They wrote us a custom ceremony that was so perfect! and delivered it beautifully on my big day. Definitely reccommend to anyone!

Vermont Wedding Officiant's reply:

It was a joy to work with you both! You had such clear ideas about what you wanted, but were still open to creative input. Thanks so much!

Featured

Elise

Married on 10/12/2019

Perfect Officiant!

Kathryn was just a pleasure! She has such an incredible air about here. She is kind a quirky and full of life! There was no better match in our eyes for our wedding officiant. We had an incredible ceremony and people were really impressed with it. I was asked on multiple occasions how I found Kathryn and told what a wonderful job she did. She was able to touch on emotions and keep things light-hearted and beautifully flowing. We chose a reading to include and wrote our own vows. Kathryn made a little book of our ceremony reading in it for us to keep which I thought was such a nice touch!

Heather

Married on 12/15/2017

We are so happy we chose Kathryn to be our officiant. We are both non-religious and wanted our wedding ceremony to be beautiful without being religious, which can be hard to find. We chose Kathryn's pre-written ceremony which we loved so much we didn't decide to do anything customized. It was beautiful and short which we needed as our ceremony was outside in December. Many of our guests commented on how moving her words were and how wonderfully she delivered them. She has a very warm presence, and Patrick was grateful for her company to help calm his nerves as he waited at the alter when there was a bit of a delay getting things started. She also gave us a nicely printed personalized copy of the ceremony to keep, which we absolutely love. We couldn't be happier we chose Kathryn to officiate our wedding.

Are you interested?

Send a message

Karen

Married on 07/22/2016

Kathyrn's ceremony was perfect, exactly what we were looking for. We had only one skype conversation with Kathryn before meeting in person the first time on the big day, but all of our guests felt sure we must've been longtime friends. She was easy to talk to and work with and delivered a very moving ceremony. My dad even threw in an off-script curveball and she responded perfectly and with good humor! She is a true professional!

Emily

Married on 10/31/2015

We loved working with Kathryn! From our initial Skype session, we knew that Kathryn was going to be a wonderful officiant for our ceremony. We really appreciated her style: a great mix of warmth, humor, and reverence. We absolutely loved the ceremony she drafted for us. We didn't have too many specifications of what we wanted, and she put together a short ceremony with beautiful sentiments and readings, working off of a short questionnaire that we completed. Many of our family members said to us afterward that we had one of the most beautiful ceremonies that they'd experienced: sweet, poignant, and personal. It really was lovely and just what we were looking for. Highly recommended!

Dana

Married on 10/10/2015

Kathryn officiated our wedding and we are SO happy that we worked with her as it could not have been more perfect. We had a very small wedding with only 25 guests and wanted it to be fairly low key - we rented a big farm house and just wanted to have a great time with our family and closest friends. With everything else being more low key/non-traditional I wanted the ceremony to be even more special and meaningful and Kathryn really made it unforgettable.

As requested Kathryn sent me the draft of the ceremony the week before the wedding so that I could translate it for my parents (they came from Germany). I couldn't even read through it without tearing up - it was so perfect, personalized, touching, unique. So much more than what I ever could have imagined.

On our wedding day Kathryn arrived early and led through the ceremony in the most engaging and capturing way. There was no guest who wasn't touched by her words, I cried and even the groom had tears in his eyes :) My parents even teared up when they read the translation afterwards - that's how touching her words were! Kathryn made our wedding truly unforgettable and I can only recommend her!

Vermont Wedding Officiant's reply:

Awwww Dana. Thank you. You and Ken were just lovely to work with, and I'm so glad your parents were able to be there! Here's wishing you both all the best!

Avery

Married on 08/21/2015

Kathryn was so wonderful to work with, we were able to meet with her and immediately knew we wanted to work with her. She helped us to come up with our own personal ceremony so that it was special to us. Thank you Kathryn!

Vermont Wedding Officiant's reply:

Avery, it was my absolute pleasure. The two of you are the kind of couple anyone would want to celebrate!

Angi

Married on 06/27/2015

My husband I were so happy that Kathryn wrote our custom ceremony. She was full of great ideas to make our ceremony unique, lovely and memorable. She met with us at our home and asked us about ourselves, our relationship and why we love each other and came up with this amazing ceremony. We had some ideas of 'non-traditional' blessings and vows but weren't sure 100% how to put it all together. We talked it through with her and she put it all together beautifully. During the ceremony we laughed, we cried and we got married! I'm so happy that Kathryn married us and I would recommend her to everyone. Thanks Kathryn!

Vermont Wedding Officiant's reply:

You were both a treat to work with! Thanks so much for having me on board your nuptial train!

Danielle

Married on 08/24/2013

Kathryn is an awesome officiant! My fiance and I met with Kathryn back in June to plan for our August wedding. She has a great personality, that is both fun and calming at the same time. We were instantly sure that she was the one to lead our ceremony. She was very responsive and easy to work with during the planning and I was so excited to see her arrive on the day of our wedding (I might add in a fabulous dress that matched our wedding colors). Though we were on top of a hill with no microphones, Kathryn used her talents from her work in the theatre to project her voice so all could hear. I highly recommend to all!!

Vermont Wedding Officiant's reply:

Thanks so much! You guys were a delight to work with. And if you lived in Vermont, I'd want to hang out with you all the time!

Kathleen

Married on 07/26/2013

Kathryn was amazing! We contacted her 6 days before our last minute wedding and she pulled it off brilliantly! So warm and kind over the phone while making the arrangements, very calming! She prepared a ceremony that was just perfect for us and despite the short notice managed to include details that were completely "us". My husband and I giggled, laughed and smiled our way through a beautiful ceremony and we are so happy to have hired Kathryn. Thank you!

Vermont Wedding Officiant's reply:

Thank you! You guys were delightful!

Stacey

Married on 06/01/2013

Kathryn was wonderful to work with! She prepared a beautiful ceremony that kept our guests engaged! It was everything we wanted it to be...sentimental, funny and personalized. She strives to make the ceremony everything you imagined whether you are traditional or not.

Vermont Wedding Officiant's reply:

Thanks Stacey! It was great fun working with you guys! Wishing you all the very best!

AMAZING. I can't say anything else. Our ceremony was gorgeous and she delivered it perfectly. I just can't say enough good things!

Vermont Wedding Officiant's reply:

Thank you!

Jenn

Married on 12/31/2011

Kathryn MADE the ceremony! We are not very creative but she took us and our story and created exactly what we wanted, a touching, beautiful, and fun ceremony. Our friends, family, and of course us enjoyed it very much. Thank you!!

Vermont Wedding Officiant's reply:

Thanks so much!

Beth D.

Married on 10/16/2022

Great to work with!

Kathryn was great to work with! We met with her a few times to make a custom ceremony. Her delivery during the ceremony was relaxed, joyful and sincere. Afterwards she gave us a copy of the ceremony as well for posterity. It was wonderful and everything we could have asked for. :)

Sasha

Married on 08/16/2014

Kathryn wrote and preformed an amazing, personalized, and heartwarming ceremony for us!

We were a bit worried that we hadn't given her much to work with, since we wanted a fairly non-traditional wedding but without any specific readings, traditional add-ons, or anything. We filled out a questionnaire and had a skype conversation (since we don't live in VT) then waited for the script to arrive. When it did, we were totally blown away! Somehow in such a short time, Kathryn had totally gotten us and created a ceremony that reflected who we were both on our own and together.

We had a few minor changes which she made the same day and sent back, and then, at the wedding, everything was perfect! She engaged with our families, made everyone feel a welcome part of the ceremony, and got us married. The wedding would have been impossible without an officiant, but Kathryn made it easy but still meaningful for us and everyone present - exactly what we wanted.

Vermont Wedding Officiant's reply:

Thanks Sasha! It was a delight working with you two - and so much fun meeting your families!