36 Reviews
Recommended by 91% of couples
Quality of service

4.5 out of 5 rating

Average response time

4.6 out of 5 rating

Professionalism

4.5 out of 5 rating

Value

4.6 out of 5 rating

Flexibility

4.6 out of 5 rating
99 User photos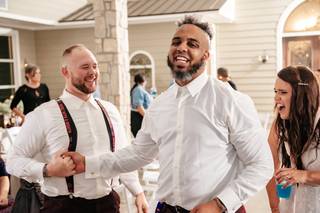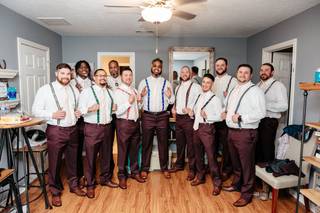 + 95

photos
Featured

Mahsa G.

Married on 10/14/2022

Wonderful job

Absolutely I will choose them again. Very professional editing and listening to what you really want! I appreciate them. We love our wedding video.

+ 3

photos

Devin H.

Married on 12/10/2022

Mr. And Mrs. Hemphill

10/10 highly recommend!! We couldn't have ask for a better company to help us with our day!

Bettina R.

Married on 11/11/2022

An Amazing Day Kaptured Forever

Kapturly was amazingly. They were very patient, super professional and the end result was breathtaking. They captured all of the right photos and created a beautiful video. For the level of service they provided, the cost was very reasonable. I would highly recommend their services.

Are you interested?

Send a message

Samantha G.

Married on 11/11/2022

They were great to work with

They were amazing and quick to response whenever there was an issue and they were fantastic!

Andrea U.

Married on 10/23/2022

Wonderful Service!

Wonderful experience! We worked with Jacob Kelso (videographer) and John Jackson (photographer) and we loved working with them! They were both very professional and talented. They did a great job making us feel comfortable as well and they were very kind answering our questions before our wedding. Kapturly was also very quick to answer any questions big or small, communication was very important to me!

Kapturly's reply:

Wahoo! This is the experience we aim to build and seek to always deliver. We loved being apart of your story Andrea! Congratulations again- thank you for the review!

Paulina E.

Married on 10/21/2022

Great experience!

Great experience! Do recommend

Kapturly's reply:

Hi Paulina! It's Kristen!

I know we are working on your photo selection and this will all be resolved very soon.

Is there anything else we can do to help?

Kris H.

Married on 10/01/2022

What a Great Experience!!

My Step Daughter had her wedding on 10/1. It was at the horse barn she loves so much. The Videographer Sergeo Ajapwoh was so professional and he captured every moment! My Step Daughter had her 5 goats and her horses at the wedding and he captured the fun and love and even did bride shoots with her beloved fur family. Kapturly was so easy to work with and we had a videographer that made her day everything she dreamed of. From the beginning to delivery it was a smooth and effortless process. Highly recommend!

Kapturly's reply:

Hello Kris! It was such a fun event including having all of the animals present :)

We are so happy that you and your family love your wedding video!

Samuel W.

Married on 10/01/2022

They helped me greatly

I am one of the original photographers for Kapturly in Ohio. They have always been easy to work with and have provided me with many opportunities to grow as a photographer and Videographer. I was a part time photographer when I started with them, but have been able to grow into a successful full time career and even had my wife join me full time due to the demand we starting getting.

Highly recommend them if wanting Photo and Video in a combined package :)

+ 2

photos

Kapturly's reply:

Sam- you have been a dream to work with up to this point! And to watch you progress in your career has been rewarding to witness!

Let's keep growing together!

Brittney B.

Married on 10/01/2022

Amazing quality

Cutest video I got, and everyone was so nice to work with, 10/10

Cecilia G.

Married on 09/24/2022

Photographer/videographer

Extremely satisfied and blown away by the results of our pictures and video. Our initial videographer had to step down due to family issues weeks before the wedding. Was pretty stressful but the kapturly team found a replacement so quickly! Kapturly was always quick to answer any questions or concerns I had.they also always updated me throughout the whole process. Our pictures and videos are breathtaking! I could not have asked for a better team. Sarah Hanson (photographer) and Tevin Mike (videographer) made everyone feel so comfortable and everything went by so fast. Could not beat the price for a photographer and videographer for 8 hours. Definitely recommend to book Kapturly!

+ 17

photos

Lisa G.

Married on 08/27/2022

Kapturly photo + video

My husband and I got the photo and video package. Kapturly had great package options for each and they were so good at explaining the benefits and answering questions. they were available via phone, text and email and we're always super quick to respond. The photographer and videographer reached out to us before the wedding to introduce themselves, find out if we had any specific requests in mind, set expectations, and answer any questions we might have. We are so happy with our decision to have Kapturly capture our wedding! The photos were GREAT and we LOVED the highlight video! So much so, that we reached out to Kapturly to see if we could purchase all the video taken, and we did. We plan on using them for future events. Highly recommended!

Tressa J.

Married on 08/09/2022

Spectacular wedding memories

The Kapturly team was amazing right from the start! I was so happy with the entire experience and the finished products were more than I could have ever hoped for, or imagined! The photographer and videographer were spectacular and made my wedding day so special, capturing moments that I will treasure forever!

+ 7

photos

Tiffany B.

Married on 08/05/2022

HIGHLY Recommend!!!

I saw an ad for Kapturly on facebook and thought the price was possibly too good to be true. I ended up taking the risk and I am SOOO HAPPY I did. I hired Kapturly for our wedding photos and video. I also had them add an engagement photo session in there as well. They chose two of the most amazing women to work with me, Linda Diaz and Lindsay Cwiertniewcz. The quality of work was top notch! I HIGHLY recommend both services because as the bride I felt like I missed so much and the day flew by but I at least have these photos and video to look back on and watch every year for our anniversary. Thank you so much Kapturly!

+ 8

photos

Myra

Married on 06/12/2022

Loved the work and the value provided

Loved the work of Kapturly for our wedding. Beautiful photos and wonderful video. Friendly team to work with. Great value for the price.

Kapturly's reply:

So glad you loved your media Myra! We loved being apart of your special day and wish you all the best. Congratulations again!

Tiffany B.

Married on 04/29/2022

Great outcome

We had issues getting a videographer assigned that would respond to us. The photographer was amazing.

Kapturly's reply:

Hi Tiffany! So glad you had a great experience. Glad we were able to ensure you connected and communicated with everyone before the big day. Congratulations again :)

Hisa C.

Married on 04/15/2022

It was a great experience

They were very professional, sweet and organized

Kapturly's reply:

Thanks for the review Hisa! We loved how things turned out and were thrilled to be apart of your big day!

Erika R.

Married on 04/09/2022

Wonderful Experience

I am so grateful and thankful for Kapturly for capturing my 11/06/2021 wedding. Upon booking they answered all my questions and doubts I had. They don't charge any travel fees and worked with me to pay monthly. They always got in contact with me to make sure every detail was captured. The photographer and videographer were so kind and they captured every second I could ever dream of. They always got in contact with me after the wedding to tell me the editing process. The final product came out to be so beautiful! I'm confident that you will have the same experience as me. Thank you so much Kapturly!

Kapturly's reply:

Hi Erika! Our goal is to always guide you through the whole process. So happy that our delivery exceeded your expectations. Congratulations again!

Michelle L.

Married on 04/02/2022

Awesome very timely manner getting pictures back and great people to interact with over the phone and texting back was always fast response

Very great team to work with answer all questions and very friendly staff and photographer..

Kapturly's reply:

Hi Michelle! Thank you for the review! We strive to provide the best communication and do all the heavy lifting so you can simply focus on your wedding day! We are so happy that you're happy! Congratulations!

Austin F.

Married on 01/09/2022

Excellence!

Excellent correspondence and collaboration. Amazing images & video!

Kapturly's reply:

We LOVED being apart of your day Austin! We are thrilled how it turned out too! Enjoy your photos and video. Congratulations :)

Krystle C.

Married on 12/26/2021

HIGHLY recommend!!

I am truly so grateful for Marvin and their entire team at Kapturly! My (now) husband and I had decided very last minute to get married on December 26th, 2021. With less than a week away, I found Kapturly through Instagram and reached out immediately. They were able to find me an incredible videographer in my area at a phenomenal price just days before my wedding. Throughout the entire process, they were very responsive and kind. Admittedly, I had a bit of a bridezilla moment when it came to selecting a photographer (I'm a designer and work with photographers often so I'm quite picky) and while they weren't able to find an available photographer of my liking in the area (which was my fault for being so picky when I knew I only had a few days), they went above and beyond to make sure they did everything they could to make my day run as smoothly as possible. Through my pickiness and endless requests, Marvin was nothing short of kind and outgoing the entire time! With our wedding being incredible last minute and under planned I was worried that the video wouldn't be much since it was a humble backyard wedding, but with some videography magic they were able to create such a beautiful keepsake for my husband and I (I cannot stop crying, it's so good). I cannot thank you enough Marvin and the entire team at Kapturly!!

Kapturly's reply:

Krystle! So happy to help you in crunch time. You guys were great to work with! And this review totally made Marvin's day! Congratulations again!

Hannah P.

Married on 10/23/2021

They were amazing!!

Kapturly was great to work with!! We had Kia and Josh at our wedding and they made sure to get the best shots of us for our final video!!

Kapturly's reply:

We are so happy for you Hannah and no worries about the venue switch. We are built to be flexible and make sure your memories are our top priority! Thank you for you review!

Naomi W.

Married on 10/16/2021

Great experience

Very happy with my experience with Kapturly. They were communicative and professional. When my assigned photographer had to cancel due to a Covid scare, they had replaced someone no problem who I was very happy with. He was professional, on time and had great service. I got my wedding video in 29 days and loved it!

Kapturly's reply:

We beat covid together :) Thank you for your understanding and we are thrilled how everything turned out as well! Congratulations again Naomi and thank you for the review!

Natalie C.

Married on 09/25/2021

Yes for Kapturly!!

When it comes to your wedding day you want the very best! Being from a small town and not living in the state to plan everything was stressful as is! Finding Kapturly was one of the best things that happened to us! Not only did they find a photographer and videographer, (mind you several photographers had cancelled prior to for personal reasons) but the week of the wedding our photographer tested positive for Covid and they were able to find us someone else the day before the wedding! They worked very hard to help meet all of our needs and always had great communication with us! When it came to editing the photos and videos, they heard everything we had to say and accommodated it all to their very best! As well as any problems I had loading them! There was always someone to talk to whether it was on the phone, text, email or thru the site itself! So if you are looking for someone to help find you that person to capture your day and you're not quite sure where to look, I'd start here! Like I said I was a few states away so they made the search THAT much easier to help make our special day AMAZING! To this day we still talk to our videographer! She was phenomenal from before we met her to the day of the wedding and everyday after! As well as them being awesome themselves, their bundles were great! And very affordable!! All in all, if you want a great team put together, try Kapturly!! Thank you again for giving us the best gift, our special day to remember everyday, thru pictures and video!

Kapturly's reply:

Ah, we loved reading this Natalie!

You had a beautiful day! Lovely couple, amazing venue and great weather and scenery. Always happy to help and answer anything you needed along the way!

Victoria

Married on 09/25/2021

Simply the BEST!!!

Kapturly def live up to it's name!!!! I felt as though me day was completely captured and worth the money spent. Highly recommend this company! Thanks Kapturly

Kapturly's reply:

Thank you for you review Victoria! So glad Ms. Morelia and Mr. Pablo captured your beautiful day! Congratulations again!

Heilie O.

Married on 09/04/2021

What an incredible experience!

Loved my experience with the company!! They paired me with such a great photographer and videographer. Photos were edited perfectly, I loved the colors! Video was just great and they accommodated my needs. Would highly recommend!

Kapturly's reply:

Thank you for you review Heilie! We love your team members too and we are proud of our in-house editing team! Congratulations again!
Are you interested?
Send a message