Justincredible DJ Entertainment Reviews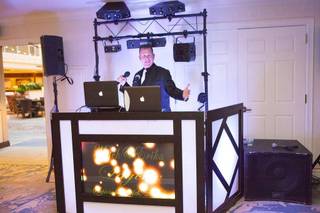 Justincredible DJ Entertainment
Carson City, NV
View more information
126 Reviews
Recommended by 99% of couples
Quality of service

Rating 5 out of 5

Average response time

Rating 5 out of 5

Professionalism

Rating 5 out of 5

Value

Rating 5 out of 5

Flexibility

Rating 5 out of 5
17 User photos
+ 13

photos
Alyssa C.

Married on 05/07/2022

Castro wedding

Justin was the best dj a new bride could ask for. He helped us so much throughout the day and was the life of the party. I will be recommending him to all our friends and family who have special upcoming events. Thank you for all your hard work and accommodating our crazy schedule. We truly appreciate you. You helped make our day magical! Thank you!

Alyssa S.

Married on 05/07/2022

Castro wedding

Justin was the best dj a new bride could ask for. He helped us so much throughout the day and was the life of the party. I will be recommending him to all our friends and family who have special upcoming events. Thank you for all your hard work and accommodating our crazy schedule. The photo booth was one of the best parts of our wedding. We truly appreciate you. We can not wait to see the video you captured of our day! You helped make our day magical! Thank you!

Jami K.

Married on 10/08/2021

Magical and Memorable

I was very nervous about everything going smooth for our wedding, one of the most important things for us was making sure we had a specific playlist that would be played, as well as a fun and interactive DJ. Justin put all my worries at ease and ensured everything went according to plan as well as ensure we had the most memorable night. I especially loved how he honored our request to stick to our requested songs unless myself and the groom gave permission otherwise. Great communication also! Thank you so much for being there to help make our day special Justin!

Kaliegh R.

Married on 08/07/2021

Couldn't have asked for a better DJ!

Justin was professional knowledgeable. He kept our wedding flowing and helped ease the stress.


Rachel H.

Married on 06/26/2021

Kept the Party Going!

Would HIGHLY recommend Justin for both your DJ and MC needs! He was absolutely on point with the music and vibe we wanted during our ceremony and reception. Easy to get ahold of if we had any questions and very professional. He even double checked with me about a song I had incorrectly named to make sure the correct song was played! Justin had the dance floor FULL all night long and got people who I have never seen dance, on that dance floor. On top of that he is very affordable! So glad we booked with him!

Kylie G.

Married on 06/26/2021

Wedding DJ

Justin did a fantastic job with the ceremony and reception not only with music but he helps keep the ceremony moving! My guests said they had an amazing time! Thank you Justin!

Angela H.

Married on 05/15/2021

Dj/emcee review

Super happy that we chose Justin as a vendor! He was easy to work with & quick to respond to any questions we had. He was easy going & fun to work with. He was a great emcee & did a great job of choosing music that everyone enjoyed. Would definitely chose to work with him again!

Jackie Y.

Married on 05/03/2021

Nothing but amazing!

Justin was the most incredible person to work with. Our first DJ cancelled on us 1 month from our wedding. I saw the great reviews for Justin and sent him an email at 9:30PM. He emailed me back within 30 minutes! I ended up calling him and talking to him for about half an hour and he answered all of my questions. His responsiveness was exactly what I needed. Justin was so knowledgeable and you can definitely tell he knows what he's doing. On the day of the wedding, I went to the reception to check on everything and he was already set up hours before our event. I went to the ceremony site a little later and he was already done there too! He met with our officiant before the ceremony to help walk him through since he was a family friend. The ceremony and reception went flawlessly and he was able to make changes on the fly since we started slightly early. The price was very reasonable. We also got the photo booth for our reception. It was so much fun with the props and there was a booth attendant there who was super nice. The photos came out perfectly and we were able to customize our photo strips. I would definitely call Justin first before looking anywhere else. Wedding stress is hard enough and having a good responsive DJ will make your life easier.

Sharae C.

Married on 01/02/2021

DJ Incredible!!!

Justin was prompt, attentive and professional with my crazy wedding and family! We did not plan to do a couple of things, then last minute made changes and Justin was so great about it! I felt bad about changing things up during, but he was amazing and adaptable. It went amazing from beginning to end and it is definitely because Justin helped us through the whole process. Thank you Justin!!!

Allison V.

Married on 09/26/2020

Fantastic!!

We were incredibly pleased and over the moon with how our wedding turned out thanks to Justin! He did a fantastic job with our wedding! He made the wedding run seamlessly without a problem. He was very easy to work with, and got back to us in a very timely matter if we had any questions. I would recommend him to anyone and everyone who needs his services! He's by far the best in town!!

Rikki D.

Married on 08/08/2020

Professional and Fun!

Justin was fantastic and music was absolutely what we wanted for our crowd! We gave him a general genre of music and created a playlist just for us! I could tell that our guests loved him as much as we did because of how packed the dance floor was all night. He is really friendly and professional and not once did the dance floor empty out or even have a quieter period! He did a great job at bringing everyone together to celebrate us! Justin worked very well with our wedding planner and our timeline so my groom and I didn't have to worry about a thing all night. He works very well under pressure when small things went wrong such as: our caterer did not show up on time and he ensured all the guests were informed and taken care of. I recommend Justin to all our friends and family and they have all used him because of the experience he gives. Justin is the most outstanding DJ in Northern Nevada and I will definitely use him in the future for any event!

Haylee W.

Married on 07/25/2020

Save yourself the stress and book Justin!

Justin was an incredible DJ for our "Covid Wedding." Not only was he flexible with all of the last minute changes due to the virus, he excelled. Justin was professional and offered great suggestions to ensure our day was the best it could be. Our wedding flowed perfectly, guests were constantly entertained, and the way he was able to transition all our genre requests into one another was awesome. Save yourself the stress of looking for any other DJ, Justin is the best of the best.

Kendall U.

Married on 06/13/2020

COVID Wedding Success!

So with COVID we had to change our plan A. We ended up having a backyard wedding and Justin is an amazing job with it! He reminded us that it was our wedding so whatever we wanted he would do. Our wedding was a hit and everyone had the best time dancing and letting loose! Thank you Justing for making everything flow perfectly and playing all the music we wanted!!

Tyler Y.

Married on 01/04/2020

Highly Recommend!

Justin far exceeded our expectations leading up to and during the wedding! Very responsive and professional. Could not have asked for a better DJ and highly recommend his services!

Kayla

Married on 09/28/2019

Incredible as advertised

Justin was easy to work with and his set up is always incredible. We especially love the videography and playback he does of the ceremony on his screen during the reception!

Jennifer M.

Married on 09/14/2019

Most valued part of the wedding

Justin was by far, the best choice we made cor our entire wedding. I gave him the basics for music choices, and he ran with them and excelled. The first dance on a cloud was amazing. He made sure I knew throughout the entire wedding what to expect, and always found me before any last minute changes. The videos of the ceremony displayed on the booth during the reception blew our guests away. He kept people dancing all night, and was what most people were talking about the next day.
Thank you Justin, for being the only reliable vendor at our entire wedding.

Cynthia

Married on 09/07/2019

Amazing JD with great talent!

Justin is a great a DJ!!!!! Justin helped to throw our amazing wedding! Justin helped to keep the crowd going at our wedding and played a wide variety of songs for all of our guests!! Justin did a great job at making sure we were on track with all the dances and games that we wanted to play throughout the wedding! Justin even did a great job with introducing our wedding party because we had such long bios for them which he said no one has ever gave him such long bios for their wedding party before! We asked Justin to meet before our wedding to discus details to make sure we were all on the same page and we greatly appreciated that! Also, Justin gave us a great surprise at the end of the wedding which we were not expecting at all! Thank you Justin for your wonderful service!!!!!!!

Jojo H.

Married on 08/17/2019

A perfect addition

Justin really put the cherry on top of our perfect wedding! Our first dance on a cloud will forever be one of my favorite memories! I loved hearing the "Ohhhs" and "Awwws" as we danced. He kept the flow of the reception on track and had a great playlist playing all night with all of our special requests. He even recorded our ceremony and played it on his booth screen throughout the reception dinner. It was such a cute surprise! If you're still looking for a DJ for your special day, look no further! You won't regret booking with him!

Daniel U.

Married on 07/27/2019

Heck of a party!

Thank you Justin for a great party! You kept us dancing all night long - from the ceremony, cocktail hour and main event ... we had an amazing time!

Sylvie Y.

Married on 07/21/2019

He made our night one to remember!

He made our night one to remember!
Everyone loved houwe smoothly our wedding night went and how everything transitioned beautifully. He mixed our many genres of music perfectly and kept us on the dance floor all night. I didn't even sit down at all! He was very professional and easy to talk to and he even met with us few times before the wedding, which many djs don't do. I definitely recommend DJ Justin for your next event!

Kerri W.

Married on 07/19/2019

Amazing and on top of everything

Justin was helpful from beginning to end. Super easy to work with. We didn't meet him in person until the day of our wedding, but we were able to video chat with him when interviewing DJs. Very professional, Did exactly what we asked for and more!!! Our wedding party was slacking on getting our drinks filled for the toasts so he stepped up and did it! Drone footage and pictures of the wedding he put up on his DJ booth tv was amazing, everyone loved it!! Would have him DJ for any event in the future!! He was at the venue setting up super early and was the last to leave! Never forcing anyone out!

Mark F.

Married on 07/12/2019

A Wedding Officiant's Review on Justin

As a wedding officiant, I have worked with Justin many times and am always impressed by his professionalism, thoroughness and ability. He does a great job, and I would refer him anytime for any wedding.

Alicia V.

Married on 07/06/2019

Look no further, Justin's your guy!

I got married on July 6th, 2019 at June Mountain in June Lake, CA (near Mammoth). There are not a lot of options for DJs (with good reviews) in the Mammoth area, and when I reached out to the few that I was interested in they were already booked up (this was at least 6 months out). So I was forced to search in our home town of Reno, NV for a reputable and hopefully, great DJ. I had no references and purely chose based on comparing DJ company reviews and prices. I reached out to multiple DJs but ultimately chose Justincredible DJ for his multiple pricing options, availability to travel (for a reasonable price) to our venue, and incredibly fast response time. I intended on meeting Justin in person before the wedding but my own circumstances did not allow for that and we communicated solely through email, meeting for the first time the day before the wedding which could be a little stressful for some people. Justin showed up early to meet us, set up, and walk through our rehearsal with us (playing our songs appropriately and getting our timing right since the processional rode the chair lift up to the ceremony). I have nothing but excellent things to say about Justin, he asked questions during the rehearsal to make sure our day was perfect and worked incredibly well with our June Mountain wedding coordinator to make sure everything ran smoothly. The day of the wedding nothing went amiss, we still have people mentioning how great the wedding was and specifically mentioning our awesome DJ. Justin nailed every entrance announcement, and event that we wanted to include as well as making sure all of our songs were played during the right time. Our dance floor was full for the entire night and we couldn't be happier.
Justin also went above and beyond by surprising us with a full video of our ceremony including drone footage of the area, which was amazing. We did not ask him to do this and did not pay him extra for this but he provided us with a video that we would not have otherwise (we had no videographer) and memories that we can always look back on. His amazing reviews are not a joke and I could not be happier with our DJ choice. If you are looking for a DJ for any event I would definitely recommend Justincredible DJ. He will work hard and communicate to make your event the best it can possibly be. Thank you so much Justin we appreciate everything you've done for us to make our day the best day of our lives; if we ever need a DJ again, you are our guy!
-Alicia and Chad

Sunhi

Married on 06/29/2019

DJ awesomeness!

We recently got married and had Justin as our DJ. Between dancing on a cloud, an amazing photo booth, and the hoppin dance party, Justin NAILED IT! The ceremony was handled to perfection, and the rest of the day was flawless. We received so many complements from guests talking about how amazing the DJ was, and how much fun everyone had. Justin delivered above and beyond! If you're looking for someone to get your event or dance party going, Justincredible is your guy!!

Kellie N.

Married on 06/26/2019

Fantastic Dj!

We were very very happy with Justin. I will admit we were a bit nervous to hire a dj because they can sometimes be soooo cheesy with introductions etc.. he was great. He knew exactly the tone we wanted. He was able to video our ceremony as well! He kept the dancing going by expertly curating the weird list of songs we sent him. I promise choosing Justin means a stress free experience and a great dance floor.