231 Reviews
Recommended by 100% of couples
Quality of service

5 out of 5 rating

Average response time

4.9 out of 5 rating

Professionalism

5 out of 5 rating

Value

5 out of 5 rating

Flexibility

5 out of 5 rating
53 User photos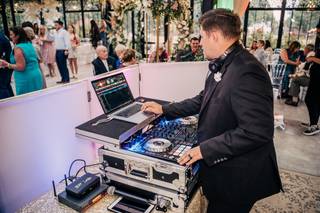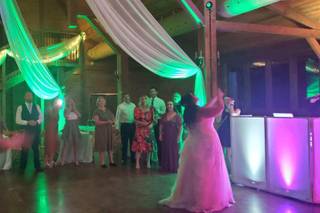 + 49

photos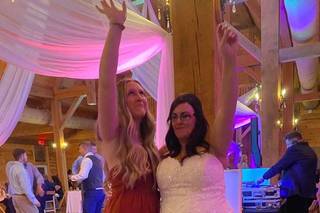 Featured

Meg

Married on 12/28/2019

So much fun!

Wow! Jumping Jukebox (Blake) was amazing! We are so grateful to have had him a part of our special day. I would have chosen him over and over again! He's so much fun, laid back and truly cares about making your wedding day as special and perfect as he can. Definitely get the upgraded package with lights! The whole process working with Jumping Jukebox is easy to select songs with the software he uses. He was super flexible with some last minute changes we had with a little more complex Indian fusion wedding and was so honest with us which we really appreciated. Cannot recommend enough, if you're going to have a dj, get Jumping Jukebox!! You will not regret it.

Susan G.

Married on 09/03/2022

Simply the best!

Simply the best! We hired them for both daughters weddings. Shawn Stom knocked it out of the ballpark! This is a professional company with all the extra bells and whistles, Shawn, you were an amazing MC/DJ and you really kept the night moving. He's also one amazing photographer!

Kolby H.

Married on 07/12/2022

The best in the business

Our wedding meant as much to them as it did to us! They went above and beyond, even in these difficult times, to make the evening spectacular! Blake and his team are some of the kindest people I have ever met and really helped us bring in the New Year and bring an end to 2020 with a BANG! Thank you guys so much!

Are you interested?

Send a message

Jasmine B.

Married on 11/13/2021

Wonderful, very professional

Shawn was amazing! Kept my wedding guest on their feet dancing! Definitely had a great wedding

Madison M.

Married on 09/28/2021

Amazing! Great company

We booked jumping jukebox for our wedding and super glad we did!! Shawn was our DJ and he was amazing! He exceeded all of our expectations and entertained the crowd. Great company. Give them your business!!

Harley J.

Married on 09/24/2021

Phenomenal!

I cannot say enough nice things about the Jumping Juxebox team! This was a tough year for the staff but they pulled together and made sure every bride had an amazing wedding day! Shawn was my DJ for my wedding day and he made sure all the music for the ceremony, cocktail hour and the reception were perfect! We went over everything in detail and he made sure I felt confident going into my wedding day! Shawn also was the life of the party during the reception! He kept myself and my guests out on the dance floor all night! Such a great company and team and anyone would be lucky to have them for their wedding or any event! I'm so fortunate to have had Jumping Juxebox for my wedding day!

Kristie C.

Married on 09/18/2021

Amazing Time

Had my wedding last weekend & it was amazing! Everyone was dancing & having a great time thanks to Shawn at Jumping Jukebox. We had a blast and everyone was thrilled with the DJ

Angel C.

Married on 09/11/2021

Jumping Jukebox

Went with Jumping Jukebox because of the owner Blake. But for reasons he was unable to attend so we had Shawn!! He was absolutely amazing!! I was so indecisive about them because of the price but after meeting Blake and hearing so many good things and people recommending them I had to. And I made the best decision ever!! So very pleased and even though Blake wasn't there Shawn did such a good job and kind of feel like he was meant to be there. He had the lights going and the crowd on the dance floor the entire time. He even got our there with us. I had the best time and it was truly the best day ever!!!

+ 3

photos

Jama

Married on 06/19/2021

Book with them!!

You will not regret booking with them!!

Marissa G.

Married on 05/15/2021

The Bride and Groom

We booked Sam for our wedding and it was an absolute BLAST!!! He helped us before the wedding making sure it would run smooth and matched the vibe we wanted... and he made it come to life!!! Even the grandparents got on the dance floor!! You will not be disappointed booking Jumping Jukebox!!

Ashlea W.

Married on 02/06/2021

Awesome DJ!!

I chose Jumping Jukebox because I had seen them at multiple weddings and was impressed. Blake and his team did an amazing job on our special day as well! He kept our guests dancing and read the crowd well. That was very important to us considering we had a diverse group of guests and musical tastes. I would definitely recommend them!

Bonnie Y.

Married on 01/31/2021

So much fun!

Blake at Jumping Jukebox was the bomb! He was so much fun-the perfect blend of professional while feeling like he is everyones best friend. I didn't think we had a "dancing crowd" and told him from the beginning not to expect a lot haha-but he got everyone on the floor! He read the crowd so well and we had a blast!!!!! Can't recommend him enough!
We also used Jumping Jukebox to livestream our wedding as we had a smaller wedding due to covid, for GORGEOUS uplighting, and we did our exit with snow-it was perfect! I didn't have to worry about a thing and it was perfectly executed!

+ 5

photos

Christina P.

Married on 11/28/2020

Feet hurt from so much dancing

The Jumping Jukebox was amazing to work with for our wedding, even when we had to cancel our original date and push it back 6 months.
They showed up on time, very professionally dressed, and we had no problems at all with the ceremony or reception audio.
The lighting was really pretty at the reception, and helped set a fun atmosphere for the party.
Our DJ was Aaron, and he was a great guy. He did keep everyone dancing all night, and me and my bridesmaids all woke up with sore feet.


One small suggestion, we did request that instrumental jazz music be played during dinner, and unfortunately it was just a regular easy listening play list that happened to include a song called that made my Grandmother cry. This is not Aarons' fault, but could have definitely been avoided by either using the instrumental jazz music we requested, or allowing us to add more songs to our do not play list section, because 10 song limit isn't enough to make sure we avoid all trigger songs.

But we had an amazing time, and we definitely recommend this DJ service!


Kelsey H.

Married on 11/28/2020

Fantastic DJ

We had Blake as our DJ and he was fantastic. From the first time we met him we knew he was the right choice. He is personable, knowledgeable, and makes the process easy. He did an unbelievable job and we received so many compliments from our guests. Both my husband and I love to dance and it was important to us to have an incredible DJ. Blake is extremely quick to respond to any questions or music requests.

Jennifer D.

Married on 11/21/2020

Vegas club experience with floating clouds

Ummm. Can we say sold out Vegas nightclub? This place is not just a DJ- it's a musical and visual experience. They listen and execute your vision. Super professional and had me jamming. And their pricing is better than anyone else in town. This is the ONLY place you should consider if you want good music, happy guests and a professional event.

Lorey B.

Married on 11/14/2020

I will ALWAYS recommend Jumping Jukebox (Blake) to everyone I know!

I first met Blake in Clemson 3-4 years ago when we worked the same wedding and his presence stuck with me ever since. When it was time to start picking vendors for my own wedding, I knew EXACTLY who I wanted to use.

Blake and his team are wonderful. I gave very general ideas for the type of music I wanted (Instrumentals of popular pop music, instrumental for Tale as Old as Time, play Tiger Rag! etc,) and Blake nailed every single one of them. He was incredibly inclusive and accommodating for the variety of guest dynamics I had, took thorough notes on name pronunciations/titles, and was very professional. He and I had several lengthy phone calls leading up to the wedding that felt much less like business and much more like planning out the music and the wedding details with an old friend. He will explain to you exactly why he does the things he does, how he maintains his professionalism while also playing the music requested, and give great advice on how to maneuver all of the little things that can pop up while planning a wedding, including how to be the most inclusive towards all of your guests without being too over the top in any particular direction.

We also had to change the original plans of our wedding several times since hiring Jumping Jukebox and they were ALWAYS willing to work with us however we needed. Blake and I spoke on the phone 3 days before my wedding with COVID-19 concerns and he had multiple suggestions & solutions to do whatever would work best for us. Luckily we ended up not having to change anything else so close to the wedding, but it was such a relief to know we had hired a vendor that could be so empathetic and accommodating.

If you ever need a DJ, Jumping Jukebox is absolutely top tier of their craft. When you invest in Blake, you invest in having the best Emcee, best music dynamics, and the best time!

Maxine B.

Married on 11/07/2020

Amazing DJ

Blake was absolutely amazing. I knew from my first phone call he was the DJ for my daughter's wedding and he did not disappoint. His song recommendations and playlist for ceremony, dinner and reception were perfect, he really knows how to read a crowd. It was very easy to plan with their online planning website and Blake was always available to answer any questions. Best day ever!!!!

Katie C.

Married on 10/11/2020

Amazing DJ all around!

Blake was such a wonderful DJ! So interactive, kept people dancing, we couldn't have asked for someone better!! Would recommend to anyone! Everyone there has been telling us how much they enjoyed the music!

Jacob

Married on 10/03/2020

Request: Shawn Stom!!!

I was blown away by Shawn's work, professionalism, and performance for our amazing dance party at my wedding!! Jumping jukebox may not be calling you everyday with questions (which in my opinion was refreshing), but they know what they are doing. For your comfort make sure you give them a call and discuss exactly what you are looking for. I did that with Shawn, and boy was I not disappointed! He delivered exactly what we were looking for, had perfect transitions, upstaging, and speakers for ceremony and reception. Honestly Shawn, thank you soooo much!! So many people told me how great a DJ he was. He had a perfect playlist, and even got down to dance with the crowd at times. Loved it!

+ 4

photos

Kaitlin

Married on 10/02/2020

Lively! Fun! Great Energy!

Lively! Fun! Great Energy! Having a good DJ for your wedding is so important. They are key in creating just the vibe you want for your reception. DJ Blake did an incredible job for my wedding in October 2020. He has such a talent for reading the room and playing the exact music you envision. He was a great hype man! His personality is everything you need your DJ to be! You can really tell Blake has a passion for what he does. I cannot recommend Jumping Jukebox enough! They also have an online portal that makes selecting music for key moments so easy.

Jumping Jukebox is also a very honest vendor to work with. We originally booked them for our wedding in May of 2020. A wedding that didn't happen due to the pandemic. They were so understanding and very great to work with through such a major setback. They responded quickly and professionally. We are so thankful we were able to book them for our new date.

Thank you, DJ Blake and Jumping Jukebox for making our reception so memorable and so much fun!!

(Photos attached were taken by Cameron Budove Photography)

+ 3

photos

Kate B.

Married on 09/13/2020

Amazing DJ service

Amazing service! Did a great job interacting with the crowd and pumping everyone up! Very pleased with everything!

Ashlei C.

Married on 09/05/2020

Best DJ ever!

Wade was awesome! I'm awful at picking music for everything and just let him have fun with it and he did an awesome job!

Abbey

Married on 05/16/2020

Best wedding DJ EVER

We could not have asked for a better DJ for our wedding. Shawn did such an amazing job and kept the dance floor packed from the first song to the very last. I have heard from so many guests that this was the best reception/best DJ they have ever encountered. I asked for a party and got just that. I would recommend Jumping Jukebox to anyone, it really made our wedding so much fun and so memorable.

+ 2

photos

Billie S.

Married on 02/29/2020

Best Wedding/Reception DJ

If you want the perfect DJ for a wedding ceremony and/or an absolutely fun reception, Jumping Jukebox is a must! Blake DJ'd my son's reception 7 years ago and just recently my daughter's ceremony and reception on 2-29-20. The ceremony music was perfect and the dance floor was alive with happy guests dancing the night away! Blake is very personable, super easy to work with, and their online planning tool made everything extremely simple.




Lauren P.

Married on 11/17/2019

It's a BOP!

Jumping Jukebox kept our guest dancing ALL NIGHT LONG. We had a fantastic experience building our playlist of "Must plays" and got several compliments on the flow of the evening.
Are you interested?
Send a message