79 Reviews
Recommended by 100% of couples
Quality of service

5 out of 5 rating

Average response time

5 out of 5 rating

Professionalism

5 out of 5 rating

Value

5 out of 5 rating

Flexibility

5 out of 5 rating
3 User photos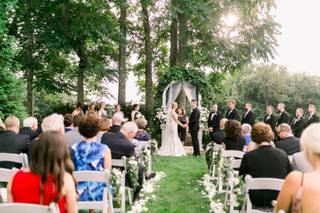 Elizabeth M.

Married on 04/29/2023

Fantastic!

Jeanine was amazing to work with! She took the time to learn about us and create a personalized ceremony that told our story. She let us make adjustments to the ceremony to personalize even further. Jeanine was available to us if we needed her, sent us helpful reminders, and really made us feel at ease on our wedding day.

Steven

Married on 07/15/2022

Great experience

She was very professional and helped the ceremony go smoothly and injected humor into it to make it feel more personal

Kelly

Married on 10/20/2019

Amazing Ceremony!

JP Jeanine was a fantastic officiant who was very flexible in giving us the lighthearted wedding ceremony we were looking for. She injected our personalities into the ceremony and was very helpful in orchestrating a very smooth ceremony. She was also very calming and helped to soothe our pre-wedding jitters. She was very fun to work with and we would highly recommend her!

Are you interested?

Send a message

Allison R.

Married on 07/20/2019

Beautiful Experience

We had a small ceremony as we are having a big wedding this summer. It was very intimate and Jeanine prepared a beautiful ceremony for us. She was extremely flexible with timing and got the paperwork in very quickly once we were done. For the ceremony, we sat in the park with my dog, Jeanine and my now husband. It is something I will never forget.

Lauren

Married on 07/13/2019

ASL Ceremony

My now husband is Deaf, and one of the most important things for us and our day was that we would have a ceremony performed in Sign Language. Jeanine was able to do this for us. Aside from being able to offer us that, she was always professional, and responsive. We had an initial meeting where she discussed our preferences with us, and developed a script from that. It was everything we could have wanted!

Kelley G.

Married on 05/14/2019

She made us extremely comfortable

Jeanine was wonderful! Very flexible with day and time. She made me and my husband very comfortable with everything.

Ashley

Married on 09/22/2018

I cannot thank Jeanine enough. She is responsive, helpful, thoughtful and energetic. She incorporated everything we asked her too in the ceremony and her own words were also beautiful. Our ceremony would not have been the same without her!!!!

Bill S.

Married on 09/14/2018

Very satisfied

Jeanine was great... very professional and flexible to meet our needs. Would highly recommend!

John C.

Married on 09/01/2018

Perfect Ceremony for the Perfect Day!

Jeanine did a great job coordinating our wedding ceremony! She gave us plenty of information and accommodated for every request we made. She was in constant contact and is the best value you can get in a JP. My wife and I were thrilled.

Emily F.

Married on 09/01/2018

Love Jeanine

John and I loved Jeanine. We found her through my sister in law and brother. They used Jeanine for their wedding several years ago. Jeanine was wonderful to work with. Punctual and timely! Thanks for making our running run smoothly!

Fallon

Married on 06/01/2018

Excellent Experience!

Jeanine was an absolute pleasure to work with. She was responsive, flexible and professional. I felt comfortable asking her questions and having her perform our ceremony. It was exactly what we asked for!

Margie

Married on 05/26/2018

Jeanine did a wonderful job for our wedding. She is warm, funny and professional. She made our ceremony special and personal. She is very knowledgeable and helps in any way she can. Our guests loved her and our ceremony was truly unforgettable. We highly recommend her, you won't regret it.

Julie C.

Married on 04/14/2018

JP Jeanine was the best!

My fiancé and I met JP Jeanine at wedding show at the Ethan Allen Hotel. We met up at a later date to discuss our ceremony and discussed our vision for the most important part of our wedding day. Jeanine helped us create the ceremony and followed our preferences perfectly. She listened to the story of our relationship and was able to tie it into the ceremony seamlessly. About a week before the wedding she emailed the ceremony to us, so there wouldn't be any surprises. Jeanine was so helpful during the rehearsal to make sure everyone was lined up and ready to go. The day of the wedding our ceremony was performed beautifully.

Meghan

Married on 02/10/2018

The best of the best!

We first met Jeanine while attending a wedding show and from that moment we clicked. Having to pick someone that is going to write and say some of the most important and personal words about your life is really difficult. I was struggling with the idea of a complete stranger being the spot light of one of the most important days of our lives, but then there was Jeanine! We met and chatted for a little while we laughed and connected immediately. We set up an appointment where my now husband Justin and I could sit down with Jeanine and really talk with her. We met and sat for hours! she asked questions about our relationship and families to really build a bond with us. It did not feel at all like an interview but just friends chatting around a cup of coffee. reminiscing over how we got to this point in our relationship, reliving all our happy moments. Jeanine was ALWAYS reachable, phone call, text, Facebook, email and she gets back to you right away! I was never ever left wondering or nervous about a question. We had also wanted a few special moments added to our ceremony and Jeanine was amazing about them. We had wanted a hand fasting ceremony and a special prayer added at the end. She had beautiful readings that were perfect for us like they were written just for us. she sent drafts over and was so helpful to get everything just perfect. after almost a full year planning with her our big day came. We had our rehearsal the night before and Jeanine was beyond helpful and amazing. so warm and welcoming. She took control of everything but so friendly about everything everyone's nerves were eased. she had everyone lined up and ready to go. the big day came and her ceremony was just perfect. our guests to this day still remind us how beautiful it was. Jeanine executed everything on point with such a soft warm voice. we had a wedding with over 200 guests. But when she started there was only us in that room it felt. she was speaking directly to just us. we didn't hear or see anyone else around us just Jeanine's soft voice. Jeanine you are truly an amazing person and I am so happy that our paths crossed

Michael

Married on 12/29/2017

JP Jeanine did a fantastic job. Extremely professional, quick to respond, very organized, timely, and wonderful to work with. Really listened to what we wanted and delivered to perfection. For being a little nervous and having no real direction you can tell she is knowledgeable and experienced. In addition was beyond reasonable. No plans to do it again but if I did she is the ONLY person I would recommend. Outstanding! Thank you so much for making it a perfect day.

Jenna

Married on 10/20/2017

We've worked with Jeanine twice now, and have not been disappointed!

Jesseca

Married on 10/14/2017

Jeanine was fantastic! From the day we met her, we knew that our ceremony would go smoothly. Her positive attitude and desire to know each and every couple she works with is just incredible. My husband and I waited until the very last minute to read through our wedding ceremony and Jeanine was right on the ball! She included everything we were looking for and was there with an immediate response when we wanted to make a few changes. The day of couldn't have gone any better.... from the rehearsal to the big kiss. Thank you Jeanine!

Anthony

Married on 10/01/2017

Jeanine was incredible to work with. She's kind and always kept us updated on what we needed to know for our ceremony. She customized our ceremony perfectly and helped make it very special for us. It was a perfect ceremony and we couldn't recommend her more!
Anthony & Kelly

Sheleah

Married on 09/02/2017

Jeanine met with us according to our schedule, she was extremely professional, polite and easy to talk to! Having Jeanine as our wedding officiant was the entire reason our ceremony went as smoothly as it did(as I was a tab bit stressed). Right up until the "I do's" she was there, obviously as our officiant but also as a sound wedding-advise giver and a lovely little support beam!

Amy

Married on 08/26/2017

JP Jeanine was there for every little thing I needed. She made the perfect ceremony that perfectly represented my husband and I. I could not have imagined a better ceremony. Jeanine talked me though the whole process, making sure we had gotten our marriage license, the ceremony. She even worked with me to create the perfect glass ceremony for our moms to join in. My day would not have been as perfect as it was without Jeanine!

Sally

Married on 07/29/2017

As soon as we met Jeanine, we knew she was EXACTLY who would make our wedding a SPECIAL day. She asked lots of questions so she could really customize our wedding for us. The vows she wrote for us were truly AMAZING and our wedding ceremony was beyond ANYTHING we could have imagined!! Our guests are still talking about how wonderful she was. Jeanine is the BEST!!! ??????????

Jeanine was very flexible with me and willing to do what I need for the ceremony!! She made my ceremony very special to fit what we were looking for!!! We felt very comfortable and at ease being in front of everyone!!! Thank you so much Jeanine for making our day extra special!!!

Kelly

Married on 07/01/2017

Jeanine was great to work with. She tailored the ceremony to what we wanted. She walked us through the entire process step by step. We really liked how she sent out emails as reminders of what to do as the wedding date got closer.. this really helped us stay on top of things and not feel overwhelmed like we were forgetting things. I think more wedding vendors should do something like this so little by little you know what to do! Jeanine was very helpful!

Larry

Married on 06/29/2017

Jeanine was really easy to work with! We had some mishaps and she guided us through everything smoothly! We highly recommend her services!

Jessica

Married on 05/20/2017

Jeanine was outstanding! My husband is from India and there were certain Hindu traditions that we wanted to incorporate into the wedding. Neither of us were familiar with exactly how to do that. After Jeanine sat down with us, she went back and researched it. She put together the most beautiful wedding ceremony including a garland exchange, thali ceremony and the seven steps around the sacred fire. She also included the traditional American vow and ring exchange, along with many personal touches about our love story. We were both thrilled with how it turned out! We would highly recommend Jeanine to other couples in need of a JP! Thank you for making our day so special!
Are you interested?
Send a message