12 Reviews
Recommended by 99% of couples
Quality of service

4.9 out of 5 rating

Average response time

4.9 out of 5 rating

Professionalism

5 out of 5 rating

Value

5 out of 5 rating

Flexibility

4.9 out of 5 rating
Awards
2 User photos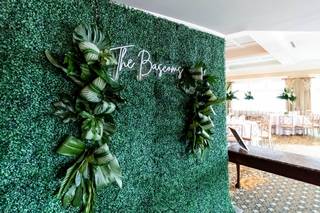 Justine

Married on 08/05/2022

Thank you Steph and Jessica!

Steph was great to work with from the beginning. Steph is very responsive and had good communication with me throughout the whole process. She was especially patient with me and my panic-texting throughout the month leading up to my wedding. On the day of my wedding, her and Jessica were so helpful and really put not only me and my husband at ease, but my parents and bridal party as well. I was able to enjoy my day, no stress and no worries! Steph and Jessica were there for me and my husband every step of the way making sure everything was running smoothly. We got married on one of the hottest days in August and Steph and Jessica were right behind us making sure we were hydrated, cool, and comfortable at all times!! They were in constant communication with our venue, photographer, DJ, and all other vendors and I really had nothing left to do but soak it all in and enjoy my day stress-free. Highly HIGHLY recommend if you want a caring, organized, professional, and all around amazing coordinator!!! Thank you guys!!

Kimberly B.

Married on 05/28/2022

Amazing service!

I booked the month of coordination package not fully sure if it was 100% necessary because my wedding venue said don't waste your money, we have everything covered. I had a lot of vendors and am so happy I booked!
My biggest thing was I wanted the least amount of stress possible. We had Jess during the day and Rhi later on. Both of them were my right hand girls. Anything I could've asked for they were on top of it. The two of them were perfect, so calm and my husband also felt like they were so helpful too! Another really great thing was I felt like my bridal party did not have to lift a finger to help me out the whole night, they were able to enjoy the night 100%! if I needed anything Rhi was there. Everyone was able to enjoy stress free!

Kerri F.

Married on 02/26/2022

Stephanie is amazing!

Steph is awesome! I hired her as my month/day of coordinator and it was one of the best decisions I made. Right from the beginning, she was helpful, responsive and knowledgeable. Even before she really stepped in to help, she was always happy to answer random questions I had about wedding planning. A month before the wedding, she started to become the point of contact for my other vendors and did a bunch of stuff on the backend that I wouldn't have to worry about. The day of the wedding she was with me every step of the way. She worked with the venue staff to make sure things ran smoothly so I could really focus on enjoying the wedding. I highly recommend Stephanie if you are looking for a wedding coordinator. She loves what she does and she's great at it!

Are you interested?

Send a message

Allison S.

Married on 07/11/2021

I can't say enough good things!

Steph and Rhi were absolutely wonderful. From a year and a half ago to when I called Steph in a panic needing help rescheduling our wedding the first time due to COVID, to during the event day-of when Rhi was so valuable and kind helping us with everything we needed, this company was so valuable to us. They made our day run so smoothly, and we appreciate them so much! Thank you thank you thank you!

Diane F.

Married on 07/01/2021

Steph is simply the BEST!

Steph is a MUST HIRE and was a godsend the day of my wedding.

As someone who specializes in organization for a living, I was incredibly skeptical of hiring a coordinator. About 60 days out, my husband was getting concerned about all the stress/pressure I was putting on myself, so he convinced me to at least start the process of searching for one. I came across Steph through some referrals of other brides, and she was by far the most reasonably priced for the amount of services she provides.

From the second I had my call with Steph, I knew I needed to hire her. She asked all the right questions and made me feel like I knew her forever within minutes. Throughout the entire process, Steph was only a text away (and she's still helping me now after my wedding with some post-wedding questions)! From arranging final details calls with vendors, creating our timeline, keeping the wedding day moving smoothly (which was not easy--between a huge wedding party/200+ guests/RAIN!!!), handing out tips, and just being a sounding board through it all, Steph is truly incredible. Save yourself the tears and the stress and HIRE STEPH NOW.

Thank you so much, Steph, for making my day so seamless and for all of your help. You are the best!

Melissa B.

Married on 05/28/2021

Stephanie is the best!

Let me start by saying, you will not be disappointed if you hire Stephanie and her team. Stephanie is THE BEST!! My husband and I never planned on hiring a coordinator, as we had a coordinator at our venue but as the months went on, wedding planning became stressful during Covid and we felt that having someone there to support us on our big day was definitely necessary. We used Stephanie as our "month-of-coordinator" and it was one of the best decisions I ever made. Stephanie put together a SEAMLESS timeline for our day and followed up with all of our vendors the weeks leading up to the wedding. I did not have to worry about ONE THING on my wedding day and the entire day ran so, so smoothly because of Stephanie. Stephanie was always available via text or e-mail to answer any and all questions I had. Truly, if there was anything that I needed Stephanie was so happy to help. Wedding planning can get hectic the month before your wedding, so do yourself a favor and book Stephanie!! My husband and I were so happy to have her a part of our day. You will not be disappointed if you hire Stephanie!! She is a kind, caring person who is a true professional. She is amazing at what she does. Thank you Stephanie!!!

Alexa D.

Married on 10/10/2020

Amazing!!!

I highly recommend Stephanie!! She was on top of everything that needed to be done, was always responsive, attentive at my wedding and attentive to detail. You do not realize how much truly goes into your wedding day and Stephanie helps you organize everything! She was with me throughout my entire day making sure everything went smoothly and was on time! My wedding day would not have been so organized and easy if it weren't for her!

Daniella P.

Married on 10/03/2020

best experience!

Steph was the best! I hired her a couple months before my wedding for day of coordinating. The month leading up to the wedding she spoke to all my vendors and coordinated with them where to be and what time. She also made a huge day of timeline which was amazing and made sure the ran smoothly. She was also present from my hotel room until the end of the night to make sure everything was good and that my husband and I were happy. At the end of the night she loaded up our car with everything we brought to the wedding. Overall she was amazing, very responsive, and I would recommend her to anyone!

Mary K.

Married on 09/06/2020

AMAZING Coordinator who saved our Wedding Post Covid

Steph was an absolute lifesaver! I found her from other recommendations after we decided to move our wedding from a venue down the shore to my mom's backyard. With only 1 month to plan to make it happen, we decided to look into a day of coordinator. Not only did she make magic happen the day of, she assisted leading up to the event while being extremely responsive and flexible to meet us a few times with very little notice. We definitely got way in over our heads with moving the event to a backyard wedding at an early hour, yet she made everything more amazing than ever imagined. She kept the whole day running smoothly and ZERO issues with our vendors. We ended up with a ton of vendors since had to now include catering, bartenders, servers, rental companies, as well as multiple stops for the florist, yet Steph reached out and planned arrivals and plans with each vendor the week prior so it was all set. Then, her and her assistant, truly put everything together at the actual space the day of while we were off doing pictures and having a ceremony. Everyone was SO impressed by her eye for setting up the space and making it beautiful, as well as enjoyed working and communicating with her. She did an amazing job at being supportive of not only my husband and i, but our guests and parents while keeping everything on schedule and running smoothly. She was truly a lifesaver for our postponed and moved wedding as a result of COVID, and i HIGHLY recommend, especially if you moved your wedding last minute and need assistance with changing vendors/venues.

Crystal

Married on 02/21/2014

Wedding planner

Due to covid my husband and I had decided to have our wedding at our home and knew this wasn't going to be easy to do. We knew we needed a wedding planner and are so lucky we found Stephanie and her team. Stephanie understood the vision and brought every aspect of that vision to life. Her work reflects the passion and love for what she does. We were able to enjoy every moment of this process and that wouldn't have been the case if we didn't have Stephanie. Our wedding day was more then either of us ever could have imagined and we now have the most amazing memories that will last us a lifetime and can't thank Stephanie and her team enough!!!

Laura N.

Married on 04/23/2021

Live saving !!!

I hired Stephanie a few months before our wedding because i was getting really overwhelmed. Steph instantly took over for us when we caught a horrible case of covid 19 that left me in the hospital for 5 days she took initiative and saved me and my wedding truly. We got married on April 23rd she took care of anything and everything i needed. I couldn't of asked for a better coordinator she was on time did everything in the manner i needed. I appreciate her more then words could say!


-Laura b :)

Haley F.

Married on 09/11/2021

Backyard Wedding Magic

I can't thank Stephanie enough for everything she did to make my wedding day dreams come true. From our initial consultation, she was kind and calming and made me feel so secure in all my wedding decisions. We came up with a package that met my needs and I hired her instantly. For being a wedding planner through the covid pandemic with all the reschedules and high wedding demand, she did a fabulous job. I really had my own vision, but I couldn't be in two places at once. I needed to hire someone to make my vision come to life while I enjoyed my wedding day. She was kind, helpful, on time, and her assistant was wonderful as well. My wedding was definitely different than the average and even with some things not going exactly as I envisioned, I wouldn't change a thing. She bustled my dress when we were in a pickle and every aspect of my day was 100% on time. Very thankful to her and her assistant and would recommend to other brides looking for someone the day of to put their vision into reality. Anyone doing a DIY style wedding I would highly recommend hiring someone to help make your day stress-free. I don't regret a single penny, completely worth it.