79 Reviews
Recommended by 99% of couples
Quality of service

5 out of 5 rating

Average response time

4.9 out of 5 rating

Professionalism

5 out of 5 rating

Value

5 out of 5 rating

Flexibility

5 out of 5 rating
3 User photos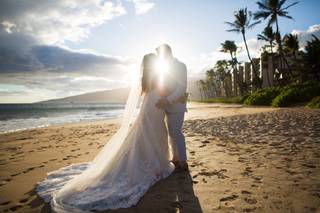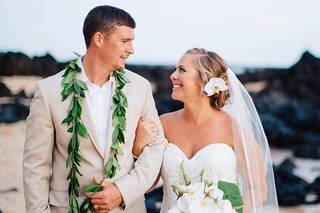 Nichole C.

Married on 08/01/2021

Amazing Wedding Photographer!

Joanna captured every detail of our wedding so beautifully. From the small details of the rings to every single combination of family member I imagined to the toddlers dancing away. She did such a wonderful job. She was so patient with us and took time to get to know us ahead of time and throughout the day to make sure she captured each moment and person we wanted. The sunset pictures were our favorite part of the whole day and Joanna captured those moments perfectly. She was so wonderful to work with and we are so grateful to have all of the pictures to remember our amazing day!

Joanna Tano Photography's reply:

Aloha Nichole,
Thank you so much for the kind review! It was an absolute pleasure photographing your special day! Wishing you all the best. Thank you again for having me!
~ Joanna

Erika

Married on 11/09/2018

Amazing photographer

Joanna was great to work with. Being from California, getting married in Maui was a destination wedding for us. My Wedding planner recommended Joanna to me and I instantly fell in love with her style. But, I was nervous to work with someone I had never met before. When I contacted her to get more info about her rates, she responded immediately. She sent over samples of photos from all different weddings she had done & made me feel so comfortable. She sent me a questionnaire so she could get to know my style, certain shots I wanted, and what my expectations were. On the wedding day, she was so attentive, always by my side asking if there were things I wanted shots of, and we connected. She was great at getting our group together for the photos and organizing everyone. She also had worked at our venue many times so she knew the best places for the best photos. The best part, our photos came about 2.5 weeks after the wedding! That was impressive! We got about 950 photos and they were all AMAZING it's so hard for me to pick my favorites. If you are thinking about booking with Joanna, just do it. She is worth it. I have sent my photos to so many family members & every one of them compliment how amazing the photos are. I couldn't have asked for anything better from a photographer!

Arthur

Married on 10/07/2018

Picture Perfect Maui Wedding

Looking for a good photographer isn't easy. Especially when our wedding venue is overseas and all we can do is trust what we saw on the internet. But with the help from our coordinator Kimberlee Aihara, we were directed to several photographers of choice, one being Joanna Tano's professional photography services. Looking at her portfolio, I could see that her style and eye for taking in a scene was very much how we'd like our photos to come out. And when the day finally came, we were not displeased. When we received our digital photos the quality of the shots was amazing. One of my requirements is that we didn't want posed shots, but candid ones. To us it felt more natural and fit the environment we were in. We couldn't have asked for a better photographer. Thank you Joanna, and your assistant for making our wedding day memorable.

Are you interested?

Send a message

Elly

Married on 08/31/2018

Most Amazing Wedding Photos & So Easy to Work With

Joanna photographed our Wedding at the Kea Lani in Maui. She capturing all the moments and we hardly even noticed. The photos are beyond stunning and we have the best memories to look back at and relive all the magic of our special day. Her sunset photos are especially stunning. Be sure to get some photos in at that time.

Joanna Tano Photography's reply:

Hi Elly,

Mahalo for your sharing your experience. You were wonderful to work with and your wedding was absolutely amazing! Thank you for having me as your photographer.
~ Joanna

Cori

Married on 07/21/2018

Joanna is amazing! She's like a ninja...she stealthily managed to be everywhere and capture every perfect moment of our wedding. I'm sure other people could say this about their wedding photographers, but Joanna also managed to do all this under a compressed timeframe. My husband and I (and 95% of our guest list) are from Oahu. We chose to get married on Maui because we fell in love with Sugar Beach Events (separate review for that). Wanting to allow our guests the ability to fly back to Oahu that same night, we decided to ensure that our wedding festivities would be over by 8:30pm - leaving minimal time for formal photos. Yet somehow, Joanna managed to capture everything! She was there for the final touches of my hair & makeup, got some beautiful shots of us with our bridal party, snuck in some sunset photos on the beach, and captured all the little details that quite frankly, I spent a lot of time planning but didn't really get to enjoy and take note of during the flurry of the day. In addition, Joanna would check in with me every now and then to see if there were particular shots or guests I wanted pictures of. Had she not checked in with me, I probably would've forgotten she was even there as she manages to do all her work non-intrusively. Joanna is sweet, professional, and attentive...and her pictures (framing, lighting, posing) are spectacular. For other soon-to-be brides out there that are Type A worry-warts like me, hiring Joanna is a decision you won't regret - rest assured that you are in the best hands!

Amy

Married on 07/11/2018

Joanna recently shot our engagement portraits and we couldn't be happier with the results! She has a real talent for finding the best lighting and our photos came out gorgeous. My fiancé and I are hardly "naturals" in front of the camera. Joanna made us feel so comfortable and it ended up being a very fun experience. We can't wait to have her capture our wedding next year!

Mahalo,
Amy and Cody

Linda

Married on 06/25/2018

Beach wedding with large family

Joanna was very easy to work with. She was very knowledgable about ur venue and the best areas to take photos. We had a very large family and she was understanding and accommodating.

Carly

Married on 12/21/2017

First of all, Joanna knows how to bring out color in her photos, and with a wedding in Maui that was a must have for us. She also gave great suggestions for photo opportunities and poses without ever making us look forced or uncomfortable. In the process of finding our photographer what sold us with Joanna (beyond the quality of the photos) was the fact that each couple looked natural, comfortable, and in love. Look for yourself on her website if you haven't already.
I also want to specifically point out Joanna's flexibility with us. As it turned out the forecast for the day we had scheduled for originally was rainy and we wanted to postpone for two days later. Granted luck is always a factor in cases like this for open spaces in schedules, however I'm still grateful Joanna was willing to accommodate and thus gave us the opportunity to get married on the beautiful day that we got.
Thanks so much, Joanna!
Carly and Alex Gheseger

Brooke

Married on 07/18/2017

Joanna was recommended to us by our wedding coordinator and we were so pleased. Joanna and her assistant spent 6 hours with us before and during our wedding. She was friendly and easy going. Best of all, she captured the best pictures of our best day ever. She continues to post our wedding pictures through instagram and Facebook and it's such a treat to be reminded of all the moments throughout our day . I would highly recommend Joanna as a photographer for any occasion on the Hawaiian islands!
Brooke & Britt

Diane

Married on 07/01/2017

Joanna was great! She is so friendly and very easy to get in touch with. We booked her for 4 hours and time flew by! She brought her assistant who was also wonderful and they took such lovely photos of us at the ceremony and especially at the beach afterwords. She made sure to get guest photos too. Joanna made us feel comfortable and was able to capture such special moments between me and my husband on our wedding day and we are so happy with the photos we received. We loved working with her and would definitely recommend her!

Zarah

Married on 06/03/2017

Joanna was an angel! She made our wedding fun , memorable and stress free. Me and my husband are both not big fans of photography and she made us comfortable with the experience.

Franz and Zarah

Casey

Married on 06/02/2017

Joanna was incredible!!!!!! We didn't want to focus on formal photos, we really only wanted mostly candid, and she did this effortlessly and casually. I am not photogenic in the least bit and she did an amazing job of making me look perfect in every shot. She encompassed exactly what the wedding was, sophisticated and island chic simplicity at its finest!

Reb

Married on 04/09/2017

Amazing experience and we love the photos! Joanna was recommended by our wedding organizer. After going through a few choices, we decided to go with her because we like how she makes use of natural lighting therefore minimal processing to achieve a more natural look without over touching up. The photos turned out really well. She had some interesting angles and ideas which made our pre-wedding, reception and couple beach shoot not boring and cliche.

Joanna brought her assistant too for the shooting and they both were friendly and easy to work with. I like how she's friendly but not babbling. It seems like she's really putting thought into her work! Her team worked hard from beginning till the end. They also tried their best to stay out of the way and we didn't notice them at all during the ceremony!

The photos turned out great and were ready in only 20 days! We also love how the website was nicely set up and was easy to navigate. We can also use the tools to save our favorites and share with friends easily. Joanna is tech savvy!

Overall we are very pleased with the experience. Although the standard Maui prices are on the high side, we're glad we chose Joanna to be our photographer. It's daunting to not know what to expect when you are paying this much money, but I'm sure she'll do a good job in your next event. We highly recommend her team!

Megan

Married on 04/07/2017

I can't say enough positive things about Joanna. She made our rehearsal dinner and wedding so easy! She is responsive and a top-notch professional. She has a great eye and her creativity and ability to capture light is amazing. She is sweet, easy going, and will go above and beyond to get the best angle for a shot. I loved our candids as well as our posed photos, and she had our entire album sent and edited to us 2 weeks after the wedding (this is rare and we were so excited)! Again, can't say enough about her and I would suggest her to anyone looking for a ray of sunshine on your wedding day.

Brenna

Married on 03/21/2017

Joanna is the best! She photographed my wedding in Hana with just my husband and me. Photos were the biggest deal to us since we didn't have family with us, so I looked at dozens of photographers and when I came across Joanna's work I was done looking! We literally don't have any bad photos, she has such an eye to capture our day perfectly! I would highly recommend working with Joanna to anyone!!

We were so happy that Joanna was available to take the photos for our wedding day. She was very professional and a pleasure to work with. I would recommend to anyone looking to find a photographer for your wedding day to contact Joanna!

Lani

Married on 10/16/2016

Joanna was just fantastic!! We are absolutely thrilled with our photos which we received so quickly! Her use of natural light and incorporating the beautiful Hawaiian scenery into her images makes her style so incredible and unique. We are in love with our photos! If you want the best, Joanna is it!

Lauren

Married on 10/13/2016

Joanna took our wedding photos at Sugar Beach Events in October. She was familiar with the venue, so she knew all the best places to capture our photos. She brought an assistant with her, and both of them were very professional and friendly. We received digital copies of all our images just a few weeks after our wedding and were able to easily shared those photos with friends and family. We booked a 2 hour photography package and received over 400 photos. I would recommend Joanna for your event!

Rachel

Married on 10/01/2016

Joanna was our photographer for our October 1st wedding at the Old Lahaina Luau! She was great! My husband and I both are not very comfortable with posing for pictures and Joanna made the environment comfortable and gave great direction. The pictures turned out beautiful and they were available within 2 weeks which was great! Definitely recommend!

Chanelle

Married on 09/19/2016

Cannot recommend Joanna enough!! We were married on 19 Sept 2016 and our wedding photos are seriously stunning!!! She was professional, prompt, and so easy to deal with and be photographed by. Looking at them makes me so happy as she truly captured our day exactly as it was. I chose Joanna based on her talent with capturing natural light so magically and she definitely did this for us! Her online download system is also seamless!

Thank you so much Joanna!!

Chanelle and Brayden
New Zealand

Marisa

Married on 09/13/2016

Joanna was simply the best and the photos for our wedding were fabulous. It couldn't have turned out any better!

Candace

Married on 09/07/2016

My husband and I (and our kids) had the amazing opportunity of working with Joanna for our Maui destination wedding. Not being from the island, we leaned on the help of a coordinator to help setup the whole day. When it came time to pick a photographer we were given a list to choose from. Joanna's photographs stood out immediately, they were authentic and warm and exactly what we were hoping to capture of our day.
We couldn't be happier with how Joanna and her delightful assistant photographer captured our day. Not only did we get our pictures back in record time, but they were all so gorgeous and captured the intricacy of each moment so well.

Maude

Married on 07/19/2016

Joanna was great to work with! It was so simple with Joanna and she worked with us to ensure that we really got all the pics we wanted! She is extremely talented and captured the beauty of our wedding day! She loves her work, she is super calm and extremely professionnal. We are so so happy with the result!

If you want amazing pics for your wedding, Joanna Tano is a wonderful person to work with!

#thankyouforcapteringthisunforgettablemoment

Maude & Maxime July 2016

Joanna Tano Photography's reply:

Thank you so much Maude and Maxime for sharing your experience! It was an honor to capture your very special wedding for your sweet family. Thank you again for having us!

Abigail

Married on 07/08/2016

Joanna was amazing. Booking a Maui wedding from Washington state could have been stressful if it weren't for professionals like Joanna. We were able to speak by phone in order to make sure she could capture our vision for the perfect ceremony. She took both posed photos and lots of candid pictures and captured the day perfectly. We are so glad that we found her.

Karen

Married on 06/12/2016

Joanna Tano was recommended by my wedding planner. I was really pleased with the whole experience. She is super sweet ,laid back-and made everyone feel relaxed. The photos were beautiful and we received so many compliments. If i were to change anything, it would be to book more time with her.

Joanna Tano Photography's reply:

Hi Karen, Thank you so much for sharing your experience! It was an absolute pleasure working with you! Congratulations again!
Are you interested?
Send a message