91 Reviews
Recommended by 100% of couples
Quality of service

5 out of 5 rating

Average response time

5 out of 5 rating

Professionalism

5 out of 5 rating

Value

5 out of 5 rating

Flexibility

5 out of 5 rating
55 User photos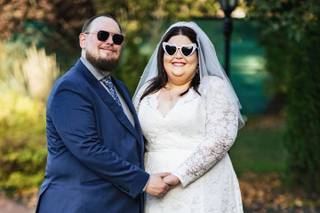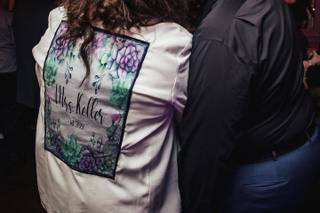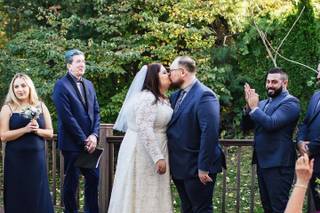 + 51

photos
Featured

Sophie

Married on 04/16/2022

Amazing experience with Jimmy and Will

Jimmy did an outstanding job at our wedding. Leading up to it, we had a few zoom calls with him to get an idea of what we were looking for in photos as well as getting organized for the big day! He made sure both sides of our extended family were included in wedding photos. He also gave us the option to go to an AMAZING place (The Planting Fields) for photos right before the wedding with the bridal party and me and my wife and they turned out great!

Jimmy and his partner Will were with us on our big day for TWELVE hours and the whole time they were friendly, positive, patient with our big families, efficient, and professional.

He has a keen eye for finding the best shots and does some experimental takes which turned out amazing. It ended up raining in the evening and he took an awesome photo of us under an umbrella with special lighting where you could see the rain droplets against the night sky. Amazing job and highly recommend. Thanks Jimmy!

Michele M.

Married on 10/09/2022

Stunning pictures !!

Jimmy really knows how to capture the moment. He was always prompt and so much fun to be around. His photos were absolutely stunning and I couldn't thank him enough.

+ 5

photos

Chelsea M.

Married on 10/08/2022

I love my wedding photos

Jimmy took the best photos of my wedding! He arrived earlier than contracted to take detail pics. He had a creative eye and really impressed me with his ideas. His excitement to take the photos gave me the energy I needed to get through it. I was so please with how my photos came out. I would definitely recommend Jimmy to anyone needing a great photographer to capture their special moments.

Are you interested?

Send a message

Brooke M.

Married on 07/03/2022

Beyond our expectations!!!

5 stars doesn't begin to cover it!! Jimmy and his team absolutely knocked it out of the park for our 4th of July weekend wedding from start to finish. It was extremely important to my husband and I that our wedding photos weren't "cookie cutter"— we were less concerned with the formal, standard wedding photos where the bride/groom are staring into each others eyes or placed strategically in group photos with the wedding party, and more focused on having a "documentary style" approach that really captured "the moments in between" and candid shots of our favorite people sharing in the fun of our wedding day. We wanted to look back on the photos and feel catapulted back into the experience of it all— and Jimmy absolutely nailed it. He captured the stunningly unique features of every area of our indoor/outdoor wedding venue to a T AND documented the all out dance party at the reception flawlessly. Both my husband and I have VERY LARGE families and had huge wedding parties, and jimmys team wrangled everyone with the perfect balance of assertiveness and respect. We never once felt like stepping away for photos was a chore. We were absolutely blown away by the photos when we got them back. Not to mention his turn around time!!!!! Unreal! Hiring Jimmy and his team was one of the best decisions we made. We cannot recommend him enough!

+ 15

photos

Sydney

Married on 06/04/2022

Amazing decision reinforced

Jimmy was the best decision! We have the most beautiful photos and moments captured, and beyond that our family and bridal party absolutely loved him and Will. They were engaging but gave us space, helped us pose but let us be natural, and we're a total hit. Many portrait photos with all varying siblings alone then with parents then just parents, then both sides together, etc etc etc can be tough to muster through but he made everyone laugh, had everyone on deck and paying attention and made it painless.
Jimmy worked with the sunlight moving, nature elements beautifully and was a true professional. My husband generally hates getting his photos taken and enjoyed working with Jimmy and Will so very much. We are thrilled that he was part of our day!!

Caroline S.

Married on 02/25/2022

Jimmy is the best!

We are so glad we found Jimmy to photograph our wedding! He is an excellent photographer, professional, easy to work with, and an overall great guy. Due to the pandemic, we had to change our wedding date/plans several times and Jimmy was very accommodating and flexible throughout the process.

We did our engagement shoot with Jimmy in Central Park and it was a great opportunity to get to know him and feel comfortable in front of the camera. He was great at directing us and the photos turned out beautiful!

On our wedding day, Jimmy did a great job of corralling our guests for photos (we had several large family shots) while staying upbeat and friendly. He trekked to several places throughout NYC with us to get all the shots we wanted - and had a great idea for us to step out from the reception quickly to get photos with the Empire State building lit up in the background. His assistant was also amazing and helped fix my dress throughout the night.

We could not be happier with the way our wedding photos turned out! He captured the day beautifully and we have so many photos to remember it by. Thank you, Jimmy!!


+ 6

photos

Jen

Married on 10/16/2021

Flawless photos and experience

Not enough wonderful things to say about Jimmy. He was recommended to us by a friend, and we are forever grateful. He shot our engagement photos and wedding photos and made the entire process so seamless, stress free, and flawless. He is so calm and chill yet makes sure everything gets done in a timely and organized fashion. He takes a somewhat awkward and stressful experience (get ready for all those poses!) and makes it actually fun and memorable. He even was able to capture our dog during our engagement shots in her best candid moments. He had a great eye as well for amazing shots, and we cannot possibly recommend him enough. Thank you, Jimmy!!!

Don

Married on 08/07/2021

Wonderful experience!

Thank you so much Jimmy for being an excellent photographer for our wedding! We immediately booked Jimmy after our first meeting with him in 2019 because he was so easy to communicate with, very reasonable in the options offered for our package, and we loved his photography style. We had our engagement session with Jimmy in Central Park and those pictures turned out gorgeous. The session gave us a sense of how natural and comfortable Jimmy's direction could make us feel when normally we are both very awkward and stiff in photos. During the height of COVID, Jimmy was the one vendor who gave us a heads up to postpone our 2020 wedding out to 2021, and thanks to him we were able to secure an ideal 2021 date with our venue in time. On the day of the wedding, Jimmy was so efficient and worked so well with the videographer. His assistant was also helpful in keeping the shots streamlined. We love the creative shots he took and how he made use of the venue's scenery and decor. He fully captured the joy, energy, and beauty of the day and of our loved ones, and we are so happy with our full collection of engagement and wedding photos to look back on.

Eugene C.

Married on 07/31/2021

Amazing photos! Thank you Jimmy!

Jimmy came highly recommended and we are so glad we chose him for our wedding photography. He understood our vibe right away and made sure to listen to all our input.

We originally planned our wedding pre covid and ended up having it over a year later. Throughout that process Jimmy was always keeping us in the loop and was super accommodating to our changes. The day of the wedding he really was great to have around and even drove the bride to the venue due to last minute changes!

The photos came out amazing. They really gave us some special moments and made us look good! Thank you again Jimmy! I'll definitely be in contact in the future when I need a photographer!

Jennifer B.

Married on 07/04/2021

A skilled professional!

EXCELLENT & PROFESSIONAL! Jimmy is an extremely talented photographer. We used him for our wedding on July 4, 2021. Through every step of planning our big day, Jimmy was supportive, answered all of our questions, and worked extremely well with our videographer. He made us both comfortable and worked very efficiently so we didn't miss too much of our cocktail hour and reception. Our photographs came back within 4 weeks and they are GORGEOUS! BOOK HIM! He is honest, skilled, and a good person.

Kenneth T.

Married on 06/21/2021

Truly Talented

Following the first pandemic surge, I decided to propose to my high school sweet heart. My mission was clear - to get engaged in the borough in which we had first moved in together. I thought the Brooklyn Bridge would be the perfect backdrop to reflect that. I was overtly anxious trying to figure out how I'd pull it all together. Cue in Jimmy Chu. I first learned of his services via a mutual contact. At the time, I hadn't known that my then-girlfriend would often peruse his social media accounts, sifting through artistic and beautiful depictions of others proposals, weddings, etc. As soon as I spoke with him over the phone, I knew he was going to capture our moment in the best way imaginable. He was incredibly approachable, patient and kind. He helped me devise a plan of action for the day that appeared straightforward enough. He wanted to know more about us, how we met, our backgrounds, all in an attempt to honor who we have come to be as a couple. The morning of the surprise engagement shoot went exactly as we reviewed. My now-wife (and I) couldn't believe it was finally happening. Jimmy produced beautiful photos highlighting this remarkable occasion for us. He made taking every single photo feel as natural and as comfortable as possible. He experimented with different angles, backgrounds, poses; all without seeming "too much." He made the experience a delight. My wife and I still look through those photos to this day, gleefully smiling at the culmination of 14-years of love. The feeling was immediate, there was no other option - we needed him to photograph our wedding day. The planning process was made smooth by his clear requests and experience. He reviewed our interests, shots of family members that were a must, color schemes, etc. On a day that is inevitably chaotic, he made sure to keep us on schedule in order to capture everything we wanted. He did this and more. My wife and I had our reception at the same location we went for our high school prom. We couldn't help but get emotional seeing the photos he took of us, with backdrops from all those years ago - nostalgic yet new. He and his assistant were incredibly respectful to our attendees and made sure the festivities went on without any disruptions. They were an absolute pleasure to work with. The photos and memories of that day have filled us with so much happiness. We highly recommend his services to those seeking to preserve their engagement and/or wedding days! You will not be disappointed!

Chelsea R.

Married on 05/30/2021

Best vendor

Jimmy Chu was by far our greatest decision for our wedding day! His upbeat personality combined with his artistic style & knowledge of great locations really made our wedding photos STUNNING! I can not imagine having another event without him.

Andrew I.

Married on 05/02/2021

Jimmy chu not the shoe!

Jimmy is just absolutely amazing! He filled our day with pure joy with his presence and experience. His vision for photography comes from passion and heart! Our guests had an amazing time taking pictures and Jimmy and his team were absolutely attentive!! If you want a true experience Jimmy is your guy for literally every angle!

Jess F.

Married on 01/15/2021

Wedding photographer

Jimmy has an amazing wedding photographer! He was always available to talk about our style and ideas. He took our engagement pictures as well. All of our pictures were returned to us very fast after shoots. I'm so happy we chose Jimmy!

Roxxy

Married on 09/08/2020

The best in every way!

Jimmy was recommended to us by a friend before we even had a venue or a wedding date. At our first meeting, his passion for what he does was so palpable that we knew immediately that we would book him. Five months later, when we found our venue, our first call was to Jimmy; we had to make sure that he was available for the dates that we had in mind!

Fast forward to our engagement shoot Jimmy's personality and professionalism were exactly what we needed in order to be comfortable in the spotlight - my husband is a shy guy and I'd never been professionally photographed before. When those pictures came back, they were so elegant and timeless that we started to wonder how Jimmy would surpass them for our wedding… friends, Jimmy DID NOT disappoint! It didn't matter that we arrived at the venue an hour late or that everyone had to social distance because of COVID, Jimmy was able to get every shot that we wanted and some that we didn't know we needed! His action shots, in particular, have had us and our guests laughing and raving for weeks!

The most important thing to us though, was how involved Jimmy was. He was honest, transparent, easy to reach, and he went above and beyond his role: he walked us through changing our wedding date when COVID started, he helped us think thought what COVID precautions we needed to weave into our event, he was a calming yet energetic presence during the hectic wedding day, and his pictures were original and available in record time! We feel extremely blessed to have worked with Jimmy and it's safe to say that he became a part of our story through this process. We'd recommend him without a shadow of a doubt to anyone looking for an amazing photographer and gorgeous pictures!

Christine Y.

Married on 07/31/2020

If it's for that moment you want to last forever, choose Jimmy Chu!

What can we say? Jimmy was just utterly amazing! Jimmy was very accommodating when it came to the pandemic and we had to postpone our wedding from July 2020 to July 2021. We had sat down with several other photographers prior to meeting Jimmy and once we did, the decision to choose him was instant! His personality is very easy going and his portfolio of work was mesmerizing. His creativity and ease of talking to him is what really pulled us in. He was never pushy with any of the photo packages and was considerate of our budget, which anyone planning a wedding knows, can be very hectic and scary. He was just genuine with every step of the way, all the way through our entire wedding. When it came down to the special day, he was punctual and not a single hesitation while working, just a seasoned pro. Worked well with our outside videographers too! He captured the most intimate moments of our wedding with such excellence. We have zero regrets choosing Jimmy Chu Photography and we will highly recommend him to every single family and friend! And on top of it all, we received all photos of our wedding touched up just roughly three weeks after the wedding!!! I've had family and friends wait months!!! We can't say enough good things about Jimmy. Just choose him already !

Jackie T.

Married on 06/09/2020

A great photographer for a stressful event.

Jimmy was enthusiastic about the engagement photos. He already had a clear idea of where to go for great colors and backgrounds. He was as well prepared for the engagement shoot as he was for the wedding day. He knew we were running on a tight schedule and got us to the right places at the right time. He never missed a beat. Last but not least, his pictures were fantastic - very similar to the rest of the photos in his portfolio so there weren't any surprises in the final results.

Rachel

Married on 12/14/2019

Super Talented and Amazing Photographer

We loved working with Jimmy!

Jimmy is an extremely talented photographer who delivers amazing work. From the moment my husband and I came across his Instagram and website, we were amazed by the quality of his photos and how well he is able to tell a story through photos. It was very important to my husband and I that we find a photographer who we both felt comfortable with. Immediately upon meeting Jimmy, we felt very much at ease and booked him for our wedding right away.

During our engagement photo shoot, Jimmy did a great job directing us and making us feel comfortable in front of the camera. He was super flexible with our requests to get different shots across downtown Manhattan. He has a natural eye for getting unique and creative shots and his excitement and passion made the engagement photo shoot experience fun and enjoyable.

On our wedding day, Jimmy and his colleague partnered wonderfully together to capture every moment from the bridal party getting ready, groomsmen lunch, ceremony, and all the way through to the very end of the reception. We were impressed not only by the total number of photos we received, but how amazing each photo was! Jimmy captured so many beautiful candid moments and we can feel the energy of our wedding come through the photos. When we first met Jimmy, he shared that he wasn't afraid to be in the dance floor action to get the right shots and he lived up to this!

Beyond his awesome photography skills, Jimmy is simply a great guy. Our engagement and wedding photos exceeded our expectations, our experience working with Jimmy was so much fun and stress-free, and without hesitation, we highly recommend working with Jimmy!

Dennis A.

Married on 10/12/2019

Just act natural

Working with Jimmy was an absolute pressure. We looked through his portfolio and knew that his style of photography was aligned with our vision. We were not very comfortable in front of the camera, but Jimmy made it so easy with his directions for some of the poses and it looked very natural. His experience of working with couples and the venue we picked was very evident. And we liked how he would try something different with us, (different use of angles, reflections, lighting, etc) so we'd know we would have something unique only to us.

Nupur P.

Married on 09/29/2019

He is Great at his work!

He was incredible! We were so happy that we chose him for our engagement photoshoot.
He knows his work so well! He is friendly, professional, and best!
Just hire him!


Lauren I.

Married on 09/14/2019

Memorable and amazing experience

I could not have made a better decision on a photographer. Jimmy Chu was confident in his work, knew how to work with people, and was extremely personable. When we spoke for the first time, I felt like he knew exactly what he was doing. When my wedding day began I was running a bit behind schedule and Jimmy was waiting for my bridal crew and me to arrive but he was ready to go and had everyone feeling great ! He made my fiancé and I laugh & helped everyone feel super comfortable. He is very creative and as he sees his surroundings, looks for unique photo opportunities. He also successfully dealt with my bridal party who weren't the easiest to manage. He had a great way of getting amazing shots of the ceremony and the dancing without ever being in the way. Everyone had nothing but great things to say about him & his lighting assistant. When I received my photos I was truly in awe of the wonderful memories I'll have for the rest of my life. Even the USB that he sent us came packaged in a professional and beautiful case. I would recommend Jimmy to anyone and everyone who wants to have an amazing wedding experience and phots they'll treasure forever. Thank you Jimmy!

Victoria S.

Married on 08/31/2019

Choose Chu!

If a picture is worth a thousand words, then Jimmy Chu's photography is a novel. My husband and I had the unbelievable fortune of finding Jimmy Chu just a few months before our wedding. He drove all the way out to Long Island to meet with us the first time and was personable, professional and excited from the get-go! We got once-in-a-lifetime photos from our engagement shoot at Bethpage Black Golf Course following the PGA Championship (my husband and I are both avid players). They were stunning, and made only reaffirmed that fate had played a role in bringing us Jimmy Chu. Our wedding day photos are surreal. Jimmy and his assistant Will somehow captured all the right moments without ever being seen. They were fantastic! You can tell how passionate Jimmy Chu is as a photographer and that he truly loves what he does. We cannot thank him enough for blessing us with such beautiful memories. I would recommend Jimmy Chu as naturally as I breathe. He is a diamond in the rough - truly special!

Cory M.

Married on 08/10/2019

Jimmy is incredible!

Jimmy is incredible! He loves what he does and it shows in the final product. We loved working with him and having him at our wedding. His photos are amazing, the portraits came out perfect, the action shots captured the energy of the room, and the lighting effects were stunning. I cannot recommend him enough. He took so much stress out of the day and made the awkward task of picture taking fun and enjoyable!

Pamela B.

Married on 08/03/2019

We ❤ Jimmy Chu !

When searching for a photographer for our special day, we wanted someone....different. We had a number of family members and friends referring us to photographers that they have used in the past but weren't looking for the same old traditional wedding photos that you so often see. We were looking for someone who had a bit of flare...someone who would incorporate their artistic abilities while telling our love story.
We stumbled upon Jimmy's work on wedding wire and his photos stood out to us. Perhaps it was the way he is able to manipulate light to liven up a photo or just the creativity of the photos themselves, but we knew right away that we wanted to know more.
Jimmy was both responsive and professional from day 1. When we contacted him, we made a plan to meet at a coffee shop in Brooklyn to discuss our vision for our special day. Jimmy took the time to ask questions about us and our story and wanted to get to know us as a couple. He shared some more of his work and after good conversation and a few laughs, we booked him for our wedding on the spot.
The next time we met with Jimmy was for our engagement photoshoot. Jimmy was more than flexible when scheduling our shoot. He took the time to explore the grounds of the location we chose with us to ensure that he was able to get some great shots. We were more than pleased with our engagement photos and looked forward to seeing what else he had to offer on our big day.
Finally, August 3, 2019 arrived. Jimmy was nothing but cool, calm, and collected with what turned out to be a hectic timline due to delays in hair and makeup. Jimmy kept us on track while keeping the mood light and the process enjoyable. He made sure that he got the photos we wanted while still allowing us the time to party and enjoy our guests.
Jimmy was a pleasure to work with and an all around great guy. The sneak peek of wedding photos that we saw are stunning! We can't wait to see the rest and pick our photos for our wedding album.
If you are on the hunt for a wedding photographer who will bring something new, fresh, and creative to your wedding photos, check out Jimmy Chu Photography, you will not be disappointed! PaMeLa & JoAnN 👭

Shenese

Married on 06/15/2019

Coolest Photographer

We are so delighted to have Jimmy as our photographer. The photos captured many emotions from our wedding. We were in love with the results. Jimmy sent us the photos pretty quickly and was very flexible with our schedule of events. He was also very fun to have around. Thank you for everything!
Are you interested?
Send a message