Reviews
4.9 out of 5 rating
Quality of service

4.9 out of 5 rating

Average response time

4.9 out of 5 rating

Professionalism

4.9 out of 5 rating

Value

4.9 out of 5 rating

Flexibility

4.9 out of 5 rating
99%
Recommended by couples
8 User photos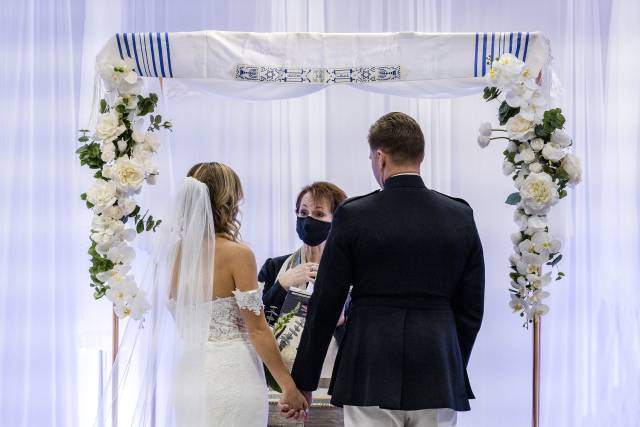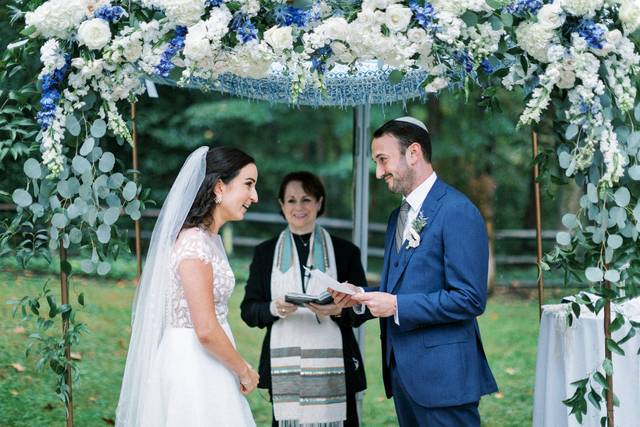 + 4

photos
Rachel O.

Married on 08/26/2023

Incredibly meaningful and personal ceremony

Rabbi Annie prioritized building a relationship with me and my husband during the process of planning our ceremony. We really felt like Rabbi Annie put a lot of energy into getting to know us and creating an incredibly personalized ceremony. She is really sweet, kind, and genuine. Her words during the ceremony touched our hearts and made an impact on everyone at the wedding. Thank you Rabbi Annie for helping us create the most beautiful and heartfelt experience.

Karen G.

Married on 06/17/2023

An absolute treasure!

Rabbi Annie is such a delight and a pleasure to work with. We had a same-gender, interfaith, intercultural celebration, and she helped us blend our traditions and bring everything together into a seamless and moving ceremony. We still have guests telling us how much they loved the ceremony, and Rabbi Annie in particular. Her speech was amazing and very moving, and I was touched by how she talked about us at the ceremony. And she is such a sweet, genuine, and delightful person as well!

Before the ceremony, we also met with her several times to discuss our relationship, our goals for the future, what we like about each other, the importance of various things in our relationship, etc. This was super helpful! It was great to be able to explore all these questions with my partner. While we had discussed many of these before, the way Rabbi Annie asked the questions and the specific questions that were asked illuminated some things I hadn't known before and helped me to get closer to my now-wife :) It also helped us get to know Rabbi Annie more, which made the ceremony and wedding seamless.

Overall, highly recommend!

Brandon L.

Married on 06/10/2023

The Best Rabbi

My wife and I had the great privilege of having Rabbi Annie officiate our wedding. My wife grew up Presbyterian and I grew up Jewish. Very early on in the process we decided that we wanted to have a rabbi that could perform an interfaith service officiate our wedding. Through the grace of G-d, we were so fortunate to find Rabbi Annie. After just one introductory meeting, we knew that Rabbi Annie was the right fit for us. She has such a kind heart and she showed throughout the process that she genuinely cared about us as people. Between the time we chose Rabbi Annie and our wedding day, we met with her several times. Throughout that process, Rabbi Annie helped my wife and I put into words our love for each other and helped make our love even stronger. Rabbi Annie also helped us craft a ceremony that included many Jewish customs but was also respectful of my wife's religion. We even included a prayer in the ceremony that my wife grew up reciting in her church. In the last couple of meetings leading up to our big day, Rabbi Annie kept telling us that the ceremony would be beautiful. To be honest, I didn't know a ceremony could be that beautiful. With Rabbi Annie's encouragement, we wrote our own personal vows, something we would have never had the courage to do without her. They were beautiful. But the most beautiful part of the ceremony to me was Rabbi Annie's speech towards the end of our ceremony where she told our love story better than anyone else ever could. Our ceremony was only about 20 minutes but those were the best 20 minutes, in an otherwise perfect day, and I will never forget them for as long as I live. Thank you, Rabbi Annie, so much. We love you -- Brandon & Leah

Jewish Heart and Soul—Rabbi-Cantor Annie Bornstein's reply:

You are too kind Brandon and Leah. You got it wrong because the privilege was ALL MINE.
I love you too🙏 Be well, Be safe, Be in love forever.

Are you interested?

Send a message

Lindsay

Married on 03/19/2023

Perfect & Personal Interfaith Ceremony

We met with Rabbi Annie over Zoom during Covid and immediately liked her knew we had found our officiant. She is warm, caring, and thoughtful. As an interfaith couple (Jewish and Muslim), we value that Rabbi Annie understood and respected that while we wanted a nonreligious ceremony, bringing in certain aspects from each of our faiths would be meaningful to us and our families. Annie helped weave together a modern interfaith ceremony that incorporated the traditions and prayers that resonated with us. Rabbi Annie brings a modern interpretation that we found to be a perfect blend of old and new. In addition to her expertise at bringing together a multi-faith/cultural wedding ceremony, Rabbi Annie spent time getting to know us as a couple. We felt supported by Annie throughout the process, particularly when my husband suddenly lost his father a few months before our wedding. Throughout our meetings, she truly got to know us and understand our relationship, resulting in an incredibly intimate and heartfelt ceremony. The Rabbi's words to us were personal and purposeful and something we will remember and cherish for a lifetime.

Jewish Heart and Soul—Rabbi-Cantor Annie Bornstein's reply:

I, too, will cherish YOU two for a lifetime. Please keep in touch with me. I became attached to you and your lovely families! All of them were so warm and charming and supportive. That made me happy and hopeful for the future. YOU give me hope for the future..You and all the wonderful interfaith couples that touch my heart....thank you. I love you....


Jeffrey F.

Married on 09/16/2022

Rabbi Annie Bornstein is a Godsend!

Rabbi Annie Bornstein is so much more than a Rabbi. In the months that led up to our wedding, she became family to us. Our pre-wedding meetings with her were incredibly heartwarming and personal. By the time our wedding day arrived, it became apparent that she knew us both very well. Annie incorporated key details from our discussions into the actual wedding ceremony. It was like a finely woven tapestry! Like us (bride and groom), our guests also felt that something very special had taken place during the ceremony. Annie made that happen! In fact it was obvious that Annie too, was quite moved by what was taking place under the Chuppah and in the room. We feel that God had His hand in bringing Annie to us. We could not have been more satisfied with the choice we made for our Rabbi. We intend to stay in touch with Annie and get together with her from time to time. As we already stated, Annie is now family to us. Please consider hiring Annie Bornstein as your Rabbi. You will be very happy that you did.

Jeff and Cherish (Wedding Date: September 16, 2022)

Eric

Married on 05/07/2022

Rabbi Annie can't be beat!

Rabbi Annie was the perfect choice to officiate our wedding and we'll forever fondly remember our ceremony and the time we spent with her in the months leading up. From day 1 until the day of the ceremony, everything was better than we could have ever expected.

Rabbi Annie spent hours with us over Zoom in the months leading up to our wedding, learning about our relationship, our families and our preferences for the ceremony. She always had nice things to say and great advice for us along the way. We had a lot of laughs and still remember her words today. She was also sure to take note of every detail we wanted for the ceremony and was extremely accommodating of everything. Her dedication is clear when you see how much thought she puts into every detail - down to the pronunciation of everybody's name.

The day of was perfect as well. Our ketubah signing was memorable and our families and witnesses loved her. She conducted the ceremony with grace and humor and we've heard so much feedback that our ceremony was emotional and beautiful. It went perfectly according to plan and included everything we wanted.

We would wholeheartedly recommend Rabbi Annie to anyone and everyone!

Jessica

Married on 02/20/2022

Amazing interfaith service

Rabbi Annie is simply the best. For our interfaith wedding, she wrote and conducted a beautiful service which explained the jewish parts of the ceremony as well as included both the hebrew and english for the prayers. So many of our guests came up to us and stated that it was the nicest wedding service they had been to. Rabbi Annie really listened to what we wanted our ceremony to look like and delivered a highly customized and tailored event. HIGHLY RECOMMEND!!!!

Suni

Married on 10/30/2021

The best rabbi for our wedding, EXCELLENT

She was a fabulous rabbi offering us counseling sessions that were really enjoyable and a great way for her to get to know us. From those sessions she got to know us as a couple and was able to personalize our wedding ceremony. She was willing to accommodate us with our I'm untraditional ceremony. She was extremely kind and funny and warm. She was extremely punctual professional but also made an effort to connect with us. I would absolutely recommend her for any wedding ceremony and cannot express how grateful we are to have had her support us on our wedding day. We had a part Jewish part Hindu wedding and she was extremely accommodating to the schedule of our ceremony.

Susanna M.

Married on 09/25/2021

Great experience

We loved working with Rabbi Annie Bornstein. We found her on the recommendation of a Jewish friend. We are an interfaith couple who don't belong to a synagogue, who were getting married on Shabbat (which really limited our options for rabbis, of course) and during Sukkot, and we wanted a rabbi to officiate.

Rabbi Annie guided us through some gentle premarital counseling and met with us on Zoom several times to build and plan our ceremony. She also read our vows before our wedding. We appreciated that Rabbi Annie was enthusiastic about our love for one another, and that she encouraged us to incorporate all kinds of little personal twists into the ceremony, including the Kiddush with a special thermos and the Seven Blessings written by audience members. Our ceremony was complex and very personalized, and she led it effortlessly. She lent an air of gravitas to the occasion, and many guests remarked about how much they enjoyed her officiating. We feel lucky that we got to work with Rabbi Annie.

Jewish Heart and Soul—Rabbi-Cantor Annie Bornstein's reply:

Dear Susanna, thank you for that thoughtful and beautiful review. That is what makes my work so fulfilling… such meaningful words that demonstrate the fact that you understood from where I was coming. May you & Nikko be blessed for many, many years to come. Affectionately, Annie

Alisa

Married on 06/19/2021

Personal and Intimate

Rabbi Annie and our daughter spent nearly 3 years together while Annie prepared her for her Bat Mitzvah, mostly via Zoom with a few in person meetings. Thanks to Annie's devotion and kindness, they forged a real and meaningful bond during that time. Our daughter ended up performing beautifully at her Bat Mitzvah - thanks to a lot of hard work and especially to Rabbi Annie's patient and steady guidance. At the day of the event, Rabbi Annie spoke eloquently to our assembled guests (both Jewish and non) and her remarks to our daughter were particularly genuine and moving. I would recommend Annie for any life event.

Candi K.

Married on 06/11/2021

Rabbi Annie Bornstein

Rabbi Bornstein provided valuable Counseling to us throughout the process, even though we didn't think we needed it. She was very accomodating, very incisive, and very inspirational. The service she performed was appreciated greatly by all.

Andrea S.

Married on 03/20/2021

Highly Recommend

I saw Rabbi Annie officiate at one of my friend's weddings and loved their ceremony so much that I immediately contacted her for our ceremony! We are living in California but got married in Maryland and Rabbi Annie was very accommodating when it came to scheduling our pre-marriage sessions via FaceTime. She made us feel very comfortable while talking with her during these sessions. As an interfaith couple, we really appreciated the way Rabbi Annie customized our ceremony to be the perfect fit for us. She truly got to know us and that was evident during the ceremony and all of the wonderful things she said that rang true to both of us on our special day. Rabbi Annie held a very big part in making the day so perfect.

Sara

Married on 10/11/2020

Special, intimate backyard ceremony

We are so grateful to Rabbi Annie for leading a special wedding ceremony for us. Like so many others, we had to downsize our wedding plans dramatically because of Covid. Rabbi Annie remained flexible throughout our changing plans, including a changed venue and moving the wedding outdoors. We enjoyed getting to know her in the months leading up to the wedding through our pre-marital sessions (both in-person and via FaceTime). She was genuinely interested in getting to know us as a couple. We appreciated that she was so open to crafting our wedding ceremony to be just as religious and just as personal as we wanted; we never felt pressured to include any particular elements.
On the day of our backyard wedding, Rabbi Annie was punctual, professional, and flexible as we dealt with heavy rain during our ceremony. She led a beautiful marriage ceremony that was memorable for us and for our guests. Several of our guests commented on how much they liked her. She is a true stage presence. We highly recommend her to anyone. Thank you so much!

Nataleigh K.

Married on 08/29/2020

Wonderful, beautiful wedding service!

Rabbi Annie did an incredible job with our (very) last minute micro-wedding ceremony. Even in a short amount of time, she was able to get to know us and make the ceremony feel personal and incredibly meaningful. Our families couldn't have been happier with how the day turned out.

Shailey A.

Married on 08/16/2020

Rabbi Annie is incredible! Choosing her to officiate our wedding was the best decision we made!

Rabbi Annie made us feel like we were the only couple in the world getting married! She took the time to truly get to know us, and it felt like we had known her for years even though we just met last year. Her approach was to listen to us, understand what we wanted, and guide us through the preparation process. She was incredibly flexible and accommodating with scheduling and other changes we had to make due to the pandemic.

Rabbi Annie told us our ceremony would be beautiful, and it truly was beautiful, beyond everything we had hoped for. Her presence, her voice and her words were moving and inspirational to us as we were beginning our new life together as a married couple.

Rabbi Annie is truly exceptional and we are so fortunate to have found her.

John F.

Married on 06/09/2020

Highly Recommend

Annie really took the time to get to know us, which resulted in an extremely thoughtful and personal ceremony. We couldn't be happier with how everything went. We couldn't recommend Annie enough.

Rachel R.

Married on 03/21/2020

Rabbi Annie is a Blessing!

From the moment we first spoke with Rabbi Annie, we knew we wanted her to be part of our special day. She invested time in getting to know us as individuals and as a couple, and was both warm and compassionate while also punctual and professional. We had an interfaith ceremony and Rabbi Annie worked tirelessly with us to craft a unique blend of both Jewish and Catholic traditions that would honor both families. The day of, her presence made for a beautiful ceremony and I found myself profoundly moved by her personal, thoughtful message to us as husband and wife. Thank you, Rabbi Annie, for making our wedding both meaningful and memorable!

Amy

Married on 01/01/2020

Wonderful ceremony tailored to us!

Rabbi-Cantor Bornstein created a beautiful ceremony for us, tailored to everything we had wanted and more. It was traditional but personalized for us, and the ceremony felt so special and warm. A highlight was also her beautiful voice for the prayers.

Conor

Married on 10/12/2019

Rabbi Annie was great

It was a pleasure to have Rabbi Annie officiate her wedding. She did a great job walking us through the process, was flexible enough for us to combine traditional and contemporary elements of a Jewish wedding, and gave very touching remarks during the ceremony. We are so grateful that she was part of our special day!

Tamalin

Married on 08/24/2019

Magical experience

Rabbi-Cantor, Annie Bornstein was a delight to work with. She lead a beautiful ceremony for us that felt magical and meaningful. We highly recommend her.

Marilyn N.

Married on 06/08/2019

Thank you for a beautiful ceremony

Rabbi Annie Borenstein recently officiated at my son's wedding. Aside from being a lovely person, her service was inspirational and meaningful. My husband and I received numerous positive comments from our guests. We are very thankful to have such a wonderful memory.

Jennifer

Married on 05/18/2019

Wow! Thank G-d for Rabbis like Annie Bornstein!

Wow! We are beyond grateful for the way Rabbi Annie officiated our wedding on May 18th and the many months she spent getting to know us beforehand. It was truly such a beautiful introduction into Judaism for my husband and I am proud to have her be the first Rabbi he has gotten to know. Her openness of our interfaith marriage, generosity of your time, thoughtfulness and guidance has been unprecedented in our experience so far.

The words she spoke during our wedding were the most meaningful, I truly felt like she witnessed our love story, uplifted the best in us, and helped us navigate any challenges. What a privilege it has been having Rabbi Annie usher us into this new stage of our lives!

Rachael

Married on 05/18/2019

wonderful!

Rabbi Annie is so nice and thoughtful, and went through exactly what we wanted for our wedding. She made sure to talk with my husband and I about ourselves and learned about us and our personalities. Everyone said our ceremony was beautiful and we were extremely happy with Rabbi Annie!

Abigail

Married on 04/27/2019

Wonderful Rabbi

We thoroughly enjoyed working with Rabbi Annie for our wedding. We hit it off with her from the start and felt she truly cared about us. She included many marriage counseling sessions which we enjoyed and found to be useful. She was always very flexible with scheduling meetings and was always open to meeting us. She really got to know us well and did an excellent job personalizing our service. We absolutely recommend her!

Courtney

Married on 04/13/2019

Perfect ceremony!

Rabbi Annie made our wedding ceremony so unbelievably special . She is a wonderful, fun and compassionate person who really cares about people and made sure our ceremony was perfectly tailored to us. I always looked forward to talking to her leading up to the ceremony and it was as if we had known her forever! People kept coming up to us during the wedding saying they were blown away with her voice and how beautiful it was. I feel very blessed to have had her as part of our special day and I could not imagine having anyone else marry us!
Are you interested?
Send a message