54 Reviews
Recommended by 98% of couples
Quality of service

4.9 out of 5 rating

Average response time

5 out of 5 rating

Professionalism

4.9 out of 5 rating

Value

4.9 out of 5 rating

Flexibility

5 out of 5 rating
18 User photos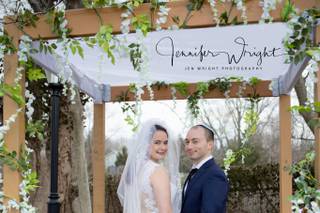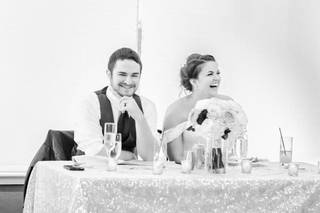 + 14

photos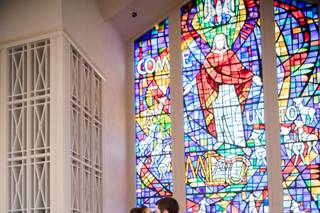 Karen F.

Married on 01/06/2023

Affordable, Dependable, Kind, and Creative!

I opted to have a last-minute courthouse wedding with my now-husband and when I tried to gather quotes from photographers to capture the ceremony, I really couldn't reconcile the majority of quotes with how much time I knew the project would take (1.5 hours maximum). I was honestly about to just give up on having a photographer until Jen reached out. Jen's quote was reasonable and aligned with my personal budget for my wedding and I'm so, so happy we connected. Jen arrived at the courthouse before I did and while I was rather overwhelmed and not sure of what I even wanted, Jen took the lead and guided all of our guests into formation. In fact, that was my favorite thing about Jen--I needed someone to take the lead on my behalf and she did, even if it required laying flat on her back to take artistic photographs on a freezing winter day of my husband and I silhouetted by trees. I had multiple family members and friends, one of which who got married in the area recently, come up and tell me "Wow, your photographer is good." Jen could glance at a space, assess the shadows, and coordinate rapidly where we needed to be for the optimal photographs and we're so happy with the end product. Thank you for your flexibility and for reaching out, Jen! You made our day so very special and I can't wait to have these pictures to look back on in the years to come.

Jen Wright Photography, LLC's reply:

Thanks so much, Karen. I appreciate the kind words... Keep in touch, please. Best of luck to you guys.

Mary B.

Married on 04/01/2021

Best Photographer Ever! April 2021 Wedding

Jen Wright Photography is the best photographer I have ever worked with! We had 3 sessions with her, Engagement Shoot, Wedding Day and our Post- Wedding Shoot! Our photos are so fabulous! She really worked extra for us. I am very meticulous in terms of professional photos, she did exceed my expectations! Kudos to Jen! She is very nice and kind, you will never feel awkward with her. Check her website to see her portfolio! Thank you so much Jen!

Katie W.

Married on 01/17/2021

Beautiful Photos

I did not meet Jen in person until the day of my wedding and I trusted in her abilities and she did not disappoint. My fiance and I have never done professional photos before so we did not know what to ask for. Jen helped guide us and make sure we were comfortable on the day of our wedding. Jen had never photographed a Jewish wedding before, but she did an amazing job capturing all the important moments. She was very professional and responsive. Jen was very flexible with us as our plans and venue changes due to Covid. Our pictures are absolutely stunning and I cannot thank Jen enough!

Jen Wright Photography, LLC's reply:

Thanks so much Katie and Matt. I did enjoy your beautiful and fun wedding. I learned many things about your religion. Your entire family and guests are super nice. Wishing you guys all the best!

Are you interested?

Send a message

Helen S.

Married on 10/12/2020

Beautiful wedding photos

My husband and I loved the photos Jen took!

Jen Wright Photography, LLC's reply:

Thanks so much Helen..I so much enjoyed photographing your wedding. It was light, fun and sweet all in one. God bless to u and the entire family..

Sarah H.

Married on 10/10/2020

Jen took beautiful photos during our downsized summer of 2020 wedding

Jen came up with a fun idea for taking pics with guests in their cars to permit being close despite covid. She traveled to our changed venue and was very kind, pleasant and unobtrusive in a small wedding. She took good shots without direction and was amenable to our suggestions as well. The photo sharing experience has been easy and images are very high quality.

Jen Wright Photography, LLC's reply:

Thank you and Sarah and Brendan... I enjoyed photographing your small wedding. Hope to do more business with you guys. Best of luck to you both.

Lia S.

Married on 08/08/2020

Captured our day perfectly!

We decided to hire Jen as our wedding photographer after talking with her on the phone (she's SO nice!) and seeing that she had reasonable prices. We were so happy with our decision!! She was super friendly and easy to talk to. Neither my husband nor I had ever done a photoshoot, and she made us feel comfortable in front of the camera. I highly recommend having her do your engagement shoot as well, because it helped us all form a bond and I had ZERO concerns on the big day! She is very flexible and I felt like she was willing to do whatever it took to make our photos special for us. I was able to tell her exactly what I wanted, and she delivered all that and more! She knows what she's doing, and her photos turn out beautifully. I asked for "fresh, bright, and candid". We just wanted the photos to accurately reflect the essence of the entire day, and they absolutely did. She was flexible and willing to do what we asked of her, but also used her professional opinion and guided us when necessary. I had some poses that I wanted to try and she was always on board, and then her ideas were always amazing! Also, we got our pictures back SO FAST!! Lastly, she was amazingly flexible given the circumstances of having a "COVID wedding". We would recommend her to anyone!

Jen Wright Photography, LLC's reply:

Thank you Lia and Bryce... I will always remember the experience I had in Austin, Texas during your engagement shoot... Thank you for the opportunity to be part of your beautiful wedding. Despite the challenges during COVID, your family and guests, and especially you guys as bride and groom had made my job easy and super fun.... Lastly, thank you for the inspiring ...and the kindest review that really really touched me...... I may have to frame it :) May God bless you guys always!

Danielle E.

Married on 11/11/2019

Wedding photographer

Jen photographed our wedding in November. She was professional, helpful, responsive, and nice. I would absolutely recommend her!

Jen Wright Photography, LLC's reply:

Thank you Danielle .... it was a beautiful wedding and full of nice people.. i enjoyed being a part of your special day. Regards to both of your families..i remember how easy it was to work with all of you.. please send my regards to everyone including Matt. I am very grateful to you two and to your whole group.

Priya

Married on 09/26/2019

Absolutely love jen!

When my fiance and I were looking for an affordable photographer we weren't expecting to get so much. Jen Wright is amazing! Her photos were amazing quality. She is the sweetest person ever and cared for us and our needs the entire way. Highly recommend!

Jen Wright Photography, LLC's reply:

Priya and Mike, I would say the same to u both.. you are the sweetest couple. Thanks so much for the opportunity to take your beautiful pictures.

Christine A.

Married on 02/23/2019

A beautiful and genuine experience!

We only hired one photographer for my wedding (besides the videographer) and it was really enough to capture every beautiful moment! Jen is very professional and personable! We had a pre-interview and she asked us to describe every detail - from the layout and specs of the venue to how my husband and I were as a couple. She understood that my husband and I are very low key people and shine the most with candid, genuine shots, and she captured them to the tee! She was also respectable of the ceremony site by being discrete in capturing the solemn moments - the prayers, sermons, vows and recessional. Post-wedding, she made it a point to keep in contact on updates on our photo developments, despite us being out of state! The soft copy of the photos had so much warmth, vibrancy, and just like what we anticipated - genuine moments. I'm really appreciative of her work and would definitely hire her again for future milestones!

Jennifer

Married on 10/22/2018

great experience

Jen was very prompt and professional. She pre wedding photos of both parties. She had pictures of the venue which were gorgeous and of the brides. She did an amazing job! Thank you!

Khristine

Married on 10/06/2018

Jen did a great job with our family portrait and my maternity portrait. We brought our two little boys with us and she was patient with everybody. It was challenging to get pictures with small children but she did awesome. We love our photos. Our friends and family loved our pictures too. She even gave us the candid images, which are sort of the making of our perfect family portrait. Jen also photographed my gender reveal party. She captured perfectly our excitement of when we finally found out we are having a girl. Thanks Jen.

Jen Wright Photography, LLC's reply:

You're welcome Kristine and Aldwin! Thanks so much.. can't wait to see your baby girl..

Ann A.

Married on 09/27/2018

Photo shoot

Jen was a pleasure to work with. She was punctual, professional and very knowledgeable about her job. I would highly recommend her.

Alex A.

Married on 09/15/2018

Can't recommend Jen enough!!

We hired Jen to be our photographer for our wedding, and can't recommend her highly enough!! Her prices are extremely reasonable, but you get so much more than you pay for!! Not only was she super responsive throughout the planning process, but she was fantastic the day of our wedding. When a hurricane threatened to disrupt our plans, she was extremely flexible and was prepared for any changes we needed to make. She also works extremely quickly, and shared with us a ton of photos a week or so after the wedding. She followed up not only with a full package of photographs, but she also sent us ALL of the digital prints both online and via a super adorable USB stick. We are so happy that we chose to use Jen for our wedding. If you're thinking about it, don't hesitate. She captured perfect memories for us!

Jen Wright Photography, LLC's reply:

Thank you so much Alex and Julie for letting me be a part of your wedding! And I would be very delighted to work for you guys again... Again, thanks so much...

Almira

Married on 06/09/2018

I am so happy to let you know that my fiancé and I were so please with the outcome of our engagement pictures. Jen is such a great person, easy to talk with and has lots of ideas. We are a shy couple but we feel so much comfortable with her. She is Wonderful! We are very excited to have her as a photograher for our wedding in June 2018.


Jen Wright Photography, LLC's reply:

Thank you Almira and Mark... I am glad you enjoyed your engagement photos and I am very excited to be at your wedding next year!

Almira

Married on 06/09/2018

My husband an I worked with Jen for our engagement pictures and for our wedding day. Our engagement pictures were AMAZING. She's very professional,honest, direct and has such a distinct and gorgeous photography style. She was easy to work with and responsive leading up to the wedding. On the day of the wedding she has her husband (Steve) also a photographer assisted her, what an amazing combo our pictures were phenomenal. The photos were just beyond anything we could have imagined. They work together professionally in a timely manner. Jen and Steven captured the best of the best. We enjoyed working with them and would definitely recommend them if you want the best photographs to remember your special day.

Stephanie

Married on 05/12/2018

Jen was amazing! She was very responsive and helpful. She literally captured every moment of my wedding and provided me with a ton of amazing pictures. Will definitely use her again in the future for portraits.

Shannon

Married on 03/04/2018

My experience with jenny was amazing! She's super sweet, and shot our amazing engagement photos. She's also very reasonable with her prices!!! If you choose jenny, you won't be disappointed.

Kayniee

Married on 12/03/2017

We used Jen for our annual Christmas photo, and we couldn't be happier with the experience! This was our first time using a professional photographer, so we weren't totally prepared for what might be needed. Jen worked with the poor lighting in our home and the horrendous weather outside to create beautiful photos of our family. Also, she was soooo patient with my squirmy kids! So glad that we found Jen -- we highly recommend her!

Caitlin

Married on 11/11/2017

We were so excited to work with Jen and her husband on our wedding day 11/11/17. She was an absolute pleasure to work with, and with a guest list of 198 people, her and her husband expertly handled the crowd. She was easy to talk to with our wants and needs, very professional and timely with our photos. For both our Engagement and Wedding photos, we started to receive edits 2 days later! Her style is classic and timeless. She is great a capturing the candid and intimate moments we had through out our special day. She has a wonderful personal touch and we could tell she truly enjoys her work through her enthusiasm. She truly is a hidden gem! We will be using her again in the future.

+ 6

photos

Jen Wright Photography, LLC's reply:

I would love to work with you guys again as well... It was a beautiful and fun wedding. Thank you for the opportunity Rawad and Caitlin. Keep in touch guys -- from Jen and Steven

Megan

Married on 10/06/2017

Jen was great to work with! Super flexible with times and very friendly. She was open to us suggesting poses, but also had her own suggestions which I appreciated. She was also very responsive in getting the photos back to us and did a great job editing. Would definitely recommend.

Jen Wright Photography, LLC's reply:

Thanks so much Megan!! :) :) Regards to Chris...

Helen

Married on 09/30/2017

We are very awkward people, especially in front of a camera. But Jenny has tricks up her sleeve to get you to feel comfortable and act naturally. Our photos turned out great, we would book Jenny again in a heartbeat!

Jen Wright Photography, LLC's reply:

Thanks guys.. this is an awesome birthday present.. a great review from my clients.. until next photo shoot.. :)

Steve

Married on 06/11/2017

Jen provided a great service and pictures.

Jen Wright Photography, LLC's reply:

Thanks so much Steve and Susan... all the best to you two!

Kristi

Married on 05/27/2017

Jen is amazing!!! She did both our engagement photos and wedding and we were thrilled with the quality of both! She is quick to respond to comments or questions. She's extremely flexible and works quickly and efficiently to produce photos far exceeding my own expectations!! We will definitely keep her in mind for future big moments!

Jen Wright Photography, LLC's reply:

Thank you Kristi and Alex for the chance to shoot your engagement and wedding. Steven and I really had great time from start of the wedding to finish :) Both of your families are nice and sweet. Thanks again! 'Hope it's not the last photography opportunity for us :) Regards!

Krista

Married on 04/22/2017

Jen is very friendly and capable of working with your financial and photography needs. I would recommend hiring her husband as well, because then you get 2 photographers. I think she could have been more involved on the dance floor with photos, but honestly I can't really complain considering how much she did for us, and the great shots she took of us around the wedding venue. She was great at thinking up different poses and angles to take of us and our wedding party- overall she is great and I 100% recommend her! Very responsive, organized, professional, and on top of her business as well.

Jen Wright Photography, LLC's reply:

Thank you Krista and Jay for the opportunity. It was a great wedding. I really had fun shooting at the farm and with the horses :) You're such a fun and sweet couple. Keep in touch and hope it's not the last time between us.. Hope to see you both again in other photography opportunities. Thanks again!

Vanessa

Married on 12/31/2016

We were hesitant to hire a second photographer in the beginning but we we're so glad we did because she went above and beyond the expectation. We had about 250 guests and she managed to capture the special moments well without getting in the way of our primary photographer. She communicated effectively with us throughout the entire preparation until after the wedding. She's very professional, and she came early the day of the wedding. The outcome of the photos are amazing, and they were sent just a few weeks after the wedding. She made sure that our expectations were fulfilled, and so we're very pleased with her work. We highly recommend her!

Jen Wright Photography, LLC's reply:

Thank you so much Vanessa and Mark, and to your lovely family... for the opportunity.
Are you interested?
Send a message