95 Reviews
Recommended by 100% of couples
Quality of service

5 out of 5 rating

Average response time

5 out of 5 rating

Professionalism

5 out of 5 rating

Value

5 out of 5 rating

Flexibility

5 out of 5 rating
5 User photos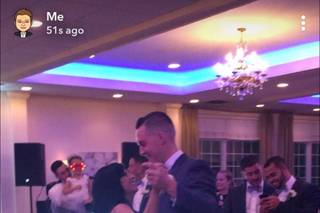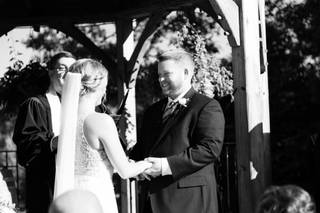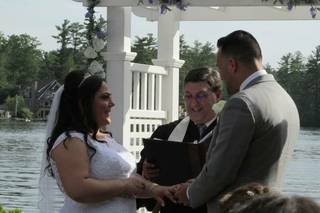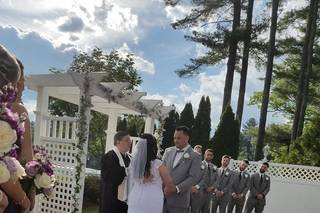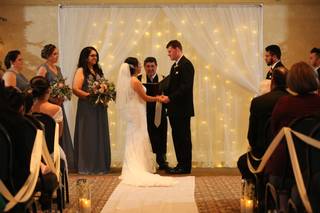 Erin K.

Married on 01/23/2022

Wonderful Officiant and Person!

Jeffrey crafted us a beautiful and personal wedding ceremony after just one meeting with us and delivered it flawlessly on our wedding day. Jeffrey made the process so easy and fun that when we met we felt like we were talking to a friend. We were grateful to be able to put our trust in our officiant on our wedding day to ensure the ceremony was a success. Jeffrey also shared guidance for obtaining our marriage license, which we found very helpful.

F472D9F6A71Da1E5D3E92B2D25989Cf5542D6527

Married on 09/25/2021

A great person that you would be happy to marry you

Jeff was a great choice. Not only is he responsive in emails, but he sent my husband and I details on everything we need to get a marriage license and all the steps on the day of. He helps personalize your ceremony that makes you feel like you are only wedding in the world. Friendly and calmed my nerves when I panicked about the weather! I was so afraid it was going to rain and he said we will make it work! The day ended up being sunshine, which was amazing. My husband and I really liked
Him and I highly recommend him if you want to have a good ceremony.

Meghan P.

Married on 01/08/2021

Great Experience

Jeff is a great guy who made sure to include everything we wanted in our wedding ceremony. He was respectful of our wants and needs and included us in the ceremony writing process. He cares about what he does and it shows in the outcome of his work. Jeff made our ceremony personalized and special. We absolutely loved working with him!

Are you interested?

Send a message

Lindsay

Married on 05/16/2020

Perfection During Pandemic

Jeff was enthusiastic, exuded positivity, and maintained a good spirit as we reworked our wedding amidst the pandemic. He was helpful in all conversations leading up to our big day, and told us that "your wedding will be beautiful no matter what" and it was nothing short of that. The ceremony that he performed was perfectly tailored to us as a couple. You could tell he was invested in our story, and despite us feeling overwhelmed with changing our wedding plans, he kept calm and kept assuring us that the day would be great no matter what.

Thank you again Jeff, for making our marriage as special as possible. You only had a few weeks to work with, but you made the day one we and our families will never forget for the rest of our lives.

Kelly

Married on 07/20/2019

Amazing JP for your wedding

Jeff did an amazing job officiating our recent wedding even in the 100 degree heat! I was worried the ceremony would take too long but he made it the perfect length without sounding rushed at all. I loved everything he put into our ceremony. He customized it based on our story and he was very accommodating when we wanted to make a few changes. I am so glad we chose Jeff to be our JP. He really knows what he is doing and is extremely organized. I can tell he enjoys what he does. Thank you Jeff

Brittany

Married on 10/15/2018

Such a great officiant!!

From the moment we met Jeff, my husband and I knew we were going to pick him to be our officiant. He did such a great job at our wedding and made our ceremony personal and special. Two of my bridesmaids and also one of our family members had Jeff as their officiant as well and all said how wonderful he was to work with. We can't thank Jeff enough for everything and would highly recommend him!!

Brooke M.

Married on 10/05/2018

Jeff was awesome!!

My husband and I cannot say enough about Jeff! He was amazing and we were so happy to have him at our wedding! I highly recommend Jeff! Great experience! Thank you Jeff!

Brenda B.

Married on 09/30/2018

Wedding ceremony experience

Jeff was wonderful to work with! He captured all the details we wanted in our ceremony, and understood our vision from the very beginning. He was great!

Jessica

Married on 09/02/2018

We would absolutely recommend Jeff to anyone looking for a Justice of the Peace! We got so many compliments on our ceremony and were extremely happy with his services. He sat down with us several months before our wedding and explained how everything was going to play out. He took the time to get to know us and really listened to what we were looking for. Then as we got closer to our date, he sent us reminders on things we had to do like get our marriage license and finalize our ceremony with him. This was very helpful when you have a million other things to remember all at the same time. We had a few specialized items that we added to our ceremony, like a reader and someone to bring up our rings and he incorporated them in seamlessly. Each section of the ceremony was very meaningful without making the ceremony too long. We can not say enough good things about Jeff! You will not be disappointed if you have him officiate your wedding.

Analisa

Married on 08/31/2018

Jeff is a wonderful guy to work with!

Jeff was wonderful to work, from our initial introduction all the way to the day of the event! He was very organized and professional, keeping us on track with vows and what to expect on the special day! If you are looking for an incredible JOP who truly wants to make your day special and unique, then Jeff is the guy for you!

Francis M.

Married on 08/25/2018

Perfect fit!

Jeff,

Was exceptional, right from the beginning he made this an extremely easy process for us. He did just tell us what he was going to do he educated us on the entire process and instantly put us as ease. I would highly recommend Jeff if you are looking for someone intelligent, fun, and extremely easy going!

Shaina

Married on 08/25/2018

Professional and Personal

Jeff was perfect for our August wedding. We absolutely loved his personal touches in our wedding ceremony, and his flexibility to add additional details such as the breaking of the glass to make the day that much more special. Jeff was attentive and kept us on schedule, so when the big day arrived there was no surprise and we knew exactly what we were in for. He was patient when we were clearly nervous on the wedding day, and took it with ease. He also offered to run by our wedding venue in case we needed it as we lived a bit far from the location. Jeff is amazing and you'd be lucky to work with him on your big day!

Lauren

Married on 06/29/2018

Amazing! Easy to work with!

Jeff was fantastic to work with! He was super helpful in walking us through our ceremony and ensured that everything we did was truly "us" for our special day. From the day we met him until our wedding day, I did not have one ounce of stress knowing that Jeff was super organized and had everything handled!

Silvia

Married on 06/03/2018

Jeff was amazing! We met up with him 8 months before our wedding to get to know each other and go over what we were looking for in a ceremony. Jeff asked us questions about each other, such as how we met, in order to incorporate that into our ceremony. This was a huge reason we wanted Jeff to officiate for us, because of the personalized touches. Jeff is also a very nice guy and a very good speaker. Closer to the wedding, Jeff sent us a couple of drafts for the ceremony, which we worked with him to many any changes. Jeff executed our ceremony perfectly; I really enjoyed listening to Jeff and thought it was very personal and emotional. Our guests loved it too! I highly recommend Jeff to officiate your special day!

Hannah

Married on 06/01/2018

Jeff was an absolute pleasure to work with! We were thrilled to have him be such a large part of our wedding day. The planning part of a wedding can be super stressful, and Jeff truly made one of the most important pieces of the puzzle seamless!!!

Leah

Married on 05/04/2018

Highly recommended

Jeffery was amazing and personalized our special day perfectly. Highly recommended as our ceremony was great and very special thanks to him!

Kevin

Married on 04/28/2018

Jeff was great! He was nothing but professional throughout the whole process. Jeff customized the ceremony exactly to our liking and my wife and I have nothing negative to say about our experience with him. We would highly recommend Jeff to everybody.

Nicole

Married on 04/27/2018

Jeff DeMarco did such an amazing job with our ceremony! He was very professional and very considerate of what we wanted in our ceremony and what we did not want. I would recommend Jeff to anyone looking for a JP!

Patricia M.

Married on 04/21/2018

Excellent Experience

Mr. Demarco was such a pleasure to work with. He truly took the time to understand our wants and needs and executed them flawlessly. He is very personable, polite and understanding. My husband and I felt comfortable working with Mr. Demarco, so my so that my husband was able to get over is fear of public speaking and was able to read his own vows. We never felt judged or pressured. I'm so glad we chose Mr. Demarco for our marriage ceremony.

Caitlin

Married on 02/17/2018

Jeff was amazing! He is so caring and professional. Jeff was always there to answer any question I had, wedding related or not he always had an answer. Jeff took the time to learn about our story as a couple and how we've grown over the years before preparing our personalized wedding ceremony. He made us feel both calm & excited on wedding day. He has a great presence about him that just lets you know that you are in good hands and everything is going to be great! Thank you Jeff, for making our big day not only special but one of the most memorable days of our lives. <3

Wanda

Married on 01/27/2018

Jeff was our JP at our wedding this past January 2018. My pastor was going to officiate but had a family emergency and we had to find an officiant at the last minute. Jeff was recommended by our venue - Atkinson Resort & Country Club and he did an amazing job. You can tell he has a passion for marrying couples when you first meet with him. Since we had less than a month to prep, he made sure we were on schedule and had our vows written. He made sure to incorporate all the elements that we wanted to do for our ceremony.

I highly recommend Jeff to anyone. He is very passionate and professional. Also our other vendors praised him highly so it made us feel great that we had an awesome team on our wedding day. Thank you Jeff for being apart of our day and making it special!

Rebecca

Married on 11/18/2017

My husband and I are very happy we chose Jeff as our JP for our wedding this past November. Within the first half hour of our meeting with Jeff, the two of us looked at each other and knew that we definitely wanted Jeff as the person officiating our ceremony, so we signed on with him immediately! Jeff is just flat out a warm and inviting person - he was willing to answer all of our questions while taking the time to get to know who we were as people and as a couple. You can tell that Jeff has been doing his job for a long time because had an entire folder prepared for us on next steps in preparing for our wedding ceremony and even had helpful information on how to obtain a marriage license and how to change your name after the wedding. In the months leading up to the wedding, Jeff kept in touch with his drafts of the ceremony and tailored them all to how we wanted the ceremony to flow. Anytime we had a question for Jeff and emailed him, he always answered us within a day. Our ceremony felt extremely personal because Jeff made sure it reflected us in all areas. This attention to detail was very much appreciated!

At our wedding ceremony I was so happy but visibly nervous standing in front of so many people as the center of attention (which I really don't like to be). As everyone was sitting back down in their seats and we were getting ready to begin the ceremony itself, I heard Jeff say, "Hi Becky! Dillon and Morgan say hello!" Jeff has two dogs (Dillon and Morgan) that we follow on Instagram and he knows that both my husband and I are such dog lovers, so just that little conversation meant to put me at ease instantly made me remember to breath and made me smile! I would recommend Jeff in a heartbeat to anyone looking for an officiant for their wedding ceremony!

Alex

Married on 11/10/2017

Jeff DeMarco was the perfect Justice of the Peace for my husband and I. From the first meeting to our wedding day, he has been nothing but helpful. He made the ceremony personal to my husband and I but also kept it short and sweet for our guests. I would highly recommend him for your wedding, you won't be disappointed.

Jessica

Married on 11/04/2017

Jeffrey was so very helpful with the whole process! He even helped with questions in changing my name! He made our ceremony so personal. He really did a extraordinary job making the moment feel even more special! I highly recommend Jeffrey to anyone who is getting married! If you want to get married right look Jeffrey up!

Jeff was great! He took the time to meet with us to create a custom and unique ceremony! He gave us a comprehensive folder with reminders to get our marriage license, what we would need to bring to obtain a marriage licnese, when we could expect to be able to get our marriage certificate, and steps to change a last name (if needed). He was easily accessible and answered all of our questions.
Are you interested?
Send a message