34 Reviews
Recommended by 100% of couples
Quality of service

5 out of 5 rating

Average response time

5 out of 5 rating

Professionalism

5 out of 5 rating

Value

5 out of 5 rating

Flexibility

5 out of 5 rating
1 User photo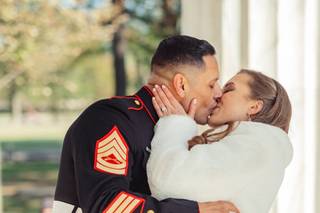 Benjamin P.

Married on 05/29/2022

Hire James, thank us later.

We chose James for our wedding because he seemed to capture important moments and people's personalities so well. We were absolutely right! James was easy to work with, communicative, and responsive. He made our engagement shoot and the pictures on our wedding day a pleasure to pose for, and as we were reviewing the pictures we told each other, "It's like he already knew everybody!" That's how well he captured people's expressions and personalities. And even more impressive, he managed to get all the important shots while floating around like a ghost, always at the perfect angle but allowing the moment to happen naturally and organically. James is an artist and our wedding gallery is a work of art. Thank you, James!

Lindsay T.

Married on 07/10/2021

Great Experience!

My husband and I had such a positive experience working with James as our wedding photographer! Although we wanted good photo coverage of our big day, we also wanted to be very present for it (not constantly pulled away for posed pictures), and we were very drawn to James's photojournalistic style of photography. James really understood what kind of experience we wanted to have and worked with us from early on to come up with a day-of timeline that allowed us to get plenty of planned/posed pictures we would want (e.g., bridal party, family, sunset photos) without taking us away from our event for very long (we got to enjoy much of the cocktail hour, which we weren't expecting). James was such a pleasure to work with leading up to the big day. He was very flexible and willing to work with us on pricing/cost-saving measures to fit what we wanted within our budget, was responsive, and made a point to attend our venue walkthrough so he could get ideas for the wedding day and ask questions.
During the wedding day itself, James was somehow everywhere at once without at all being disruptive. He was very kind and relaxed and willing to work with us and anyone who wanted pictures taken. When we got our pictures, we were so impressed at the coverage he had, as we had opted to just have him photograph our event instead of also having a second photographer.
Finally, we were so happy with the photos we received! James did a great job selecting photos to be edited and even delivered them on a customized thumb drive with a slideshow set to music from our wedding! The colors, editing, and coverage of the photos were all great. There were a couple that were brighter than I would have wanted, but I reached out to James and he edited them to match my preferences right away. He also provided us with the full set of unedited photos that he took when I asked.
Overall, James was awesome to work with, is a talented photographer, and is very responsive and flexible to requests. I would highly recommend him!

Effie S.

Married on 11/16/2019

Fun, professional and fast!

Oh my goodness, only wonderful things to say about James! He did our wedding photography this past weekend in DC at the DC War Memorial and within TWO days he had our photos to us!

James was recommended to us by our incredibly officiant, Jeffrey Maszal, and he was so much fun to work with! I sent him a few ideas before the day of and he made sure to capture all of the shots I wanted. He was flexible and exuberant and we are just so happy with his work!

Are you interested?

Send a message

Polly

Married on 10/26/2019

We can't thank James enough!

James did our engagement photos and wedding photos, and we could not have been happier! He was wonderful to work with and the photos are incredible. I was worried about photographers who get in the way (especially during the ceremony) or stress brides out by constantly asking them to pose, but James and his assistant were perfect. We 100% recommend him for anyone looking for a fun, laid-back photographer who can take amazing photos!

John D.

Married on 09/01/2019

Consummate professional

James was a joy to work with in the lead-up to our big day. He was patient with my now-husband and I as we warmed up for the camera (quite literally on a cold late fall day) for our engagement photos, which turned out to be spectacular. And our wedding photos the next summer were nothing short of perfect. We did not have a formal wedding party, which meant there was more time for candid photos of guests. This allowed James' real talent to shine, as he is a master at capturing the emotion of the moment. He also took care to note the charming details of our historic venue and the decorations. It's been a couple of weeks since we received the photos and it's been incredibly heartwarming to relive that joyous event every time we go through them. The value could not be surpassed. Many thanks to James and his assistant for their masterful work in capturing these memories!

Amanda

Married on 08/18/2018

James was the best photographer

James was amazing to work with during both our engagement pictures and our wedding on 8/18/18!

Amanda

Married on 01/14/2017

James was great! He was so easy to work with and extremely professional. My guests continually commented on what a great job he was doing and how sociable he was with them throughout the ceremony, cocktail hour, and reception. He comes highly recommended!

Miguel

Married on 11/12/2016

Our wedding officiant, Jeff Maszal, recommended James, and we are so thankful. By far, James is one of the best photographers ever. My wife and I really enjoyed working with him. Also, his prices are very reasonable. We initially shopped around for an affordable photographer, and their estimates were no less than about two weeks salary!! We were very happy with the package that James put together for us. There were so many candid moments that he captured just right! James had the best ideas for making fun and original wedding portraits, too. After the wedding, we received our pictures on a USB stick in a bamboo presentation box. My wife and I highly recommend James!

Dave

Married on 11/05/2016

DO NOT HESITATE! Go with James! James did the best job on our wedding. He was so fun to work with, had great ideas, and the photos themselves came out perfect. Can't beat his pricing, either. 100% recommended! - Dave and Junko

Colleen

Married on 10/01/2016

James was amazing to work with - both during the planning of our wedding day and the day of. I consider myself a very neurotic person and James was very responsive and accommodating to any questions I had leading up to it. It ended up pouring rain during our entire ceremony and portrait sessions. James handled it very well and suggested that the wedding party get matching clear umbrellas and shoot in the rain anyway! We have gotten a few photos back already and they are gorgeous!

James was the perfect choice for us and we would highly, highly recommend him to others. He was always available and responsive, arrived on time, was for all practical purposes--minus the portrait shots--invisible during the event, was timely with delivery of the final photos (3 weeks), and did an excellent job of photo selection and slideshow production. We really couldn't be happier. James is incredibly easy to work with and really made us comfortable right off the bat, despite neither of us being particularly enamored with the idea of being in the cross-hairs of a camera for six hours. After reviewing our photos I was amazed at some of the shots James got, and couldn't help but wonder how he did that because I couldn't remember him being there. For example, he got some wonderful shots of our dinner and I have zero recollection of him even being there....but apparently he was, and managed to grab some of our favorite moments for posterity. He really is a master of the photo-journalistic style, grabbing wonderful candid moments of our guests and ourselves. On the other hand, when required to take a more interactive role as he obviously was during the short portion we set aside for portrait shots, his gentle and easygoing character set everyone at ease and made them feel comfortable, resulting in excellent pictures.

To sum it up in one thought, James is an excellent wedding photographer and we would recommend him to others without hesitation.

Molly

Married on 12/31/2015

James was fantastic! We love our photos and he was so kind and accommodating. Our engagement shoot was awesome too, we had something very specific in mind and he totally rolled with it and took some wonderful pictures. I will say he has a specific style and his candids are his strong point, which we loved, but just something to consider as he does not give a lot of direction for traditional posing.

Chelsea

Married on 11/11/2015

James was absolutely fantastic! He was so kind, helpful, professional, and just a super easy person to be around. I was very nervous about being in so many pictures but he made it so comfortable and easy. He really made this whole process go so smoothly. James was willing to take any creative input and ideas we had while also coming to our wedding with his own. I am so glad we chose him as our photographer. He was very quick to respond to us beforehand during the planning process, and he was so willing to work with us on our big day, even with a few last minute changes. I would definitely choose him again for any other event if I could!

Laura

Married on 09/07/2015

We used James to take engagement photos and could not be happier with the results! James was extremely responsive as we were planning - and he was also very flexible. At his suggestion, we pushed our photo shoot back a day to avoid the rain. In the end, the photos turned out great. We really appreciated his laid back nature and enthusiasm for photography. We'd definitely use him again!

Stephanie

Married on 07/08/2015

We decided to elope at the last minute and our officiant recommended James to take our pictures. We decided to not tell anyone that we were eloping so the only people there were the 2 of them and the 2 of us. James was amazing!! He was an absolute joy to have be a part of this special day. He made us laugh and captured our moments perfectly! The pictures turned out even better than expected! The pictures he took not only showed the love my husband and I have for each other but the absolute fun time we had taking them. It was exactly what we wanted and needed since we didn't have any family at our ceremony, James was able to capture the moments on film and because of that everyone saw the excitement, joy and love as well.

We would absolutely recommend James for any wedding!!

Iris

Married on 06/20/2015

James was just FANTABULOUS to work with! His work is just amazing! He was so responsive and creative for both our engagement shoot and our wedding day. He was a real trooper despite the hot and humid weather and the pouring rain towards the end! His photos were just what we wanted! He has a real knack for capturing those endearing moments that we LOVE. He was calm and composed on our wedding day and his work shows just how hard he works and how much he loves what he does! We absolutely would recommend him to everyone.

Kyleen

Married on 06/06/2015

James was a great photographer to work with and gave us amazing photos of our day! He definitely has a talent for capturing the emotion in a moment. When I look at my wedding photos I feel like I'm reliving each moment - it's so wonderful! A year before our wedding, my husband and I had set up interviews with different photographers. After we met James and looked at his portfolio we canceled our other interviews. James was very down to earth, had a good sense of humor, and was interested in focusing on people and moments - exactly what we wanted. We also had a tight budget and he was willing to shorten his hours to accommodate. On the day of the wedding, James was very good at working in the background, while snapping incredible pictures. He also was great at taking portraits of my husband and I that felt natural and hence avoided the awkward forced smiles look :) Lastly, we started the ceremony 30 minutes late, which ate into our limited photography time. We just assumed it was a loss because it was our fault and James was on time. But without us even saying anything James stayed an extra 30 minutes to shoot the cake cutting. That says a lot about a professional. Go with James, you'll be glad!

James was wonderful to work with from start to finish. When I reached out to a few photographers for quotes, he responded within 24 hours and answered all of my questions. Soon after, we met in person (he drove an hour and a half from VA and I drove an hour and a half from PA, to meet in the middle--clearly, James is flexible to work with). When he realized I had driven from Philadelphia he said, "omigoodness, I could have come closer to you--you didn't have to drive this far to meet." Our meeting went well and I instantly felt comfortable with him and confident in him as a photographer for our wedding. We exchanged more questions and answers as the wedding approached, ensuring me that James remained on top of our wants and needs all the way up to the wedding day. On the day, James was clear with instructions, efficient with photo time, pleasant, and discreet in his presence. During the reception he approached me to say that he and his second photographer were getting ready to go. I quickly remembered that we hadn't yet done some group photos I wanted of certain guests. So, James and his second photographer stuck around an extra 20 minutes with no words of complaint nor any extra charge. We received a USB drive of our photos about 9 weeks later, which included a slideshow with two songs of our choice. The photos are perfect. The moments captured look organic and nothing appears staged (unless we wanted it to)--more of a photo journalistic style. For two photographers, 5-6 hours of photo coverage, and James' stellar professionalism and photographs, I would have paid more than the $1,550 had he quoted me higher.

Crystal

Married on 08/16/2014

James was so wonderful! I was so beyond thrilled to have found a photographer that I clicked with so easily. When I found out that James was already booked on our original wedding date, I moved our wedding date! And I have no regrets. James was so flexible throughout the entire process, and the pictures turned out beautiful. What impressed us most was that while we really never noticed him, he didn't miss a single moment and the pictures were taken from the perfect angles. Another reviewer called him a ninja - I totally agree!! After the wedding, we received our pictures in on a USB stick in the cutest little box. I highly recommend James!

Kim

Married on 08/02/2014

James took our engagement pictures last year. He was energetic and fun to work with. We had many laughs and he caught some good real life moments instead of posed ones. The pictures turned out great! We used one of the images for our save the date cards. Thanks again James! :D

The whimsicalness that James adds to his photo is fabulous. After spending a day scrolling through 50+ some photographers' websites, we came across his work and instantly knew that this is it (even before meeting him in person). We had such a great time with James; his creativity with our wedding day props made some of the best photos (e.g. flying the kite, large massive bubbles, a Mario brother video game frame). Also, there were so many moments that he captured right on spot such as when our flower girl's eyes light up when turning the music box handle. James is simply wonderful to work with and importantly, his price is very reasonable. James did an excellent job and we're lucky to fun wedding photos.

James started with an engagement photo session which went great, and the pictures were awesome. I haven't seen the wedding shots yet, but I imagine they will be of the same quality. He worked well with all of our wedding party, and seemed like he was right there at all the best moments.

Stephanie

Married on 11/05/2013

Shortly after our wedding my husband and I worked with James for couple's photo session. At our wedding this year we didn't have photos taken for a variety of reasons including the fact that neither of us is particularly keen on posing for photos! We received the session with James as a wedding gift. James made our session near the National Mall fun and easy despite our apprehension about having photos taken. Also, since he knew we hadn't had engagement or wedding photos, he helped us set up shots to commemorate our first year of marriage. My husband and I were very happy with ALL the image proofs we received from James and had such a nice time working with him that we left the experience in agreement we would consider doing a photo session again in a few years!

Danielle

Married on 10/19/2013

I think the fact that everyone here has rated James a 5, speaks volumes! By far, he is one of the best photographers that I have ever worked with... his keen eye and artistic style melt into a beautiful result for your photos. I couldn't have imagined anyone else doing as great of a job as he did!

I also found James online (actually on craigslist...) and was a little nervous interviewing someone this way, as opposed to going with one of the big photo studios listed here or on the knot, etc... but his prices were so reasonable, I thought, "what the heck? Why not meet him?"

SO WORTH EVERY PENNY AND MORE!!! James loves to work with couples with 'character', so if you're looking for someone to pick up your upbeat quirky nature on film, yet also capture beautiful formal shots as well... he's your man! His candid shots are second to none, and he captures the personality of your guests like he's known them for years.

Can't say enough good things about him... don't look any further... choose him!

Stacey

Married on 08/31/2013

James photographed our vow renewal, we are so happy that we booked him! We were skeptical at first because we found him through an online advertisement, but we were pleasantly surprised with his professionalism, especially in a time crunch (we hired him just 2 weeks before the big date). He was very accommodating and affordable. His photos were exactly what we were looking for, he covered all the bases! Thank you James!
Are you interested?
Send a message