24 Reviews
Recommended by 99% of couples
Quality of service

5 out of 5 rating

Average response time

4.9 out of 5 rating

Professionalism

5 out of 5 rating

Value

4.9 out of 5 rating

Flexibility

5 out of 5 rating
Awards
109 User photos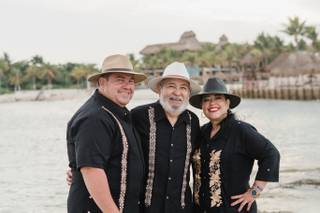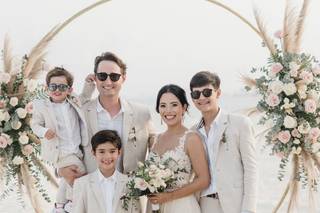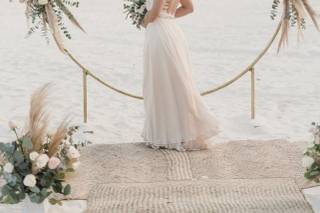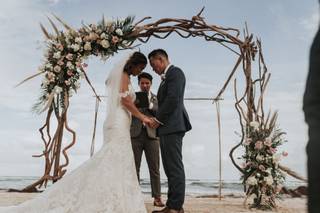 + 105

photos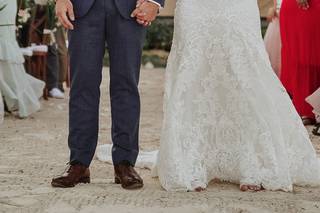 Diana S.

Married on 08/16/2022

Viaje familiar

Excelente trato, calidad. y una sensibilidad espectacular como si Javier el fotógrafo ya supiera lo deseábamos la verdad lo super recomiendo.

Dylan P.

Married on 07/03/2022

Amazing! So thoughtful and personal

Javier is amazing! It was our first photoshoot and he helped relieve us of nerves. He gets to know us on a personal level and takes photos that fit you. That works for you. I used him for my proposal and he captured every moment so perfectly. It looked so magical and natural! Every smile every laugh it was captured in a candid way. Would recommend video service aswell. The cinematic that he made for us was very cool and we will take that for the distant memories.

Elizabeth

Married on 07/02/2022

Amazing experience and souvenirs that will last a lifetime

Javier and his team are amazing. They completely captured the essence of our wedding. He is very approachable and easy to communicate with. Would definitely recommend his work to anyone!

Are you interested?

Send a message

Camila A.

Married on 05/29/2022

Amazing wedding photographer!

We absolutely loved our photographer Javi!! So so grateful to have found and chosen Jahlcob as our wedding photographer. Javi did an absolutely incredible job on our photographs. My husband and I LOVE our wedding pictures! The photographs came out so beautiful. Not only is Javi a super talented photographer, he is also such a wonderful human. His energy is so calm and lovely, which was really important to us to have our wedding day. We met a couple times via zoom and he also came to our rehearsal to meet us in person and scout our venue to be prepared for our special day. On our wedding day, Javi and his photography partner went above and beyond. They arrived early and stayed extra late, even after our agreed time. They captured some awesome late night party pics. Thank you Javi for making our day so special! We are so excited to be receiving our wedding photo book in the mail!

We also booked the trash the dress cenote photoshoot with Jahlcob. On the day of our cenote photoshoot, it happened to be pouring down rain. Javi and his photography partner still met us mid-rain (risking their equipment), and we ended up having a super fun photoshoot in the rain. The pictures came out stunning! If you're on the fence about this cenote photoshoot, 100% recommend it! Not only did the pictures come out amazing, it was such a fun honeymoon photoshoot experience to have in a private cenote.

We'll forever recommend Javi! We are so grateful for his above and beyond service. He is truly a special photographer and all around wonderful person. Thank you Javi for the amazing photographs and all your love!

+ 21

photos

Roberto

Married on 04/23/2022

Javier was a great team player for our wedding!

Choosing to have Javier be our photographer/videographer for our wedding was the best decision we made.

1) We just enjoyed ourselves, and Javier was able to capture the best pictures, angles, natural reactions, and spontaneous moments. This made for great pictures that look natural.
2) As for the video, Javier was able to take whatever footage he and his team took, and create a story both in the trailer and the actual video. Great story telling, great B roll footage. We could not be happier for how the videos turned out.
3) Our guests commented in private about "our photographer and his team", and how they always seemed to be paying attention to everything going on.
4) Javier and his team were great to work with. He takes the time beforehand to get to know you as a couple, your vibe and what your style is. Javier is great at listening to your ideas, using them creatively, and enhancing them for a great final product.
5) Incredible value and worth every penny.

Thanks Javier!

Roberto and Andy

+ 11

photos

Ashley B.

Married on 01/16/2022

Amazing highly recommend!

Javi has been amazing. I had to pay an outside vendor feel through Hotel Xcaret and Jahlcob was so cheaper than in house vendors. I have only seen a preview but live my photos so far. I highly recommend!

+ 8

photos

Gaby C.

Married on 12/03/2021

Amazing service so grateful to have found him

We used Javier's services for our destination wedding in Cabo in December of 2021 and let me just say it was the best decision we ever took. We have received our pictures and they are all so beautiful, it's like being there all over again. Price was very reasonable. The work speaks for itself. Definitely recommend, you won't regret it.


+ 4

photos

Layla P.

Married on 11/05/2021

Loved working with Javier and his team!

I can't say enough good things about Javier and his team. We worked together to schedule and reschedule a session throughout the pandemic. Javier was so flexible and compassionate throughout that very stressful wedding planning time. When we did finally have our session, they were so lovely to work with. We had so much fun with them - guests said that the photographer added to the fun energy of the wedding. It was a pleasure to plan with Javier and to work with the team. We loved our experience and love our photos even more!

+ 2

photos

Sam A.

Married on 05/08/2021

Una experiencia unica

Amo tu trabajo🙊🤩 desde que lo ví dije tiene que ser mi fotografo, realiza un trabajo magnífico, pero lo que más me encantó fue tu trato, la confianza que haces sentir, estoy enamorada de cada una de nuestras fotos 💖 sin duda te elegiría como mi fotografo de toda la vida🙊 Felicidades por toda la dedicación que le pones a cada foto

Dalia L.

Married on 12/26/2020

Enamorada del amor y calidad que ponen en los proyectos #myWedding

"Lo más magnífico de las fotografías es que pueden producir imágenes que incitan la emoción basadas en un único tema". Excelente Trabajo de Jahlcob sin duda enamorada de mis fotografías y hoy que recibí mi PhotoBook, satisfecha al 1000 por todo su trabajo,Muchas Felicidades por el amor y calidad que ponen en cada Proyecto. #mywedding

Fernanda P.

Married on 05/12/2020

Profesional, confianza y magia.

Un momento inolvidable, confianza y fotos realmente que transmiten los que vivimos durante nuestra noche.

Nora I.

Married on 02/01/2020

Expertos en captar instantes mágicos

Saben escuchar al cliente y orientar todas las posibilidades para captar un instante perfecto que te recuerde todo lo vivido

Hebert E.

Married on 02/01/2020

Simplemente el mejor

Super atento, siempre buscando la mejor toma, haciéndonos reír para calmar los nervios (todos están nerviosos en una boda!) Y al mismo tiempo super profesional. El álbum de bodas que nos dio es hermoso y la edición del vídeo espectacular.

Gerardo M.

Married on 10/20/2018

Simply the best

We had the time of our lives! My wife and I are very introvert people, yet, Javier helped us lose ourselves to take the best shots. We had great expectations, but he exceed them all. It was, with out a doubt, the best investment we could do for our wedding.

We will be, forever and truly grateful, for everything.

Jose P.

Married on 10/08/2018

Muy buen servicio

Es un gran fotografo con mucha dedicación, muy profesional y muy puntual, saco excelentes fotografias, ampliamente recomendable!!

Lyl B.

Married on 08/10/2018

Excellent person and photographer

From the beginning till the end, he made sure that we felt comfortable, very respectful, creative, always giving ideas. I'm in love with the result.


+ 5

photos

César C.

Married on 03/03/2018

Excelente fotógrafo

Jahlcob tiene un gran profesionalismo, nos proporcionó un excelente servicio, en realidad lo recomiendo, hizo la experiencia de nuestra boda más amena y el producto terminado es de excelente calidad, no duden en contratarlo porque además es una persona muy seria y formal en su trabajo

Pamela J.

Married on 03/03/2018

The best! The number one!

After requesting at least five quotes from different photographers, and since they were all in the same price range, i found Javier (Jahlcob) in a wedding app, we decided to meet up to meet and talk, from the moment we started to see his work in the book he showed us, we loved it, we knew immediately that he would be the chosen one, he is so professional, so kind, so human, i found in him a friend and accomplice, he did the best pictures of me and my husband ever!!!! The delivery of his work was beautiful, i love my photos, i see them again and again and they make me remember every detail of one of the most special days of my life.

+ 13

photos

Martha G.

Married on 12/16/2017

Una noche mágica gracias al mejor

Encontrar a alguien que haga un trabajo profesional y con el que aparte te sientas cómoda y segura solo lo pude encontrar con Jahlcob, ver sus fotos, video y volver a vivir mi noche de bodas 🥰
Acompañándonos desde el día de la propuesta hasta el nacimiento de mi hijo❤️
100% recomendado
Excelente trabajo, pendiente en todo momento hasta el día de la entrega una excelente presentación y entregando todo a su debido tiempo.
Definitivamente volveré a contratar sus servicios!!

Williams G.

Married on 12/16/2017

Es de lo más increíble su trabajo todo muy perfecto y es un 1000% para su trabajo como siempre es el fotógrafo familiar ❤️

Sin duda alguna es una experiencia de otro mundo su trabajo tan perfecto y de muy alta calidad y muy profesional

Jennifer N.

Married on 01/28/2022

Tulum wedding from a Chilean couple

We'd an amazing moment! Javier was very professional and committed in the whole process. From the biginning ( us from Chile) he was very close and full focus on all details of our wedding, the location, event, decoration, wheather chances, lightning, etc.
We really recommend, he won't fail.



+ 2

photos

Nadal I.

Married on 10/20/2018

El mejor simplemente mágico

Es una persona super profesional. Cada toma que el realiza es mágica, siempre atento en cada momento para lograr capturar el mejor momento. Super natural en sus tomas, y en la sesiones es muy detallista sin duda el mejor.

Nadal I.

Married on 10/20/2018

El mejor simplemente mágico

Es una persona super profesional. Cada toma que el realiza es mágica, siempre atento en cada momento para lograr capturar el mejor momento. Super natural en sus tomas, y en la sesiones es muy detallista sin duda el mejor.

Thayna K.

Married on 07/14/2022

Very satisfied

I was very well attended by Jahlcob. I looked through a site about photographers from Cancún, as we live in Brazil. And from the first visit, he was always very kind. On the day of the renewal of vows, we had some problems with the delay of some family members, but even so, he was very cutting. And the result of the moments will be immortalized with a lot of beauty of each click and/or filming. We really love the result and thank you for every order that was made and carried out with great attention.
Are you interested?
Send a message