77 Reviews
Recommended by 99% of couples
Quality of service

4.9 out of 5 rating

Average response time

5 out of 5 rating

Professionalism

4.9 out of 5 rating

Value

4.9 out of 5 rating

Flexibility

5 out of 5 rating
13 User photos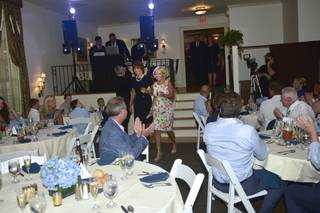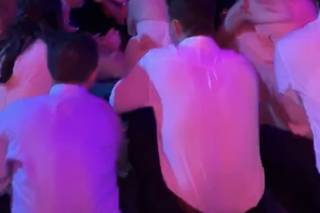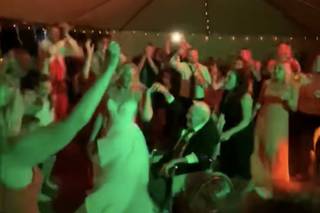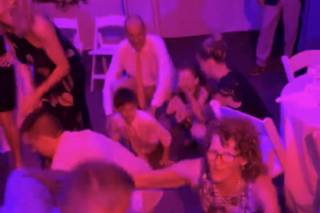 + 9

photos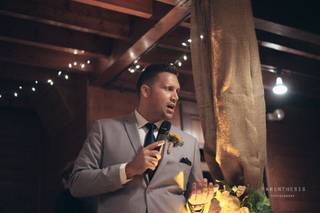 Craig K.

Married on 09/24/2022

J&S - It's about the experience

A DJ can make or break your wedding entertainment. Joe Bunovsky did a great job of reading the room and playing the music to get our guests engaged. His lighting offered some great effects and the sound system was reliable and top-notch. His app helped us get a better feel for the timeline of events and was customizable. A true professional.

Jennifer

Married on 08/20/2022

8/20/22 Wedding DJ - Highly Recommend!

We had the best experience with Joe as our wedding DJ! We had many last minute changes that he came to the rescue on and saved the day for us. Prior to the wedding, Joe was very easy to work with and readily available to consult with on our wedding day plans. At the wedding, he really got the party going. There was not one moment during the reception that we didn't have people on the dance floor. His sophisticated equipment and knowledge in sound engineering really shown through. We highly recommend Joe for your wedding DJ!

Michele

Married on 07/07/2022

Highly recommend- awesome !

Joe was extremely professional and his experience was extremely helpful. He helped guide us , while also listening to our wishes and creating an experience that our guests will never forget.
We had Joe cover our ceremony, cocktail hour and reception. The dance floor was packed from 9-12! We highly recommend him!

Are you interested?

Send a message

Chelsea G.

Married on 06/25/2022

10/10 would hire again!

Can't recommend J&S Entertainment Co enough. We used Joe for our June '22 wedding at Jonathan Edward's Winery. He was a pleasure to work with, professional, reliable and a great add to our team of vendors. It was very easy to collaborate with Joe and I felt like we were on the same page for my vision of avoiding "cheesy" wedding music and activities. Leading up to the wedding my husband and I had no concerns regarding Joe's ability to execute on what we had talked about. He kept the dance floor going all night with the perfect music to fit the vibe and did a great job at reading what the crowd wanted. With Joe's recommendation we made a last minute addition of some special dance floor lighting and it really made the party pop. Bottom line you can trust Joe to do a great job!

William B.

Married on 06/11/2022

Absolute Perfection!

We had previously attended a wedding where Joe from J&S Entertainment was the DJ and thought we had to have him as our DJ. Little did we know just how much effort he puts into each and every wedding! When we were guests, we just had fun and danced. When it was our turn to plan a wedding we were immediately struck by how thorough and organized he is. Communication was exceptional throughout the entire process. He keeps track of every detail through an online portal. And when it came to music and timeline planning, he has an amazing online app that let us choose our special songs and plan out the entire day and then share it with our coordinator. It was super easy! On the day of our wedding, Joe arrived over two hours early to make sure everything was set up and tested long before anyone arrived. He perfectly executed our timeline and when it came time to dance, his ability to keep guests engaged is off-the-hook! For days after our wedding, we were flooded with texts from our family and friends telling us how much fun they had. I wouldn't hesitate one minute to hire J&S Entertainment! Thank you Joe for making our day so special!!!

J&S Entertainment Co.'s reply:

Thank you Bill! You, Martha and your family and friends were an absolute pleasure to work with. Weddings like yours make my job look easy :-) I'm glad you all had such a great time.

Jimena M.

Married on 05/29/2022

So much fun!!!

We found J&S Entertainment online while planning our long distance wedding in CT from Florida and Joe was our DJ. As soon as I inquired on his website, I had a very fast response and we were both chatting about my wedding plans on Zoom an hour later! We planned a second virtual meeting when my husband got home from work and we were both so impressed with his presentation and thoroughness. From start to finish, the planning was very easy. On our wedding day, Joe made the room look magical with lights. We had stars projected on the ceiling and lighting all around the room. The music was on-point! My husband and I love to dance and the music was seamless all night. Joe's professionalism and fun personality made for a night we'll never forget! If I still lived in CT, I'd be sending all of my friends his way.


Alyssa G.

Married on 05/21/2022

Joe helped make our wedding a blast!

Joe DJ'd a family member's wedding and we loved his energy and music selection, so we hired him for our wedding. It was the best decision, as Joe helped make our night a blast! He's professional, kind, and communicative. If you're looking for a DJ, Joe is your guy!

Monika K.

Married on 04/30/2022

Danced the Night Away!

Joe was one of the best parts of our wedding, and honestly, probably the best of all the vendors we hired. From the beginning, he helped us figure out the best order of events for our reception so that we could maximize dance time. During the intros, he made sure to get my parents' names right (we're Polish - the DJ my sister hired did not get it right, at all). The Polish music was also seamlessly incorporated and guests danced all night! When there was an issue with the photo mirror the week of our wedding, Joe was amazing with communication about our options and reassuring me we would be happy with the outcome. He went above and beyond to make sure we had a mirror photo booth on our big day - it was definitely worth it and now we have great, fun photos of our friends and family.

I would highly recommend J&S Entertainment for your event!

Bette J.

Married on 04/15/2022

All I can say is .... Joe was Great!

Very helpful, not pushy, great personality, understanding of individual taste!

J&S Entertainment Co.'s reply:

Thank you so much Bette! I had a great time working with you and Jerry. Your family and friends were a blast!

Jessica F.

Married on 04/03/2022

Experienced and professional!

Joe did such a great job DJing our wedding, from our first conversation with him all the way through the end of our wedding day. He is extremely professional and experienced, easy to work with, quick to respond to questions, and made us feel confident that the day would go smoothly! He uses a great app that made it very easy for us (and selected guests) to put in song choices, requests, and 'do-not-play' requests. He is also great at reading the room and getting people on the dance floor without a prescriptive playlist, so we were able to tell him our general preferences and vision and leave the rest to him. Overall we had a great experience working with him and would definitely recommend!

J&S Entertainment Co.'s reply:

Thank you Jessica! You had such a picture perfect day. I'm so glad I was able to play a part in it. I hope you enjoyed the recording and I can't wait to see the video!

Christopher P.

Married on 10/09/2021

Highly Recommended Wedding DJ!

We couldn't recommend J&S Entertainment Co. enough! Joe was not only incredibly professional but his vast experience made our planning process so efficient and our wedding day flawless. Joe was able to read the room within minutes and his music choices, along with ours, had our family and friends (and us of course) dancing the entire night! Honestly, Joe and J&S Entertainment Co. are the perfect choice for any event.

J&S Entertainment Co.'s reply:

Thank you Chris! I really enjoyed working with you and Meredith. I wish you both the absolute best in your life together!

Stephanie Q.

Married on 09/11/2021

Hire joe today!

From day one, Joe was kind, thoughtful, and helpful. We met on Zoom first and we went over our time chatting with him - he felt like an old friend! He made suggestions when we asked, but was by no means overbearing. We used this AMAZING app to add songs to "Must play/Don't play" as well as certain slots; processional, mother/son dance, closing song, etc which made things super easy overall. I loved that in the months leading up tot the wedding, I could be reminded of a song and just whip out my phone and add it! Prior to our wedding day, Joe made it a point to schedule a walk-through with our venue on his own (so appreciated when we were planning a million other things). Throughout, Joe was extremely accepting of us not following along with some of the more conventional wedding day things (no bouquet toss, no announcing the wedding party, our entrance titles). On the day of, I nominated Joe as "captain" of the wedding as I felt he was the glue to hold together our timeline - he felt like the one to trust and he delivered! He knew exactly when to be on the mic (not too often, like I asked) and when to let the party flow. His tech was flawless for our outdoor venue that took place in 3 separate spots on 3 acres. I'd hire him a million times over!

Nataliya K.

Married on 08/28/2021

Wedding of our dreams

We had such a wonderful experience working with Joe! He accommodated all our requests and was excellent at reading the room and keeping the party going! We were out on the dance floor for 4.5 hours straight and our guests can't stop raving about how much fun they had! Truly an incredible value! Hands down the best choice a couple can make for their big day!

Christopher C.

Married on 08/21/2021

So happy we chose J&S, Joe is truly a professional!!

Joe is absolutely the best! He had everyone out dancing, and entertained the entire reception. Joe was friendly and easy from the moment we met, all throughout the planning process. He is up to date with technology, and his experience shows. We highly recommend J&S!

Michael L.

Married on 07/16/2021

J&S Entertainment is a great!!

J&S Entertainment did a great job for our wedding. The key was Joe Bunovsky's professionalism. He was on time and worked well with me from our first conference call to the wedding day. He kept the party going and dancing all night long. Even the kitchen staff were dancing. The reception hall said that it was the best wedding reception that they ever had and they have a lot of them and I feel Joe was a big part of that night's success. Joe was really easy to work with and allowed us to create a list of songs that we wanted and then used his music discretion to keep the party going. Also, he had a great sound system and we also used his microphone/speaker for an on the beach wedding ceremony which was great. I would definitely recommend hiring and would do that again in a heartbeat.

Holly C.

Married on 06/19/2021

Made it exactly how we wanted!!

We hired Joe for our wedding last month and he was great!! We had multiple meetings with him and talked through our entire event from start to finish. Our wedding was at the beach so there was not a typical "maitre'd" or event coordinator and Joe really stepped in to be this role for us. He even made our floor plan for us! The app he uses for the music/timeline is awesome. I was able to go in and change things at the touch of a button on my phone which was huge for planning!! He also provided awesome lighting that created a fun, warm atmosphere for a tent wedding! He kept everyone on the dance floor all night and even played a few extra songs after his "stop time." Thank you so much, Joe!!! (All of my photos are blurry because no one stopped dancing!)

Hannah S.

Married on 03/07/2021

Joe was amazing!

We utilized Joe from J and S Entertainment as our DJ for our wedding in July 2019 and we could not have been happier. From our first meeting and conversation with Joe up to our event, he was fantastic. He had so many great suggestions for how to make our reception run smoothly, and how to keep people on the dance floor! The music he played was perfect, and he knew exactly how to read the room to figure out what to play next. He was flexible and able to be mobile enough to play music and provide microphones for our on site ceremony, and background music for cocktail hour before transitioning under the tent to run the reception. He listened to all of our requests and needs and made sure we were happy. I highly recommend Joe for your DJ needs!

Dan M.

Married on 09/21/2019

Great Lights and Sound!

Joe was fantastic. We had an outdoor venue and he came down twice to scope it out and ensure that lighting would be excellent. He walked us through the ceremony and songs, what we liked and didn't like. At the venue, he was early, prepared and thorough. He turned a pavilion into a banquet room! During the event, he knew when to check in and when to go with the crowd. Everything was perfect!

Caitlyn

Married on 09/07/2019

September wedding

A family friend highly recommended Joe as a dj for my wedding in September. He was reasonably priced and worked so well with us! I absolutely would recommend him!

Miranda

Married on 09/02/2019

Exceptional Service!

Our day was extremely stressful. A year of planning and things of course still felt in need of tweaking the day of. Every stressful thing seemed easily fixed with his service! He was extremely helpful and responsive and very easy to communicate with. With every stressful thing we kind of left it up to him to make some of the decisions; this being his profession. We weren't let down at all. Frankly, he made a lot of decisions easier with communication and his amazing professionalism in his field. I would 110% recommend him for anyone who was looking for a DJ. Definitely made the day run so much smoother and everyone had positive things to say to and about him at the end of the night. Hope we need him again one day!

Kyle B.

Married on 05/23/2019

Absolutely amazing

I don't usually write reviews but I am beyond pleased and grateful with Joe and how he did at our wedding. Could not have asked for a better DJ, both personally and professionally. Will recommend 10/10, thank you so much Joe.

J&S Entertainment Co.'s reply:

Thank you Kyle! You, Jennifer and your families... actually everyone last night was the best! It was an absolute pleasure working with you guys.

Rob B.

Married on 04/06/2019

We got Lucky at Foxwoods!

My husband and I planned our wedding in just two months at Foxwoods, and a couple of weeks out we were still at a loss to find a DJ with the 'right fit' we were looking for. We didn't want the over-the-top production type company who try to be the focus but wanted more than a solo person who plays good music. When we found Joe, we knew he was the right balance of the two. After checking out his website, we reached out and he did have our date open.
We set up a phone call to 'meet' and discuss what we had in mind, and Joe explained how he usually works. He made us feel comfortable and really understood what we had in mind, plus was able to steer us in directions that would really add to our day.
If we had to choose one word to describe Joe it would be thorough! From our initial phone call to an event profile form he had us complete, to several other check-in calls and emails before the wedding, he was able to cover every detail that we would need to consider.
We also went with one of his lighting packages for both the Ceremony room and the Reception. We were able to set up a time with our venue so he could meet with us and discuss where things could be set up, how many lights would be needed, and really got a feel of the space. Joe worked with us to find the right Gobo light logo design to be projected on the wall, and we added the 'starry night' projections. We were going for that 'wow factor in the room' and felt so comfortable with the choices.
The day of our wedding, Joe provided the mic's and sound for our officiants and our readers. He also gave us an audio file of the Ceremony, as we were not having a videographer. This was SUCH a wonderful thing to have to remember the day.
Then the Reception began….. Our guests kept saying "OMG, the DJ was amazing, we had so much fun!" They were also raving at how beautifully lit the ceremony room was and honestly they were "wowed" at the reception too. It was our goal to have that "wow" moment and we got it!!
So we can't thank Joe enough for all his work leading up to, and on our wedding day. He helped make it all that much more special for us and all of our guests.
So do yourself a favor and check out his website, and set up a time to talk with him to see how he can make your big day that much better.
Rob & Bob, April 6, 2019


Terri C.

Married on 01/29/2019

Outstanding DJ

One of the best decisions we made was to hire Joe to DJ our wedding. He consistently struck the right note (pun really not intended) for each segment of the afternoon and evening. He is a true expert at reading a crowd. To my great surprise, people (who I never thought would) danced, and kept right on dancing. Considering that our guests ranged in age from those in their thirties to those in their seventies, it was no easy feat to appeal to everyone's tastes. But Joe did! Thanks for making our wedding one of the best celebrations I have ever been to.

J&S Entertainment Co.'s reply:

Thank you Terri! I appreciate the wonderful review. I was so nice working with you and Jon. What a wonderful party you both planned!

Sandy W.

Married on 12/29/2018

Amazing experience from start to finish

My husband and I met with Joe, the owner of J&S at his office. He was the fourth DJ we interviewed and we knew immediately he was the one for us. The pricing was right in line with the other DJ's we met of this caliber. Joe guided us through the entire process, helped us out with song selections for our introductions as well as basically planning the entire ceremony and reception. His knowledge far surpassed the others we had met with. Our on-site ceremony was flawless. The reception was an absolute blast with a packed dance floor all night long. Our family and friends were talking about how much fun we all had for weeks!

J&S Entertainment Co.'s reply:

Hi Sandy! Thanks for taking the time to send in a review! You and Bill were great to work with! You're family and friends made my night! What a fun time...

Penny

Married on 09/29/2018

Where to start? We had the pleasure of having Joe personally DJ our wedding! He was awesome! He was so helpful every step of the way. This was our first wedding and we needed someone that could guide us. He is a true professional. He helped us with the timeline, music selections, uplighting, getting guests on the dance floor, everything you would hope a DJ would do, he did! It was a beautiful setup and extremely classy. Guests are still talking about how great the wedding was...and a lot of it goes to Joe's expertise and knowledge. So happy we went with Joe. Book him, you won't be disappointed.
Are you interested?
Send a message