111 Reviews
Recommended by 100% of couples
Quality of service

5 out of 5 rating

Average response time

5 out of 5 rating

Professionalism

5 out of 5 rating

Value

5 out of 5 rating

Flexibility

5 out of 5 rating
33 User photos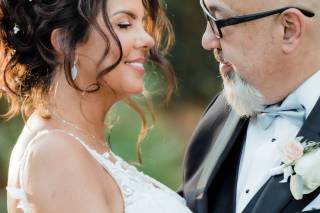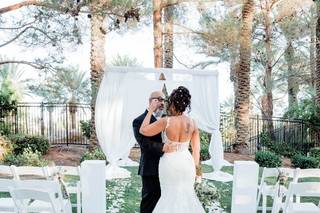 + 29

photos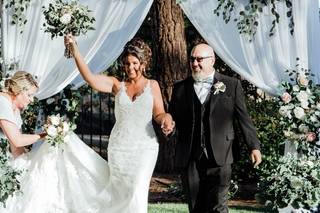 Moonshine D.

Getting married on 01/08/2023

Izzo Pro - There is no better choice

We had the pleasure of working with Izzo Pro Photography on two memorable occasions.We are located in Hawaii and were planning to film a new music video in Las Vegas.While researching a reliable photography and video company to help us film, Izzo Pro's name kept surfacing from great reviews.We reached out to them and never looked back.Izzo Pro was so professional and accommodating, they made the video shoot comfortable and effortless.A couple of months later we went back to Las Vegas to finish our music video and Izzo Pro was there for all of our needs.If you are in the market for a reliable and talented photography company, for any occasion, Izzo Pro is your one-stop-shop for all things professional.They not only treat you like a loyal customer, but they treat you like family.They care about how your finished product will look and they will go out of their way to make sure you are happy and satisfied.I strongly recommend Izzo Pro Photography, there is no better choice.
-  Justice Moon - International Music Superstar
https://www.youtube.com/watch?v=qWuBfRyY2qY

Kimberly M.

Married on 10/21/2022

Love! Love! Love!

They were so amazing and made our day special! Our guest were so impressed by their work. Love the energy they brought and couldn't have asked for anyone better! You will not regret it!

Brandi M.

Married on 09/30/2022

Best experience ever!! We love Izzopro!!

Izzopro is the absolute best that there is! Our Videography was even better than expected and we can't thank you enough.
Thank you so much for your professionalism, humor, patience and just for being an awesome human!!! We would not only would hire Mario Izzo from Izzopro again, he is now a friend ❤️
We love you guys!
Love "The Mazzola's

+ 7

photos

Are you interested?

Send a message

Eden A.

Married on 09/09/2022

Exceptional!

I can't speak enough great words about my experience in working with Mario and Izzo Pro.  From start to finish (initial consult to delivery of our hard drive), Mario went above and beyond to make sure I was taken care of.  The experience in customer service was exceptional, and the quality of the product/video was even better.  My now husband and I couldn't be happier.  Thank you, Mario, for making our experience such a delightful one.  Anyone who chooses to work with Izzo Pro will NOT be disappointed!

Alexi S.

Married on 05/07/2022

Money well spent

My husband was hesitant about paying for a videographer for our wedding, he didn't think we needed it. As soon as we got our video back he was in tears and thought it was money well spent. When Mario and his staff arrived at our room they got right to work. They are professional, easy going, good spirited people, they were amazing and so is the video!!

Jessica J.

Married on 02/26/2022

Professional & fun!

We got married on 02-26-22 & had Izzo Pro cover our wedding. Our first phone meeting was with Mario- we loved his enthusiasm, flexibility, and more importantly his honesty! He listened to us how we wanted the entire wedding day to go, what we wanted to capture, and what was important to us. We thought we needed more than 1 photographer/videographer, but he suggested 1 photographer + 1 videographer can do the job just fine & we can also save money. We, of course, trusted him and we're so glad we did!

We met with Bethany first, who did our engagement photos. We initially didn't plan to have engagement photos, but Mario mentioned it was included with our package and it would be a great way to get to know our photographer before the wedding. Everything is really done with a purpose- meeting Bethany gave us a glimpse of how comfortable and fun our actual wedding day would be with her capturing us! Bethany really is a photographer extraordinaire! You can tell she loves her clients & her job- her positivity and passion just radiates into her work. We actually loved our engagement photos so much, that we printed one of them onto a 3x4ft canvas and displayed it at our wedding.

Our wedding was a Catholic ceremony held at the Guardian Angel Cathedral & our reception was at the Chateau Nightclub & Rooftop inside the Paris Hotel. Izzo Pro was with us practically the entire day, 8am-9pm. They made our family, bridal party, & guests feel very comfortable. We had a receiving line, meaning they directed our entire party of 165 guests on how to pose & where to look- so every guest had a perfect picture all within 1 hour. The Izzo Pro team work well together, they are also fun to be with and hang out with- all while getting the job done! We didn't even want them to leave at the end of the night!

Our pictures and videos came out BEAUTIFUL. Our wedding day went by SO fast, but they artistically captured so many details of our wedding at various angles- it was so amazing to relive that day. I'd recommend them to any bride!

Lucille

Married on 02/15/2022

Very professional videography team

They are seriously the best videographer team in town! From gimbal to drone to video editing, everything turned out so perfect! I can be a super demanding bride and everything needed to turn out perfect for me when it comes to photography and videography. They were super patient asking million of questions I had before our wedding, during the wedding day shooting, and post wedding editing. They were exactly what I needed to capture our wedding. Highly highly highly recommend them!

Chantal

Married on 12/13/2021

Creative, Quality and Professional -AMAZING❣️

Chris and I could not be happier with our videographer, Mario at Izzo Pro. Mario filmed our wedding ceremony and reception. Mario worked with my photographer that I flew in from out of town without any issues. It seemed as if they knew each other forever. They worked seamlessly and effortlessly together. Not only is he a professional, but extremely personable! His wife Dani was an absolute doll as she was so prompt with returning phone calls, emails and even text messages. Their experience in the industry assisted us with planning from beginning to end including our choice of music for the video. Mario and Dani wanted to make sure that everything we wanted was captured so we could share with our loved ones that were not able to attend. Our wedding was a multicultural event . Mario did AMAZING job filming every detail of the event from vows, traditions and dancing. We didn't even realize he was filming or even the drone. Izzo Pro's state-of-the-art equipment was quite evident as the final video blew us away. The detailed-oriented video truly captures every essence of a night we will remember for a lifetime. We highly recommend this vendor! Their professionalism is a true reflection of organization, creativity and the passion they have for their craft. Thank you Izzo Pro for being a part of our day❣️

Sydney

Married on 10/17/2021

Hire them!

The Izzo Pro team is absolutely phenomenal!!! They were a dream to work with from start to finish. Mario really captured the best moments from our day & we are so blessed to have all of this wonderful footage to share for years to come!!

Here is a link to our wedding video if you wanted to see!
https://youtu.be/cj6bx4Ccs1o

Xya S.

Married on 09/04/2021

Amazing, Awesome, wonderful

When he came he was so polite. He even encourage my husband to get up in dances with us, also showed him some moves. We had an fun amazing day, he helped it be amazing I would totally recommend to anyone.

Kelsey S.

Married on 06/05/2021

Get a video!

Izzo Pro is amazing! My friend used them for her wedding and I absolutely loved the video, so I couldn't resist when my own wedding came around. They are so flexible and came to both sites. My wedding looks like a movie. Couldn't be happier.

Chanel

Married on 05/13/2021

Beautiful day

We booked izzo pro video for our wedding and reception and they did an absolutely amazing job on our wedding video. From our first conversation with Dani to meeting Mario at our wedding, it was great energy from the start. Very professional with great personalities. They provided a package that matched our budget and we are so happy with the final product. Mario was so easy to work with and helped to make our wedding day fun. He captured some beautiful moments that we'll have forever to look back on. I would definitely recommend their services. Thank you izzo pro.

Veda F.

Married on 05/03/2021

Review from mother of the bride

I just watched the video of my daughter's wedding last night!!! It could NOT have been better. The final product captured the beauty of the location and the love and laughter between my daughter and her husband. It was perfect. The staff were wonderful to work with! I would highly recommend them.

Karli-Mae O.

Married on 05/03/2021

Izzo Pro were amazing!

Mario and Dani were amazing! They captured our wedding beautifully, used all the right shots to go with our music, and were super helpful and nice the day of! I barely noticed they were there and at the same time they got everything I wanted to capture! I would 100% recommend them to anyone! Everything was perfect!

Christine B.

Married on 04/11/2021

The Perfect Choice For Our Special Day!

Mario was incredible and the perfect choice for our wedding videography. He captured every special moment perfectly and our wedding dance from every angle. He even gave us HD photos from the videos that ended up being the best ones from the day! Thank you Mario for freezing this moment in time for us to remember for the rest of our lives!

Jennifer M.

Married on 03/14/2021

Best Videographer!!!

My husband and I were debating if we wanted to have a videographer for our wedding. If you're on the same boat and currently reading this review... Please get Izzo Pro as your videographer! We were 3-4 weeks away from our wedding and we were debating at the last minute if we wanted a videographer. I first checked them out through Weddingwire and it lead me to their website. There was a chat button and I got a response so quick from Dani! We talked on the phone and wow she is super nice and awesome! She asked us questions about our wedding and what we wanted in the video. She customized a package for us which included 6 hours, free drone coverage, raw video, 2-3 min highlight video. She is very thorough and detailed which I love! They also said that we would get our video within a month after the wedding. The best part was that we actually got the highlight video within a week! Dani's husband, Mario, was our videographer. He's totally cool and awesome! I was nervous because I was afraid I was going to look weirdly nervous in the videos lol. He definitely made it a comfortable and fun experience for the entire bridal party! Watching the highlight video really captured our love story and it is something to look forward to watch years later. You will be so busy with the wedding that you'll miss or forget all the fun and candid moments going on. So if you're looking for a videographer... Go with Izzopro! You will not be disappointed! They are seriously the best!

+ 3

photos

Vanessa

Married on 12/12/2020

Best decision ever!

We first want to start off by saying this team has such great energy and made my husband and I feel so comfortable. I do not like taking photos, I feel so awkward and weird, but this team made the process smooth and fun that I didn't feel that awkwardness that I normally do. Second our photos and videos turned out beautiful. We had very high expectations due to reviews and their portfolio on social media and they exceeded all our expectations. You get exactly what you pay for. Not only did they captured our wedding beautifully, but they also gave us a beautiful wedding gift of a portrait of one (there was so many it was hard to pick) of our favorite photos. It was so sweet of them to do that out of the kindness of their hearts. We are so happy we went with them. 10/10 recommend! Thank you Izzo Pro for delivering what you promised!

Erica S.

Married on 10/05/2020

Film school

I worked with Izzo Pro to shoot my film school application. Mario was great to work with and offered insight on which shots might work best. They were also good at offering me reasonable pricing and understood the finance that comes with independent projects!

Lizmary

Married on 10/03/2020

Amazing People

Where do I start? Izzo pro was amazing from the start. The prices and services were clear and competitive. Our wedding video came out phenomenal and my biggest regret was that I didn't book them for photos. They were on time and captured moments from getting ready to the last minute of the night. I even got compliments from my guest on how professional and energetic they were during the entire event. I loved that they used songs that I chose for our wedding within the video.

Ciara

Married on 09/04/2020

Honeymoon Shoot

Mario and Bethany were absolutely amazing to work with!! We originally booked them for our Vegas nuptials but COVID caused us to reschedule. Izzopro were very flexible and understanding and allowed us to reschedule a "honeymoon shoot".

Steven R.

Married on 05/23/2020

Absolutely amazing

Reaching out to Mario and Danielle was one of the best decisions I've ever made. I was traveling to Las Vegas for vacation with my now fiance and had them capture my proposal. They were incredibly organized and very accommodating to my requests. In regards to their work, it speaks for itself. The video and photos I received were absolutely amazing. The editing and sound quality were flawless, and the turn around was unbelievably fast. I could not be happier with my experience, they were sincere and genuinely cared about getting the moment right. If you're not at least reaching out to Izzo Pro, you're cheating yourself.

+ 3

photos

Nicole T.

Married on 03/13/2020

Professional and Amazing

We absolutely loved Izzo Pro. This was the very last vendor we hired and should have been the 1st. I knew we couldn't not have a wedding video. I went back and forth for months and my Husband just told me to book it just a month out. It was the best decision we made. When I got our highlight video it was everything and brought back all the feels. They were so professional and into every little detail. I'll always remember every moment of the wedding because of you guys! Thank you❤️

Megan M.

Married on 12/02/2019

Best Videographers in Vegas

Videography was extremely important to my wife so we wanted to go with the best. Izzo pro was so professional and helpful from the second we sent them an inquiry. We had loads of questions that were answered right away and they even gave us a consultation at their home. They're both so sweet and awesome people that provided us with a wonderful wedding experience. Their energy during our wedding was so happy and joyful and it really helped out a lot especially because weddings can be SO stressful. Izzo pro went above and beyond for us and we will never forget them on one of the most special days of our lives. If you're thinking of booking with them it is definitely worth the investment.

Teresa F.

Married on 10/31/2019

The best decision for our wedding!

After a last minute decision to get a videographer, we were referred to Mario and Dani with Izzo Pro. To (attempt to) keep this short, if you are on the fence of getting a video for your wedding, our advice is...do it. If you have even toyed with the idea of a video, do it. If you haven't thought about it, you still need to do it, even if it means having one less party favor, one less variation of flower, even one less hour at the venue. And if you can, get Mario, Dani and their team to do it for you. Unfortunately, Dani was preoccupied with their newborn baby, so I can't be mad that she couldn't be there, but Mario and his drone pilot (sorry for not knowing his name) were incredible. As awkward as we felt when shooting, the end result came out better than we could have imagined (thanks to the team and the amazing editing!). We are so excited to know we'll always have a true piece of our wedding to watch and listen to, and re-witness the emotions, rather than just thumb through photos (which I still love). Mario was incredibly professional, funny, punctual...just an overall good human. I'd hire them again in a heartbeat. Thanks Izzo Pro!

Ashley N.

Married on 10/27/2019

Best of the Best!!

Izzo Pro was a dream to work with. When we saw their videos on instagram we knew that we had to have them at our wedding! And when we met them in person, there was no doubt about it. Not only is their work incredible, but they are such fun and wonderful people. They made my husband and I feel comfortable being in front of the camera and made shooting outside in the freezing cold windy weather super easy and enjoyable! Their videos are a true work of art and I couldn't have imagined my wedding without them. Hiring Izzo Pro to handle our videography is something my husband and I will never regret. We are so happy with the final videos and are truly thankful! Mario, Dani and the rest of the Izzo team are super talented and professional. You can't go wrong with trusting them to capture your special day! They are worth every penny and more!
Are you interested?
Send a message