7 Reviews
Recommended by 71% of couples
Quality of service

3.7 out of 5 rating

Average response time

2.8 out of 5 rating

Professionalism

3.1 out of 5 rating

Value

4.1 out of 5 rating

Flexibility

4 out of 5 rating
4 User photos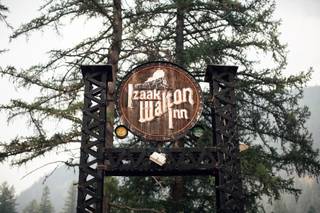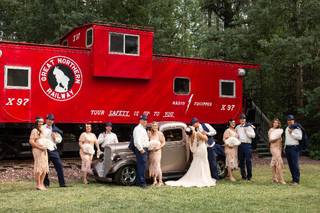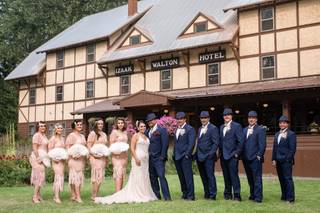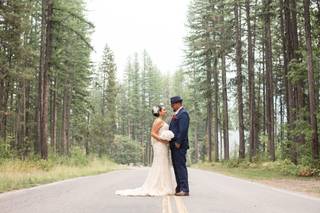 Teah

Married on 08/25/2018

Amazing Roaring 20s

We couldn't have picked a better venue! Staff and atmosphere was beyond our expectations (mine mostly) We had a roaring 20s themed wedding and with out a doubt best day of our lives spent at the Izaak Walton inn! We had a few hiccups along the way, on site management was awesome at helping our guest as well as us throughout our extended wedding weekend!!! We look forward to our next visit!!!♡

Merianne

Married on 06/24/2016

While I occasionally had difficulties receiving responses to email questions, my overall experience was wonderful. The staff of this small train hotel on the southern border of Glacier National Park was outstanding. They were attentive and flexible, especially when it rained during and hailed after the ceremony, and some of the heat lamps struggled to stay lit. They went above and beyond to make sure we were dry, warm, and on schedule. The food, as is usual in their restaurant, was all delicious. It was nice that the venue provided the food and alcohol so I did not have to deal with an outside vendor. Also, the planning process was very flexible and there were many options. I very highly recomend this venue!

Callie

Married on 06/27/2015

The gorgeous venue sits between East and West Glacier and makes visiting the beautiful Glacier National Park so easy. The staff was friendly, flexible, and the food was amazing. It is the best price for the location and the historic Inn is quaint. My biggest complaint was working with Holly, the event coordinator. She didn't respond to emails in a timely manner and didn't even show up the day of our wedding. She made the process the most stressful. However, I do highly recommend the venue because everyone else from the chef and bartender to the rest of the staff were so amazing to work with. The staff took care of moving chairs, serving, and taking down decorations. The food was absolutely amazing. We had prime rib and seabass. You won't get a better deal anywhere else in the gorgeous location.

Are you interested?

Send a message

Sarah

Married on 10/08/2016

The event coordinator, Holly, was very helpful in answering all of our detailed questions prior to the event. We are very thankful to her, although there is certainly room for improvement in the actual event logistics (we'll get to that in a minute).

The venue is reasonably priced. Our wedding budget was less than $5000 and we spent around $3500 at I.W. which included the venue, tables, chairs, linens, bartender, food, champagne, AND one night in a caboose. The food is delicious and if there isn't something you want on the menu option list, the chef (Corey) is willing to work with you to accommodate needs. We had a taco bar/buffet style and I heard absolutely zero complaints on the food front. A buffet taco bar may sound too laid-back for the cost, but I guarantee it was spruced up. There is real silverware and champagne flutes, so no skimping on the display either.

Our only complaints were with the lack of communication between staff members. The pavilion gets chilly in Oct. (only 3 sides which was miscommunicated to be 4 until the week prior) and none of the heat lamps were turned on prior to ceremony (like we discussed day before). Not a huge deal since we were prepared, but...Also, the bartender that we paid for was only present about 1/2 the time (first bartender wasn't charging people for drinks at the cash bar, so charging them to us!) So, the greatest room for improvement was the communication (or lack thereof) between the staff, which would have made everything run a bit more smoothly. We realized the staff was bare bones due to the shoulder season, but we still paid full price...so we expected the same quality service. That piece was disappointing, but certainly did not ruin our day! Honestly, nothing could have. And all staff was friendly, however disorganized.

Overall, we had a wonderful experience at Izaak Walton, despite the hiccups. Also, we highly recommend staying in the X215 caboose which was our favorite.





Angela

Married on 06/29/2019

Great Venue for out of towners

The Izaak Walton is a super cute historic Inn up by Glacier National Park. It was the perfect place for our out of town family to stay and have a vacation as well as get together for a wedding. There are many options to stay on the property and a few rental homes as well that are great for families. We really enjoyed that aspect of it. We would love to have another family vacation there. The people that work at the Inn are amazing. Super nice, fun, and very accommodating. They really went above and beyond my expectations. The wedding was amazing, however, here is where I will get to the disappointments. The whole entire planning process was very stressful. The people that coordinate for weddings work off site and it was really hard to get straight answers, prices, and even an email back sometimes. The communication was terrible. My advice would be to take the time to talk to them on the phone but also get everything in writing and to hound them as well if they do not respond. Besides leading up to it the actual day, the venue and the workers at the venue themselves are amazing.

Maggi

Married on 06/10/2019

Beautiful location, upsetting communication practices

Although location is beautiful, and I used to be a regular here for weddings, the cons outweigh pros...
We had a very upsetting experience. Although I saw one review before I booked that mentioned an issue with communication, I had no idea.
The wedding coordinator was hard to get in touch with via e-mail. I didn't find this a huge deal- if she didn't respond to an e-mail after a week or two, we'd just give her a call to get our question cleared up. She was friendly in person! I did notice that when we met, she took notes on random different pages, so I thought things maybe weren't very organized.

This became a huge issue later. Our first meeting, she recommended an on-property house from Izaak Walton (called the Withrow house) we could rent and base rehearsal dinner out of. We thought that was wonderful and rented the house for two nights. Early in the process I had said my husband's large close-knit family would attend dinner, and the coordinator offered an extra table with chairs to better accommodate us. There were also picnic tables outside and a large, grassy area. Great! As the date grew closer, I verbally informed her we'd have 35 rehearsal guests. *I'll note here that my mother-in-law cooked the dinner. The Inn's only role was bringing some extra chairs to the Withrow lawn 30 yards from their storage area.

Rehearsal dinner arrives, and the owner interrupts to talk to my husband, livid that there are so many people by the Withrow house. He's worried about the septic tank not being able to accommodate the group. We were SHOCKED, as we were never told our party size nor the septic tank was a concern. I've always been a rule-follower, and I was SO upset that the owner was upset. As requested, -IN THE MIDDLE OF DINNER- we immediately asked our guests to please use the restrooms in the main inn, they obliged, and I tried to relax and enjoy the rest of the evening.

Two days after the wedding, on our honeymoon, I see an e-mail from the coordinator. I expect it to be an apology that she hadn't updated our party-size, or that she was sorry she hadn't realized our size would be a problem, resulting in unnecessary drama. Instead it's a BILL for $500 for having too many rehearsal dinner guests at the house. She'd had down 20, not 35.

I ask for a breakdown of the charge, and tried to respectfully explain that we were not the party at fault for the size discrepancy. Additionally, our guests were outside the house, not inside, and 90% of them were also Inn guests that weekend. Two weeks, no response- I follow up via email.

No, there was no damage to the house. The upcharge was for the unexpected guests (on the lawn?!) and the 15 more chairs than expected. The closest party rental rents 35 chairs and 4 tables for $110. If they were really giving us an upcharge for some chairs, they would have charged us something like that. $500 feels punitive. What number in between 20 and 35 warrants a $500 charge and an upsetting rehearsal-night interaction, I wonder? When I protested the charge, they offered to reduce it by half. I replied that while the charge was totally unsubstantiated, I would put a check in the mail that day to end the matter. Insult to injury- they immediately charged the last card they had on file. It was actually my mom's, who had gifted us some wedding expenses! The nice woman working the desk, who was not involved in the ordeal, canceled the charge when I explained I'd sent a check.

Other things that weren't as bad but should have been red flags- we get an e-mail that meal prices had dramatically increased in the new year- no warning when we booked that there may be change. Two days before the wedding, we're told we have a fraction of the arranged decorating time. A few weeks out we're told the honeymoon caboose that is in our contract is unavailable. It had either been pre-booked and we weren't told or it was not reserved for us in a timely manner. The substitute cabin was lovely, and we weren't bothered by the cabin change one bit, but in retrospect, it's another red flag for disorganization I should have recognized.

I am so upset that the company did not believe that I updated the numbers, and I don't have proof because I couldn't get the coordinator to respond to e-mails. I'm upset that we didn't get an adequate apology over the highly unpleasant interaction at our rehearsal dinner- instead we were blamed. I used to be a regular at this place (the chef is great and the waiters are so nice!), but their wedding process reeks of bad-business. I would not recommend them to any friend getting married, and my family and I will not be returning to visit.

Izaak Walton Inn's reply:

Dear Maggi,
We are so sorry to hear this was your experience here with us at the Izaak Walton. This certainly is not the lasting impression of our brides and grooms or our guests that we wish to hear. This is such a special time in your lives and such a privilege to host that special day, that we approach with the upmost importance. No matter how big or small the event we wish all our guests to have a wonderful experience with us from start to finish. We are deeply saddened to hear that this was not the case for your event.
As our events department has grown substantially over the past several months, we have as a result, had to make some necessary policy changes along the way.We are so sorry for any disruptions this may have caused along the way.
We wish you both all the best in the years to come and as always our door is open in the event that you wish to discuss this further.
Best wishes.

Julie W.

Married on 07/20/2019

Poor communication, last minute significant changes, last minute significant surprise charges

Please be sure to read the other two reviews from summer 2019 before even considering this venue! Similar to Maggi's experience, we made formal plans and signed our contract 15 month in advance, in hopes of avoiding last minute hassles and surprise costs. The four weeks leading up to the wedding could not have been more horrible. We couldn't get a response or clear answers at all until several weeks before the wedding. We too had planned all along to have the rehearsal bbq in the lawn outside the house and railcars... all of which we had rented for four days. Then we were told that we could only have 25 or less people and that they would charge us $40 per person for anyone above that number. Fortunately, two weeks before the event we were able to secure the entire lovely back yard, including fire pit, horse shoes and picnic tables, of the Snow Slip Inn to hold the bbq, for a nominal charge. Also, the grooms grandmother had a bbq the next day outside the house she had rented at IWI, for her family who traveled here from Alaska. We were at a "spa day" so weren't even there. The manager and several other staff came to the bbq in front of all of the guests, to advise that IWI would charge us a $250 "event fee" for this on our final bill- which they of course did. And keep in mind that similar to the other two recent reviews, almost 100% of the guests were already paying guests of the Inn! Guests were mortified and deeply embarrassed. We could not get them to send us final pricing until about 3 weeks prior to the actual wedding. That's when we learned that the s'more Bar that we had been planning for 15 months (had a lovely framed chalk sign designed for etc..) would cost over $400 for just 100 servings....and now there's an additional $250 "bar fee"....and it is endless misery and expense and plan changes. And the bridal preparation room that we toured, secured and paid for in the initial contract...it no longer existed as it had been turned into something else. So we had to find another place for the bride and 7 bridesmaids to prepare on the day of the wedding! Their info on this site is inaccurate too. If you want their help to cut your cake, that's $1.00 per slice. There are several outdoor propane heaters around the Pavillion, And when our guests wanted one turned on that evening to take off the chill, they came to tell us that we would be charged $50 for each that was used. The examples of our terrible experiences and surprise costs go on and on. And the changes from what we originally agreed upon for rehearsal, reception and wedding literally cost us thousands of dollars. We had to cancel numerous rentals such as additional string lighting and a dance floor, after we had signed vendor contracts for these, due to changes from IWI on what we had previously agreed to. We actually had to secure advice from an attorney three weeks from the wedding, as to how to best proceed with the many last minute significant changes and expenses we incurred as a result of this terrible venue. Don't be sucked in by their initial lower charge for the venue as compared to others in the area. You will pay far more for this venue in surprise last minute charges along with misery and heartache, at a time that should be one of the happiest in life. You have to secure and pay vendors to bring everything but tables and food to most locations in Glacier, so go somewhere else. All of Glacier is stunning, so be wise from the experiences of now three reviewers this summer and select another venue for the day of your dreams! The actual wedding and reception were stunning and perfect, completely due to our fabulous wedding planner and amazing vendors, not IWI. The planner and vendors were spectacular and a dream wedding was had, in spite of IWI.

Izaak Walton Inn's reply:

Hi Julie,
Thank you for sharing your thoughts. We are very sorry to hear comments on the outcome of such a special day for you and your family. We certainly treat each and every one of our brides and grooms special days as one of the most important days of the year. It's such an honor to have the opportunity to participate in such an event.
We apologize that our services did not meet your expectations. We do set very high standards for ourselves and are truly sorry to hear that standards was not met in your interactions with our services. You mention some of the costs being a surprise, however in retrospect certain costs do tend to fluctuate given the timing of the request and we certainly do not ever intend on surprising our clients with added costs at the last minute. With that said, we often do experience many of our brides and grooms in the heat of the excitement as we get closer to the big day, tend to add on last minute requests and or last minute alterations to the event that certainly can result in added costs.
We agree that communication is so important with all parties involved. In a situation like yours where you have a wedding planner, a bride, groom, mothers and fathers, it can definitely be challenging for all parties to communicate effectively and in a timely manner and all remain on the same page. We do feel ultimately, given the challenges that were faced, the day could not have turned out better. The cooperation between our staff and the wedding coordinator coming together for the common goal of making the bride and grooms day nothing less than magical was pretty special in the end.
We would be happy to discuss this matter in further detail with you anytime. Please feel free to reach out. We wish the bride, groom and mothers and fathers all the best!