103 Reviews
Recommended by 100% of couples
Quality of service

5 out of 5 rating

Average response time

5 out of 5 rating

Professionalism

5 out of 5 rating

Value

4.9 out of 5 rating

Flexibility

5 out of 5 rating
20 User photos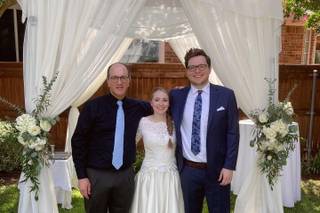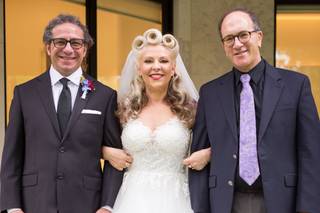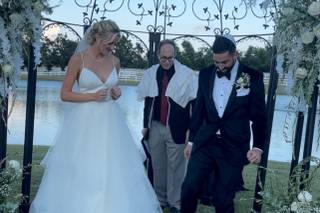 + 16

photos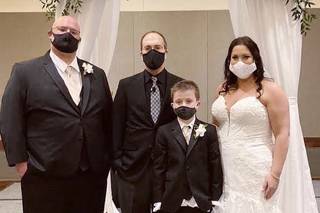 Janelle C.

Married on 11/18/2022

Thank you Rabbi David!!

Rabbi David Gruber co-officiated our wedding this past November, and I am so happy we chose him! He was extremely knowledgeable and provided excellent resources to help us create our Jewish-Christian interfaith ceremony. David really took the time to get to know us, and made our ceremony feel very personalized and reflective of our values. He also worked great with our minister, and made the back and forth between our religions feel seamless. I would absolutely recommend Rabbi David Gruber to anyone looking to create a special and meaningful interfaith ceremony. Thank you so much for everything, David!
Love,
Janelle & Chris

Taylor Z.

Married on 10/02/2022

Super Nice Rabbi

I highly recommend this Rabbi for your next wedding! My brother will definitely use him when he is ready to get married. He responds to emails within 24 hours any day of the week! Works around your schedule to meet for meetings. He's super nice and read's wonderful Hebrew. I loved working with him for my wedding! He let you customize your wedding ceremony and was very down to Earth.

Jake H.

Married on 08/19/2022

Jewish Wedding in Honduras

We were thrilled with Rabbi Gruber at our interfaith Jewish wedding in Honduras. At our first meeting, he expressed that his goal is always to make it seem like we had known each other for years to those attending the wedding. He certainly achieved this goal and we (and our families) couldn't have been happier.

Are you interested?

Send a message

Lauren Z.

Married on 07/22/2022

Excellent experience! With Rabbi Gruber you are in great hands!

Rabbi Gruber was so helpful throughout our entire wedding planning process. He was extremely accommodating and easy to work with. He customized our ceremony to perfectly match our personalities and needs. We asked for lowkey, playful, and a nod to both our families faiths, and Rabbi Gruber went above and beyond our expectations. My husband Joshua and I are thrilled that Rabbi Gruber could be a part of our wedding day; it wouldn't have been the same without him.

Sami W.

Married on 06/04/2022

Rabbi David Gruber for our Interfaith wedding ceremony

David helped us achieve a wonderful wedding ceremony! He met with us frequently over the course of six months before our wedding to get to know us and to make sure we got everything we wanted in our ceremony. We enjoyed working with David.

Robin R.

Married on 04/27/2022

Rabbi Gruber is fantastic!

Michael and I were so happy with our interfaith ceremony! Rabbi Gruber helped guide us along the way with every detail. He was responsive, took the time to get to know us personally over multiple meetings and everything turned out perfect. Even all of our guests made a point to tell us how wonderful he was and our great the ceremony part was! Highly recommend!!!

Mark Z.

Married on 04/02/2022

Amazing experience

We just had our interfaith marriage in April 2022. Rabbi Gruber was amazing!!! He took the time to get to know us and got to really understand who we were as individuals and as a couple. At moments, his words were emotional, funny and uplifting. After the wedding, many of our non-jewish friends were telling me they wanted rabbi Gruber to perform their wedding, even though they were interfaith, ha! He was as entertaining as he was inspiring. He really hit home with everyone there and set the tone for a fun reception after. Thank you Rabbi Gruber for making our dream ceremony a reality.

David M.

Married on 03/27/2022

Made our Interfaith Ceremony fun and stress free

I am Catholic and my wife is Jewish. We knew that incorporating both of our traditions into a beautiful and balanced wedding ceremony would not be easy. Rabbi Gruber made it easy. He worked with us and our Priest to construct a wonderful wedding ceremony that was spiritually enriching for our guests. Overall, we could not recommend a better person to coordinate our interfaith ceremony.

Marcela A.

Married on 03/26/2022

Amazing Rabbi

We had a great experience with Mr David Gruber. It was an easy choice for us since my twin sister had hired him for her wedding taking place 8 months prior and it was a hit. David is personable, funny, knowledgeable and makes the entire experience enjoyable from Start to finish. He takes his time, gets to know you as a couple, and delivers a perfect ceremony. We received many compliments about him from guests. No doubt I would recommend him to anyone!

Alyssa M.

Married on 03/12/2022

Thank you, Rabbi Gruber

We loved working with Rabbi Gruber! He was knowledgable and flexible and we had a great time working with him to design the ceremony. I can't tell you the number of guests who told me this was the best ceremony they've ever attended. It was funny, warm, and full of love!

Hillary A.

Married on 01/08/2022

Professional, personable, and hilarious

Rabbi David as we dubbed him was an absolute amazing addition to our wedding. After our first rabbi ghosted us, we were desperate to find a rabbi who would conduct an interfaith ceremony in Mexico with only about 6 weeks' notice. This was no challenge for Rabbi David. He had all the time he needed to get to know us and the priest (who only speaks Spanish!). He handled the planning process seamlessly and professionally. Our ceremony was as personalized as if we had known him our whole lives. People asked us if he and the priest had done ceremonies together because of how well they co-officiated. And he was hilarious! All night our guests were quoting Rabbi David and asking if we requested he add humor or not. 10/10 would recommend. He was absolutely fantastic!!

Madison R.

Married on 01/02/2022

A great officiant for interfaith couples!

Rabbi Gruber made the entire planning process so effortless. We loved speaking with him in preparation for the ceremony. He made my husband feel so comfortable through the whole process as he was not Jewish and I am. I highly recommend him as your officiant!

Jared D.

Married on 12/18/2021

Wonderful Rabbi, Beautiful Ceremony

Rabbi Gruber was a fantastic Rabbi to work with throughout the process of planning and hosting our wedding. My wife and I come from two different faiths, and Rabbi Gruber was able guide us through the process of building a ceremony that reflected this through his own experience and expertise. At the ceremony (which was international and bilingual no less!), his experience and talent was clear, as he helped lead a beautiful interfaith wedding that enamored my wife, myself and all of our guests.

Keith D.

Married on 12/18/2021

A Great Experience

My son and daughter-in-law had an interfaith wedding with David Gruber as the rabbi. My wife and I were ecstatic with the outcome. Rabbi Gruber is bright, knowledgeable, warm, engaging, personable and has a wonderful sense of humor. He worked with a minister he had not previously met as though they worked together for years. He managed to bring spirituality and warmth to the ceremony which left everyone feeling uplifted, respected, and entertained. He is clearly as passionate about what he does as he is talented. On top of that, since our wedding was held in another country, he was great company at all the pre-wedding tours and festivities.

Jamie M.

Married on 11/19/2021

We got the Rabbi!

Get this Rabbi! We got the Rabbi!

Having Rabbi Gruber co-officiate our wedding was the best decision we ever made!

We are so happy we had Rabbi Gruber's expertise in incorporating traditional Jewish customs into our ceremony. My husband is Christian and I am Jewish. We got married in his parents church on Shabbat. I thought for sure there would be no chance a Rabbi would be so open as to co-officiate in these circumstances--but meet Rabbi Gruber!

Rabbi Gruber was a shining star, he was funny, charismatic, personable, intellectual---all the things you should want and could dream of in a Rabbi. I really felt a great connection with him immediately! Furthermore, he is incredibly kind and gets along very well with people of different backgrounds and faiths—pretty critical given his line of work, but it is worth noting that the Pastor absolutely adored him.

He worked with us closely to customize the script to our liking while maintaining his panache! —And what panache! He really made our ceremony so personal having taken the time to get to know us before the ceremony although we were short on time.

All people could talk about was how amazing our Rabbi was and just loved the dimension and depth he added to our wedding ceremony. Our Jewish guests were a bit apprehensive about the idea of a mixed wedding, but even they were in raptures over the smashing success and finesse with which Rabbi Gruber made it all work. My aunts watched the ceremony (which we recorded for those who could not attend in person) many times, citing how much they enjoyed Rabbi Gruber each time.

Our religious backgrounds are important to both my husband and I, and it was very meaningful and beautiful to have official representatives of our respective beliefs support and bless our union. So happy my wonderful wedding planner, Jennifer Craft, connected us!!!

Yael F.

Married on 10/02/2021

Beautiful Wedding Ceremony



I contacted Rabbi Gruber to officiate the ceremony of my son`s and his bride's wedding. I read all the reviews that I saw online, and he was highly recommended by my friend. After the ceremony, I know why he got 5 stars. The ceremony was just wonderful. I can't say enough about his warm approach, understanding, and patience. Rabbi Gruber got to learn the bride and the groom's story, stayed on top of communication and was interactive with the crowd in the ceremony. All the comments that I have heard from my friends about the ceremony were very positive. Highly recommend him to any couple.


Tracy K.

Married on 08/10/2021

The perfect Rabbi !

On October 9, 2020 Rabbi David Gruber co-officiated our daughters wedding with Father Anthony McGinn at MarignyOpera House in New Orleans, Louisiana.

I must tell you that I am the Jewish mother of the bride and I truly did not know what to expect. I had never been to an interfaith wedding with a Rabbi and Priest co-officiating.

To our amazement this was the most beautiful ceremony we have ever been to. It was absolutely spectacular. Rabbi Gruber and father McGinn worked together seamlessly.

Rabbi Gruber spoke the words of love,life, god and the importance to embrace the love Ashley and Doug have for one another.

Thank you Rabbi Gruber for getting to know Ashley and Doug and sharing their love story,

If there is a bride, groom or parent out there that Is concerned and questions how this will work, you need not worry anymore because you have found Rabbi Gruber.

Thank you Rabbi for taking care of our baby girl and blessing her and Doug in such a special way.

You have blessed us greatly and we will be forever grateful.

Sue and Kevin

Lily Z.

Married on 05/10/2021

10/10 Would recommend!

Rabbi Gruber went above and beyond expectations to officiate our wedding in October 2020. On top of coronavirus restrictions and a constantly changing regulatory environment, Rabbi Gruber braved a surprise Montana snowstorm to make our event happen.
He is an extremely rare person who made both of our families happy, one Jewish, and one Christian. He crafted a ceremony exactly as we hoped, following our directions and adding his own personal wisdom and jokes to make the event personal and one everyone could enjoy.
Would absolutely recommend - fantastic communication, reasonably priced, and a very friendly, good man who will go the extra mile to make your wedding day a success.

Amanda

Married on 03/15/2021

Amazing Rabbi

I can't recommend him enough. He went above and beyond to make our wedding day successful. We had a beautiful ceremony and I'm so grateful for the time he took to make our ceremony special.

Ryan E.

Married on 02/27/2021

Rabbi Gruber Made our Wedding Perfect

Working with Rabbi Gruber was fantastic. Not only is he friendly, nice, and easy to talk to, but the help he provided was invaluable. He custom designed our wedding to fit the needs of our Catholic/Jewish wedding and made special effort to really understand each of us and our story. I cannot recommend Rabbi Gruber enough - he was much more than just what we needed, he was everything we wanted and more!

Amanda Y.

Married on 12/31/2020

NYE Wedding

Rabbi David Gruber made our ceremony so special! He took the time to connect and really get to know us. During the planning process he asked us questions that made us think and grow as a couple. We looked forward to meeting with him and creating our ceremony together. He made us feel so comfortable that day and it was truly magical. We are so grateful!

-Amanda & Brent Young

Brandy

Married on 11/28/2020

Friendly, helpful, knowledegable, and flexible!

Rabbi David Gruber was very knowledgeable and helpful throughout the planning process working with us to craft the perfect ceremony mixing our two faiths. We didn't really know what we wanted when we started planning, but David was prepared to walk us through all the important steps. He was flexible when our wedding was rescheduled, when we transitioned to partially virtual, when we thought we may need to be entirely virtual, and with all the other changes we experienced planning the wedding. We received multiple compliments about how enjoyable and meaningful the ceremony that he helped us craft turned out to be and how it made everyone feel welcome.

Ellen

Married on 11/10/2020

Fabulous interfaith Rabbi

Rabbi David Gruber officiated the recent interfaith wedding of our son and daughter-in-law and far exceeded our expectations. Due to the pandemic, we had guests attending both in person, as well as via zoom. He made all feel welcome and inclusive and took the time to explain the various traditions with warmth and humor.

Raylea H.

Married on 06/06/2020

Rabbi David understands the importance of continuing to live life to the fullest even if it's not how you planned.

Through the restrictions placed due to Covid-19 and having to move the wedding up two hours just days before the wedding, due to the Dallas curfew, Rabbi David continued to stand by our side and support us during this most meaningful time in our lives. The memories we shared that day will forever be cherished and honored by Eric and I for the rest of our lives.

Alex S.

Married on 02/29/2020

Perfect inter faith ceremony

Rabbi David Gruber did an amazing job during our wedding! I am not Jewish, but my husband and his mother are and it was important to them to have a Jewish ceremony. I am so glad we found David because he made our ceremony really unique and special! He really takes the time to get to know you through meetings and e-mails (we were local so we got to meet with him in person several times before the big day). The ceremony incorporate a lot of personal items to my husband and I as well as the Jewish traditional elements that we wanted to incorporate. Everyone has told me since the wedding that the ceremony was one of their favorite parts of the wedding and that Rabbi Gruber was amazing.
Are you interested?
Send a message