58 Reviews
Recommended by 100% of couples
Quality of service

5 out of 5 rating

Average response time

5 out of 5 rating

Professionalism

5 out of 5 rating

Value

5 out of 5 rating

Flexibility

5 out of 5 rating
135 User photos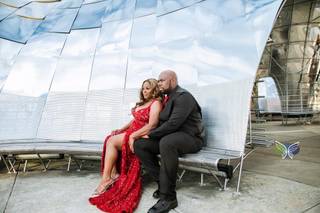 + 131

photos
Amelia N.

Getting married on 10/14/2023

Absolutely Wonderful!!

I can not wait until my wedding day so Esmee can work her magic!! She is as a joy working with for our engagement pictures. My Fiancé does not like taking pictures and he enjoyed working with her.

+ 3

photos

Incredibly Wee's reply:

Amelia you are simply amazing!!! You have made this process so easy and effortless! The engagement session has me super excited for the big day! Your wedding is going to be EVERYTHING!!!!!

Chloe

Married on 05/07/2023

Amazing!!!

Hiring Esmee has been a decision my fiancé and I have not regretted! The communication and the way she made an effort to get to know us to determine things about our photo shoot was unmatched! And our engagement shoot was so fun! We have enjoyed our experience with Esmee thus far! We can't wait for her to shoot our wedding!

Incredibly Wee's reply:

Thank you Chloe!! You and Myles are such gems! I count myself blessed and honored that you chose me for this important chapter in your love story! Cannot wait for May!!!!

Rena H.

Married on 10/30/2022

Photography

Esmee was simply amazing! It was such an amazing shoot and vibe. Our photos turned out BEAUTIFUL! I loved the fact that she was so intentional with us. She played some of our favorite songs, she interacted with us instead of just taking pics of us. There's truly not enough words to describe or sum up how incredibly our experience was. She definitely has a forever customer in me! I HIGHLY HIGHLY HIGHLY RECOMMEND!

Incredibly Wee's reply:

Ahhh! You guys are clearly some of my favorites already and the best part is that this is only the beginning! Can't wait for the big day! Thanks for this beautiful review!

Are you interested?

Send a message

Mea M.

Married on 10/15/2022

My husband and I had an awesome experience with Incredibly Wee Photography!

When we met Esmee for the first time she had a warm personality, which made it feel like she was someone we've always known. She came up with some great ideas for our engagement and wedding photos. She also had us to give her some ideas on some of the places and details that we wanted her to capture. Esmee took some beautiful pictures of our wedding. Her photos are very detailed and the colors really pop. She was also patient with us during the wedding. She wasn't rude or mean at all. She was very nice and professional. She gets an A+ from my husband Jonathan and I.

Incredibly Wee's reply:

Aww Mea thank you soooo much! You and Jonathan have been the nicest couple to work with - one of the sweetest couples I've ever worked with! So happy to have been chosen to capture this next chapter in your beautiful love story.

Keri H.

Married on 10/02/2022

Amazing Photographer!!!!!

Esmee is very professional and an overall amazing person. She is truly gifted at what she does with a camera. My husband and I are shy in front of cameras, but Esmee made us feel so comfortable. Our engagement session and wedding was breathtaking. The pictures she captured truly left me speechless! I plan on using Esmee (as long as she's not booked up lol) for future family portraits as we expand our family :)

Incredibly Wee's reply:

Keri!!! Thank you SO much! For your sweet and gracious spirit and your kindness and patience. You and Antonio were such a joy to work with. I can't wait to work with you all again! Til next time my love.

Sommer A.

Married on 09/23/2022

My wedding photos are amazing!!

Incredibly Wee did a fantastic job with my wedding photos. They were everything I wanted and more! I'm so glad I chose her as my photographer.

Incredibly Wee's reply:

My sweet and beautiful Sommer!! You have been Elijah's muse for so long but now he has to share! You were a stunning vision of a bride! I can post your photos all day and never get tired. Thanks for choosing me! Can't wait for the anniversary shoot!

Elijah A.

Married on 09/23/2022

Effortless Perfection

As a photographer myself, I was very picky about who I chose to capture my special day. Esmee stood out from the very beginning as there's such a cozy aura about her. She's very transparent, very humble and as honest as it gets. She even took the time to provide words of comfort during our wedding rehearsal as the pre-wedding nerves got the best of me. Her pictures were all very beautiful and captured all our special moments perfectly. She does a great job catching and creating genuine moments between my wife and I. There was really no better choice for a photographer than the one I chose!!

+ 8

photos

Incredibly Wee's reply:

Mr. Adams what you NOT gonna do is make your Photo Mama cry!!! This review was beyond thoughtful, beautiful, emotional - mane!!! I can only say I thank God for clients like you and Sommer that instantly become family. Thank you for choosing me. So glad y'all are stuck with me!!!! See you in 2023!

Talley

Married on 08/27/2022

August 27th

Her attention to detail was exceptional. She was very patient with us and captured every detail of the wedding.

Incredibly Wee's reply:

Thank you my love! Such a fun and awesome couple. Thanks for choosing me to capture your precious memories!

Shamarsha B.

Married on 07/31/2022

Awesome Awesome Awesome!

Esmee was such a great photographer to work with during the entire process of our wedding planning! She was very professional, punctual, creative, and gave a lot of good energy while working with her. I couldn't have selected a better photographer and we will definitely continue working with her toward the future.

Incredibly Wee's reply:

Shamarsha!!! This was the sweetest review! I appreciate that you and Houston always had such a positive vibe and were so authentically passionate in every interaction and in front of the camera. Y'all needed very little direction from me - so my energy was simply a mirror of yours! Loved having y'all as clients and can't wait to work with y'all again!!!

S. Malone

Married on 07/08/2022

Easy and effortless

We didn't even feel like we were doing a photo shoot. Esmee told us to act like we usually do when on a date, so it was easy and natural! I love how the photos turned out and would definitely recommend her to anyone with photography needs. She knows her stuff, and we thoroughly enjoyed the session.

Incredibly Wee's reply:

Shon! Thank you so so much for this beautiful review. You guys were such a fun and sweet couple to work with! I know your Caribbean wedding is going to be STUNNING! Enjoy every moment and wishing you many years of happiness. Congrats to you and Jeff!

Chris S.

Married on 06/18/2022

Lights, cameras, and capturing the moments!

Esmee and her staff have the perfect eyes/lens to capture the best moments and off guard moments from our big day! She made taking pictures fun and enjoyable. When we look at her work, it truly tells our wedding story from start to finish!!

Incredibly Wee's reply:

Thank you Chris!! You and Jarvett were so much fun to work with! I enjoyed all our interactions and our sessions together. We got one more coming in 2023! Looking forward to that!!! And thanks for making my son feel so welcomed on your wedding day! We love that we get to not just work but have fun!!!

La Kendra M.

Married on 02/28/2022

Professional And High Energy

My experience was amazing. She was so professional and very high energy. The photos came out phenomenal, anytime I contacted her with questions. I always got immediate response, and amazing customer service. Worth every penny!!

Incredibly Wee's reply:

Kendra thank you so much! Can't believe that crazy ice storm tried to ruin your day! But WOW what a day!!! You guys were such a joy to work with from start to finish! Take care and sending love and prayers for Chris' safe and fast return from serving overseas!!!

Kimberly M.

Married on 12/11/2021

Photographer of the Year!!!!

From the moment I found Mrs. Esmee (Incrediblywee Photography) online via Instagram I knew she was the one. She had this vibrant smile and energy about her that you could see through pictures. Upon our first zoom meeting, she was awesome and had been all the way through. I most definitely enjoyed her on our wedding day. I feel like she is family! I'm so excited to see our beautiful photos and wedding album!!! The fact that we get a one yr anniversary shoot is even better bc we get to hang with her again for a little while!!! If you want an awesome experience for engagement and/ or wedding photos pick none other than Incrediblywee Photography!!!

Incredibly Wee's reply:

Thank you so much Kim! You and Tim were a joy to work with from DAY ONE! Like you said, from the first zoom meeting it was a done deal. Clients like yourselves make it easy. I can't wait to get your final photos to you and then we got some other milestones to celebrate in 2022, yes? Yes! The "movement" continues!!!!

Kenya O.

Married on 10/09/2021

Gorgeous photos!

Esmee was always on time and took the best pictures! I loved the way my pics turned out and the colors were amazing. My brother used her for his wedding and I'm glad he did because it's what led us to her.

Incredibly Wee's reply:

Aww Kenya - can I just say that you and Virak were one of the COOLEST couples I had the pleasure of shooting in 2021! And seeing your family again was a real treat. I love them all! And Virak's family were awesome too. And oh my goodness, the tears on your wedding day. What a beautiful wedding day! I just don't have enough words to say how much I enjoyed you guys. Congrats!!!

Jemika C.

Married on 09/25/2021

Phenomenal!

From our first consultation I KNEW she was the right fit!!! My husband isn't a talker or people person during our engagement shoot Mrs. Esmee had him laughing and smiling I was so shocked! Esmee felt like family at my wedding. She is a true professional!!

Incredibly Wee's reply:

Jemika! From day one you have made me feel so welcomed and have been so kind and sweet. I am always happy when someone gets comfortable in front of the camera, and it made my heart glad to see Christian enjoy his session with his baby and the wedding was just so beautiful and emotional. Every moment with you all was amazing and I enjoyed it thoroughly! Congrats to you both!

Shayla R.

Married on 07/11/2021

My experience with Incredibly Wee was beyond magnificent!!!

Incredibly Wee is the best ever let me just say my family and friends are still in Wow of her work!!!!! My husband and I explained our vision and she brought it to past. She never left us hanging she felt like family! I would 100% recommend her services and I promise you will not be disappointed. Her work is on another level of greatness and I am glad we chose her to bring our best day ever a reality!!!!!!

+ 3

photos

Incredibly Wee's reply:

Shayla, don't you get me emotional now! I can't explain how much I adore you - so let's just leave it like this: I ADORE YOU! You and James are such a sweet couple. You have a heart of DIAMONDS and seeing your genuine love and emotion for your new husband made that day one of the most memorable weddings of 2021 for me. Tears all day! I loved every minute. Congratulations my beautiful Shayla and I can't wait to work with you guys again for your anniversary shoot!

Erinn J.

Married on 07/02/2021

Beautiful Wedding Photos with elevation

From the very beginning Esmee was extremely professional. I loved that she did a consultation and I really got a feel for her personality and her services. You could tell she loved what she did and I loved that she was so flexible with her packages being that I was out of town. She gave great ideas for first look options that turned out beautiful. Our pictures turned out great and I love the many different settings we have from our outdoor first look, to the traditional wedding setting, reception, night sparkler send off, and the many candids. Her communication throughout the entire planning and post stages were phenomenal. Her work is impeccable and I love the album she created of our special day as it truly tells the story of our day. Oh and did I mention how quickly we received our photos and book! She truly captured our day from beginning to end and we are so thankful for her capturing these memories for us.

+ 5

photos

Incredibly Wee's reply:

Erinn, thank you so much!! I can't say enough how much I enjoyed you and Reggie! What I loved about your wedding day was that you had a vision and made it happen! Your day was just one big celebration - you can tell when two people are just meant to be. Yall are it!!!! Hugs to everyone!

Anjelica

Married on 05/08/2021

Wonderful garden wedding!

Esmee was phenomenal during out entire wedding experience (including being flexible during the pandemic). She created shots and moments I only dreamed about, and she truly captured the joy on our big day! Her husband was also very crucial in helping us on the day of the wedding and they made a thoughtful, professional power couple! I would 11/10 recommend Incredibly Wee for all weddings/event needs!

Incredibly Wee's reply:

Anjelica, this was such a beautiful review, thank you! I can't say me and the hubby have ever been referred to as a power couple but hey - I'll take it! After all, it takes a power couple to recognize a power couple! You and Ebby were so authentically sweet and kind - I loved the simplicity of your wedding, and how you honored traditions as well as your love for your family and your faith. Your wedding will forever remain a beautiful memory during a time of uncertainty in a pandemic. Thanks for choosing me! Keep on shining up there in the midwest Dr. Abate!

Lisa V.

Married on 04/17/2021

The Best to EVER Do It!!!

Where do I even begin? Working with Esmee of Incredibly Wee was an absolute dream! She is absolutely amazing and her photos are more beautiful than I could have ever imagined. My initial conversation with Esmee was at the beginning of the covid-19 pandemic when my husband and I had absolutely no idea what direction to go in with planning our wedding. But Esmee was a breath of fresh air. The minute we hung up from our virtual consultation, I knew she was the perfect person to capture our wedding day. Her fun and laid back demeanor completely balanced out my stressed and over analytical brain. And she was always available to answer my two million questions and put my mind at ease. She was even able to recommend other wedding vendors! As many brides know, wedding day always comes with hiccups, but Esmee was extremely organized and efficient. Despite a few time delays that are bound to happen on the day of, Esmee helped everything to run smoothly. And her professionalism and awesomeness doesn't end on wedding day! She has gone above and beyond to ensure that our wedding photos, albums, and prints turned out exactly the way that we wanted. She has met and surpassed every single expectation that we had. Esmee is all about her clients and I honestly can't say enough great things about her. I highly recommend her to anyone looking for a photographer. I will definitely use her again.

+ 4

photos

Incredibly Wee's reply:

Lisa!!!! OMG I am blown away by this review, thank you SO MUCH! You and Cam were literally the most awesome couple to work with. I enjoyed everything from the planning process right down to the album design process. When you have awesome clients, the job is EASY! Congrats to you guys!

Sarah L.

Married on 04/03/2021

The Best Ever!

We had such an amazing time with Esmee! She did our engagement and wedding pictures. She communicated well and was easy to work with. The sessions were tons of fun and she really brought out the best in us. She also helped us pick great locations for all of our pictures. In particular, her understanding of lighting and colors brings out the best in every photo! I loved the final results of all of our pictures. We strongly recommend her!

+ 3

photos

Incredibly Wee's reply:

Sarah thank you SO much!!!! You and Kito were some of my favorite clients of 2021 and everytime I see your photos, it just makes me smile so big! The happiness, the joy, the friendship and admiration you both have for each other is just infectious. Memphis is lucky to have you both! Congrats love!

Kayla

Married on 10/10/2020

An Amazing Photographer

Me and my husband had such a great overall experience with Esmee. She was so accommodating and worked with us through this rough year despite COVID-19. HIGHLY recommended her!!!

Incredibly Wee's reply:

Thank you Kayla for such a great review! You guys were so easy to work with and kind, it was my honor to be able to capture your day! Congrats to you both!

Whitney W.

Married on 09/10/2020

Incredibly Wee is simply INCREDIBLE!

Esmee is the best! She is passionate about what she does and it genuinely shows in her photos. I love how she took her time to really get to know us as a couple. 2020 was a heck of a year for us and I'm sure for a lot of people. Our wedding venue (in which we paid in full) filed for bankruptcy, my car was stolen, and COVID-19 happened. We felt completely defeated and even started questioning if we were meant to be. During such a dark time, Esmee was a beacon of hope. She took what was supposed to be a simple shoot of us in our tux and gown, and created a magical elopement photo shoot. It was amazing! She captured every moment so perfectly, that our friends and family members who could not be there, felt like they didn't miss a thing! We are forever grateful. Book Incredibly Wee! You won't be disappointed.

+ 11

photos

Incredibly Wee's reply:

This made my whole YEAR reading this beautiful review! Thank you so much! You deserved something much more than "just pics" and I hope you and Demarc can look back fondly on this bright spot in an otherwise very dark year. Much love to you both!!!!

Shervae M.

Married on 08/15/2020

Awesome Experience

Incredibly Wee photography made us feel so comfortable during our pre-engagement & wedding day sessions. She has an eye for detail, & offers great quality in all of your pictures. We were working with a TRUE artist! She captured every beautiful moment of our day & turned our pictures into masterpieces that we will cherish forever. I'll never go anywhere else after experiencing what she can do! We had a Wonderful experience & absolutely love all of our photos! I highly recommend Incredibly Wee!

Incredibly Wee's reply:

Shervae I love this review, thank you so so much! I truly enjoyed our working experience also, and what I am most proud of are the smiles that were on Lloyd's face while I took his photos. He may claim to not be a "picture person" but I am so happy he (and you) were pleased. Would love the opportunity to work with you again in the future! Wish you guys all the best!!!!

Ariel H.

Married on 07/18/2020

Best experience ever

Esmee is absolutely amazing. I would not change anything about my experience. She working around our crazy schedules and provided several options/ideas. She was very thorough and gave clear directions. I had no worries while working with Esmee. Also, she works on editing photos extremely fast and provides sneak peaks within a week of shoot. We will most definitely be contacting Esmee in the future.

Incredibly Wee's reply:

Aww Ariel thank you so much for this review! You guys were extremely laid back and so easy to work with. The pandemic forced you to simply your wedding plans, but it was exactly what you guys needed and it was just perfect for the two of you. Congrats on the bundle of joy that will be here soon! 2020 will end on a good note!!!!!

Tyauna B.

Married on 07/14/2020

Our experience was stress free, fluent and exciting! This was our first photo shoot as a couple, and we were very impressed

Esmee went above and beyond for our engagement shoot. She was easy to contact, answered any and all questions we had, and was just to effortless in captioning our sweet moments. Absolutely loved working with her!

Incredibly Wee's reply:

Thank you so much Tyauna! Truly one of my FAVORITE engagement sessions hands down! I know COVID robbed me of the opportunity to shoot your wedding, but I am so honored I got to be at least a little part of your love story. I wish you and Dejone a lifetime of happiness!!!!
Are you interested?
Send a message