101 Reviews
Recommended by 100% of couples
Quality of service

5 out of 5 rating

Average response time

5 out of 5 rating

Professionalism

5 out of 5 rating

Value

5 out of 5 rating

Flexibility

5 out of 5 rating
8 User photos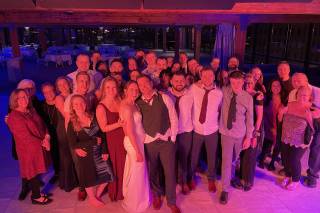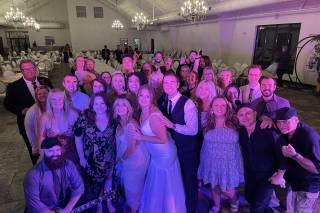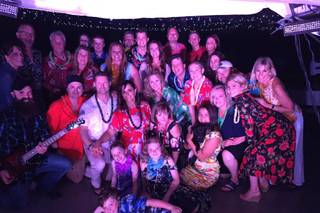 + 4

photos
Heather G.

Married on 02/03/2023

Best Wedding Band

BOOK THIS BAND! Seriously, they are the best. We saw them the first time at my sister's wedding and knew we had to book them and they were just as good at our wedding. They are skilled at reading the crowd and are musically talented as well! We had a blast (2x!) with this band and would book them again in a heartbeat

Daniel A.

Married on 09/04/2022

Amazing Band, Amazing Night!

We got married at Bavaria Downs over Labor Day weekend this year and we are so glad we booked In the Fields! We had seen them at a wedding the year before and we knew we had to have them. They always made sure to keep the dance floor going transitioning from one song to the other seamlessly. We loved the wide variety of songs and even better yet they learned 3 songs of our choosing! We highly recommend them, you won't be disappointed! They also take a selfie at the end of every wedding see photo attached.

Kaylee C.

Married on 08/27/2022

Don't hesitant! Book In the Fields!!

My husband and I knew right away we wanted to have live music for our wedding. I had never heard of In the Fields, but my sister had went to their concert at the VFW in Rochester and highly recommended them. I reached out and Steve (the lead singer) who was SO responsive. Throughout the whole process this did not change - he was by far the most responsive vendor we had, which for all you brides/grooms out there you know how big of a deal that is in itself. We picked the most popular package which included ceremony music, cocktail music, and 4.5 hours of dancing/live music. The packet we filled out ahead of the big day was super detailed, which I think ultimately led to a very successful day. Steve learned two songs for our ceremony and the band learned another song for the dance. The number of people that complimented us and our families on the band is countless. We will forever recommend this band to anyone that will listen to us!

Are you interested?

Send a message

Janelle K.

Married on 07/12/2022

Overall Excellent!!

The variety of music was excellent, I have received various comments from guests that really enjoyed the band. They commented that even when you weren't playing, the break music was great as well. I had people ask me a couple months after who the band was because they were wanting to book you for a local small town street dance. You guys were also extremely accommodating with switching with Zorbaz which you already had booked to be able to play at our wedding. Thanks again, we really enjoyed having you at our wedding and can't wait for the show at the lake this summer at Ottertail!

Kevin T.

Married on 07/08/2022

Outstanding Experience with this Awesome Band

These guys were awesome at our wedding. They learned and absolutely nailed a few songs for us, and they kept the party going throughout the night. The melody of non stop hits to close the show had our guests talking for weeks afterwards

Caity J.

Married on 04/02/2022

Favorite part of my wedding day besides the marriage!

Having In the Fields play at my wedding reception was the best decision! I received so many compliments and they were an absolute blast! They were the ultimate package, helping with cocktail hour music, announcing, and was the cherry on top for my reception! In the Fields was very responsive, organized and I was very grateful for their help at my wedding. I recommend anyone looking for entertainment to book with In the Fields- you will not be disappointed!

Kelly F.

Married on 01/01/2022

Incredible

In the Fields were amazing!! Our guests are still talking about how great the band sounded- our wedding guests (and myself) thought they were so incredible we asked them to play a little longer. They were flexible, easy to communicate with and just all around exactly what you would want in a band for your special day. 100% recommend.

Jason R.

Married on 10/30/2021

Don't hesitate, book them now

My wife randomly chose this band when we were panic planning our 2nd COVID wedding. We went to see a solo acoustic show at a nearby bar and signed off on it, what I didn't know was what an absolute powerhouse the full band would be. Lights, smoke machine, good mix of classic and top 40 covers and DJing throughout to keep folks engaged and entertained and the dance floor rocking all night. Many of my friends are music snobs (self included) --- this was the hit of our wedding and worth every penny. Book them for your date, you won't regret it.

Jennie S.

Married on 10/02/2021

Best band ever

If you want the best wedding, book In the Fields!!!!!!!! We booked In the Fields for our reception, and we could not have asked for a better band!!! In the Fields were unbelievable: Their communication was top-notch, they were easy-going and flexible, and their music was extremely versatile. The dance floor was constantly packed, which was exactly what we wanted...a party! There was a big age range in our guests, and EVERYONE danced! Like I said, they played music that the masses loved. Additionally, they were the best at MCing and helping with the flow of our reception so that there was never a dull moment or any waiting around. Seriously...hardly anyone left our reception early! It was a dream. They were so talented and experienced....all of our guests and family were raving about them, and my husband and I can not stop reminiscing about how smooth, fun, and entertaining our reception was, all thanks to In the Fields!!!!!

Anna W.

Married on 08/20/2021

Stop searching and book them NOW!

They were reasonably priced for all they offer, learned some new songs for our day, and gave us the best, most kick-ass reception dance ever. We had many wedding guests tell us how fun and amazing the music was for the dance. We also really loved Steve playing acoustic for our ceremony and cocktail hour. It was the perfect touch all around. The mix of pop, country, rock and classic hits and dance songs were just what we wanted! They were on time, set up and ready for everything when they needed to be. Announcements and pronunciation of our wedding party and activities were perfect. They wore what we asked them to wear and looked very professional. Loved the lighting-It never felt like "too much" was going on.
We are so pleased we would've paid even more for what you provided us that day! It was a great value and we will book you again if we ever have an occasion to do so! We've already recommended you to friends and will continue to do so! Your sound, song selection and professionalism is outstanding. We were so happy with everything! Thank you again.

Nick B.

Married on 08/14/2021

Best wedding Band Around!

We read the "BOOK NOW" review - and honestly, they did not disappoint! In the Fields played at our wedding on 8/14 and they were AMAZING! Steve was organized and never faltered at our wild idea for a Karaoke entrance . He was like "let's make it happen." We had people on the dance floor all night and he did a great job MC'ing and learning our personal songs. 5/5 for sure!

Jessica V.

Married on 08/13/2021

The best band you will find!

In the Fields is one of the BEST vendors we worked with! Not only are they absolutely incredible at performing they are so easy and accommodating to work with! We discovered this band after hearing them at a friends wedding and after we got engaged we immediately booked them for ours! We had Steve do solo acoustic for our ceremony as well as cocktail hour before the reception and he was AMAZING! The band learned our first dance song among a few others and they executed each one perfectly. We had non stop compliments about "our band" all night! Seriously book them they are hands down the best!!

Collin E.

Married on 06/12/2021

Best part of our wedding!

In the Fields is an absolute pleasure to work with!! Their music is incredible. I am not exaggerating when I say every single person who attended our wedding had a blast on the dance floor and still raves about how great the band was. In addition to providing outstanding entertainment, the band members are extremely professional. Communication is phenomenal, and they are very responsive to emails. They handle set-up and clean-up on wedding day, making the process extremely simple for the bride and groom. Words cannot describe how happy we are with having In the Fields play at our wedding!!

Andre S.

Married on 06/11/2021

Highly recommend In the Fields

In the Fields lived up to all of the hype. There's a reason they have consistent 5 star reviews. They played a great variety, learned new songs, and impressed the crowd. Everyone complimented the way they could read the audience's music preferences. They truly made it a nonstop party! They will provide the couple an in depth music planner prior to the wedding which is helpful to pinpoint preferences and details I would not have thought about with music. Glad our venue coordinator recommended them.

Billy S.

Married on 04/09/2021

The Highlight of the Reception

In the Fields was spectacular, professional and honestly, the best purchase for our wedding. Our guests loved the live music and ITF really does play to the beat of the crowd and chooses great songs. We would highly recommend you to others! Thank you Steve and the band for making our special day even better!

Alexandra J.

Married on 03/19/2021

In the Fields - Must have band!!

Great to work with and the music was outstanding. We gave In the Fields an itinerary for our wedding night and they played it out perfectly. We appreciated their professionalism and the energy they brought to our wedding night! A year later and our guests are still talking about the band!!

Stephen M.

Married on 10/10/2020

Awesome band

It was perfect. When we first got the quote it was on par with what we were experiencing with other bands. We would have paid more after the wedding knowing what we got. I think we googled best wedding bands. We found a bunch, went out to see 3-4 before we saw In the Fields. When we saw them at the thirsty otter we decided they were the band for us. We would have went to see them earlier, but they were not performing close to us, so we had to wait a couple weeks. Band was great leading up to, setting up and taking down. Sound was great, even in a small area. They wore our (special) tee shirts, interacted with the guests just the right amount. We kind of knew we were going to know we would like the set list. Having a sheet of all the songs you play is awesome. Loved that they learned our first dance song. We recommend them to everyone that asks us about who played at our wedding, we also tell people that a band is the right way to go for a reception, and then recommend them.​

Breanna H.

Married on 09/25/2020

Everyone had a blast!

Honestly I was so impressed with Steve and the band from the very beginning. I can't tell you how many people told us how great the band was. The seamless transition between songs kept everyone one the dance floor all night. No one wanted the night to end. We loved the band performance feel with the lights and smoke machine, it was just a really cool vibe. In the fields also played our wedding ceremony and incorporated our niece singing a song with them. Steve handled it all and I was a little worried how the day of wa going to play out, but it was perfect. Thank you so much for everything we truly had a blast having you guys there.

Maren F.

Married on 07/11/2020

Best Dance Ever!

Hands down one of the BEST decisions we made at our wedding was to hire In the Fields! They were so easy to work with and timely in communication. Our guests loved ever second of the dance and could not stop talking about how great the band was. If you are considering booking a live band, look no further! They have a great set list that appeals to all music preferences.

Crystal

Married on 05/02/2020

Hands down, best wedding band around!

The band was amazing!! They were so accommodating as well. We had to switch our wedding venue and they were so flexible with that. They give you a nice planner to fill out which really helps you plan out the night. We requested to play baby shark and the hokey pokey, we didn't provide a time for that request, but they played it almost right away which was so perfect before the little kids left for the night!
The music was amazing!! They did such a great job with playing what the crowed seemed to enjoy! I received so many compliments on how amazing they were. Even people who didn't dance complimented on how fun it was just to watch them play because they were so great!
HANDS DOWN, BEST WEDDING BAND AROUND!!!

Kelli H.

Married on 03/10/2020

Amazing job

THANK YOU GUYS SO MUCH! YOU ROCKED! We would love to see you again, we enjoyed it so much. We will spread your name to all our friends as they wedding plan. Actually, my cousin is getting married next fall and wanted you guys, but you were already booked! Shows how awesome you were. Our guests had (and still are saying!) great things about you, plus the floor was packed all night, which is a clear sign of engagement and success. We loved all the different genres as well as eras. There was 80s, 90s, current, and our guests loved all of it! Additionally, they worked well with the bridesmaids to pull off an amazing ABBA bit. At first, we didn't know how the dance was going to go. Inside or outside? It was tough with COVID. We ended up having it out on the deck, and it was amazing! Sure it was chilly, but everyone kept moving and dancing so it ended up being a perfect night. The whole atmosphere was exactly what we envisioned. We (and our guests) LOVED you guys and were so glad to have you for our wedding.

Erin M.

Married on 11/23/2019

Wonderful!

We were so happy having In the Fields play for our wedding! It was such a fun atmosphere and they kept the dance floor full the whole night, which you typically don't seen with DJs or even other bands. Our wedding was 5 months ago and we still have people telling us how fun the band was!

Mary

Married on 10/19/2019

Great music, and great guys!

People raved about the band, and they kept folks on the dance floor all night long! Literally shocked at the value we got with them. They were so flexible for us, and took care of last minute adjustments (with our MC and playlists) without a problem. Thanks for making our day so fun! Keep doing what you are doing, In The Fields! And if you're getting married and reading this SERIOUSLY JUST BOOK THEM!

Hayley H.

Married on 09/27/2019

Great band!

In the Fields did an amazing job performing at our wedding and we would hire them again in a heart beat. They play all genres of music but they are especially skilled at playing all of the classic rock hits. Everyone enjoyed their upbeat energy! All of the members of the band are extremely talented and they perform phenomenal music. In the Fields does an outstanding job reading and captivating the audience. Our guests never wanted to leave the dance floor. If you want your guests to have the best time, hire In the Fields immediately!

Megan S.

Married on 08/31/2019

Just Book Them!!

We were a little nervous booking a band we had never seen before, but future brides/grooms take our word for it: BOOK THIS BAND RIGHT THIS SECOND. We cannot say enough good things about In The Fields, and neither could our guests!! ITF kept the dance floor packed the entire night, and we received countless compliments from guests about how amazing the band was -- they play so much variety and transition from one song to the next without stopping. Steve is SO helpful and organized during the planning process. He was so attentive to all of my song requests and was sure to ask questions if I wasn't clear. They played acoustic music for our ceremony, executing each song exactly how we imagined. Guests enjoyed acoustic music during the cocktail hour. The band nailed our first dance, father/daughter, and mother/son dance songs before packing the dance floor the rest of the night! The music for our day was very important to me, and Steve and his crew hit it out of the park. Amazing!!! Thanks, Steve!!
Are you interested?
Send a message