Reviews
4.8 out of 5 rating
Quality of service

4.8 out of 5 rating

Average response time

4.8 out of 5 rating

Professionalism

4.9 out of 5 rating

Value

4.8 out of 5 rating

Flexibility

4.9 out of 5 rating
97%
Recommended by couples
82 User photos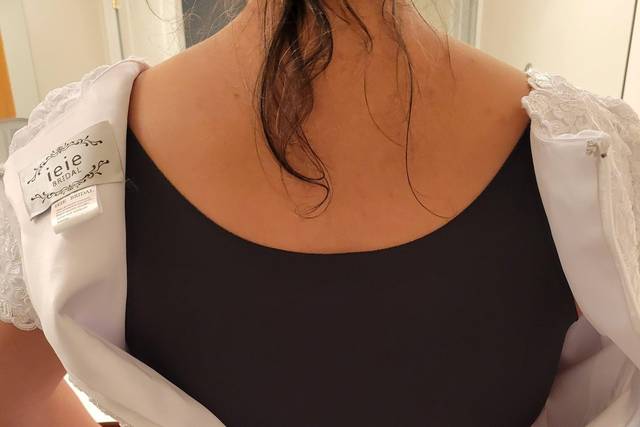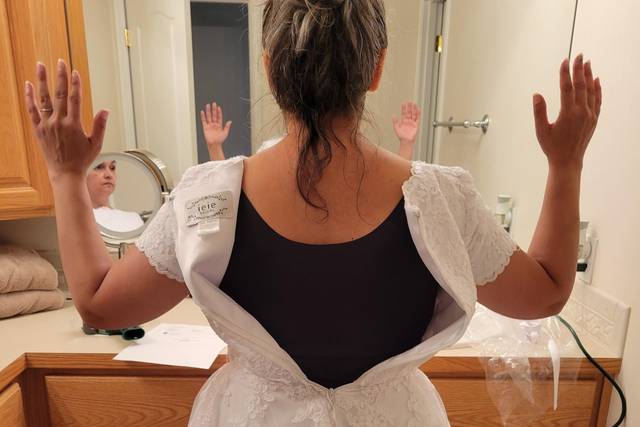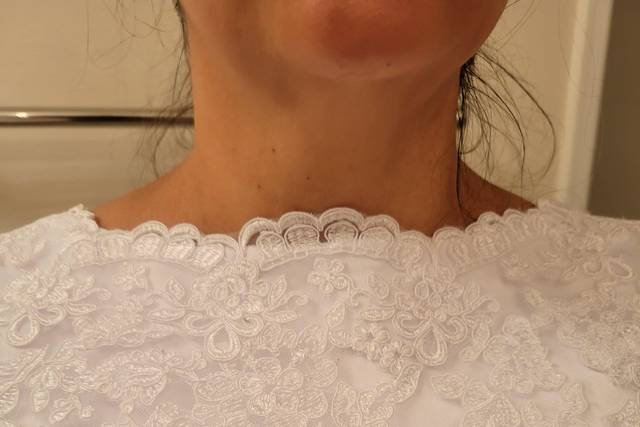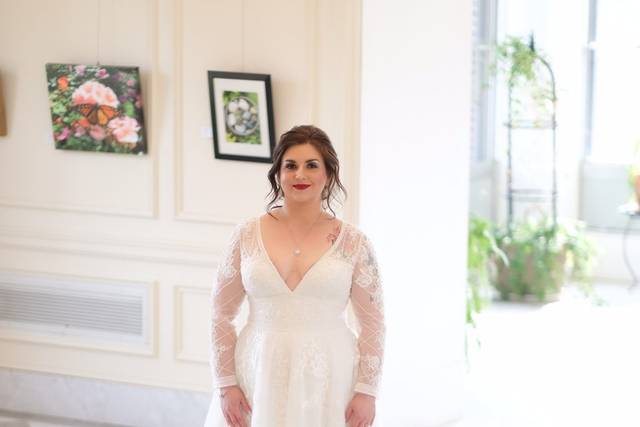 + 78

photos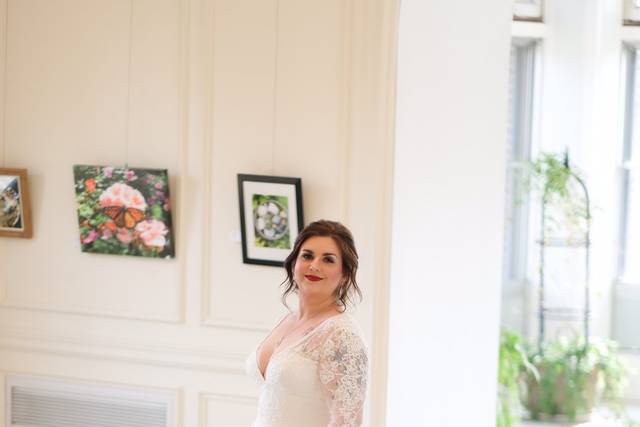 Nelcy A.

Married on 06/25/2023

Petite Bride

Wendy and her team made my dream wedding dress a reality! I found IEIE Bridal on Etsy and Wendy was very communicative about the design I wanted. I contacted Wendy in August 2022 and my dress arrived to my home January 2023. As a petite woman, I struggled to find a wedding dress I felt beautiful in and Wendy created my dream dress to my specific measurements. I highly recommend Wendy about designing your dream dress. Thank you Wendy for your kindness and for helping me feel beautiful my wedding day. Everyone was stunned by my dress and all I could say it was costume made with love IEIE Bridal.

Brittnay Z.

Married on 03/05/2022

An amazing experience and dress!

I fell in love with a dress I could not afford (haha, just my luck). I approached ieie Bridal about making a similar dress. They explained they could make a similar dress, but it wouldn't be exact. I was OK with this, as there were a few changes I wanted to make to the original design anyway.
The whole experience from start to finish was amazing, and ultimately my dress is beautiful. It fit like a glove. I did have to have it taken out just a bit because I gained a few pounds between ordering and getting it, but the seamstress commented on how well made the dress was. It was made to my measurements I gave, so that was my fault. It was a joy to wear to my wedding, and I still love it. Ieie also helped expedite my dress when a family issue caused me to have to move up the wedding by 2 months. They went above and beyond. I would definitely recommend them.

+ 3

photos

Alexandra P.

Married on 04/24/2021

Perfect dress, stress-free experience

I had such a wonderful experience working with with Wendy from ieie Bridal. My dress came out better than I could've possibly imagined, and it fit me absolutely perfectly. She used the pictures of a dress I couldn't afford, and turned it into a reality. I cannot say enough good things about the entire experience! She made sure everything was correct regarding the measurements and even clarified some things I wasn't sure on. She made the entire process incredibly easy and as stress-free as possible. She understood that I was working on a budget amd still gave me my dream dress.

Are you interested?

Send a message

Sheryl

Married on 11/07/2020

Amazing quality

IEIE bridal did AMAZING on my dress. I sent them my vision and they brought my dress to life. When a couple things needed tweaking, they did not hesitate to make the changes. I could not have been happier!

Lisa M.

Married on 07/07/2020

Very happy soon to be bride!

Ieie are very easy to communicate with and any questions I had were answered very promptly. I love my dress, it's exactly what I wanted and can't wait to wear it in July.

Sara S.

Married on 04/29/2020

Easy process, amazing item

Everything was very easy with ieie Bridal. Wendy was always so nice and willing to help.
My dress is astonishingly beautiful and quality is unbelievable, I'm in love!

Will recommend for sure!

Danielle M.

Married on 01/25/2020

More than I could have ever imagined.

Customer care blew me out of the water! Helpful with all my fitting and alteration needs. Made me feel like a dream!

+ 2

photos

Rebecca W.

Married on 01/10/2020

Gorgeous, Unique Dresses

I chose to get my dress at ieie Bridal because I wanted a very specific-looking, vintage wedding dress. After looking in some local wedding dress boutiques, I started looking on Etsy and found ieie Bridal and their amazing selection of dresses. I spotted my perfect dress pretty quickly and knew that it was the one. While ordering from an online wedding dress seller was nerve-wracking, it all melted away once my dress arrived. It was exactly what I wanted and fit me well. I received numerous compliments throughout my wedding day and felt gorgeous in my ieie Bridal dress. I highly recommend their dresses!

Talitha H.

Married on 09/29/2019

Superb in every way

The customer service was excellent and my dress was perfect!!

Margarita M.

Married on 09/28/2019

Beautiful Wedding Dress

Exactly what I was looking for, A Modest But Beautiful Wedding Gown. Very Well-made, I received tons of compliments from friends, family and even co-workers. I felt like a princess. Very small alteration made on the sleeve length and that was it, the dress fit me perfectly!! So worth the money and so convenient. Communication was excellent with shop owner & received my dress faster than expected! Highly recommend this shop!!

Filip N.

Married on 09/19/2019

Great experience

uncomplicated, fast response by mail, additional informations have been provided to help finding the right size, safe and timeline sending by DHL. The dress is great and made with pleasant textiles to feel comfortable.

Hannah B.

Married on 08/23/2019

A Dress Expertly Tailored to My Body and Vision

Although I was apprehensive and a little nervous about ordering a dress off the internet, Wendy was so thoughtful and thorough in our conversations that I felt completely at ease. She went through every detail with me, even when I decided to make drastic changes, and always confirmed what I wanted before taking forward steps. The sketch, veil, and custom dress were all breathtaking, and I am blown away by how perfectly the dress fits! Very minor tailoring was necessary, as is expected, but overall I am in love with it and can't praise Wendy's work enough. Definitely go with her if you're looking for a one of a kind dress!

Destiny H.

Married on 08/10/2019

Customized and personal

From the start my experience was personalized and custom. Wendy took my idea and turned it into a reality. All I had was a picture and an idea for how I might like to personalize it. She exceeded my expectations and my wedding dress is absolutely amazing and one of a kind. It fits like a dream and arrived with time to spare. I am so impressed and highly recommend her!

Stacey

Married on 07/20/2019

I could not be happier with my dress from ieie bridal. We worked together to piece together a design that fit what I imagined absolutely perfectly. I communicated with Wendy the entire time, who was incredibly professional, quick to respond, and gave great suggestions. I cried when I tried it on, a perfect fit. Hopefully I never get married again, but if I did, I'd order my dress from ieie without hestiation lol!

Erica

Married on 01/11/2019

Gorgeous Custom Winter Long Wedding Cloak with Fur Edges and Hood

After many weeks of searching for a beautiful winter cloak that I was envisioning of wearing for my Winter Wonderland Wedding, I came across Ieie Bridal. I found the 76" Winter Long Wedding Cloak with Fur Edges and Hood. It looked stunning. I emailed the company and asked if there was any way that I could order the cloak to be 90" long instead of 76" so that it would be as long as the train on my dress. I received a very friendly and helpful email back from Wendy saying that yes, they could create a custom cloak for me for only a small amount more. I was thrilled! I purchased the custom cloak with the length of 90" and awaited for it to arrive in the mail. Wendy was wonderful and any question I had or update I requested, she replied in a timely manner. I was absolutely blown away when the cloak arrived in the mail. It also came with a beautiful hand muff. I knew the cloak was going to be pretty, I just didn't know it was going to be so epic, unique and gorgeous. It was way better than I had even dreamed of. I felt like Queen Guinevere in Camelot on my wedding day. I received so many compliments from our wedding guests, as well as others, who loved my cloak. I was beyond pleased with the service I received as well as the quality of the fabric used in the cloak. I highly recommend Ieie Bridal for any of your wedding wardrobe needs.

+ 12

photos

Rachel S.

Married on 12/21/2018

A Wonderful Experience!

My wedding gown was perfect! Wendy helped ease my fears about ordering online, and made the whole experience enjoyable. I couldn't have been happier with my wedding gown!

Shannon K.

Married on 11/30/2018

Such a great experience!

I wasn't completely sure about ordering my wedding dress online, but while visiting the ieie Bridal site I saw THE dress, the one I had to have. The price was excellent and I saw lots of good reviews so I ordered it. Those reviews? There's a reason they're so good. Wendy is responsive and patient, and the dress arrived early and was even more gorgeous in person than on the site. I felt beautiful in it, and am sorry I'll probably only wear it once. I adore it, and I adore ieie Bridal. I can't recommend Wendy enough.

Robin

Married on 10/25/2018

I sent a photo of a dress I wanted and they custom made it for me in a different color. I was worried about ordering my wedding dress online but they exceeded all my expectations. The dress was exactly like the photo and the quality couldn't be better. It is gorgeous and they really did a fantastic job. I highly recommend them. Wendy was good to reply to emails.

Monica

Married on 10/21/2018

You won't be disappointed.

I fell in love with a dress I could not but had to have. I sent Wendy photos of that dress along with another dress and asked her to combine them and make my dream dress. She came through yall and made me a one of a kind custom gown. I have not stopped receiving compliments on my dress. It was definitely a show stopper.

Samantha

Married on 10/13/2018

Best Quality Wedding Dress Available

The wedding dress I received from Ieie Bridal was beyond my expectations. Wendy and her crew make the highest quality wedding dress customized to your needs. She will make your wedding dress dreams come true and exceed your expectations.

+ 2

photos

Chelsea

Married on 08/11/2018

I can 't rave enough about how fantastic this dress is! I used this petticoat underneath for the ceremony and pictures: http://a.co/d/1oocWRn (It looks big but is very light and adds a little ventilation in the summer! :P) I then removed the petticoat and bustled the dress for the rest of the day. I also can't recommend getting it custom fit enough. It will be a huge savings in alterations, as well as less stress. You'll feel so good putting on your dress that already fits you perfectly. The bustier I wore underneath gave me a little extra boost, but I could've gone without it, since the bodice is very well-made. This dress is quality and elegance the whole way through.

+ 2

photos

Marissa

Married on 08/03/2018

Well, let me just say that ordering your wedding dress online is no longer a scary experience! I have so many good things to say about ieie bridal. I was searching the depths of the internet for a modest, vintage-inspired wedding dress under $600. And let's face it, even though I like to say I'm not picky and I'm a pretty chill bride...I am picky about my dress. Super picky. After trying on dresses at a local boutique, and being turned off by having to make an appointment and all the immodest dresses at David's Bridal, I decided to take a risk. I found Wendy on Etsy and sent her some (pretty terrible) photoshopped combinations of 3 dresses I liked. She told me she could design my dream dress for $500. At first I was skeptical, but after reading so many 5 star reviews I decided to give it a shot. I am SO glad that I did! Not only did Wendy design my dress EXACTLY the way I envisioned it (from 3 pictures!!) but it also fit me almost perfectly. The only adjustments I may have to make would be in the shoulder; just a bit snug but by no means unwearable, and that would be my fault for getting my measurements a little off. I do recommend having a seamstress measure you if you go the custom measurements route; it's definitely worth it, and saves you a lot of money on alterations later! I want to say too the the quality of the dress is amazing. The lace is heavy and beautiful, with a soft pearlescent shine to the thread. The chiffon is double-layered and very high quality. The dress is pleated well and even lined with a built-in bra, which I had not even requested. There is boning in the waist and the hem is reinforced. I chose a corset back, and the panel is very well done. Overall, I was shocked that I got my own custom, beautifully handmade wedding dress for a total of $530. I ordered on April 28th, and my dress shipped May 29 and arrived May 31. I couldn't be more pleased and I HIGHLY recommend ieie bridal! I can't wait to walk down the aisle in my dress this August!

Dena

Married on 07/21/2018

I have no words for how beautiful my dress is. I love it. It was perfect for me.

I was hesitant to buy an dress online, but everything about the dress was what I was looking for. Wendy made sure it would fit me. The dress is absolutely gorgeous, the beading and lace is so beautiful. I would highly recommend!!

Kate

Married on 06/29/2018

I ordered a 98" veil from eiei Bridal only recently - it took less than two weeks to arrive (from memory), and I live in Australia. I am absolutely over the moon with the quality of the veil I ordered! It is soft, and flows so so well. The colour is exactly as I expected, and I cannot wait to get married wearing this in 2.5 months' time. I had planned on taking my veil off for the reception but I am so in love with it, I'm not sure I will want to now!
Are you interested?
Send a message