30 Reviews
Recommended by 96% of couples
Quality of service

4.8 out of 5 rating

Average response time

4.8 out of 5 rating

Professionalism

4.7 out of 5 rating

Value

4.8 out of 5 rating

Flexibility

4.8 out of 5 rating
Awards
11 User photos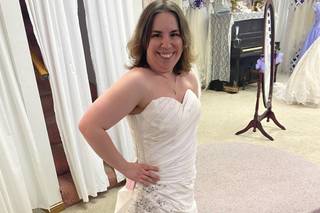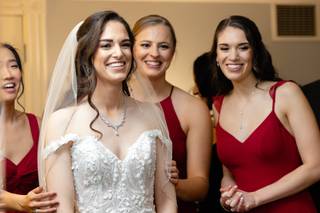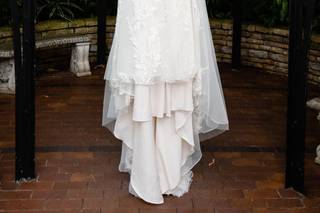 + 7

photos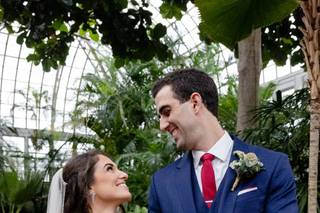 Stephanie S.

Married on 04/29/2022

Shapiro/Quintana wedding

From the moment I put my dress on, I fell in love with it & did not want to take it off. All our guests could not stop raving about how beautiful the dress was & how beautiful I looked in it. Holly was so easy to work with, from beginning to end, & I highly recommend her to any bride who is planning their wedding.

Holly's Unique Weddings and Gowns's reply:

Congratulations. Stephanie! Thank you for your kind words and being an awesome bride! It was a delight to work with you, as well!

Kimberlee W.

Married on 12/11/2021

Wonderful expierience all the way!

If you're looking for a one-to-one approach to finding the perfect wedding gown, look no further. Holly's personal touches and professionalism united to make my experience absolutely wonderful.

From the moment I arrived to the time that I picked up my gown, every detail was taken care of. (My timeline was very short.) Holly not only helped me choose a gown from her generous selection, but added detail to it to create my dream. I felt like a true princess/queen in my one of a kind bridal gown.

Her professionalism and personal touch gave me the one-to-one experience I was looking for in this "Covid-era" world we're experiencing. I would HIGHLY recommend Holly and this salon to anyone looking for that personal touch when selecting a gown for her momentous occasion!

Cynthia M.

Married on 12/11/2021

Perfection!

Holly did an amazing job on the alterations for my wedding dress! It had a lot of embellishments and detailing, and she managed it all flawlessly. My dress fit perfectly, the bustle was exactly what I needed, and I have never felt more beautiful! Thank you, Holly!

+ 2

photos

Are you interested?

Send a message

Briley

Married on 08/21/2021

Amazing! Couldn't have been a better experience!

The best experience ever when finding a dress! Very personal and very respectful and polite. There was no stress when looking for a dress and made sure we were all doing okay and added comments of things we could do to the dress. The place is very clean and well organized and professional looking. It was a pleasure working with her. I definitely recommend this place!!

Holly's Unique Weddings and Gowns's reply:

Thank you for the kind words, Briley! It was a my pleasure to work with you! I look forward to helping you through the entire process!

Lynsey C.

Married on 07/18/2020

Absolutely loved it!

Holly was fantastic! I had a rough time at your typical bridal shops and just wasn't getting what I needed. I found Holly's shop online and she made the whole process so much better! She listened to my thoughts and ideas and helped me find the perfect dress. She was so kind, fun and helpful. Loved working with her!

Holly's Unique Weddings and Gowns's reply:

Thanks, Lynsey! I had fun, too! You're going to look fantastic for your wedding. Bringing your mom and grandma with you was just great. You were all so sweet to work with. I'm so happy you found the perfect dress!

Alyssa G.

Married on 11/02/2019

Amazing Artistic Vision & Authentically You

Holly was my favorite vendor to work with. At my initial appointment (and all appointments) it was a completely private setting, where we could really talk and get to what we needed to. Holly had me grab 4 dresses in my budget range I liked and after I had each dress on, she asked me to explain what I liked and didn't like about each dress.

After the fourth dress, Holly asked me if I minded trying on one more dress, I said no I didn't mind. She pulled out a dress, I put it on, and explained what I liked and didn't but there was a spark. Holly then grabbed a belt and that was my moment!

I had purchased my dress in December of 2017, my event wasn't until November 2019. Holly held onto my dress for me during this time and when it came time for alterations she was great about explaining all the changes we would be making to the dress to make it my own.

The gorgeous creation she came up with was truly stunning and the world needs more vendors like Holly. She curated the most perfectly me dress I could have imagined and my now husband agrees.

Cara

Married on 06/30/2018

My husband and I when we were planning had a tight budget, and when I found Holly's, I wasn't sure if I would be able to find something in my price range. However, Holly assured me that she had something for me and a wide range of dresses to choose from. As soon as I arrived, she was ready to help me and after trying on several dresses, I was able to find the dress. I felt so incredibly beautiful in it and even better, it was one I could afford! : ) Holly is so wonderful and personable! She really goes above and beyond to make you feel at home and comfortable. Not to mention she is extremely knowledgeable about dresses and truly wants her brides to look and feel their best! After I purchased my dress, I had to set up an alteration appointment with Holly since my dress was a little too big. The process was seamless. I set up the appointment, and then she had to ready for me a few weeks later. I would highly recommend going to Holly's Unique Weddings and Gowns. She was an absolute jewel to work with!

Thank you again so much Holly!!!

Maysa

Married on 10/13/2017

Before I even got engaged I always knew I wanted a red wedding dress. When the time came to actually find a red wedding dress, within my budget, I got discouraged very quickly because red is obviously not a popular color for wedding dresses, especially if you're plus size. I first met Holly at a wedding show in Grove City and once I found out that she made custom dresses, I was hooked. It was a long journey full of tiny pins and small details but it was worth it. It was absolutely the dress of my dreams, it fit me wonderfully, and my husband loved it as well. Holly is a very hard worker and does incredible work for a super affordable price. I would recommend her for just about anything regarding formal wear and alterations.

Holly was absolutely wonderful! My daughter had seen this dress two years ago in her shop and tried it on then. She saw it again and tried it on AGAIN! It was still beautiful. We were actually at an event for bridal gowns of Hollys but she allowed us to take the dress for a donation to the USO. I couldn't believe it as I was ready to buy it outright. We ended up getting another dress also for my daughters Freshman college prom. Holly was just wonderful and it was all for such a good cause. There were so many happy brides there that had been in the military or were marrying into the military. They couldn't believe it and neither could we. Holly made a lot of dreams come true!

Holly was fantastic! She was very patient and flexible with me. She has a great selection and worked with me to find the perfect dress! Her dresses were beautiful and high quality and different than the standard ones I had tried on at chain bridal stores.

Jocelynn

Married on 08/08/2015

There is a dress for everyone at Holly's! From small budgets to custom gowns Holly will help you find the perfect dress for your big day.

Holly was wonderful to work with! She has some amazing dresses to pick from with a variety of prices and styles. I found a beautiful dress in my extremely low budget and she was so accommodating when it came to alterations - she did a wonderful job on both my dress and my mother's dress. I recommend Holly's to all my friends getting married because she is just so wonderful!

Holly's dresses are all so beautiful and can be changed and altered to taste. She offers a nice variety of fabrics, colors, styles, and sizes with reasonable prices. I absolutely loved my black and white dress after a few minor changes! it was perfect. Holly is wonderful to work with. She even offered me an appointment or two outside her normal hours to accommodate my schedule. She is very skilled and knowledgeable. I trusted her opinions and she never steered me wrong. I would never go anywhere else for a wedding gown!

Morgan

Married on 10/25/2014

I would recommend everyone going to Holly! She was very helpful and knew exactly what I wanted. She got it done quickly too.

Annie

Married on 10/19/2013

Holly was incredible to work with: genuine and professional.


In 2007 I had the privilege of meeting Holly Easton. I was helping my daughter plan her 2008 wedding. Holly was so sweet, kind, so patient with us and most important, her inventory was extremely large and reasonably priced. She has a small lower level area to showcase her gowns but we never felt that it was a determent to purchasing a gown from Holly. Because of all this, when my other daughter became engaged, we definitely returned to Holly's for a 2013 wedding. We experienced exactly the same from Holly in 2013 as we did in 2007. You will not be disappointed.

Morgan

Married on 06/29/2013

Fabulous service. Skilled & timely alterations.

Beth

Married on 05/10/2013

Holly was wonderful to work with and one of a kind! You will not find anyone who will be more accommadating flexible and helpful to work with!!! She listens to exactly what you want and brings it to life! She is sweet and eases any of your stress you may have about your dress. She has great ideas and suggestions to make you the most beautiful bride!!! Don't waste another second at those "chain wedding shops" go to Holly!!! She has everything they have and more!!! She makes you feel sooo special and you always have her undivided attention! When you are there it's all about you and making your day perfect!!!! I wouldn't go ANYWHERE ELSE!!!! Stop wasting your time at other shops and CALL HOLLY TODAY!!!!

My future daughter-in-law was here in the US visiting us from Finland and we had limited time and money to get everything coordinated for the wedding. When one of my friends found out we were looking for a wedding dress, she recommended Holly's Unique Weddings and Gowns to us. I am so thankful that she did. We contacted Holly and she set us up with an appointment that worked for our schedule and us. When we went to Holly's we found her to be knowledgeable and very helpful. She provided suggestions as to styles that would fit both the body type and personality. Holly spent quite a bit of time allowing Martta to try on different dresses, and answering our many questions with patience. The dresses were lovely, but we decided to look around, thinking we might find a "deal." We decided to order a dress from an online vendor and when it arrived, it was not at all what the bride thought it would be. We should have gone with Holly. Not knowing what else to do, we called Holly and explained the situation to her. Fortunately, Holly had mercy on us and came to our rescue. Holly tried different things until Martta was satisfied, and she even did the necessary alterations. Holly knew that the wedding would be in Finland so she took extra time to work with me until I knew how to lace up the gown and get the bustle in place etc. We had a very satisfactory experience and I would not hesitate to recommend Holly's Unique Weddings and Gowns to my friends and family.

Loved Holly and her service! My dress was beautiful, she did a great job with alterations, everything was done on-time and when needed.

Ruth

Married on 10/30/2011

Holly was very helpful in helping me to find the mother of the groom dress that suited me. She was very professional. Since I do not like to wait till the last minute, I shopped early and requested that alterations be finished in a timely manner, which they were. I had two sons married within four months of each other and Holly helped me with both the dresses I needed.

Megan

Married on 09/17/2011

Very sweet lady! Super easy to work with! Very well priced! Had absolutely NO problems!!! Got a specially designed gown, undergarments, alterations, everything for under $2000!!!! But then again, i'm 4'10" so maybe it was half the material half the price lol but I love her! Totally Recommended!

Deborah

Married on 06/18/2011

Holly had a larger inventory of modest affordable wedding dresses than my daughter and I found at other stores. We ended up purchasing a sample dress and Holly did an awesome job modifying and altering it! It was originally a strapless dress and she modified it by adding pieces to build up the bodice and added sleeves. She did a great job!

Ronda

Married on 06/30/2010

I loved my wedding gown and got it for a good price along with accessories.

Emily

Married on 10/24/2009

I cannot say enough wonderful things about Holly. I got a beautiful dress, in budget and it was personalized with perfect alterations. Thank you for making my special day just that more special.
Are you interested?
Send a message