53 Reviews
Recommended by 100% of couples
Quality of service

5 out of 5 rating

Average response time

5 out of 5 rating

Professionalism

5 out of 5 rating

Value

5 out of 5 rating

Flexibility

5 out of 5 rating
82 User photos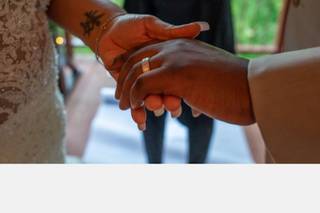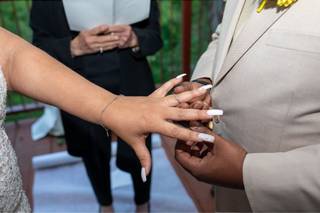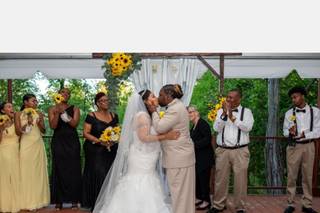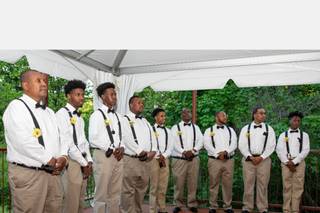 + 78

photos
Glo V.

Married on 08/07/2022

Lo mejor excelente servicio muy amable y profesional.

Un excelente servicio puntual amigable habla dos idiomas y se desenvolvió súper bien .

Richard S.

Married on 05/01/2021

Absolutely fantastic!

I just want to take some time out to thank Hollyglow Studios for capturing all the love, joy, happiness, laughter, tears... every moment of the magical day (5.1.2021) my beautiful bride and I said I do! The ceremony itself was absolutely perfect! A large part of this was due to the expert photography provided to us by Hollyglow Studios! The attention paid to each and every detail was absolutely astounding! Thanks to Hollyglow, we have the perfect illustrations for us to look back on for years to come! There were photos we prepped for, as well as unexpected shots that came out beautifully! To top it off, the photos were available for us to download on Mother's Day (an added bonus of a Mother's Day gift). With the benefit of digital download, I was able to either download pictures or just send the link. I sent a cache of photos to a family member who was unable to attend, but so very much wanted to. I, myself was unable to take any photos, due to my phone falling victim to a critical error just 24 hours prior :( I was very disappointed, because I couldn't take any photos on my own - but it wasn't even necessary; any pictures I would have thought about taking, were taken by Hollyglow - and then some. Even today, we are all still talking about the events of last week. Everyone LOVED Jude; his professionalism, his warm and personable demeanor made everything go extremely smooth. We are ALL exceptionally pleased with how the photos came out. We have a sweet sixteen coming up for one of my daughters; there is NO QUESTION as to who will be taking the pics on that day! Hollyglow is the ONLY way to go!!!

+ 3

photos

Hollyglow Studios's reply:

Richard, can we talk for a minute about how nice both of your families were!? I felt like an honored guest photographing your wedding—and wow did the pictures come out great!? You guys were a delight to work with, I'm so glad I could be part of it. Please don't hesitate to reach out and say "hi", we're always here for you! Warmest, Jude.

Angela B.

Married on 04/09/2021

Beautiful pictures

Jude was awesome! He has a great personality. He responds fast and was on time. The pictures of my daughter's wedding were beautiful. Would definitely highly recommend. His prices are very reasonable, and the quality of the pictures are top notch!

Hollyglow Studios's reply:

Hello Angela! It was such a pleasure to share in your family's Joy. Monica and Chris were such a fun couple to photograph—talk about a match!!! Those two are the coolest. Tell Monica I enjoyed the "Morty" dance she did, she'll know exactly what I'm talking about :D.

I'm so happy you like the pictures. We drove outside of our service area just to be part of the wedding and I'm so glad we did. If ever you need, please don't hesitate to reach out to us.

Are you interested?

Send a message

Chelsea

Married on 11/09/2020

Amazing photographer and beautiful photos!!!

Captured beautiful photos!! Good with working with kids and getting them to smile and pose and just has a good sense of humor overall that kept a genuine smile on our faces the entire time! Would highly highly recommend!!

Hollyglow Studios's reply:

Chelsea, its always a special joy for me when I get to photograph the wedding of a personal friend. You guys looked amazing and I am absolutely floored by how well your pictures turned out. I know Covid times are weird, but let's stay in touch. Honestly, I had been waiting for such a special day for years, I'm extremely happy I was able to be part of it. Your's and Brandon's always, Jude.

Yvette P.

Married on 11/09/2020

Best photographer ever!

I can't say enough about the quality and professionalism of holly glow... wound 💯 percent recommend them.

Hollyglow Studios's reply:

Ummmmm yaaaaas! I had such an amazing couple to work with! I'm so happy you like the photos. I'm here for you guys always.
Warmest, Jude.

Tj Mcfaul

Married on 10/10/2020

Fun and funny, a great experience!

Jude came out to our wedding and was an immediate hit! Turns out we share a similar hobby and we really bonded over that, he even went out of his way to take extra pictures of my wife where she was getting ready with her car. It was awesome! He gave us tons of great ideas and had a wonderful energy. He had us laughing and feeling very natural during the post ceremony process, and you can definitely see it in the pictures. I highly recommend HollyGlow for any wedding, a highlight of our memorable day!

Hollyglow Studios's reply:

Okay, so this was definitely one of the cooler weddings I photographed—obviously because you guys are gorgeous as a couple, but also because of those awesome rides you guys had. It's so fun to meet other 90s Japanese import gearheads! You guys definitely made my day, and your families were both so nice. You made my job easy. Let's stay in touch; if even to talk cars! I'm currently eyeing a Mitsu 3000 GT and Mazda RX7 that need some work—hope I'm up to the task. Warmest, Jude!

Ashley M.

Married on 10/10/2020

Most amazing experience

Jude was our photographer and he did an amazing job. He was super personable and really helped to make our day extra special. He adapted to our special requests of wanting some pictures done with our friends and cars and took it to the next level. He was super easy and fun to work with and the pictures are incredible!! A lot of my friends ended up asking about him for their wedding as well. Thank you so much to Jude and Hollyglow Studios!!!!

+ 6

photos

Hollyglow Studios's reply:

I was just writing to TJ talking cars! LOL. You guys were an amazing couple; I had so much fun at your wedding. Please know that we're always available to you and your families—as a photographer and as a friend! Thank you both so much for letting me be part of your amazing, wonderful, beautiful, fun, eternal, loving DAY!

Brenda

Married on 09/19/2020

Omg gorgeous photos!

Got their information from a friend they did a wedding for and love their photos. So i decided to use them as well.. I'm so happy with our photos! I couldn't imagine them any better! Jude was amazing he captured so many candid photos that were so amazing! He also gave us awesome posed ideas because if you're like me you have no clue what to do, he jumped in and already knew what would look beautiful. Im so happy words couldn't even describe! I would highly recommend them!

Hollyglow Studios's reply:

Brenda! You guys were wonderful to work with! Thank you for letting me be part of your amazing day. I'm not gonna lie, every once in awhile I go back and I look at you guys' photos and it puts a big smile on my face. People like you are the reason I love my job. Warmest, Jude.

Katie

Married on 08/08/2020

Once-in-a-Lifetime Photographer!

Jude: Dave and I cannot rave enough about our experience with you on our Big Day! Seriously, you were one of the best parts of our entire wedding. You kept a smile on our faces, helped manage unnecessary drama, and laughed the day away with us. And our wedding photographs? ABSOLUTELY BEAUTIFUL WORK! We are so in love with all of them. How can we properly thank you for giving us the best gift possible? Thank you so much for all that you did in creating such gorgeous art of our wedding! From the bottom of our hearts!!!

Hollyglow Studios's reply:

OMG how wonderful was that wedding!? I'm so glad I was able to deliver for you both and that you love your photos. What's more??? I'm so happy we connected afterwards! You were both a delight to work with. I know the pictures turned out amazing, but that's because you two brought out the best in me as a artist! What I'm saying is I really should have been the one paying you! ;-). I know COVID times are weird, but let's absolutely stay in touch!

Nicole

Married on 10/13/2019

Picture Perfect Wedding!

It was great working with Hollyglow Studios. Jude was everywhere and really helped capture perfect candid moments. He helped me and my husband pose (we are so clueless) and was great to work with. He had our best interest at heart and I am so glad we found Hollyglow Studios. We were able to get the pictures within a week and they came out so great!!

Hollyglow Studios's reply:

Hey Nicole! It was such an amazing wedding and I'm so happy you love your photos. True talk—after seeing your photos in our portfolio, our clientele rose significantly! They say it's the photography, but honestly, I think it's the beautiful couple! Thank you for treating me like a guest, we had an absolute blast. We're here for you both whenever you need! Warmest, Jude.

Laura

Married on 10/05/2019

Beautiful photos

Jude sent back our photos exactly one week after our wedding and all I can say is they are beautiful. Everyone who has seen our photos thinks they are wonderful. Jude managed to be everywhere at once and captured moments I didn't even realize were happening.

Hollyglow Studios's reply:

Laura and Azuka! I was so impressed by you and your guests. The pace was fast, but the people made it a delight. I'm also so happy with how the pictures turned out. BTW Kudos on the venue, such great taste! The mansion was gorgeous! We're here for you guys if ever you need. Warmest, Jude.

Leslie F.

Married on 09/28/2019

Highly recommend

Jude did our shoot and it was pretty awesome. Very nice and pleasant to work with. He knew exactly what he was doing and made sure we all had fun while doing the shot before our reception. He captured beautiful moments throughout the reception. I would highly recommend Jude from Hollyglow!

Hollyglow Studios's reply:

Leslie, thank you for the positive review! It was a pleasure photographing your wedding. I could tell after each shot how true your love is as a couple. Also, you guys really knew how to turn up, everyone was having so much fun! I think I may have even ended up on the dance floor—if that's a case, I'm sorry because there was some tough competition out there, lol! I'm always here for you guys in the future, even if you want one or two pictures tuned up a bit for free. Warmest, Jude.

Robin D.

Married on 09/21/2019

Fantastic!

Jack and Jude are fantastic! Great photos, really fun to work with, and were able to even the babies to smile and look at the camera. We have a great collection of photos that we'll look at for the the rest of our lives. Thanks guys!

Hollyglow Studios's reply:

Robin! I'm so happy with how your pictures turned out! It was truly a day worth remembering. Thank you for letting me be part of it. Warmest, Jude.

Rohini M.

Married on 09/08/2019

Everybody loves our wedding photos!

Finding a good wedding photographer that is also budget-friendly is a huge feat in the DMV area. I found Jack & Jude from wedding wire and they were by far the most affordable high-quality photographers I spoke to, during my extensive vendor search process. We did not have an engagement shoot and so I was not sure how our experience on the wedding day would be. On the big day, Jack & Jude reached the venue on time and as soon as I spoke to them, I immediately warmed up to them - both of them are very friendly, genuine and warm. We had a wedding ceremony followed by the cocktail hour and the dinner reception and while we took plenty of pictures before and after the ceremony, it never felt like a chore (with the wrong photographer, it absolutely can!). During the reception, we were dancing, moving around and mingling with friends and yet at all times, found either Jack or Jude nearby taking our photos.

Less than a week after the wedding, we got digital copies of our photos and we loved them! Jack & Jude captured the love and happiness that we were so fortunate to be blessed with on our wedding day and we are so happy to have these photos as memories of our big day.

Looking back on our day, I only have a couple of minor suggestions for improvement:
- Use of different parts of a wedding venue and a more diverse range of "poses" would be helpful. I found photos of some beautiful aspects of the wedding missing such as the welcome signs and the signed "guest book". There were also a couple of more locations at the wedding venue that could have been leveraged for photos. Similarly, using different poses for the couple would also have added some more variety to the pictures.
- There was a minor delay in the ceremony between when the flower girl was supposed to walk down the aisle and when Jack asked her to start walking. As a result, she walked down the aisle after her song had ended. This was not a big deal to me but this may cause anxiety to some folks.

To summarize: Please hire Jack & Jude. They are awesome. We look forward to using their services for many more years to come.

Hollyglow Studios's reply:

Rotini, I'm ecstatic you love your pictures. That first look black-and-white picture in the stairwell was one of the best (if not THE BEST) pictures I've ever taken. The truth is, your wedding was inspiring—the love, the beauty, the people. It was one of those weddings where I got emotional (and I do a lot of these). I'm so happy I got to be part of it. If ever you need, we're here for you. Warmest, Jude.

Samantha

Married on 09/07/2019

Amazing Photographers

Jack and Jude were amazing to have at the wedding; they were funny and made taking wedding photos a lot of fun. Normally, I feel bored posing for photos, but they kept it interesting. I recieved my photos exactly 1 week following my wedding and I was absolutley blown away. My wedding looked so beautiful and I got to look back at the things I didnt have a chance to see the day of. Thank you so much!! I definitely reccommend Hollyglow and I will use them for any other events I have that need photographed.

Hollyglow Studios's reply:

Hi Samantha, after your wedding; Jack actually asked if HE could do post production on your photos and then we had a sibling fight over it because we both wanted to do it. The reason is obvious; your wedding was among the prettiest we've ever photographed—and that doesn't ever happen unless there's an immense amount of love. Your families were both so generous and so welcoming. We felt like guests. We are in your debt for such a wonderful experience. Thank you, thank you, thank you! We're here for you both always, Jack and Jude.

Marina

Married on 08/02/2019

A Fantastic Experience that Resulted in Great Photos!

We used Hollyglow Studios for our recent wedding, and they were absolutely wonderful. We planned our wedding from the literal other side of the world, and Jude and Jack were extremely responsive and easy to reach throughout the entire process. Their pricing is extremely reasonable for the high quality of service that they provide. On the day itself they were even better, they arrived bright and early to take shots of the bridal party getting ready and of all of our accessories. They were both very friendly and personable and made us all feel at ease. During the ceremony and reception they made sure to get all the shots we requested with specific family members, but also blended in with the scenery enough to get some great candids. They were speedy in getting the photos to us after all was said and done (with only about a week turnaround time). The photos were all beautiful and easy to access (and perfectly lit! which is hard to find). Our guests all also loved them, and we got lots of compliments on the photos and their fun personalities. All in all, we would recommend Hollyglow Studios 100%.

Hollyglow Studios's reply:

Hi Marina! When I think about your wedding, I think to myself "WOW! That was destined to be". Especially considering you found us all the way in New Zealand! When it's right, it's right and I'm so glad you love your photos. The love was real and we absolutely felt it being at your wedding. You can count on us if ever you need in the future. Thank you. Jude.

Amanda

Married on 06/22/2019

Amazing, highly recommend!

Definitely recommend to anyone. Hollyglow studios worked with me throughout the entire process and made everything easy. They worked with me so my husband and I got exactly what we were looking for. The pictures turned out beautiful and everything turned out better then what I could've hoped for!

Hollyglow Studios's reply:

I absolutely love your photos; especially the Mr. and Ms. Smith one. Honestly, they're all pretty amazing. Whitney and I had a blast being your photographers. Special secret… we actually started planning our own wedding after we photographed yours—coincidence??? I think not! Thank you. We're here for you whenever you need us in the future. Warmest, Jude and Whitney.

Marjan

Married on 06/22/2019

A Delightful Pair.

Jack and Jude were just the absolute best! They saved me from having a meltdown on the eve of my event when I realized my photographer had me booked for the wrong date. I found Jack and Jude and they graciously accepted my super last minute plea for their photography services.

They showed up on time. Took great photos. And even stayed a little longer than their contracted time to make sure they captured everything. They were friendly and kind and everyone loved them!

I got my photos back in record time and they did a wonderful job! I give my highest recommendation for this dynamic duo.

Hollyglow Studios's reply:

Hi Marian! Thank you for such a thoughtful review. I want to say we stayed later than our contract time because we always do right by our clients; but the truth is, your wedding was just THAT amazing—we wanted to stay. I'm sorry for the struggle you had with your original photographer—honestly, their loss! I will ALWAYS remember your amazing day and I'm so happy you enjoyed our art. You and your husband were both an inspiration to work for. We're here for you both always. Warmest, Jack and Jude.

Cameron

Married on 06/09/2019

An Amazing Experience

Jack and Just were just fantastic! They had a great attitude and threw in some jokes to decrease everyone's stress on a hectic wedding day! I would definitely higher them again!

Hollyglow Studios's reply:

Cameron, I'm so happy you love the photos! You're such a beautiful couple with such beautiful families that it made my job a piece of cake! The cake BTW was delicious! Thank you for sharing. We're here for you if ever you need, or if ever you want to share more cake, lol. Warmest, Jude.

Maggie W.

Married on 06/08/2019

Best event photos ever!!! Recommend 10/10! Grateful for Hollyglow Studios!

Hollyglow Studios generously donated their time and talent to photograph our pancreatic cancer walk and took the most beautiful and impactful photos! They are timely, supportive, positive and a total joy to work with! The staff will hear your needs and ensure they capture exactly what you're looking for. Their photos are truly priceless! I cannot believe all the emotion and stories captured within their work. I look forward to continuing to work with Hollyglow Studios and would recommend them with confidence and pride! You will not be disappointed!

Hollyglow Studios's reply:

Maggie,

Being able to support such an important cause was our absolute honor. We will always be there for PANCAN!

Warmest,
Jack & Jude
Hollyglow Studios

Dixie

Married on 05/18/2019

Great pictures, and a lot of fun!

Jude and Jack were absolutely amazing at our wedding! The photos look wonderful, and I had several of the guests come up to us at the end of the wedding and tell us how much they loved Jude and Jack. They were so much fun!
Thank you, Jude and Jack!
James and Dixie Seal

Hollyglow Studios's reply:

Hi Dixie and James, thank you for that heartfelt review. I must say that a big part of the joy of be at your wedding was being able to do something we love--take photos. The other even bigger part is getting to be around two wonderful families and feeling like welcomed guests. Your reception was so beautiful; there were so many touching moments, like seeing Joe salute his parents--both in military attire.

I know that your marriage will be blessed for years to come. We're here if you ever need us in the future for family pictures.

Warmest,

-Jack & Jude
Hollyglow Studios

Allison M.

Married on 05/06/2019

Excellent!

When I saw my guests photos on their fancy I-Phones, I wondered why I paid for a photographer. But then I saw Jude and Jack's photos and they are absolutely amazing! (Check them out on hollyglow.com. They made me look so good!) I thought the poses were silly, but then again I absolutely loved them! The brothers are fun to work with. I highly highly recommend them for excellent photos.

Hollyglow Studios's reply:

Hello Allison!

Thank you for such an amazing review! I'm so glad that despite all the rescheduling, you still let us be such an important part of your special day. At Hollyglow, we make it a point not to charge customers for rescheduling due to COVID; we're all in this struggle together. Jack and I had so much fun being with your families. Additionally, thank you for your generosity. As a special gift, we will be sending you a hardcover album. We will also be sending you 1 or 2 softcover albums. We're sorry we couldn't get these to you sooner as I was deployed to the Middle-East immediately after your wedding. Now that I'm on my way back home (literally laying over in Frankfurt right now), I will make sure those gifts reach you. Please don't hesitate to reach out to us in the future for your photography needs; or even "just because" :). Warmest, Jack and Jude.

Natalie

Married on 04/28/2019

Hire them please!!!

Jack and Jude of hollyglow studios shot our wedding last night and they were so amazing!!! Even just previewing the shots they took, I am sooo excited about the final results we'll get. They seriously made the photos so easy and did an awesome job coordinating everyone to make sure we got every pic we wanted. They came with picture suggestions so there was no burden on us to figure out how to pose or what to photograph. Not to mention, they're super fun and friendly and meshed great with our family and friends. I would recommend them to anyone, especially for their incredible pricing, and I'm hoping to use their services again in the future for baby photos etc. thank you SO much!

Hollyglow Studios's reply:

Natalie and Mike, how AMAZING was that wedding!? The bridal party looked gorgeous and the groomsmen were so handsome in those blue suits. The service was so heartfelt; when I saw your mom shedding a tear I could feel myself start to well up also--that
doesn't happen to me at every wedding. I can't thank you enough for making Jack and I feel like guests; we had such a great time. Your family was so kind and so much fun. I LOVED watching you guys bust-a-move to Soulja Boy! You guys are the coolest. Please don't hesitate to reach out to us for any reason.

Rachel

Married on 04/27/2019

Above Excellent Service!

Jude and Jack did a phenomenal job photographing our wedding. They had the best pricing and the quality of the photos was amazing! They did a great job with posed photos as well as candid photos and they were so much fun to be around while the girls and guys were getting ready. They were excellent at communication and very prompt whenever I had any questions. I would highly recommend hiring them, you will not be disappointed.

Hollyglow Studios's reply:

Rachel and Sean, your wedding day was perfect. It was such a gorgeous venue and your families were so kind and enjoyable. You guys are such a cool bunch; I LOVED that Star Wars cake! Thank you so much for letting Jack and I be a part of your special day.

Vanessa

Married on 04/13/2019

Amazing, hire them

Where do I start. From beginning to end, Jack & Jude did an AMAZING job, along with their assistant who was also amazing. I have ZERO complaints. They were by me and my husband's side the entire day of my wedding from preparation to the end of the party. They are the best. The pictures came out amazing I loved every single shot they took. They are on time and ready for action. They even went beyond taking photos and helping us with other task. And not only do they just take pictures but they make you feel like family, we loved them so much for everything they did for us. Plz do not hesitate to book them for your next event they are perfect!!!! They deserve more than a 5 star rating.

Hollyglow Studios's reply:

Vanessa, thank you so much for your praise! You and Jesse looked stunning on your wedding day, it made our job so easy. You and Jesse made us feel like part of the family, and for us there's no greater honor. Your service was so heartfelt and the reception was so enjoyable; we can think of no better way to start a lifelong journey with someone you love.
Are you interested?
Send a message