36 Reviews
Recommended by 95% of couples
Quality of service

4.7 out of 5 rating

Average response time

4.7 out of 5 rating

Professionalism

4.8 out of 5 rating

Value

4.8 out of 5 rating

Flexibility

4.8 out of 5 rating
22 User photos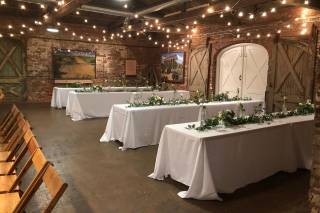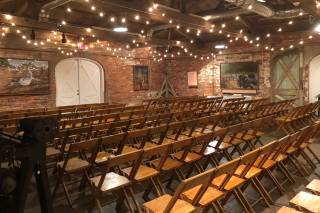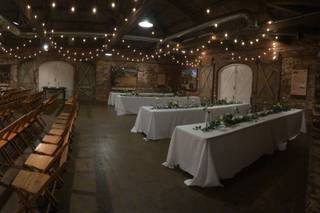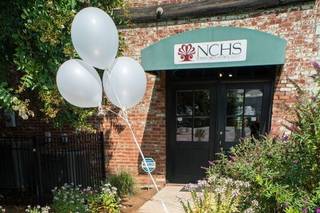 + 18

photos
Cheryl H.

Married on 03/06/2020

Reassuring

Mallory was very easy to work with. She kept her word for every thing we discussed. So excited to have our wedding at the Historic Train Depot in Newnan

Megan

Married on 08/26/2018

My husband and I rented the Newnan Train Depot as our wedding venue. We couldn't be happier with our experience. Larissa was very helpful and patient with me and all my emails! The interactive photos on Facebook were helpful in my planning so I could see how the venue looked without doing more than one visit to the location. The venue was gorgeous without decorations, but once all of our stuff was put out there it was even better! My guests thought the venue was a very cool, unique place to have a wedding. We even had a train come by while we were taking pictures.

Dana

Married on 08/11/2018

I had my wedding at the train depot in August 2018 and could not have been more pleased! I rented the venue for both Friday and Saturday to have time to set up all the lights, tables, chairs, etc. The tables and chairs that come with the venue (included in the price!) are great and more than enough for the space. Larisa recommends fantastic vendors that are familiar with the depot and are very accommodating (I did rent more of the nicer wooden chairs). Would not change a single thing about the wedding -- HIGHLY recommend!

Are you interested?

Send a message

Philip

Married on 07/14/2018

The venue was beautiful and they were very helpful in helping us prepare for our amazing day. We highly recommend this venue!!!

Caity

Married on 05/19/2018

Perfect spot to be inside from the heat and very cozy!

Arlene

Married on 05/13/2018

We loved the venue and the fact that we could use our on vendors.

Fernisha

Married on 04/29/2018

They are great they talk to me all the way up to the day after my wedding I will be using them again

Courtney

Married on 04/15/2018

Absolutely a great venue for weddings or any event! Everyone was very helpful and easy to work with. They were also very flexible with meeting/viewing the venue. I highly recommend this venue.

Brittney

Married on 01/26/2018

I'm so happy we picked this venue and I'll recommend it a thousand times over. So very pleased. Thank you.

Lauren

Event on: 12/18/2017

I? used the train depot for a semi formal and it was overall great. The location is was easy, there was plenty of room and the kitchen space was very helpful. It was easy to decorate and there are many complimentary tables and chairs. It was awesome!

Katherine

Married on 12/16/2017

Great venue to personalize and make your own! We had a Scottish/Winter themed wedding with simple decor to not overcrowd the venue. We LOVED the fact that you can cater or bring in your own food and drinks without having to pay a service fee or use caters from their list. We hired a bar tender but bought all of the drinks when they were on sale for the holidays. We catered the meats and a couple sides but loaded up at Sams club for fruit displays and all of the additional foods (cakes included). We rented the venue for the full 3 day weekend and that is HIGHLY recommended. We were able to completely set up Friday before the rehearsal and didn't have to worry about it Saturday. We created a layout that worked best for us. We modified and took the 4 tables in the corner out and brought the chairs down to around a hundred. People were up walking and dancing most of the night. Buffet style dinner and didn't have a formal sit down time. We set the bar and food up in he lobby of the building to make it easy for the bar tender and servers to replenish behind the scenes.

+ 5

photos

Ginger

Married on 11/30/2017

The staff was absolutely amazing. We havd to make a quick venue change and they were able to accommodate us and work with us to make our evening special. The venue is absolutely wonderful and can handle small groups or a large group like ours was. This was for our local Community Foundation Farm To Table Event.

Amanda

Married on 10/14/2017

Our wedding at the Historic Newnan Train Depot turned out better than we had expected! First of all, you can not beat the price of renting if for the whole weekend. Set up Friday, take down Sunday, no worries and less stress! Second, I had several questions the 2 weeks before the wedding and Larisa was very helpful is answering them. All of my guest fit in just fine which I was a little worried about and still had plenty of space for dancing. And the building inside helps create a classic, vintage, intimate feel. I would definitely recommend, especially is needing it to be budget friendly.

Michelle

Married on 10/14/2017

Fantastic space! You can do so much with items already available on site. Great setting and outdoor platform lets your guest get up close and personal with an occasional passing train! The kids love it when the engineer blows the horn for them. Side lawn is perfect option for an outdoor ceremony. Larissa is very helpful/available with any questions and suggestions for your event. In addition to our family wedding 10/14/17, we've had several events in the depot over the years and we are never disappointed!!!!

Robin

Married on 09/30/2017

The venue is gorgeous but you can make it so much prettier with decorations. My wedding was held here and I couldn't have asked for a better place to have it. I would definitely recommend it to another bride.

Pam

Married on 09/02/2017

The Historic Train Depot in Newnan was the site of the rehearsal dinner for our daughter and her fiancé. Larisa was easy to work with and we loved the space. The building was beautiful and all we did was add a few strings of lights and table decorations. Everyone loved the history of the building and it was the perfect casual setting for the start of a beautiful weekend. The lawn is great for outside gathering and the old train loading dock was a great place to gather as trains came by during the evening. I would not hesitate to schedule another event here!!!

Sabrina

Married on 08/26/2017

Look no further than this top notch venue!

My now husband and I were engaged for two years due to being unable to find a venue that had everything we wanted. We stumbled upon Newnan Historical Train Depot and fell in love. It had everything we wanted. It has a very rustic and old time feel that we really wanted to embrace. The location is quaint, charming and felt like home to us. We ended up doing our ceremony outside and our reception inside. The outside part of the venue enabled us to capture some really amazing shots. The location is a little out in the country but also has trains come by on the rail so we got plenty of nice shots on the tracks. There were beautiful trees in the backdrop and we timed it perfectly with the sunset. The kitchen area was just large enough for our caterer and was able to supply us with everything we needed. An ice machine and food warmer, just to name a few. While we elected to rent our own chairs, the venue did provide chairs and tables included in the rental few. The venue doubles as a museum so the historic art they had up meant we hardly had to decorate. The place spoke for its self. Tons of room for a dance floor and mingling and great lighting and sound. I was worried that a train might come by but it never did!

The venue allowed us to bring in our own caterer and our own adult beverages. That helped A LOT with cost. We had to pay a small fee (about $50) for the liquor license but it was well worth it with the money that we saved. Parking was also plentiful so no problems with that. The venue was clean and the bathrooms were nice. There was also a nice area for the bride to get ready.

The best part of this process was being able to work with Larissa. She was very easy to communicate with and was always straight forward while being very personable. She taught us and ins and out and helped us to even seek out potential vendors. She was VERY accommodating and an absolute pleasure. :)

Jasmine

Married on 08/12/2017

Having our wedding at the Historic Train Depot was a spectacular experience. I cannot imagine having our special day anywhere else. Larisa was kind and helpful throughout our process of planning and answered every question we had. Note that trains may roll through, we loved it, it brought unique character to the ceremony and reception. A day we will never forget.

Tim

Married on 07/22/2017

This was not a wedding. We had a combination birthday party, 40th anniversary party and retirement party. We celebrated family, friends, love and life. Larisa was very accommodating in allowing me to access the Train Depot a number of times prior to our party so I could take measurements and otherwise investigate the venue to aid my planning. Our party had a "cowboy" theme, so the rustic structure and decor of the Train Depot was a perfect fit. Having access to an ice machine in the kitchen prevented us from having to cart in bags of ice. Overall, a very positive experience. Many thanks to Larisa and the staff of the Newnan Coweta Historical Society for maintaining a great facility.

Joan

Married on 06/03/2017

The Train Depot was the perfect venue for our wedding! Family, friends and out of town guests enjoyed Downtown Historic Newnan and all that it has to offer!

Megan

Married on 04/22/2017

I fell head over heels as soon as I walked in the door. This venue is gorgeous! With its beautiful brick walls, you need little decorations. This place has so much charm and character. I love looking at our wedding pictures just to see the beauty of the train depot.
We were having a terrible time looking for a venue within our budget. I had my mind set that I would not spend more than $1000 for the venue and the train depot was WELL below that!
Working with Larisa was a pleasure. Any question I had, I just sent her an email and she got right back to me.
The only hitch we had was that I *assumed* that the tables provided were round, however, there were only 3 round. The rest are rectangular. It wasn't a huge deal, we still made it work with the tablecloths we had ordered.

I was so beyond happy with how our wedding turned out. It wouldn't have been the same without the train depot!!


Danielle

Married on 03/18/2017

Loved this venue . Holds 150 people, but does not have the amount of tables and chairs to actually hold that many people. Wasn't a problem tho. Would use it again for further parties! Great price and no restrictions on vendors!

Dana

Married on 03/04/2017

Great open space and lawn outside. May need to bring some of your own tables depending on the size of your group. Plenty of parking. Flexible space for ceremony and/or reception.


Aaron

Married on 10/22/2016

This 1850's building transformed into a magical wonderland for our wedding. Since it was an early fall we chose to marry in the grassy field beside the building along the tracks and then have our ceremony indoors. You can have a tent in the field next to the depot, but we opted go "open air" which worked out great since it was a pleasant evening. After the ceremony, guests enjoyed cocktails and hors d'oeuvres at rented high boy tables on the train pavilion. After pictures we invited guests into the main room. The exposed brick and artwork makes for a lovely back drop for most any event, but our wedding decorations and color scheme really came to life for the indoor reception. The depot comes with tables and chairs as part of the rental. Our guests enjoyed reception food, served from the buffet in a connecting room, at their seats and then dancing. There was plenty of room for a dance area and DJ set up. The caterer who frequently serves at this venue, had an amazing set up that complimented our decorations. With the lights dimmed and our little white lights, the depot becomes quite romantic. As newlyweds and recent college graduates, we really appreciated the affordable weekend rate so we could have it Friday for set up and rehearsal and Saturday for deliveries, caterer set up and the actual wedding. We had time to relax and be with friends and family on our wedding day instead of being stressed about set up. On Sunday we had a brunch for out of town guests at the depot and still had plenty of time for clean up which was just putting the tables and chairs back in storage and taking out the trash -- easy! We essentially had the venue for 3 full days for the price of 2 days. The venue manager and the folks at the Newnan Coweta Historical Society were a pleasure to work with, helpful and got back to us promptly with answers to our questions.

Melissa

Married on 04/02/2011

Great space. Fun people. Unpretentious. Flexible. Roomy.
Are you interested?
Send a message