126 Reviews
Recommended by 93% of couples
Quality of service

4.7 out of 5 rating

Average response time

4.6 out of 5 rating

Professionalism

4.6 out of 5 rating

Value

4.6 out of 5 rating

Flexibility

4.7 out of 5 rating
37 User photos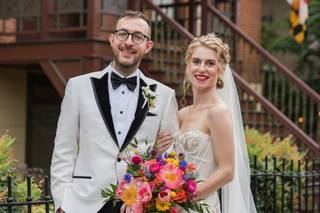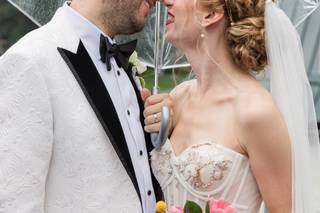 + 33

photos
Kate B.

Married on 07/16/2022

A magical night in a historic venue of our dreams!!

I have loved this venue since I was a kid, and when it came to our wedding they DELIVERED! We had a magical, fun, disco themed wedding at Calvert House that all our guests loved. They provide a bridal suite that is a bride's game changer for your Big Day and even Day Before, a room for getting ready; complete with full 3 person makeup counter, place for dropping/retrieving your decor, taking a break alone with your new husband, and a private bathroom - right off the dance floor. The dance floor is unmatched, food delicious and 3room setup of Calvert house makes the best party flow! Michelle, Cruz & team matched our every need and constantly checked in! Every wacky idea I asked about and wanted to bring in, they said - we can do that! From our photo booth setup to custom sparkle stirrers in our signature cocktail. PS GET THE BALCONY ROOM! The best photo op rain or shine!

+ 2

photos

Heather F.

Married on 04/24/2021

5 Star Service

Let me start off by saying Michelle is a GODSEND. She was incredibly patient, organized, responsive, and flexible. She helped us get from A to B, seamlessly, offering up suggestions for other local vendors, meeting with us whenever we had time to visit the venue (squeezing us into her busy schedule), making special accommodations for family on the day of our event, and even assisting with placement of 'day of' decorations.

The other staff there are also amazing. Think little things, like helping family unload vehicles, addressing specific guest needs, holding my late Amazon packages for me and delivering to my room (oops), making sure family was booked in rooms near one another, etc. Those are the things that brides do NOT want to be stressin leading up to their wedding day!

And the food, I mean…WOW! It was as good, if not better than we expected, and let me just tell you, they do NOT skimp on the tasting! We left full AND happy. If menu is at the top of your wedding day priorities, check out this venue. We had numerous guests say our wedding was one of the classiest they'd ever been to and that the food was some of the best they'd ever tasted. You can't go wrong with the lobster bisque (plentiful chunks of meat), beef Wellington appetizer, rockfish, or filet entree. One of my friends said she wanted to "lick the plate" and my nephew, who's only 9yrs old, polished off THREE steaks (my grandparents couldn't eat it all). Our guests are still raving about the dinner, four months later.

And four months later, we are delighted and ever grateful to Michelle and her staff. Our wedding was truly special and as some would even say, "dreamy". Everything was perfect, down to the finishing details.

Historic Inns of Annapolis's reply:

Thank you Heather & Justin! We were so happy to be a part of your Wedding Day! Thank you so much for the kind words!

Jessica L.

Married on 06/05/2020

A must for your wedding guest hotel block!

We chose the Historic Inns of Annapolis for our wedding guest block due to its charming historic details and design and its convenient location to downtown Annapolis attractions. Although parking in the area can be a little difficult, the proximity to so many restaurants and shops meant that guests didn't really need to move their cars from the parking garage at all during their stay. The Inns also provided a small shuttle service between their three buildings and around the nearby vicinity, which my older guests in particular were extremely appreciative of when venturing down to city dock!
There was an initial issue with my room that we discovered the first night of our stay, but management was quick to rectify the situation and provided incredible customer service which really set a fantastic tone for the start of my wedding day. My bridal party and I had a seamless and wonderful experience getting ready at the Inns, and our guests enjoyed their stays as well!
Not only was the stay itself great, but the customer service and support leading up to the event was incredible! Michelle was super responsive and patient with answering all my questions and checking in with me about the status of our room availability and guest reservations.
For anyone getting married in Annapolis, the Historic Inns of Annapolis is a must for your guest block!

Are you interested?

Send a message

Sharon H.

Married on 11/05/2019

Fairytale wedding come true

Historic Inn was perfect- excellent service, food, accommodations, and decor for a very memorable wedding weekend. Thank you Michael & staff!

Tamika B.

Married on 10/25/2019

Beautiful venue!

We immediately fell in love with the Governor Calvert House when searching for venues. Even with staffing changes, their staff remained responsive and professional. Laney and April reassured us that our wedding day will go exactly as we planned and it did! They even made sure that my 9 year old was entertained before the wedding began. The food from the Treaty of Paris was delicious and guests raves about how beautiful our wedding day was! The setup and flow of our wedding day at the Governor Calvert house was everything dreamt of!

+ 6

photos

Anna

Married on 06/01/2019

What a gem!

Michael was PHENOMENAL! Met with him numerous times with ease and always answered our questions. Emailed him what seems like hundreds of times always with answers we needed, and helpfulness. I would recommend anyone wanting to see a beautiful gem of Annapolis use this place and Michael as your go to for the best day of your life.

Brandon R.

Married on 05/17/2019

Michael is the best.

We looked at more than a few venues, all across the Maryland-DC-Virginia area. None of them felt quite right until we met Michael Burdish here.

The atrium at the Gov. Calvert House is tough to beat. It's beautiful and was just the right size for our wedding and reception. In Michael, we found someone professional, helpful, and knowledgeable. More than once he was a much-needed force for calm during planning and the actual day of the wedding. We wanted a few personalized customizations for our ceremony and reception, and Michael was helpful and supportive with every one of those. He has a solid reputation—every vendor knew him and was happy to be working with him.

Kevin at the front desk was super helpful and patient. Will was awesome with valet parking.

Simply put, this venue was perfect. Michael was a bright spot of our wedding experience and we're actually sad we won't get to keep meeting with him regularly now that it's over.

Courtney

Married on 12/08/2018

Some things fall apart so better things can fall together

We were really lucky to find Michal and the Maryland Inn and are really grateful to the property and management for working with us. We were originally planning an Eastern Shore wedding, but when the venue's renovation timeline got pushed back to 2019, we scrambled to find something in Maryland for our December date. My Grandparents recommended the Inn, as the Treaty of Paris is one of their favorite spots in the city. I called and with about 6 weeks notice, Michael agreed to work with us.
Michael and the staff put together a more perfect and beautiful wedding than I ever could have imagined! Michael was so easy to coordinate with; we did everything over phone and email. He was also available on the day-of to make sure the event coordination was perfect (and it was!!)! He did a great job of directing our guests and me so that no one saw me before the ceremony! Everything was so perfect! We're living proof that some things fall apart so better things can fall together! Thank you to Michael and the staff at the Maryland Inn for throwing us the perfect wedding!

Tatum

Married on 09/01/2018

I can honestly say that this day was the best day ever because of the Historic Inns and their team. Working with Markus and Michael was very easy. They made sure to listen and respond to all of my concerns and questions and take as much time as I needed until I was reassured that everything would end up perfect. They did not disappoint! My wedding day went off without any hiccup or bump! I can honestly say that I was able to enjoy the entire reception and not once was I having to worry about anything! My guests loved how gorgeous the venue was and all say how amazing the food was, which is HUGE! Markus and Michael have the best attitudes, are hard workers, and always strive to make sure that you are happy. I would HIGHLY recommend this venue! THANK YOU!!!

+ 6

photos

Mandi

Married on 06/16/2018

We just had our wedding on 6/16/16. I literally would not change one second of that day! Dana ( our Coordinator) with the help of Michael, made our wedding day the best day of our lives. I was NEVER rushed, the day DID NOT go by too fast, the food was INCREDIBLE, all of the guests ( about 116 people) had plenty of room to move around, dance, mingle....EVERYTHING WAS AMAZING. It was better than my own dreams and imagination. I could have not have done this with Dana, without her, it would have been a mess. I didnt have to lift a finger for anything. I would do it all again in a heartbeat just because of her help, along with the staff of the Calvert house.

Kat

Married on 01/13/2018

Historic Inns were very accommodating for us & our wedding guests! They made the entire weekend amazing. Our wedding guests loved everything about their experience at the Governor Calvert House. Staff was ready to stop & help with anything at a moment's notice! A big shout out to Cruz who was very helpful throughout the entire process, especially the day of the reception! She helped me out tremendously & was ready to answer an question I had with an answer/solution! Can't say enough wonderful things about Cruz! My mom & I just adore her! It wouldn't have been the same without her!
Many guests were not aware of the history of the hotel, let alone the accommodations the hotel provided. They were all beyond happy with everything!
Thank you!


Libby

Married on 07/08/2017

As the Mother of the Bride, I cannot say enough positive things about our wedding reception at the Governor Calvert. It was fabulous! Laura, the event planner at the Gov. Calvert, was so easy to work with. She answered so many questions, was never flustered or put off by anything we asked. The venue was beautiful, the food was superb and the staff was very welcoming and accommodating. With their flexibility on final numbers, their progressive venues (the atrium, the ballroom, the terrace), it is an ideal setting.

Allie

Married on 06/24/2017

Our wedding day would not have been the same without this amazing venue! Our guests are still raving about the charm of the reception at the Governor Calvert House and loved being in downtown Annapolis. The location couldn't be better. We were still able to go take pictures down by the water, still had outside space, but because its mostly indoor we didn't have to worry about the chance of rain or thunderstorms in June. People could just walk from the hotels in the area to the location. Laura and the whole staff were amazing to work with. They all did everything possible to make our wedding day a dream. Having the room for the bridesmaids to get ready in the day off, as well as a space that we could use throughout the night (like when my husband and I just needed a break from talking), was such an added bonus. If we could do the whole thing over again, I wouldn't. Our wedding was better than I could have ever dreamed.

Ashlee

Married on 04/15/2017

We LOVED our wedding at Governor Calvert House in downtown Annapolis. The dated an initial contract was set up with Michelle Vellon, but after that we worked with Laura Studebaker. We had about 160 guests and Laura worked with us to get the menu to fit our budget. Don't be afraid to ask questions!

Laura was very patient and accommodating. She truly made us feel like this was OUR day. We had previously booked another venue, but their attitude made us feel like we were just another wedding; nothing special. They didn't go out of their way once to make us feel like we had a real say on our wedding day. Therefore, we decided to cancel that venue and save up for Governor Calvert House—which was the location where we truly wanted to get married anyway.

The set up was stunning, and the food was delicious. Our guests still rave about our wedding, and say it was the best and most beautiful one they'd ever attended.

Hayley

Married on 12/24/2016

We had our ceremony and reception at the Governor Calvert House. We worked with Laura Studebaker for the 6 months leading up to our wedding and she was on top of everything and executed it perfectly. Our wedding was on Christmas Eve and she was wonderful enough to come and make sure everything went smoothly - and did she! She made sure everything was perfect the entire night, and what a magical night it was! We can't thank Laura enough. The atrium in the Governor Calvert House is such a beautiful and intimate setting, and it was such a beautiful night. The venue provided such a beautiful backdrops inside and out for our wedding photos as well. Stunning!

Chelsea

Married on 08/27/2016

The Governor Calvert House provided my husband and I such a wonderful venue for our Aug 2016 USNA/GCH wedding. We planned from afar and Michelle Vellon was amazing ever step of the way. Venue space is elegant and perfect for a versatile space. The food was AMAZING, we received so many compliments and the service was exquisite. If you are looking for a elegant and unique venue in Annapolis check out Historic Inns and the Calvert House!

Lauren

Married on 07/30/2016

The Governor Calvert House was absolutely a dream come true for our wedding venue. It was absolutely perfect for a truly historic, annapolis venue. All the food from our tasting was delicious, especially the crab cake. Michelle Vellon was the coordinator we worked with when planning, and she was absolutely fantastic! She was so organized, detail-oriented, and helpful every step of the way. We were so lucky to have worked with her and picked the Governor Calvert House!

Nicole

Married on 07/09/2016

We had our ceremony and reception at the Governor Calvert House on July 9, 2016. We had the perfect day thanks to Michelle Vellon and the staff at the Historic Inns. We fell in love with the Governor Calvert House once we saw the exposed brick interior, garden lights, and the uniqueness of the space. We loved that our guests could explore downtown Annapolis so easily. Michelle was so easy to work with throughout the whole process, answering dozens of emails and questions that we had. She was attentive and accommodating. On the wedding day she checked in frequently and made sure the day flowed perfectly. The wedding went off without a hitch! The food was amazing and there were a plethora of options to choice from- our guests are still raving about cocktail hour and the lamb! Love, love, love the Historic Inns of Annapolis!

Meaghan

Married on 11/21/2015

We had a wonderful reception at the Governor Calvert House! The venue was beautiful, the food was delicious, and the staff was excellent! Michelle Vellon was wonderful to work with - she was incredibly responsive, gave great advice throughout the planning process, and made sure that everything ran smoothly on our wedding day. We received so many compliments from our guests, and couldn't have asked for a better experience!

Candice

Married on 06/27/2015

We loved having our wedding at the Governor Calvert House. It was beautiful and fit the exact look we were going for of traditional but yet unique. Michelle Vellon was amazing to work with. She was extremely responsive, especially the last few weeks before the wedding when there were may questions. She made me feel confident that everything would go as planned and it did. It poured rain the day of the wedding and she was very accommodating even allowing us to set up our cornhole boards inside towards the end of the reception. We received many compliments on the food and the ambiance. The Valets went out of their way to work with us and our wedding party. This venue is highly recommended!!!

Adriana

Married on 05/30/2015

My husband and I got married on May 30th and we are still over the moon about how things came together! As we were going through the planning process I knew that we wanted to be downtown Annapolis in a place that felt historic, classic, and inviting. The Calvert House was just hat! The Atrium and patio sold us the second we stepped in. With the cafe lights strung and looking back at the black and white shot up main street, we knew it was the place for us. On top of that the food was absolutely AMAZING and the service was great. Michelle Vellon I can not say enough words about...I am a wedding planner by profession so I am naturally detail oriented, and Michelle catered to my every need and every single email. She was so open to all of the ideas we had, and even customized our meals and appetizers exactly how we wanted them.

The only main complaint I have is the carpet in the dining room, it is very bold and for design it is not ideal. But I knew that if we made everything look nice no one would notice, and it really didn't matter! But it was a bit hard to plan around. If there was wood in there is would be the best ballroom space in Annapolis. It is unique in a sense that the ballroom can open up to the patio and has lots of natural light which is hard to find. We also had to do 2 tastings because the first one was not up to par, but the second absolutely blew us away and so did the food on the wedding day! We are so extremely happy with our decision and can not thank the Calvert House, Michelle, and her staff enough!!

We were just recently married at the Governor Calvert House (both our ceremony and reception were held here). Initially we were in contact with Michelle Vellon who was wonderful to work with. Towards the end, Rene Proctor was our go to person. I cant say a bad thing about either of them or the venue. We got rave reviews about the venue itself, the service, the food from all of our guests....everything from top to bottom was great. We did a buffet style dinner so we could ensure a relaxed environment and so guests could relax and eat as they please. Everything remained hot and was replaced immediately if it went empty. Even though Rene was off site the morning of our wedding, I didn't have a thing to worry about. Every detail was perfect, and I didn't have to worry about a thing on our wedding day. She cued us during our wedding when it was time to do certain things. The only thing I wish I had done differently was add extra time to the end because I wasn't ready for it to be over! I would recommend this venue in a heart beat!

Jill

Married on 04/18/2015

As the mother of the groom, I was not involved with the planning process but when we arrived for the reception, the dining room was decorated beautifully. We were able to use the patio which was great for people who wanted to be outside. The food was delicious and the portions large. The filet was so tender, the crab cakes were full of large chunks of crab and the lamb was perfectly cooked. The side dishes too were cooked just right and tasted great. I have no complaints whatsoever! I would highly recommend this venue for a wedding or other event.

My wedding was on 4/12/15 at the Governor Calvert House. It was a small wedding and Michelle was very willing to make accommodations for having only about 50 attendees. The venue was absolutely beautiful and the food was delicious. We had multiple people comment on how great of a location it was. Michelle was very responsive to all planning questions and was there for the entire event, which went off without a hitch. I could not have asked for a better ceremony or reception. I would highly recommend this place to anyone looking for a great venue!

Annika

Married on 12/13/2014

The Governor Calvert House was the perfect venue for our wedding and reception. Michelle Vellon and the rest of the staff did a beautiful job setting up our centerpieces and the rest of our decorations. Everything ran smoothly and gave me a stress-free wedding day. Our wedding cake was never delivered to the venue and Michelle called the and went to pick up our cake without me ever knowing anything went wrong! I love that they were so proactive and took care of everything! The venue itself is so beautiful and perfect for a downtown Annapolis wedding. We received so many complements on the beautiful space and location!
Are you interested?
Send a message