33 Reviews
Recommended by 100% of couples
Quality of service

5 out of 5 rating

Average response time

5 out of 5 rating

Professionalism

5 out of 5 rating

Value

5 out of 5 rating

Flexibility

5 out of 5 rating
28 User photos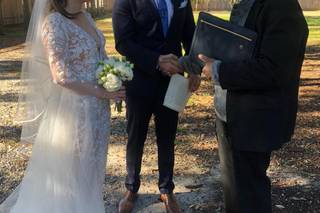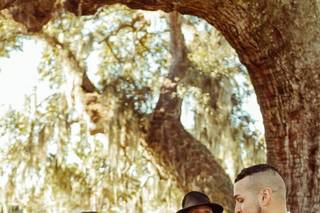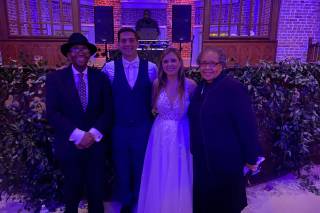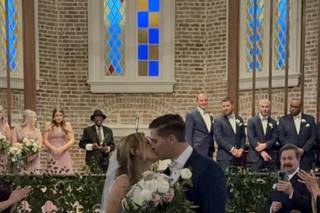 + 24

photos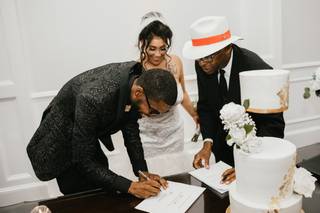 Hannah G.

Married on 01/17/2023

amazing and sweet

amazing and sweet! i had the best time

Hire a Minister's reply:

Thank you , Mrs.Hannah for the gift of your generous review! We had fun at you and your husband, Justin's wedding!

Eric A.

Married on 12/26/2022

Tree of life wedding

Alonzo was absolutely incredible. He walked us through the entire process and met with us twice via zoom on what to expect the day of. He made it intimate and gave us multiple suggestions on how to make it our very own day. Do yourself a favor and hire this wonderful man if you are needing to get married in the New Orleans area, couldn't be happier me and my wife did!!!!!!!

Lindsay H.

Married on 12/26/2022

One of our best wedding decisions!

I cannot begin to explain how special Alonzo and his wife made our small wedding, but I will try! We wanted a small and intimate wedding, and I was initially a bit worried either the ceremony wouldn't feel "special" enough, or that it would be too short and too plain. Alonzo checked ALL OF OUR BOXES - our ceremony was neither boring, too short, nor plain!

Alonzo initiated video calls with us, to both meet us and for us to meet him. He told us his own love story, and knowing who he is, and where he and his wife came from, really made us feel like it wasn't just a stranger who was officiating our wedding. Alonzo helped us narrow down a location, and knew which ones needed permits, and which didn't. He gave us options for religious, semi-religious, and non-religious verbiage, and even had options for a special flair to the ceremony. We were able to add a special poem/song, and he even had his own creation of a unity ceremony.

He guided us through planning our wedding in a completely encouraging way, and when we didn't know the answer to something, he didn't make us feel like we didn't know what we were doing. He gently and thoroughly would explain, and he was so patient in giving us the space we needed in the conversation to make decisions - without us having to ask.

Alonzo also provided prompts in helping write our wedding vows and provided us with a script that he would be following along so we were prepared before the wedding. The excitement and the presentation of these written words were more than I even hoped for. Alonzo really brought our ceremony to life, took something that could have been plain and simple, and made it into something extraordinary for us. His demeanor was professional, yet warm and friendly, and his wife was exactly the same way. I felt confident in their ability to get us through anything the ceremony brought, from the moment I stepped out of the car with Alonzo's wife waiting there for me, to finishing the ceremony and signing the license. They were just as excited about our wedding as we were, and we could not have chosen a better officiant.

Are you interested?

Send a message

Amber O.

Married on 11/26/2022

The BEST ceremony ever!

My husband & I do not have enough kind words to say about Alonzo & his lovely wife Jackie. They are an amazing team & beautiful example of what I want my marriage to look like. We spoke several times leading up to our big day. We got to know each other and discuss what we wanted our ceremony to look like. Alonzo provided advice on our vows and instructions on how to obtain our marriage license, and even helped us navigate through some sensitive family situations.
The ceremony was the perfect amount of funny and sweet. We had countless people tell us that it was, by far, the best ceremony they have ever attended — and I could not agree more! 10/10 recommend!!!

Charles

Married on 11/13/2022

Short and sweet!

Quick turn around time from initial communication to final ceremony - it was tailored to what we wanted and we couldn't be happier with the result.

Georgia H.

Married on 11/12/2022

Excellent Choice 1st Time Remeberance Great

Great all around!!!! Experience I never thought I would have but Great choice From the beginning to end

Kasper B.

Married on 11/05/2022

Wedding Officiant

Alonzo was super helpful the entire time. He walked us through each thing that needed to happen and put on the wedding that we wanted. He is extremely energetic and entertaining leaving us with an amazing ceremony that everyone loved. Thank you Alonzo!

Bryan C.

Married on 10/29/2022

Incredible

Can't imagine having chosen anyone else as the officiant for our wedding.
Alonzo was very involved in our wedding and brought ideas to the ceremony that made it stand out.
Would recommend.

Damisha H.

Married on 09/24/2022

Best Officiant

Mr. Alonzo and his wife were professional
And very helpful. They were flexible with meeting times and locations and we appreciate all their help and understanding!

Tiffany T.

Married on 03/26/2022

I can't thank Mr. and Mrs. Campbell enough!

We just love Mr. and Mrs. Campbell! My now husband and I really wanted an officiant that had roots in Louisiana and would help us to share our love of New Orleans culture with our guests for our destination wedding. The Campbells embodied all of this! We had an initial virtual meeting with them and they worked with us to create a very highly personalized ceremony. Mrs. Campbell delivered our ceremony on our wedding day and there wasn't a dry eye there! She had our guests laughing and crying. Many of our guests also remarked that this was the BEST ceremony that they have ever experienced. We loved the Campbells so much after our initial call that we also invited them to our welcome party and our guests loved meeting and chatting with them. I can't thank the Campbells enough for helping to make our vows incredibly special and our wedding day just perfect! -Mr. and Mrs. Weber 3/26/2022

Carly G.

Married on 03/16/2022

Wonderful experience

Mr. Campbell was a phenomenal officiant for our wedding. He was accommodating of our specific requests, very communicative, and incredibly helpful by assisting us in taking care of our marriage license. He made our ceremony run smoothly, and several guests pulled me aside afterwards to say how they really enjoyed his speech during the service. If you're looking for a great officiant for your wedding who will go above and beyond for you and your partner, Mr. Campbell is the one to choose.

Hire a Minister's reply:

Thank you, Mrs. Carly Gilmore and Andy! I really appreciate the description of my service with wedding couples! I shall never forget the look of Eternal Love that you and Andy deposited into each other's eyes on your wedding day!
Congratulations on joking the Marriage Club!

Amy

Married on 12/31/2021

Alonzo is the best

Alonzo made us feel like he was marrying someone in his family. He planned such a thoughtful ceremony that we loved and all our guests enjoyed. His communication was also excellent. We couldn't be happier and would highly recommend Alonzo!

Angel I.

Married on 12/11/2021

Highly recommend

Our experience with Mr. Campbell was awesome and one we will never forget.

Hire a Minister's reply:

Thank you, Jeff and Mrs., Angel Posey for the gift of your generous review! My wife, Jackie and I enjoyed the love that we witnessed you displayed during your wedding ceremony in each other's eyes!

Taylor M.

Married on 12/04/2021

Amazing Officiant!

Dr. Alonzo Campbell was a hit at our ceremony! All of our guests could not stop talking about how great he was. Not only that, but the relationship we were able to build leading up to the ceremony via Facetime was so special. He knew how important it was to us that we made the ceremony personal and he made us feel like we had known him forever! Would recommend him to anyone!!! If you are looking for energy, excitement, and a good time, BOOK HIM!!

Monica C.

Married on 11/21/2021

Exceptionally pleased and would recommend Mr. Alonzo Campbell for anyone's SPECIAL DAY

Mr. Alonzo Campbell is very pleasant and made my Wedding Day exactly how I imagined. He listened to my wants/needs and followed it to the "T". Him and his wife are very lovely people. Very blessed to have met such a wonderful couple!

Lauren B.

Married on 08/13/2021

Alonzo Campbell wedding ceremony August 13th 2021

Alonzo delivered! He was so amazing on how responsive and willing to work with me to make the ceremony exactly how I wanted it! I had many people at the reception ask " where in the world did you find him?" And how everyone said they will remember him for years to come! Everything was beautiful I will always recommend him to anyone I know!

Tara

Married on 03/06/2021

Mrs. Jackie

We ADORED Mrs. Jackie and she and Mr. Campbell were a true blessing to work with. I highly recommend them as officiates!

Crystal B.

Married on 10/29/2020

Best experience ever!

Alonzo was the most wonderful officiant and just such an amazing man. His wife Jackie is so incredible and my husband and I are so grateful to have met them both and have them at our wedding.

The ceremony was perfect and if you put your trust in Alonzo, he will not disappoint. It was so perfectly suited to our personalities and to the tone of our wedding. His words were so powerful and beautiful and we're just so, so grateful to have started our marriage with his guidance!

Thank you Alonzo and Jackie for every moment that we got to share with you!

Hire a Minister's reply:

Thank you, Mrs. Crystal and Josh for your beautiful review! We enjoyed our time with you and Josh in New Orleans! We hope to see you and Josh in Canada on the future!

Alicia F.

Married on 06/20/2020

Alonzo Made Our Wedding Special

"We can't even express how pleased we were with every aspect of Alonzo's Officiant service! He far surpassed our expectations in every way, delivering a perfectly customized ceremony and executing it flawlessly! Alonzo was warm, funny, and professional. We got married at the tree of life, which was a destination wedding for us. He was very helpful in planning the ceremony and open to any questions we may have had. Alonzo brought a quality to our wedding that fulfilled all of our dreams for our beautiful day. His personality is one-of-a-kind. He is absolutely one of the most genuine people we have ever met. Alonzo made our wedding so much more special than we ever thought was possible.


Christal

Married on 02/22/2020

The kindest, most supportive, whimsical minister in Louisiana

In the end we feel like choosing New Orleans for our destination wedding was entirely for matching up with this amazing man! There is know one I would have rather had marry us that day! We had been working together for a year before the wedding and he fully stole our hearts and the hearts of our guests. He is and will continue to be a friend! Truly magical!

Hire a Minister's reply:

Thank you, Christal and Jeremy!
Your wedding was exciting! Jackie and I are still talking about your wedding! We will be in touch with your great marriage tip suggestion! Yes, we want to stay in touch.
Marriage Is Exciting!
Alonzo Campbell

Deborah B.

Married on 09/14/2019

Professionalism at its best

Hire a minister Pastor Alonzo and Min Jackie Campbell are simply the best when it comes to officiating wedding ceremonies, they performed our wedding September 2019 and they made our wedding day special and complete their professionalism and attention to detail and timeliness was so appreciated i would recommend hire a minister to any couple looking for a minister to officiate their wedding. You won't be disappointed.

Michelle

Married on 08/31/2019

Heartfelt words you and your family will never forget

My husband and had the pleasure to prepare for our wedding with Mr. Alonzo and his beautiful wife. He got to know us as people and and always gave us tips on marriage. He was very professional throughout the whole process and stayed in contact. Now to the ceremony, Mr. Alonzo gave us the ceremony we loved. It was filled with love, laughter, and God and there was not a dry eye in that room and his message was very moving! If you are trying to decide between wedding officiants, he would be a good choice and will definitely deliver. He was very affordable as well.

Emily

Married on 06/08/2019

Best officiant ever!

Mr. Alonzo and his wife were very helpful throughout our wedding process! They are truly the sweetest couple, and so willing to work with our needs and busy schedule.

Ashley

Married on 04/28/2019

We love you Alonzo!!

Alonzo is one of the best wedding officiant's we've ever met. His kind heart and wonderful spirit shown through in every aspect of every detail of the ceremony. We are from Toronto, Canada and contacted him about our destination wedding to New Orleans after reading all the amazing reviews about him. His level of experience is evident in his passionate and professional manor, which begins the moment you start working with him. Alonzo and Jackie did multiple face-time sessions with us until we got every detail down perfect. He truly customizes your ceremony to your liking, provides plenty of helpful information, and had left us and our guests with an amazing and unforgettable ceremony. Our families still rave about how wonderful his service was and it's been almost 2 months since the ceremony! We would one million percent recommend him for anyone looking for an officiant. Alonzo and Jackie will forever have a special place in our hearts and we love them both!

Esther

Married on 04/24/2019

Thank you for an unforgettable experience!

Dr. Campbell officiated our wedding in September 2019. He and his wonderful wife, Jackie, were a pleasure to work with from start to finish. We communicated often leading up to our wedding day and he went over and beyond to make sure that every detail was taken care of. My guests raved about him, I am still getting compliments.

Dr. Campbell loves what he does and it shines through in his work. The love and energy that he brought to my special day was amazing. I could not have asked for more and I cannot thank him enough. I could go on for ever! He is one of a kind!!


Are you interested?
Send a message