Reviews
4.9 out of 5 rating
Quality of service

4.9 out of 5 rating

Average response time

4.9 out of 5 rating

Professionalism

4.9 out of 5 rating

Value

4.9 out of 5 rating

Flexibility

4.9 out of 5 rating
98%
Recommended by couples
44 User photos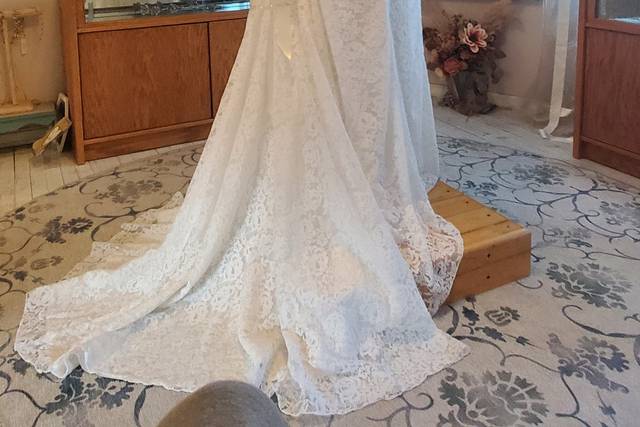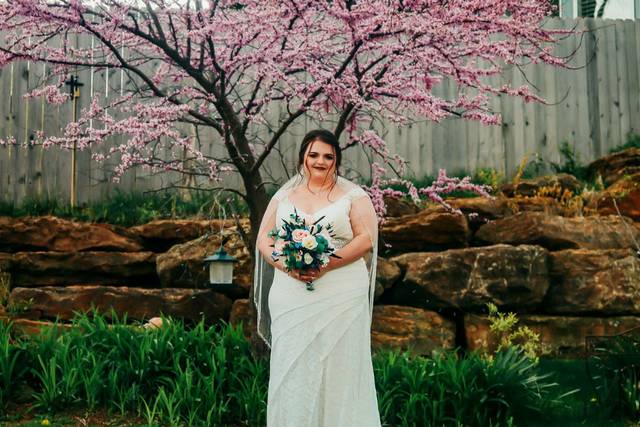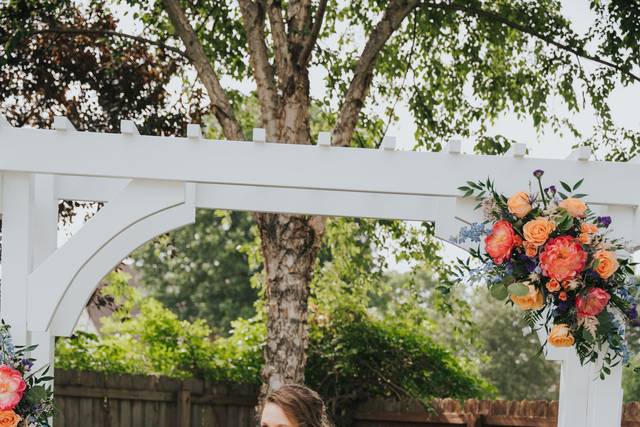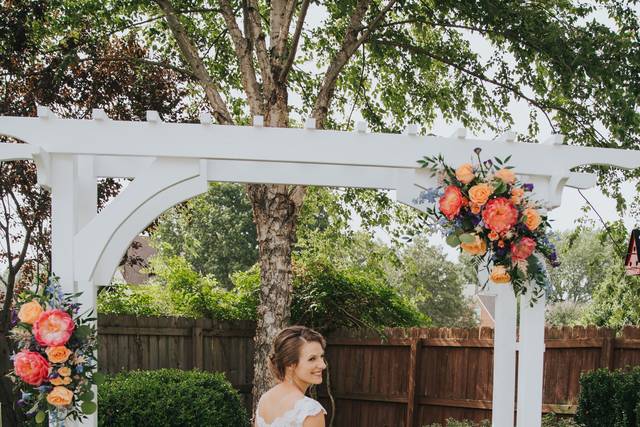 + 40

photos
Taylor K.

Married on 09/24/2022

Amazing, personalized dress shopping experience

Everything about High Vibe Bride was amazing from the start. It was so easy to book an appointment, and right off the bat the owner, Janay, messaged me asking what my dress style, bodice shape, skirt shape, etc. preferences were. The evening before my appointment, Janay personally sent me a short video of 6 dresses she had chosen based on our previous discussion. I had a very low budget for a wedding dress, and living in a big city there were only 1-2 stores that were within my price range. I was nervous I wouldn't be able to find the right dress for the right price, but Janay made me feel like there were endless options within my budget. The day of our appointment she was incredibly welcoming and reviewed the main points of my wedding and the dream dress I had in mind. She was so knowledgeable about each type of dress, how she could do small or large alterations to make it your dream dress, and what worked for your body type. She also does all her own alterations and can completely blow your mind with her creativity! I can't recommend Janay or High Vibe Bride enough!

High Vibe Bride's reply:

I receive this with a warm heart, Taylor! it was such a JOY to help connect you to your PERFECT Wedding Gown, and I loved every minute of working with you through the alterations, too! EPIC Congrats!!!!

Jennifer

Married on 04/17/2021

Plus Size Friendly

High Vibe Bridal was the best experience I have ever had dress shopping, bar none! Janay went out of her way to find me a dress in her store that made me feel beautiful after I fell out of love with my old dress. She had multiple options for me to try, all of which I could leave with that day once paid for, which is absolutely incredible! All of her dresses are priced amazingly and are breathtakingly beautiful. She truly has an eye to make a whole vision come to life! I will never be able to say enough good things about this shop and about Janay! If you are wanting a sign to shop for a dress here, take this as one, because she is incredible!

High Vibe Bride's reply:

Thank you for the kind words, Jennifer!!!!! You are a JOY and it was a pleasure to help you with your special wedding gown!

Brittany W.

Married on 06/27/2020

Janay is one of a kind

Janay is a miracle worker!!! She took my moms VERY 90's wedding dress (I'm talking puffy sleeves and sequins) and made it into the dress of my dreams. I could not have found anything I liked half as much in a store. She even sewed some lace from my grandmothers gown into mine. My original wedding plans were turned upside down due to COVID but I told myself no matter where I got married I was going to wear that amazing dress!! Janay takes such pride in her work and is so sweet and helpful. She will let you know what is realistic and what is not, and will do her best to make your vision a reality. She does amazing work and I will treasure the dress forever.

High Vibe Bride's reply:

Thank you for the kind words and trusting us with your precious gown, Brittany!! I loved working on your wedding dress and you have such a fabulous personality it was absolutely fun!!!

Are you interested?

Send a message

Christy B.

Married on 06/15/2019

Dream come true!

I found Janay when I was looking for a skirt overlay for my wedding dress. I first thought I would just be ordering something from her that she would send and would work just fine. However, Janay exceeded all expectations once I met her. She helped to clean my dress as well as all alterations. She then completely designed by skirt overlay which exceeded my vision in all the right ways. Working with Janay was so comfortable. I had about five fittings leading up to my wedding and in every single fitting I left feeling so comfortable leaving my dress with Janay and trusting her with my vision. She was honest and kind when discussing areas such as my breasts, weight, and stature and offered suggestions that were truly in my best interest physically and emotionally. Janay is truly a go to for all dress needs especially custom work. I would trust her with anything!

High Vibe Bride's reply:

Thank you dear Christy, you are a dream to work with and were so patient with the process it took to arrive at the perfectly dreamy gown that you wore!

I am thankful to know you, and feel so totally supported and loved with your kind review!!

Krysta

Married on 05/02/2019

Janay did a wonderful job! She help with all the little details from putting wireing in the boob area to help keep the girls up to the perfect Earrings and necklace to match!

High Vibe Bride's reply:

Thank you so much sweet lady!

Allison

Married on 10/28/2018

Fast and Precise

Janay was great to work with. She turned my off the rack dress into exactly what I envisioned. She made it fit like a glove. She was quick with the alterations and paid close attention to the details of my lace. I highly recommend her!

High Vibe Bride's reply:

Thank you so much Allison for entrusting us with your special gown! I hope your wedding day was most magical!!!!!!

Ashley B.

Married on 10/15/2018

Amazing Service and End Result Was Spectacular!

I don't know where to start, I have so many positive things to say about my experience with Janay! First off, I contacted her for alterations to a dress for my daughter and my wedding dress for a vow renewal my husband and I planned in Maui. The business that I had originally bought the dresses from had told me they could do the alterations we envisioned during our time selecting the dresses, just to find out at alterations they would not do them because it altered the design too much. My heart was broken as I felt like I had been duped. I happen to see a post on Facebook raving about Janay and I decided to contact her to see if she could save the day. I gave her very little time to squeeze us in and complete the alteration due to the issues at the other business. But she was very understanding, set up an appointment to go over the alterations and stepped up to the challenge! And I contacted her at the "busy time of the year" for weddings! Our dresses were beautiful and the pricing was incredibly reasonable. She made us feel like the most beautiful girls in the world. My daughter actually used her dress for not only our ceremony, but her first middle school dance as well. And she got so many complements. She did such a wonderful job, I had her alter an additional dress. I should also make the note that when I had scheduled to go back in for my 2nd dress pick up, I had put it on my calendar incorrectly and missed my original appointment. Janay could not have been more understanding. I felt horrible as she had came in on a Saturday to accommodate my schedule and I left her hanging. But she easily rescheduled with me and made no further mentioning of the issue. So professional! I will certainly be bringing future dresses to her...that is the bad thing about being shorter and no chest...I'll always need alterations! She certainly has me as a customer for life! Thanks for making our events memorable and as stress-free as possible.

High Vibe Bride's reply:

Awww, thank you so much dear lady! You are such a rockststar mom and a beautiful person!!!! It is a delight to work with you!

Hayley

Married on 10/13/2018

Hayley Black Review

Janay was AMAZING to work with!! My dress fit me perfectly on my wedding day!! She also creates such a calm and fun environment at her office. My mom and I absolutely had the BEST experience with her. I will be back for sure!

High Vibe Bride's reply:

Hi Beautiful lady! I was just thinking of you and your lovely dress, as I'm including photos of it on my website now! I adored working with you and your mom, thank you for choosing me for this special project!!!

Kylie

Married on 09/29/2018

I purchased a hair piece from Janay A Eco Bridal for my wedding day and can't wait to wear it! I tagged along with my friend who was trying on dresses and the staff was very friendly, we had a great experience :)

Hannah

Married on 09/15/2018

Janay did a great job!

Janay and her team did an excellent job of altering my intricate lace wedding gown, and her pricing was very reasonable considering all of the work that went into it! At my final fitting, I needed a slight change and she was able to take the dress in the back and make that small change so I could take it home that day. At her cute little studio, I was also able to purchase some gorgeous locally made jewelry and a veil to wear with my dress. I highly recommend Janay to anyone looking for a skilled seamstress to alter their wedding gown!

High Vibe Bride's reply:

Thank you for choosing us to work on your dreamy dress, Hannah!!!!! You are so sweet and we loved every minute of it!

Ashley

Married on 07/16/2018

Janay took my bland off-the-rack bridesmaids dress and turned it into an incredibly elegant wedding dress. I felt beautiful in my dress, it fit perfectly and I could not have been more pleased with the outcome. She was so thoughtful with how she assessed the alterations and I was blown away with her eye for the details and how much she was able to accomplish with my dress. I loved my dress and wish I could wear it every day! I highly recommend Janay to any bride looking to alter their dress or to design a custom dress.

High Vibe Bride's reply:

Thank you so much for the opportunity to breathe magic into your special day! I loved working with you and am so grateful for your kind words!!!

Megan

Married on 12/09/2017

Janay was absolutely amazing!

Janay completely transformed my wedding dress! When I bought my dress I didn't think it needed much other than taking it in in a few places and hemming the bottom. But Janay saw things that my mom and I didn't- she was so detailed oriented, timely, professional, kind, caring, and listened to every thought/worry we had! I would highly recommend this talented lady! She made my wedding dress amazing!

High Vibe Bride's reply:

Thank you so much for being SO amazing to work with! I adore your sweet personality and hope we can stay connected!!!

Janay created a custom gown for me out of silk blend and well-planned ideas! I am so grateful. What a wonderful lady and business! Best part of preparing for my wedding.

+ 3

photos

High Vibe Bride's reply:

Thank you for allowing me to create your magical dress, you are such a dream weaver and a blessing to encounter! May your marriage be so amazing!

Natalie

Married on 11/18/2017

Janae is so talented! From my first fitting to my last she paid attention to every small detail on my wedding dress to ensure it was the perfect fit!

High Vibe Bride's reply:

You're a lovely treasure, thank you so much for entrusting me with your extra delicate and lovely gown. Stay boldly beautiful and heart-lead, lady!!

Courtney

Married on 10/22/2017

Janay was great to work with! She took her time with my dress to make sure it was perfect. The turnaround time was so quick and her work was incredible! My dress fit me perfectly once Janay was finished! I would definitely recommend and trust Janay with your beautiful wedding gown!

High Vibe Bride's reply:

Thank you so much for the kind words and sharing of your beautiful wedding day with us! It was a delight to be in your presence!

Samantha

Married on 10/22/2017

Janay did an absolutely beautiful job on my dress! I honestly had some doubts after I bought the dress about whether it was "the one" and thought about buying another, but after taking it to Janay, she transformed the dress into the dress of my dreams. It was totally perfect for the day- we had a semi-casual brunch, but as the bride, you still want to look perfect, and Janay really made me feel stunning. The dress fit like a glove, and all the changes she made were stunning. I got so many compliments, and it was so great to know NO ONE else will ever have that dress because she essentially made it one of a kind! I can not recommend her highly enough!

High Vibe Bride's reply:

Thank you so much lovely lady!!!!!

Christy

Married on 10/21/2017

I loved working with Janay. Before walking into her shop, I was a stressed out, anxious bride with a wedding 8 weeks away and a dress that needed some delicate attention. My dress wasn't an heirloom or one that needed major reconstruction, but that didn't matter. Janay immediately treated it, and me, with the utmost respect and care. I was put at ease in her shop. She put me at ease. She has a very calming and warm presence. I felt completely confident in her ability and I was not disappointed. I had several fitting appointments with her and each time I went in she had helpful advice and styling suggestions (no necklace, clip hair bling above up-do and veil below, buy ballroom dancing shoes for comfort and stretch, use a crochet hook to help with buttons, use lots of fashion tape, to name a few). Out of all the seamstresses I took my dress to for a consultation, Janay was the only one who didn't cut corners. She buttoned every button, pinned up different bustle options, let me prance around and take lots of pictures, she fluffed tulle, she even got on the ground and hand removed lace so I could see how she would hem my gown. She does impeccable detail work and she can spot a loose bead or stray thread from a mile away. She did so many things that showed not only her experience but her attention to brides and making their dress work for them. She was very affordable, worked well within my time restriction, and she never made me feel like my wants were unattainable. I loved how my wedding dress fit, and looked, and I have Janay to thank.

High Vibe Bride's reply:

Hello beautiful lady- thank you so much for sharing your sweet story, it warms my heart to have been able to take great care of your during this special time. You are lovely beyond measure!

Caitlin

Married on 10/21/2017

I purchased my dress off the rack (shout out to Savvy Bridal!) but it didn't fit completely so I definitely needed some alterations. I loved my dress of course but after taking my dress to Janay for alterations and once they were all complete- Wow! I loved it even more!! At the first consultation, Janay was very enthusiastic and confident about the alterations, which made me feel even more excited about my dress. She was very kind to my mom and me with every meeting and had many ideas and details to add to the dress to make it absolutely perfect. She knows exactly what looks right. It was a two piece dress and the bottom was too big- she made it fit me perfectly! She also fixed the top of my dress so that it fit more comfortably. She added beading, added beautiful trim to the bottom to make a larger and softer look to the train, took the zipper off of the back of my dress and made it more secure with clasps, added a bustle, and added a tulle petticoat to give it more flair. Over all, I loved every single detail and all of the time she put into my wedding dress :). Janay even offered to take complimentary bridal portraits for me! I would highly recommend her for any alterations. Thank you for all you did to make my dress so amazing, Janay!

High Vibe Bride's reply:

Thank you beautiful Caitlin, it was such a joy to alter your wedding gown and help create your perfect bridal look!!!! Thanks for being such a rad lady with great style!!

Shelby

Married on 09/30/2017

I found Janay on Google as one of the top rated dress tailors in town; she did NOT disappoint! She was so sweet and fun to work with. I needed my wedding dress hemmed at the bottom and the sides taken in a bit. My dress was perfect, and I felt like a princess on my wedding day. She was prompt, friendly, professional, and relateable. 10/10 would recommend and HAVE recommended :-) I was also very impressed by her custom gowns; they're gorgeous and she has a great eye!

High Vibe Bride's reply:

WOW, thank you so much lovely Shelby, it was an honor to serve you for your wedding and to know you-- blessings on your marriage and I hope we can stay in touch!!

Kristen

Married on 09/16/2017

Janay is so welcoming, personable and professional. She really takes the time to get to know you and help you make the alterations you want, even if you may not know what that is going in. I had never worked with a tailor before so I really didn't know what I wanted for my wedding dress, but she gave her expert opinion and helped me make my dress my own. Her space is so charming - love the cozy way she designed her studio, showcasing other local business owners jewelry and hair pieces. I even purchased my wedding jewelry at her studio. Definitely recommend!!

High Vibe Bride's reply:

Awe Kristen! I get all warm and fuzzy reading your words and seeing your wedding day radiance, thank you for sharing your big day with us!

Jeanne

Married on 09/16/2017

Janay was incredible to work with. I came in worried that my gown was too big to salvage, and she worked magic to make sure it fit like a glove! She was so kind and sweet during the whole process to ease any concerns, and worked with my whole family altering their dresses as well. She has such a sweet soul and made me feel comfortable. She made my dress dreams come true!

High Vibe Bride's reply:

Thank you so much for allowing me to be of service to you for this special occasion and beyond!

Laura

Married on 09/10/2017

Janay is amazing! With only the month before my wedding, she performed alterations on almost every part of my dress. She suggested creative ways to improve the dress, and it ended up looking even better than I had imagined. She cared a lot about making sure that everything was just perfect, even replacing the zipper in two days since she noticed the original one was not very strong.
Janay is very sweet, and I very much enjoyed working with her. I'm so glad I took my dress there!

High Vibe Bride's reply:

Thank you so much for taking the time to review me and your kind words. You were such a delight to work with, beautiful lady!

Maria

Married on 09/09/2017

Janay was so amazing to work with! Janay added straps to my dress and added the bustle. Because my dress fit tight and she was THE ONLY person that was able to help me zip and button it all the way up, I also had Janay come out on my wedding day to help me get into my dress. I am so glad that I had her there on my wedding day. She steamed all of the dresses the day of the wedding, altered a bridesmaids dress straps, sewed on a groomsman button that had fallen off and even stayed to help clean and pack things up after the ceremony. MOST importantly, Janay was there to patch up my long beautiful layered train after it got caught and ripped off under the wheel of a golf cart (we were riding a golf cart to take pictures in the field). This happened 1 hour before the ceremony and I don't know what I would have done if Janay wouldn't have been there to help fix it! No one could tell that anything had happened to my dress. I am so thankful that I picked Janay for my alterations and my wedding day. I highly recommend Janay!

High Vibe Bride's reply:

Thank you so much for the kind words. I was so happy to have been there for you and your crew on your special day!

Aleeza

Married on 08/05/2017

My dress couldn't of been in better hands! Janay is not only a great person to work with but she did an amazing job making sure that my wedding dress fit me perfectly.

High Vibe Bride's reply:

Thank you so much dearheart, you were such a blessing to meet and I am to happy to help you feel most radiant to celebrate your sweet love!

Kelly

Married on 08/05/2017

I highly recommend Janay! She was very friendly did an awesome job on my wedding gown. My dress was strapless with a ton of tulle, lace, and beading at the bottom. She was able to hem the bottom very efficiently, add a bustle, add bra cups, and she also added lace trim to the top of my gown around all of the edges, which really added to look I was going for and was the missing touch to my dress. To all the brides who not only need their gown altered but are also thinking of adding or changing up the gown you purchased, go to Janay A Eco Bridal!

High Vibe Bride's reply:

Thank you sweet lady for the kind words and trusting me with this precious project! Your photos are so lovely, big hugs and congrats to you!!
Are you interested?
Send a message