181 Reviews
Recommended by 99% of couples
Quality of service

5 out of 5 rating

Average response time

4.9 out of 5 rating

Professionalism

5 out of 5 rating

Value

4.9 out of 5 rating

Flexibility

4.9 out of 5 rating
74 User photos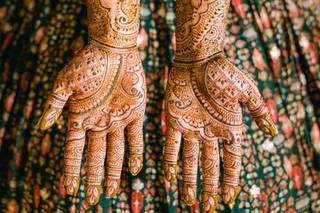 + 70

photos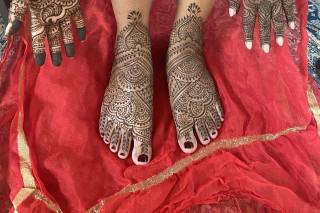 Rashi G.

Married on 10/08/2022

Beautiful Design and Detail

Manisha is the best bridal henna artist in the area! Her attention to detail is unmatched, and her designs are so beautiful. My henna took about 4 hours, and I loved every minute of the process. She made me feel so comfortable and relaxed, and I loved chatting with her! I would highly recommend her to any brides looking for beautiful mehndi for their wedding day!

Suzanne S.

Married on 05/28/2022

Amazing Mehndi Designs

The Henna Cafe was amazing! Manisha and 2 other artists provided Mehndi designs at my daughter's bat mitzvah. They were professional, friendly and so much fun. Everyone from age 3 - 80 loved it! I highly recommend.

Rachel E.

Married on 05/14/2022

Beautiful, intricate and personalized designs!

Manisha was a joy to work with. She is an incredible artist - her designs are intricate, unique, and highly personalized. She was very prompt and amazingly flexible with our extended family, who decided last minute to have more henna done. The paste she uses is all natural, so we did not have any issues with multiple people with sensitive skin. She gave us great instructions for aftercare -- all of the designs came out clear with a lovely color. I cannot recommend her highly enough!

Are you interested?

Send a message

Kunal

Married on 04/13/2022

Fantastic Experience!!

Amazing experience with Manisha from Henna Cafe. Would highly recommend for any event!

Janki

Married on 03/25/2022

Great work

Manisha was great for our mehndi event. She recommended exactly how much time would she need for certain number of people. That worked absolutely fine. She made great henna designs and she is very punctual in terms of time. I would recommend henna cafe for anyone looking for a great henna experience.

Kate D.

Married on 12/11/2021

Would definitely recommend!

Manisha was fantastic to work with! She did beautiful bridal henna and was willing to do a variety of different levels of designs on my family and friends. She came to home and was very flexible - even putting up with my dog! I can't say enough good things about her work.

Puloma G.

Married on 09/18/2021

Beautiful Mehendi

Manisha Auntie does a beautiful job—her designs were intricate and neat as well as artful. Her assistants also did a great job on our mothers and my bridesmaids. Her henna paste is homemade and all natural, no issues with sensitive skin. She also gave great aftercare advice and my mehendi came out beautifully dark and clear.

Arjun D.

Married on 09/03/2021

henna cafe was awesome

Manisha and team were absolutely amazing at our grooms' mehendi. Here are a few reasons why:

1) She made it a point to discuss our individual designs with us well in advance, and did her own research to come up with designs that would suit the ideas we had

2) On the day of the mehendi, she made sure we were comfortable, and not only us but our parents and family as well! She was truly like a member of the family herself (even got us environmentally-conscious paper straws so we could have a drink while getting mehendi!)

3) She was initially charged with only doing the grooms' Henna because the actual wedding was in New Orleans but due to hurricane Ida it was moved (with 48 hours notice) to Boston, and she was VERY flexible and made herself and her associates available last minute to make sure all our 70+ guests had a chance to get mehendi!

4) another thing that was very impressive was the quality of ingredients she used- all natural and organic and yet it stained beautifully!

Highly recommend using her and her team for your events- she was amazing!!

Aga

Married on 08/21/2021

Wonderful and on time!

Wonderful experience! Highly recommended - the team - made out Mehendi celebration truly special!


Rashmi

Married on 08/14/2021

Beautiful mehendi!

Manisha did a spectacular job with my bridal mehendi for the wedding reception! She was an absolute pleasure to work with and really wanted to make sure that her creation aligned with my preferences. Her designs were beautiful, and she was able to masterfully recreate a design I had seen online.

Rainie S.

Married on 08/13/2021

Goes above and beyond!

Manisha is excellent! She goes above and beyond. I live in a small apartment and could not have her come over to my place to do my henna. She kindly allowed me to come over to her place instead. I had brought designs and ideas for her to incorporate into henna. She worked with me to refine them and then followed through (she wrote my partners's name in chinese characters and drew a phoenix and dragon too!). I was a little clumsy and messed a bit of my henna sometimes and she would be so patient with me and would go back and fix those instances right away. And for my henna party, I was having trouble finding a location and deciding how many hours to book for and she was also very flexible with me and guaranteed me an associate for the date. She is extremely friendly, kind and takes a real pride in her work. I could not be happier with her and her work.

Shreya M.

Married on 06/26/2021

Absolutely Beautiful work!

Manisha did such an amazing job with my bridal mehndi! Not only did she do a great job with the henna design, she also did an amazing job interacting with all my guests while she put henna on all of them! Very friendly, easy to communicate with and overall very pleased with her work! The henna color turned out beautiful. Everyone loved it! Would highly recommend Manisha!

Usha S.

Married on 06/26/2021

The most excellent team to work with

I highly recommend Henna Cafe for Mehendi. We had an amazing experience for my daughter's bridal and guest mehendi. They are very polite, professional and neat. Also very easy to work with. The mehendi used is of high quality and gave a beautiful color. You will not be disappointed.

Dhruti B.

Married on 06/20/2021

Fantastic mehndi!

I loved the mehndi Manisha did and I loved how she was able to create another skyline for me that she wasn't familiar with. Very nice and professional.

R C

Married on 05/12/2021

Mehendi for Shubhaaeambh Pooja

Manisha aunty was an absolute pleasure to work with! I had picked a design I liked from one of her own previous clients and customized it to my own liking. From the inception, she was so flexible towards my ideas and also made the timing work despite having another client later that same day. I highly recommend her to anyone looking for an extremely talented mehendi artist. She also managed to do several of my guests as well within the allocated time slot.

Hennacafe's reply:

Rashi, it was lovely working with you and your family/friends. Thank you for being such wonderful host. Looking forward to seeing you soon.

Maria

Married on 05/01/2021

Wonderful!

I've had such a wonderful experience working with Henna Cafe -- I just took the henna off this morning and I can't stop looking at my hands. The designs are so intricate and so beautiful and Manisha really took the time and thought to do something I loved. She was so patient with my lack of preparation and had suggestions and creative thoughts for both my hands and feet. I would strongly recommend her, it's the best henna experience I've had, and we will be hiring her again for our larger ceremony next year!

Hennacafe's reply:

Thank you for your kind words! I had great time chatting with you. Didn't feel like I'm working:) Looking forward to seeing you soon.

Ila A.

Married on 04/12/2021

Excellent natural bridal mehndi!

Manisha is so kind and friendly! She was a joy to speak to during the many hours I spent getting my bridal mehndi done. Her technique and artistry for bridal mehndi superb! I was also comforted by the fact that her mendhi is all-natural and is chemical-free. My friends and family also loved her and her team's work during our mehndi party. Highly recommend Manisha and her team!

Anisha A.

Married on 02/13/2021

Best Henna Artist

Manisha is very nice henna artist. I loved henna and stain.

Soniya T.

Married on 02/06/2021

Henna Cafe is THE best!

Manisha of Henna Cafe is amazing! Hands down the best Henna Artist you will find in New England. I had to change around my wedding plans due to COVID. Manisha was so accommodating and talked with me through every detail to make sure we were on the same page about it all.

Prior to my henna application, Manisha asked me to save some photos of the designs I liked. We sat down at the start of my service to talk about the exactly look I was going for which eased my nerves since Henna is lasts for a couple weeks-- You want to be sure to get it right!

Manisha was also lovely to be around for 4+ hours. My guests loved her. I cannot recommend her enough!

Hennacafe's reply:

Sorry for the delayed response. Thank you for your kind words! You and your family/friends are so welcoming!! I didn't feel like I was at work:) Best wishes to both of you!

Nothaspace

Married on 10/29/2020

Best Hanna tattoo artist in MA!

Very sweet, professional, quick and talented! 2nd time getting service here.

Rani P.

Married on 10/17/2020

Professional, Flexible & Wonderful!

Manisha and her team were an absolute pleasure to work with. They were flexible during the crazy times of COVID and worked to accommodate us even with less artists. The entire team was so professional to work with. They all took Covid precautions very seriously while also creating a comfortable environment. My bridal henna turned out absolutely amazing, I received so many complements throughout my wedding weekend. I highly recommend Manisha for your bridal and henna needs!

Hennacafe's reply:

Rani, it was my absolute pleasure to work with you! Thanks to you and your lovely family for being such wonderful host.

John G.

Married on 10/10/2020

Great Henna Library program for teens!

Manisha was very responsive during the lead up to our program, and great during the program itself. She provided the kids with a history of Henna/Mehndi, talked about how henna tattoos work, gave every attendee their own henna tattoo, and allowed everyone to practice doing their own on themselves and fellow participants. Everyone had a blast!

Katharine G.

Married on 07/12/2020

Great experience with bridal mehndi for fusion wedding!

Manisha was fantastic: flexible where needed, professional, and an absolute joy to work with!

Manisha's mehndi was very high quality and the stain turned out beautifully for me, my mom in law, and for our guests who attended my mehndi party.

I didn't know exactly what I was looking for and Manisha did a great job of walking through potential options with me prior to deciding on which package to go with as well as helping provide recommendations the day of the mehndi.

Something I didn't take into account, but would recommend brides consider is the personality of your mehndi artist. I got mehndi on both my hands and feet and essentially spent all day with Manisha. I loved talking to her and know my mom in law and friends did as well. Manisha is very thoughtful and also super interesting. We had great conversation about her experience learning about henna, her career prior to becoming an artist, and her family. I know several of my husband's family friends in the Boston area have hired Manisha as well.

Katherine C.

Married on 06/13/2020

Perfect bridal henna...

Manisha is a true artist! I showed her a picture of what type of design I would like for my bridal henna and she recreated it even better than I could have imagined. She was also super patient and understanding with us as we had to reschedule a few times due to COVID.

Thank you, Manisha!

Dilreet

Married on 05/28/2020

Amazing! Hi

Manisha is amazing at what she does! I had Henna Cafe so my bridal henna and henna on all the ladies during my intimate wedding. She was fully prepared with masks, gloves, and hand sanitizer for everyone to use.

Manisha is so talented at what she does and I absolutely loved the way my henna turned out.

She will also provide with all tips and answer any questions you may have.

Thank you Henna Cafe for giving me the henna stain I always wanted for my wedding!
Are you interested?
Send a message