Reviews
4.9 out of 5 rating
Quality of service

4.9 out of 5 rating

Average response time

5 out of 5 rating

Professionalism

4.9 out of 5 rating

Value

4.9 out of 5 rating

Flexibility

4.9 out of 5 rating
99%
Recommended by couples
2 User photos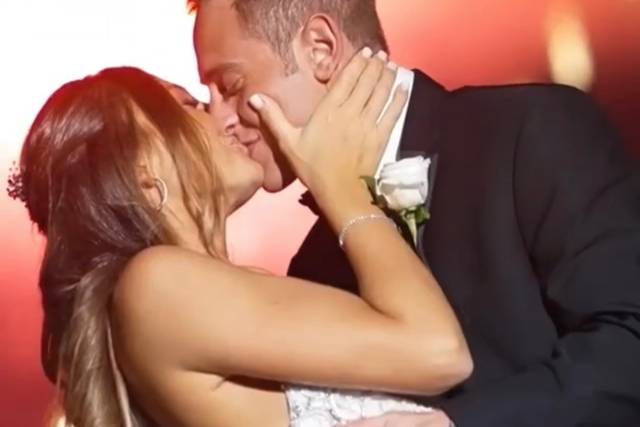 Megan

Married on 11/08/2022

The Best Decision I Ever Made!

I cannot recommend Heart Happy enough!!
From beginning to end, Kimberly and her team have been wonderful to work with in capturing our vow renewal and our final film reel is something we will treasure always. Their work is so beautiful and looks so professional that when we should our friends and family the video, they were just in awe! The attention to detail woven in throughout our film is amazing. We had our vow renewal at Disney World, at the Grand Floridian/Wedding Pavilion and it was so wonderful to see Kimberly and her team filmed detail shots of the resort and pavilion to really give the reel so much fine detail and makes it so easily to relive the day every time we watch it. With a year to plan, Kimberly was there every step of the way to tailor our video to be exactly what we dreamed of as well as helping with general wedding tips and timeline tweaking which is a major plus for the ever planning bride and groom! Heart Happy was also able to immediately build a relationship with us as a couple and made it so much easier and more relaxed when we finally met for the big day. They also were extremely kind and ready to do whatever it took to get a great shot for our photographer which is a huge plus in my personal opinion. Any vendor who does excellent work as well as willing to help out other vendors not associated with themselves shows a great "sportsmanship" within the wedding industry and I think that is worth its weight in gold. Brides and Grooms are beyond stressed for their big day and any vendor who is willing to go the distance for each of their clients is a vendor that deserve every single accolade they get! My family was so impressed that several are heavily considering booking with Heart Happy for their future events and I myself will also get in contact again with more future events as well. Seriously, book with them today you will never regret it!!


Jillayne

Married on 10/06/2022

Best Video Team Ever!

One of the best decisions we made for our wedding day was hiring Kimberly / Heart Happy Films for videography. She made the process smooth from start to finish. We spoke multiple times on the phone prior to the big day so that she could get to know us, gave us a detailed timeline for the day of, was on time, extremely professional and easy to talk to. She and her assistant James made us feel very comfortable while doing our interviews. They were always at the right place at the right time while also staying hidden enough that we enjoyed our day without feeling like we were being filmed. Everything felt so natural. As the day progressed, we loved the bond we created with our video team and when the night ended and for the next week or so I kept thinking about how amazing it was to not only have the best video team ever, but how awesome it was to make new a friend. All of our guests commented what a great video team we had as well, and the results speak for themselves. We received our Ceremony feature right away, and a teaser video shortly after. Before hiring a videographer, my family members asked me how often I would even watch the videos anyway. I can say that myself, family and guests have watched the videos hundreds if not thousands of times already with everyone saying it was the best wedding video they have ever seen! Thank you Heart Happy Films for everything you have done for our wedding.

Dee

Married on 05/05/2021

Heart Happy Films just gets it.

From one conversation with Kimberlee we knew they were the team we would trust to to do our wedding. They captured everything the day meant to us, our families and our friends. To have the memories of both sets of parents (who both celebrated 50 year anniversaries!) being interviewed is one of our most prized possessions.
The final result blew us away.

Are you interested?

Send a message

T Kill

Married on 05/05/2021

Incredible experience w HHF

These folks don't just do wedding videography, they capture all the emotion, energy and joy of your wedding experience in a bottle and give it back to you in video form. They're passionate, thorough and hard working - I can't recommend them wholeheartedly enough!

Ana

Married on 11/18/2020

Lovely team that produces high quality videos!

We made such a great choice going with Heart Happy Films for our wedding video! They are true professionals that produce high quality work and are passionate about their craft. They completely understood our vision and accommodated our requests (we are picky about music!) and were a joy to have around on our wedding day. The most important part is that the video is stunning! Not only is the quality of the video incredible but it really feels like a documentary of our wedding that completely speaks to who we are as a couple. Kim really took her time to get to know us and the result shows. We've been so impressed by their attention to detail for everything they produce (including lovely packaging when we received the raw footage). We almost didn't have a videographer for our wedding and honestly, we are so glad we went ahead and did it. Photographs are nice but they really do not compare to having all of those special moments on tape that we can share with family who couldn't make it in person to the wedding (thanks, COVID-19!) and future family members..! Do yourself a favor and hire them ASAP, you'll be so glad you did.

Christine B.

Married on 07/12/2020

Hands down the best and most talented videographers!

Heart Happy Films was one of the reasons I wanted to have a wedding in Disney World. The way they capture the magic and edit their videos is truly spectacular. Kimberly was an absolute joy to work with on my wedding day. She made my husband and I feel so comfortable and captured our day perfectly!
Unfortunately due to the pandemic, we had to postpone our wedding a few times. Kimberly was always so understanding and patient during everything. She always gave me the best advice and answered any questions I had right away. Their work is truly out of this world and I can not recommend them enough!

We will forever be grateful for the magic Heart Happy Films created for us to share forever!

Caroline S.

Married on 05/16/2020

It was a pleasure working with them. They made the whole process easy and made us all comfortable as they shot us.

I could not be more pleased with the work Kim and Kyle did. Working with them was a pleasure and our video is truly a treasure. They put us at ease as they filmed and managed to get amazing shots without us even noticing as thr night went on. Book them, you will not regret it!!

Torri C.

Married on 12/08/2019

The. Best. Ever.

WOW. I don't even know where to begin or how to adequately express how incredible our experience was with Heart Happy Films. First of all, Kyle and Kimberly are fantastic people. They were so invested in making sure they understood our story, and it was important to them to get to know us prior to our wedding day. They told our story beautifully, and PERFECTLY captured our day, down to the details. They are true professionals in all they do from start to finish. They made sure to communicate every step of the process with us during the planning process leading up to the event, and throughout the production process for months after. On the day of the event, there was zero stress. They dressed professionally, brought their own lighting, had a fantastic team, and knew EXACTLY what they were doing - down to every detail. They knew the shots they wanted, managed to catch details that we didn't even think about capturing, and then some. Also, we just straight up had a ton of fun with them. It is SO important that you have a team that you get along with and feel comfortable around - we enjoyed spending time with them that day, and we miss them so much! And the actual product itself - wow. INCREDIBLE. They are insanely talented, and only keep getting better. You can expect a high quality, detail-oriented, personalized experience. We purchased a teaser, a feature-length film, and the FOMO reel, and we could not be happier. I could go on forever. We cannot recommend Heart Happy enough. This is the best money we have ever spent. Wedding planning can get crazy, and it may be tempting, but DO NOT CUT VIDEOGRAPHY FROM YOUR BUDGET. Once the day is over, pictures and video will be all you have. Consider it an investment, and just go for it. You will not regret it. Heart Happy is the best out there, and we feel so incredibly lucky to have found them.

Stephanie T.

Married on 01/26/2019

Amazing is all I can say!!!

Where can I start with how much my husband and I adore this couple and their business?!? They are by far the best at what they do, and truly take their time and make sure every image is perfect. When we first found Kim and Kyle we had to change our wedding date on them, and they were SO understanding. They told us to not worry or rush, and they would be here when we were ready. Talk about having vendors that understand the craziness of life and are in your corner!! When we received our feature film I was speechless, and I kid you not, I can't wear mascara or any type of makeup because I cry each time I watch it!! You will not regret going with Heart Happy Films, I promise you it is money well spent. Once again, thank you so much, Kim and Kyle! You have given us something our family will cherish for a lifetime!!

Peter

Married on 01/11/2019

Excellent videographer

Kim was an amazing help at capturing the most amazing day of our lives! She was a dream to work with and we couldn't recommend her more highly.

Traci C.

Married on 12/01/2018

Best Videographers Ever!

Kyle and Kim are incredible! They got to know us as a couple rather than just "another wedding." The absolute best decision of our wedding was hiring them! They make magic and go above and beyond! 100% recommend!!

Chloe

Married on 10/13/2018

Simply perfection

I've spent a few months trying to come up with the most perfect review for Heart Happy Films- something to do them justice. The problem is there aren't words perfect enough to describe how utterly incredible they are. After watching a good friend's wedding video made by Heart Happy, I instantly knew who I wanted for my wedding videographers. Not only are they the kindest and most thoughtful souls, they're amazingly talented. I will forever cherish my wedding video and the wonderful memories working with Kim and Kyle.

Heather S.

Married on 08/04/2018

The most amazing experience

Heart Happy Films I am at a loss for words. Last night there was nothing but tears when Matt Stephens and I watched it for the first time on Valentine's Day of all days. You guys captured every part of the day, and we will remember it for the rest of our lives. There were several parts of that day that meant so much to me. The first being the time I was able to spend with my mom getting ready, and being able to do that with just her and I. The second was mine and Matt's first look. That was such a big portion of the day, and being able to spend that time with him in private before we spent it with our 250 closest friends and family haha. Finally, I will always remember my dads speech, but now having a lot of it on our video, I will never forget it.

You guys listened to exactly what I wanted in my video, but also what I didn't want the world to see. The details are huge when it comes to remembering your wedding day. I will now forever remember the guests that attended, the dancing, the getting ready, all my little ones having a great time and my best friend Hollys speech. When we started the video last night and heard her voice, that was the first tear. I am not able to live close to her, and even though we talk every morning at exactly 7:30AM, having her be the voice in most of our wedding video means everything to me.

Kimberly, you and Kyle made our wedding memories now last a lifetime. Thank you for that from the bottom of our hearts.


Leah

Married on 03/17/2018

Talk about winning the lottery! We were so lucky to have an amazing team on our wedding day but Kim and Kyle were by far the cherry on top :) We originally weren't going to book a videographer but it was something I really wanted so we pulled the trigger and we are so incredibly happy we did! Not only are they extremely talented but their personalities are so fun and enjoyable. They provided a teaser video way quicker than we thought and we are so unbelievably satisfied with their service! BOOK THEM! They are worth every dollar!!

Amy S.

Married on 02/24/2018

Must book!

God has truly blessed Kimberly and Kyle with such an amazing talent! Being a wedding planner of 8 years and working with a lot of talented people in the industry, I knew when it was my turn to select my dream team I wanted Heart Happy Films involved. When you can watch a strangers video and it brings happy tears to your eyes you know that videography team has something so special. I think with them being a husband and wife team it makes them a very powerful team, because they both thrive and are very strong if different areas where the other many not be. I truly love my story and they captured everything I wanted it to be and show! I can't say enough amazing words about them! They truly are the best at what they do and would give them 100 star review if it where possible. If you are reading this and considering hiring them for your wedding, I promise you won't be disappointed, they are worth every penny and then some. They listen to want you want and make your video custom to your needs and wants. That in itself is amazing because most videos I have seen over the years from different vendors are the same things over and over, they put details and and special moments into their work, and you know because when your done watching it you have happy tears in your eyes regardless if it's your story or someone else's!
Thank you for everything Kimberly and Kyle

Erika

Married on 01/20/2018

We LOVE our wedding video!

If you need a videographer for any event, especially a wedding, you NEED to book Heart Happy films. Don't waste any more time researching or even reading the rest of this review, just book them before it is too late. I am not the type of person that normally writes reviews but what Kyle and Kimberly do together as a team is nothing short of remarkable. These two did my best friend's wedding and when I got married, they were one of the first vendors we booked.

The main reason you book a videographer is obviously to have a great video of whatever event you want filmed. If you have seen even just one of their videos, you most certainly know you are going to get a 100% professional, high quality film. They truly do such an amazing job of capturing all the moments, big and small, and then put them all together to create a film that, in my opinion, would compete with most Hollywood studios.

Honestly, the quality of the video isn't even what makes their work so spectacular. In such a short period of time they were able to develop a relationship with us and learn each of our personalities and quirks. Then they went back and edited a film that portrayed the array of emotions of the night and allowed both of our personalities to shine through. Every time we watch the film we are amazed by how they captured "Us" and that is what makes what they do so special to us and why I believe you need to book them right now!

Ian

Married on 01/14/2018

Gator Bride provided more than we could have asked for on our wedding day. Kim and Kyle are two of the best meet we have ever met. In the days leading up to the wedding they answered all our questions quickly and clearly, and provided plenty of examples with past videos they have done. On the day of the wedding they weren't just another vendor, but we felt like we had two of our friends there with us. Gator Bride is the only videographer you should consider, they are great videographers, and even better people.

Samantha

Married on 12/02/2017

MUST. HIRE. GATOR BRIDE. I initially, like most brides, did not think that we would need a videographer. I was following my wedding venue (The White Room - St. Augustine, FL) on Facebook and saw that they had posted a video from one of their weddings shot/edited by Gator Bride. It was the Wesley and Lauren wedding if you want to sob for the next five minutes over how happy and in love they are. This single video sold me on GBVideo. The rest of their videos were just the icing on the cake. The way they can capture a day long event in just a few minutes is truly amazing. They include beautiful b-roll, speeches, vows, interviews, and everything in between. We literally had Kyle squatting behind us while we played corn hole. They are never in the way, but somehow still capture every moment. They are so personable and truly made our day that much better. If you are second guessing hiring a videographer please don't. They are worth every penny!!!!!

Rob

Married on 11/11/2017

I could write an essay on how incredible Kim & Kyle are and the work that they do but I will try to keep it shorter than that. The work that they did allowed us to relive our big day and feel all of the rollercoaster of emotions that came right along with it. Their ability to tell a story thru the way they edit their videos is truly pure movie magic. From the way they weave in interviews, to the ceremony, to the fun random moments at the reception, speeches and everything in between, along with of course-the bloopers reel-this is an absolute treasure for us that we can't wait to be able to show our children and grandchildren one day. To give you an idea of just how amazing they are and coming from an unbiased opinion-a friend of mine put a comment on our wedding video when we shared it that essentially said, while they've never met Leslie (my bride), they feel like they know her after watching our film. And whatever we paid for that it was worth every penny. THAT'S the kind of video quality you will get out of working with Gator Bride-one that you walk away with feeling like you were right there on that day, even if you weren't. And if you were-no matter how hard you try to remember everything that happened, I assure you that being able to go back and watch a video of it will bring back a flood of emotions and memories. They were the utmost of professionals and this is hands down the best decision we ever made throughout the wedding vendor process. Choosing them will be yours too, I guarantee it!

Heart Happy Films's reply:

Rob... Leslie... What can we say that we haven't already. You know where you guys are in our hearts. We wish y'all the best in everything and know that if there's anything you need, just let us know.

Teagan

Married on 03/25/2017

WE LOVE KIM AND KYLE. We first learned of GB Video from a coworker of mine and when she showed me her wedding video, I was immediately hooked. I would watch literally all of their videos on their website and would laugh/cry at everyone's wedding videos. It was undeniable they were the team we wanted to book. They were one of the first vendors for us to book, well over a year in advance and they worked with us in such a timely manner. We never met face to face, just communicated via email but when we finally met on my wedding day, it was like we had known each other for quiet some time. They helped make our day so special and I'm sure captured some moments we will laugh and cry at ourselves and we cannot wait to see our own video!! We just received our sneak peek video and I'm sure I watch a dozen times in a row! They are both very professional and capture such great shots that you don't even realize they were capturing. They are amazing and we love them..can't say it enough!!

Heart Happy Films's reply:

Awwee... you are too sweet Teagan!! Thanks!

Katie

Married on 09/24/2016

To say I couldn't wait to book this vendor would be an understatement! I fell in love with GBVideo and their work long before I was engaged, and booking them as our videographer was a no-brainer. Kyle and Kimberly quickly became two of my favorite humans ever and working with them on our wedding day was a complete dream! They truly felt like family from the start and it was amazing to spend nearly every minute of my wedding day with them. In the beginning, my husband was indifferent about hiring a videographer, but once we met with Kyle and Kimberly and he saw some of their work, he saw the value in, not only the video, but in this amazing husband and wife team. I could not be happier with their work - it is truly priceless and is something we will hold near and dear to our hearts forever. They genuinely captured our personalities, our love and our entire wedding day so perfectly. I could not have asked for anything better and Kyle and Kimberly made it happen so effortlessly. If you are looking for the perfect videographer, don't even think about it - book GBVideo!

Heart Happy Films's reply:

You guys are too sweet. <3

Chris

Married on 09/01/2016

These two are simply the best in the business. The video they created from our wedding day was flawless and their personalities were even better. Phenomenal work and even better people.

Brittany

Married on 04/09/2016

Hiring Gator Bride Videography was one of the best wedding decisions we made (but didn't initially agree on)! Even from the beginning of our wedding planning, I knew that I really wanted a videographer, but I didn't know if I could find someone that would give me that "experience" of the day I was craving. It all seemed in vain (and extremely expensive) until I found Gator Bride. My husband was initially on the fence about hiring a videographer, but even he couldn't hold back the emotions after watching a few of Kim & Kyle's videos! They have this uncanny ability to capture the sweetest (and funniest) moments of a wedding and put them together into these beautiful productions that perfectly capture the couple and their love. I have to admit that we even used these videos as a sort of "therapy" during the wedding planning process. Whenever we got overwhelmed by all the details and family drama, we sat down and watched a Gator Bride video or two. Suddenly, we were filled with joy and anticipation for the day again!

As if making wonderful videos wasn't enough, these two are some of the nicest people we've ever had the pleasure of meeting. It was truly a joy to have them with us on our wedding day. Although neither of us were used to having a video camera trained on us, Kim and Kyle made it feel so natural that we practically forgot we were being recorded. They even joined in the fun and celebrations—adding to our beloved memories instead of simply just recording them. If you're looking for a great videographer, hire Gator Bride Videography! It will honestly be one of the best investments you can make.

Lauren

Married on 08/22/2015

Kim and Kyle are amazing! We were so lucky that they were able to travel all the way to Jacksonville to capture our special day. They are the nicest people to work with and were so helpful throughout the planning process and on our wedding day. Initially, we were going to skip a videographer to try to save money, however, we're so happy we went against that decision. We absolutely love our wedding video and being able to look back on every little moment from our special day is priceless. Kim and Kyle are beyond talented and simply the best!!

Emili-Erin

Married on 05/23/2015

Kyle and his wife are amazing!! We are so lucky to have this team in our area! We hired them for 2 videos one was our save-the-date video, which turned out beautifully and the other is our wedding video. I can't wait to get our wedding video as I know it will be spectacular! I have give the highest recommendation possible, extremely professional!
Are you interested?
Send a message